2015-2016 Season
Diversionary Theatre's 2015-2016 Season is packed with World and West Coast Premieres. Unparalleled in its diversity, skill and innovation, Diversionary's intimate Mainstage is teeming with new plays and musicals never before seen in San Diego.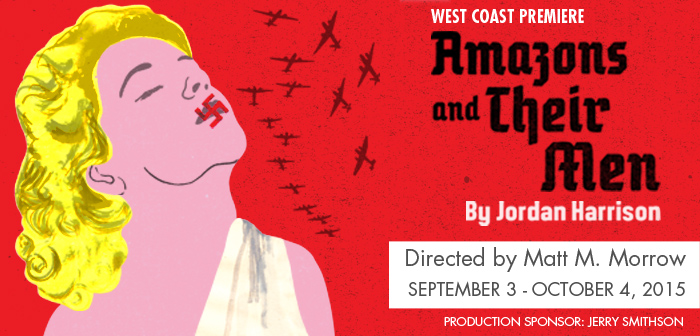 Go behind the scenes of The Frau's next masterpiece: A film adaptation of a mythic Amazon Queen's love-and-war affair with Achilles. But as a real war brews outside the doors of her sound stage, history's most notorious filmmaker must choose between her artistic ideals and the fascist regime bankrolling her career. Art and war collide in this darkly comic and subversive new play inspired by the life of Leni Riefenstahl, auteur of Triumph of the Will.
Matt's Memo:

I've always been fascinated with Leni Riefenstahl. As one of the very first female film directors, she pioneered film techniques we still use today (she invented the dolly and crane shot!). As an artist she was brilliant. Her propaganda film Triumph of the Will was mandatory viewing across Germany in the lead up to World War II, and it's widely credited for brainwashing the German people to Nazi ideals. Even though Hitler was a close friend of Leni, she herself was never a member of the Nazi party, and claimed even during the war she was only interested in art. Still, after the war, she was convicted of being a Nazi "Fellow Traveler" at Nuremberg and was never to work professionally again. Continuing to work in obscurity,making films of the African Nubian people, and then scuba diving films well into her 80's, Leni lived to be an astounding 101. In a sort of self-induced delusion, to her dying day Leni denied any knowledge of the genocide perpetrated against the Jews, gypsies and homosexuals.

In Amazon, Jordan features a romance between two beautiful men on the set of Leni's follow up film to Triumph of the Will, posing obstacles for the star director's politics and enormous ego. This dark comedy takes on the legendary filmmaker, politics, the artistic process, and the persecution of Jews and gays in the Holocaust with high theatricality, intelligence and surprising humor.

"The life of Leni Riefenstahl, the filmmaker who made movies for Hitler, has been examined and critiqued aplenty, but rarely so entertainingly as in Jordan Harrison's Amazons and Their Men… he turns fragments from her life into a story that is funny and thought provoking and even a little touching."

– The New York Times

-TimeOut New York

About The Playwright

Finalist for the 2016 Pulitzer Prize for Drama, Jordan Harrison is one of America's most prolific and celebrated young LGBT writers working today, having been produced at the most esteemed theatres across the country. He is the recipient of a Guggenheim Fellowship, a Hodder Fellowship, the Kesselring Prize, the Heideman Award, and the Jerome and McKnight Fellowships. A graduate of Stanford University and the Brown MFA program, Jordan is an alumnus of New Dramatists. Jordan currently writes for the Netflix original series Orange is the New Black. Amazons and Their Men marks Jordan's first production with Diversionary Theatre.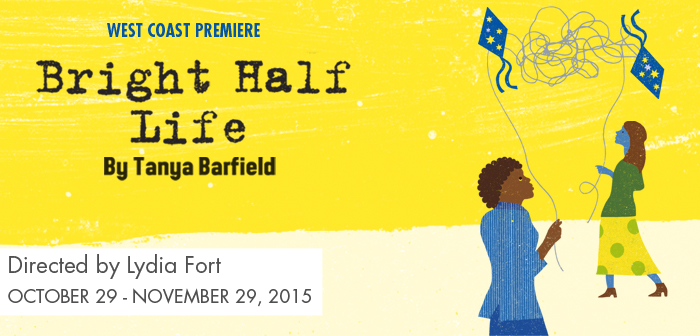 From an anonymous elevator ride, through a steamy workplace romance, heartburn, children, family, skydiving and ferris wheels, Vicky and Erica's relationship is revealed through snapshot scenes ricocheting back and forth over a 40 year period. Time collapses, expands, flips and somersaults in this dynamic exploration of what comprises a life with another person.
Matt's Memo:

I'm proud Diversionary obtained the rights to the very first regional production of this play after its celebrated run Off Broadway this spring at The Women's Project. Tanya's writing is fresh, funny, sensual and poignant. Not to mention it's a wonderful vehicle for two superb actresses to demonstrate their chops! This stunning inter-racial love story between two women is told out of order, taking the audience on an adventure ride through their life, revealing the humanity of what it means to share a life.

"BRIGHT HALF LIFE is profound – a well-written, engaging portrayal of smart women finding themselves, and each other."

– The New Yorker

"Romantic! Virtuosic! For sheer loveliness, you won't surpass Tanya Barfield's exquisite BRIGHT HALF LIFE."

– TimeOut New York's CRITICS' PICK

"Ms. Barfield's variegated BRIGHT HALF LIFE shows the volatility in a long-term partnership, the joy and desolation, the hurt and help – all intermingled, all at once."

– The New York Times

About The Playwright
Tanya Barfield has been produced at Playwrights Horizons, Primary Stages, Center Theatre Group, South Coast Repertory and many others. Tanya was a recipient of a 2013 Lilly Award and the first Annual Lilly Award Commission. She is a graduate of the Juilliard School's Playwriting Program, and a finalist for The Pulitzer Prize for her play Blue Door.Bright Half Life marks Tanya's first production at Diversionary Theatre.
It's 1864, and the coldest Christmas Eve in years is whipping through the streets of Washington DC and along the banks of the Potomac River. A country stands torn in two as the President plots his next move, his wife visits convalescing soldiers, an escaped slave finds her freedom, and a young rebel comes face to face with his sworn enemy. This uplifting musical pageant by Pulitzer Prize–winner Paula Vogel weaves together a stunning tapestry of a community courageously weathering our country's deepest crisis, showing us that hope, humor and peace are innate to being American.
Matt's Memo:

Paula Vogel is not only one of our greatest living Lesbian playwrights, she is one of the greatest living playwrights – Period. Her panoramic look at America in A Civil War Christmas is as sweeping as it is intimate, and refreshingly humorous and contemporary. This exclusive concert event is an inspirational and profound alternative to celebrate the holiday season.

"A Civil War Christmas is rich in precise historical detail, but it never feels like a series of talking dioramas in a history museum. And when the actors' voices rise together in song – in well-chosen spirituals, along with war songs, hymns and carols like "Silent Night" and "O Christmas Tree" – there arises from the dark history being told an ineffable sense of wonder at the survival of faith and humanity even in hearts ravaged by loss."

–The New York Times

About The Playwright

Paula Vogel received the 1998 Pulitzer Prize for Drama, the Lortel Prize, Drama Desk, Outer Critics Circle and New York Drama Critics Awards for Best Play, as well her second OBIE for her play How I Learned to Drive. Ms. Vogel won the 2004 Award for Literature from the American Academy of Arts and Letters, the OBIE for Best Play in 1992, a Guggenheim Fellowship, the Rockefeller Foundation's Bellagio Center Fellowship,the McKnight Fellowship, and is a fellow of the American Academy of Arts and Sciences. She has served as Director of the MFA Playwrighting program at Brown University and Chairwoman of Playwrighting at Yale University's School of Drama.

In a hotel penthouse on election night, the returns are delivering good news for the Democratic Presidential candidate and his family. Sequestered in a downstairs room, the soon-to-be President's son watches as controversial photos of himself at a college party explode over the internet, potentially sparking an international incident. This incisive and politically provocative new play takes on religion, freedom of expression, and the dangers of an increasingly interconnected global community.
Matt's Memo:

Ready for election season? I've been in love with Shinn's work since I read his first produced play, FOUR, back in 2000. Now or Later continues Shinn's remarkable aptitude for melding whip-smart dialogue, sculpted characters and big ideas. Here he whirls together the strained relationship between a father and his gay son with the searing relationship between free speech and the Islamic Faith. The result is a jaw-dropping play that will leave you spinning.

"It's brilliance lies in the way Shinn marries ideological debate to psychological complexity, shedding light, laser-bright and precise, on the way in which political discourse informs and shapes individual experience. Urgent and unmissable."

–Times of London

"Now or Later delivers a cumulative emotional punch that ultimately matches its thematic audacity. …the climactic father-son showdown brings to the fore Shinn's enviable hallmark ability: to dramatize via what is carefully left unsaid."

–Variety

"A complex father-son relationship lies at the heart of Shinn's nuanced and thought-provoking drama about freedom of speech, the West's relationship with the Muslim world, the challenges to gay rights, presidential politics, the contradictions of liberalism, and the perils of fundamentalism, whatever the religion."

–Boston Globe

About The Playwright

A contemporary of Jordan Harrison, Christopher Shinn is one the most produced young LGBT playwrights in America. His work has premiered in London at the Royal Court, and Stateside on Broadway at Roundabout Theatre, Lincoln Center, Manhattan Theatre Club, Playwrights Horizons, Roundabout, South Coast Rep, among others. He is the recipient of the Guggenheim Fellowship, OBIE Award for Playwrighting, and the Robert Chesley Award. His play Dying City was a finalist for the Pulitzer Prize for Drama.  Now or Later marks Christopher's first production at Diversionary Theatre.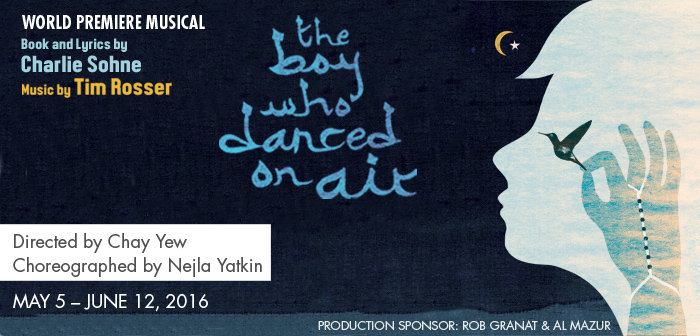 This brave and compelling new musical reveals the clandestine yet persistent tradition in Afghanistan of Bacha Bazi, where wealthy men purchase boys from poor families, train them as dancers, and parade them at parties as their property. Paiman and Feda have spent their young lives confined within this tradition. But when they meet by chance and develop feelings for one another, they embark on a journey towards a new life in uncharted territory. This astonishing contemporary fable reveals a country teetering on collapse, torn between yesterday and tomorrow, and the indomitable strength of the human spirit.
Matt's Memo:

I've been following the development of this exciting piece of musical theatre for three years. This complex new work may sound dark and treacherous, but the story about a budding romance between two teen Afghan boys will absolutely win your heart. Their story, juxtaposed to a centuries-old tradition that continues to be epidemic provides an arresting glimpse into this secluded part of the world. The music and dance at the core of this uncompromising new piece promises to captivate San Diego audiences.

About The Writers

Charlie Sohne and Tim Rosser are fast emerging as one of the hottest musical theatre writing teams in NYC. They most recently won the prodigious 2016 Jonathan Larson Foundation Award. Their work has sold out engagements at 54 Below, Joe's Pub and Birdland, and they have been finalists for the Kleban Award, and the Richard Rodgers Award. Their work has been seen at the O'Neill Theatre Conference, City Theatre Company,The 24 Hour Musicals, and The Yale Institute for Musical Theatre. The Boy Who Danced on Air was featured in the 25th Annual National Alliance for Musical Theatre.

THE BOY WHO DANCED ON AIR is generously supported by:

The Witt/Matheny Fund @