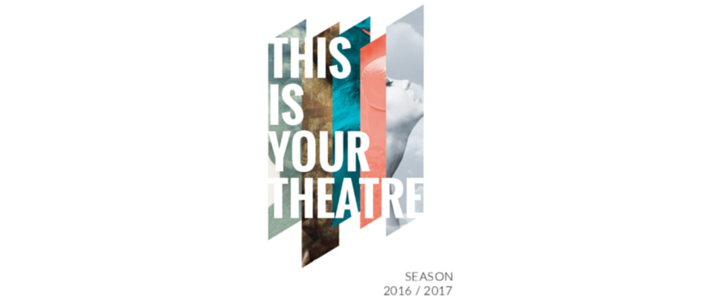 The Season

 Previews September 29 – October 6  // Opening October 8
Part comic book. Part musical horror tale. Part Lizard. Part Boy. From its acclaimed production in Seattle comes a radically original musical that will set San Diego ablaze.  Legend has it that from the ashes of Mount St. Helens emerged a monster with mysterious powers that changed one boy's life forever. Freak or hero? Trevor better find out before it's too late. This indie-folk-rock-concert-coming-of-age-love-story about the power of individuality will shatter your notions of what a musical can be!
"This 90 minute journey of love, acceptance and scales embodies so much promise, potential and genuine love of storytelling that I can easily see this going far beyond Seattle. This is just one of those can't miss shows."  
-Broadway World
                            Previews November 25 – December 24  // Opening December 3
As Charlotte and Jonny tumble into their twenties confronting the mysteries of their own bodies and desires, Charlotte's parents face their own perceptions about love and happiness. Traversing years, shifting relationships and unexpected outcomes, this provocative Southern Gothic romantic comedy peeks behind the curtain of sexuality and race to illuminate secrets of the heart and the fabric of a family.
The New York Times Top Ten Plays of 2015.
"Perfectly wonderful! It is tender, funny, packed with humanity and brimming with surprising revelations. Bathsheba Doran has written a play with such compassion and wry wisdom that I emerged from the theater into yet another frigid day feeling warmed from within."
-The New York Times

Diversionary celebrates the storytelling genius of Lisa Kron by bringing two of her contemporary classics together in repertory for the first time ever! Both autobiographical plays deftly explore Kron's hilarious and poignant relationship with two of the most perplexing people in her life: Her Parents.

Previews February 9 – 15  // Opening February 17
Returning to San Diego for the first time since its celebrated World Premiere, this inventive solo show is a roller coaster adventure through the playwright's family album, focusing on her relationship with her Father, a Holocaust survivor. Swirling through three disparate yet strikingly resonant experiences of a trip to Auschwitz, a Brooklyn wedding and an annual outing to an Ohio Amusement Park, a disarming story emerges about the ties that bind a family and a compelling portrait of a honorable man.
"Celebrates the power of laughter… a model example of the autobiographical show at its unaffected best."  
– Variety
Previews February 10 – 16  // Opening February 18

This pioneering Broadway comedy begins as a reverent study of the playwright's chronically ill Mom and her extraordinary ability to heal a racially divided community despite her inability to make herself well. But when the playwright's carefully crafted characters start having opinions of their own, theatrical hell breaks loose threatening to unravel the entire story. This uproariously funny and magical memoir reveals how we heal ourselves is not always the best medicine for those we love.
"This glorious and funny new play opens doors of insight and emotion that no other play in New York is opening. I fell in love with WELL."
– The New York Times
Previews May 4-12  // Opening May 13
How do we become who we are? In an investigation of identification and intimacy, BALLAST intertwines the story of two relationships between trans and cisgender partners as they grapple with the stranger they find across the dinner table and in the mirror. This cutting-edge new play skydives into personal identity, navigating intricate dreamscapes to explore how gender shapes our spirituality, desires and destiny.  
---