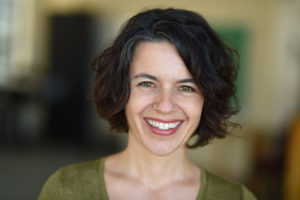 Bea Basso (Director) (she/her/hers) is ensemble member with Affinity Project, whose pieces have been presented at CounterPulse, furyFactory, A.C.T.'s Costume Shop, and Yerba Buena Center for the Arts in the Bay Area and one of them named one of "five wildest theatrical moments of 2015" (with Wooster Group and Rude Mechs) by KQED/Theater Junkie. Bea co-devises, performs and directs an in-process series with actress Valentina Emeri, developed at Z Space and produced at Diasporas Festival, Cutting Ball Theater, and Stage Werx. She has launched and dramaturged many new play processes with writers including Christina Anderson, Julia Cho, and Ursula Rani Sarma, and recently directed Marisela Treviño Orta's A Play About Something at La Jolla Playhouse's WOW Festival and Anna Moench's Mothers at Wagner New Play Festival. As a producer, she has worked as Long Wharf Theatre's resident dramaturg and A.C.T.'s director of new work and curates Práctica, an artist-driven platform across the Tijuana/San Diego border. Bea's co-translations have been produced at Santa Cruz Shakespeare, A.C.T., and O.S.F. Her experience as a translator has been featured in "Tradurre," "Theatre Topics," and NPR's "All Things Considered." She lectured at Yale University School of Drama and A.C.T.'s MFA acting program and is an adjunct professor at UCSD. Bea is a graduate in theater and classics from the University of Padua, Italy, and is obtaining an MA from Wesleyan University's Institute for Curatorial Practice in Performance. She is honored to be working with Sylvan.
MaeAnn Ross (Sound Designer) is a third-year UC San Diego MFA Sound Design candidate. She was born and raised in Texas and holds a BFA in Technical Production from Texas State University. Professional design credits: Lost in Yonkers, The 39 Steps, and Wait Until Dark (Wimberley Playhouse);  She Loves Me (St. Edward's University); And Then There Were None and All Shook UP (TEXArts); A Bright New Boise (OnStage Playhouse), The Virgin Trial (Cygnet Theatre), Intimate Apparel (New Village Arts) The Shakers of Mount Lebanon Will Hold A Peace Conference This Month (Point Loma Nazarene Univ.) UC San Diego design credits: Revolt. She Said. Revolt Again., 53% Of and S.E.R.E (WNPF 2018), A Beautiful Day in November on the Banks of the Greatest of the Great Lakes, Life is a Dream, An Iliad, Monster and Shame Spiral (WNPF 2019), Man in Love. TXST design credits: Fool For Love, Legally Blonde: The Musical, and 5 Women Wearing The Same Dress. https://maeannrossdesigns.myportfolio.com
Elisa Benzoni (Costume Designer) is thrilled to be working again with Diversionary Theatre where she has had the pleasure of designing shows such as Loneliest Girl and Hedwig and the Angry Inch. Elisa has also worked on over a hundred productions across Southern California with theaters such as The Old Globe, La Jolla Playhouse, Geffen Playhouse, South Coast Repertory Theatre, Laguna Playhouse, San Diego Repertory Theatre, North Coast Repertory Theatre and New Village Arts. Being Italian born, Elisa has also had the opportunity to work and perfect her craft in Europe. Elisa holds a costume design M.F.A. from UCSD where she currently is an adjunct professor. www.elisabenzoni.com
Joel Britt (Lighting Designer) is very happy to return to Diversionary to light this beautiful play. Selected Design work includes American Buffalo, Experiment With an Airpump and Mr. & Mrs. Fitch (Backyard Renaissance), Significant Other (Diversionary), A Raisin in the Sun, Taming of the Shrew(d), Strange Men, Vieux Carré, and Angels in America (UCSD), The Who's Tommy Benifit Concert and South of the 8 (La Jolla Playhouse), Heaven on Earth (Sledgehammer_), Peter and the Starcatcher (The Barn Stage Company). Selected Assistant and Associate work includes Summer, The Donna Summer Musical (La Jolla, Broadway, National Tour), Hamilton (National Tour), Come From Away (National Tour), Freaky Friday, Squirrels (La Jolla Playhouse), The Lorax (The Old Globe), The Tales of Hoffman (LA Opera), Christmas Carol (Zachary Scott, Austin). Joel earned an MFA from UCSD and is a proud member of USA829.
Yi-Chien Lee (Scenic Designer), a San Diego based theatre designer, has been accumulating design credits in China, Taiwan and US since 2014. Selected design credits include Girlfriend (Diversionary), Globe for All-The Winter's Tale (The Old Globe), Mission Incomplete (Young Stars, New Vision), Code: Cyrus (Divertimento. Media), Truth or Dare (MOD Short Film), A Cigarette/How to eat A cow/Morning Glory (Tainaner Ensemble),In Search of Beckett(Double Theatre), You tube (Dead-end Flower), Representation of the Cherry Orchard (Minister of Culture, Taiwan), Everybody Black (UCSD), How to Defend Yourself, and Mothers (New Play Festival). She received an MFA from UCSD and her work for Moon drunk has been selected for Emerging Artist/Imagination Exhibit in 2019 Prague Quadrennial.
Nicholas Lambros Smith (Stage Manager) (he/they pronouns) is proud to be working at Diversionary for the first time. In San Diego, Nico has worked on Put Your House in Order (La Jolla Playhouse), Tenderly: The Rosemary Clooney Musical (North Coast Repertory Theatre), Community Engagement projects with The Old Globe, and several shows at UC San Diego, including Mothers, Life is a Dream, and Man in Love. Nico has also worked on six Cirque du Soleil shows, on tour, and in Las Vegas.