Where We're Located
Diversionary Theatre is situated in the San Diego neighborhood of University Heights, just minutes from all the major freeways and right next to Hillcrest. We are located 2 blocks North of El Cajon Boulevard.
Address
Diversionary Theatre
4545 Park Blvd. #101
San Diego, CA 92116
Phone Numbers
Box Office: 619.220.0097
Business Office: 619.220.6830
Fax: 619.220.0148
Box Office Hours
12:00pm – 6:00 pm
Tuesday – Saturday and through intermission on dates with performances.
Email: boxoffice@diversionary.org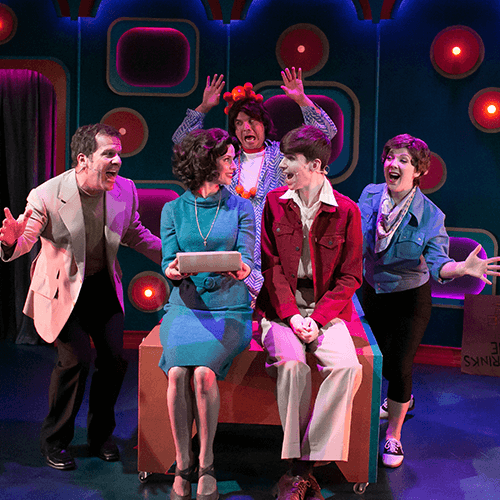 Parking Information
Limited street parking is available during the evenings on all the surrounding streets. There is metered and unmetered street parking available during the day time.
Please come early to allow ample time to find parking before the start of the performance.
Rideshare Information
Because parking is limited in and around University Heights, we highly encourage ridesharing, either by carpooling with friends and family or through rideshare apps like Uber and Lyft.
Where to Eat
Begin or wind down your visit with us at one of the many wonderful local restaurants University Heights has to offer! Here are some recommended suggestions within walking distance of Diversionary Theatre.
Interested in being an Events Partner at Diversionary? Contact us at Boxoffice@Diversionary.org
Featured Restaurant Partner

About The Building and Space Rental
Thanks to a generous gift from the estate of Dr. Fritz Klein, a longtime Diversionary board member, we now own the building that Diversionary Theatre calls home. In addition, our Securing Our Future fundraising campaign provided us with additional funds needed to make significant renovations to the building and improve the theatre-going experience for our patrons.
Because of this acquisition and improvements, we are now able to rent space in our building to arts groups (both nonprofit and for-profit), corporate groups, and private parties. Diversionary Theatre offers a unique and intimate 106 seat Mainstage during certain days and weeks throughout our season, along with a small, versatile, 50-seat Blackbox space.
To inquire about space rental, please read the rental agreement for details on amenities, restrictions, terms, and pricing before getting in touch with us.
Financial support for Diversionary Theatre is provided in part by the City of San Diego Commission for Arts & Culture. We are a member of Theatre Communications Group (TCG), the national organization for the American Theatre.
QUESTIONS?
Reach Out to Us!
You can call us at (619) 220-0097, or email us at boxoffice@diversionary.org.
FAQ
What's the best way to get news about Diversionary?
Sign up for our emails! We include great information about our theatre, as well other local entertainment. It's a great way to get ticket discounts, too! Sign Up Here. You can also follow us on YouTube, Facebook, Twitter, or Instagram!
What is this processing fee I'm seeing when I purchase online? Is there any way to avoid it?
As of July 2016, there are no fees for Diversionary Productions. Some rental productions may have fees, and this is determined by the producer. This fee is a credit card fee directly from our ticketing agent. You can avoid them by paying with cash or check in the box office. Fees over the phone are less than online, so feel free to give us a call at (619) 220-0097.
When I go to book a single seat, I'm told I can't leave a single adjacent seat. What gives?
To prevent empty seats all over the theatre, our system is set up to restrict leaving empty adjacent seats. You can give us a call in the box office at (619) 220-0097 and we can take care of your ticket on our end.
Where can I park at the theatre?
Though we love University Heights, parking can be an issue, particularly for our matinee performances. We only have street parking at Diversionary. We recommend you come to the theatre early, and enjoy our bar, or check out one of the many local eateries within walking distance!
Help! I purchased online, how do I print my ticket out?
Diversionary Theatre is reducing our carbon footprint by offering a paperless ticketing system. When you get to the theatre, we'll check you in by your last name. The email you received when purchasing your ticket is just for your records and is not necessary for entry.
When is your box office open?
Our box office hours are:
Tuesday-Sunday, 12:00-6:00 PM
When we have performances, the box office is open through intermission.
What is the difference between a Cabaret and other shows?
We offer four to five Mainstage shows at Diversionary, which we program and produce ourselves. We also offer an array of Cabaret shows in The Clark Cabaret and occasionally on our Mainstage. Cabarets are not a part of a subscriber's package, depending on your purchase.
When should I arrive, and what happens if I'm late to a performance?
Due to parking in the area, we recommend you arrive at least 30 minutes prior to a performance. Late seating depends on the show and the discretion of the house manager. If you are seated late, you will likely not be seated in your originally purchased seats.
Does Diversionary offer discounted tickets?
We offer Senior, Military and Student discounts for almost every show. We also offer complimentary tickets to schools and nonprofits on a case-by-case basis. For more information, email us at boxoffice@diversionary.org.
originally purchased seats.
Are children permitted in the theatre?
Please note that children under the age of 6 are not permitted in the theatre. All persons attending a Mainstage performance must be ticketed. No children-in-laps are permitted. Some Diversionary shows may contain sdult content. Please read the show page for any age recommendation.