Born from the Need for Representation, Awareness, and Social Change
Founded in 1986, Diversionary Theatre is recognized as one of San Diego's best theatres, and proudly showcases the most vibrant and diverse group of talent the city has to offer. We aim to foster and amplify the next generation of lesbian, gay, bisexual, transgender, queer, and other marginalized voices by providing the local community with live entertainment in a dynamic, inclusive, and welcoming environment that celebrates and preserves our unique culture.
Diversionary Theatre began as a forum to shed light on the important social issues affecting the quality of life of LGBTQ+ people, namely the AIDS crisis and its immediate and devastating impact on the community through the performing arts.
Over time, the constantly shifting debates over marriage equality, adoption rights, bullying, and military service caused Diversionary's mission to grow as a way to continually amplify marginalized voices and share their stories and lived experiences through widely-accessible live entertainment.
Meet our team and board members who help make Diversionary Theatre's mission and vision a reality.
Diversionary Theatre is a 501(c)(3) nonprofit organization, Tax ID # 33-0240436.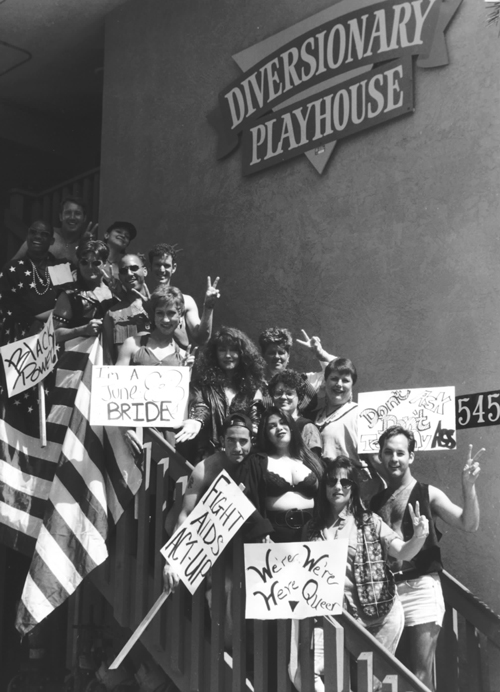 Diversionary's Mission Statement
The mission of Diversionary Theatre is to provide an inspiring, inclusive, and empowering space for community to celebrate and explore complex, provocative, and diverse LGBTQIA+ stories which contribute to the larger cultural discussion.
Since our founding in 1986, we have continually provided an inspiring and thought-provoking theatrical platform to explore complex and diverse stories of the lesbian, gay, bisexual, transgender, queer and questioning communities in the form of live entertainment that can be enjoyed by all.
Our Values and Commitment to Social Justice
As the third oldest LGBTQIA+ theatre in the nation founded by and for members of marginalized groups, Diversionary Theatre has long been an inclusive space for the queer community and our allies. Intersectionality has always been a priority in our work both on and off stage, and we continue to be committed to social justice and inspiring positive change in our communities, starting from within our own organization.
Read our complete anti-racist action plan for a full list of commitments and priorities below to learn more about the steps Diversionary Theatre is actively taking to combat racism and lift up marginalized groups.
Our theatre is a safe space, a brave space, and a welcoming space for all who are maligned, marginalized, and discriminated against by the systemic racism intentionally designed to oppress and terrorize. We see you. We hear you. And we welcome you in our home to find strength, community, and revitalization to continue the fight for justice and equality.
Our Land Acknowledgement In Recognition of San Diego's First Nations
Diversionary Theatre currently resides on land belonging to the Ipai-Tipai, also known as the Kumeyaay Nation, in what is now San Diego. We pay respect to the tribe and its members; past, present, and future.
We acknowledge the waves of colonization that have oppressed and continue to oppress these nations, and the treaties that were signed and then broken by the United States, specifically our local Treaty of Santa Ysabel. As part of our core values, we feel that it is important to understand the history that has brought us to reside on this land, and we are committed to continually seek awareness of our place within this history.
Our Commitment to Anti-Racism
Black Lives Matter. There is no asterisk to this statement, no disclaimer, it's a matter of fact. This is who we are and always have been at Diversionary, and we stand for justice and equality for the Black, Indigenous, and other communities of color (BIPOC).
The reignition of the Black Lives Matter movement has inspired Diversionary to go beyond our current efforts in combating the systemic racism that exists in our culture. We pledge to examine and rectify our shortcomings in addressing racism and unconscious bias within our own institution, as well as continue to strive for equality and call out racism both within the theatre community and our community at large.
Some of the anti-racist actions Diversionary Theatre is currently taking as part of our commitment include:
Investing in and creating pathways and opportunities for queer BIPOC theatre leaders, artists, and arts administrators.
Having at least two queer BIPOC playwrights represented on our roster of four to five Mainstage productions per season.
Examining and tailoring each creative process to the needs of that particular show with an emphasis on sensitivity around queer BIPOC stories, characters, and creative team members.
Prioritize hiring contract workers who have gone through EDI, Anti-Racism, and BIPOC training as evidenced in their submission and application materials and interview process.
Raise awareness that Diversionary resides on the traditional and ancestral home to the Kumeyaay Nation by developing and publishing a statement with Indigenous people of this nation.
Securing Our Legacy as a San Diego Institution
After years of hosting performances in various available community centers, churches, and bars throughout the city, the theatre was able to finally move into its permanent home on Park Boulevard in downtown San Diego in 1994. In 2006, we received two gifts from the estate of Dr. Fritz Klein, a longtime Diversionary board member, which included the building that houses the theatre and accompanying mortgage, as well as our first permanent endowment.
The generous donations received in our 2020-2021 Securing Our Future Campaign allowed us to make much-needed building renovations to not only improve our existing space but also open up new possibilities for community outreach. Learn more about how to rent space in our new and improved building for your event.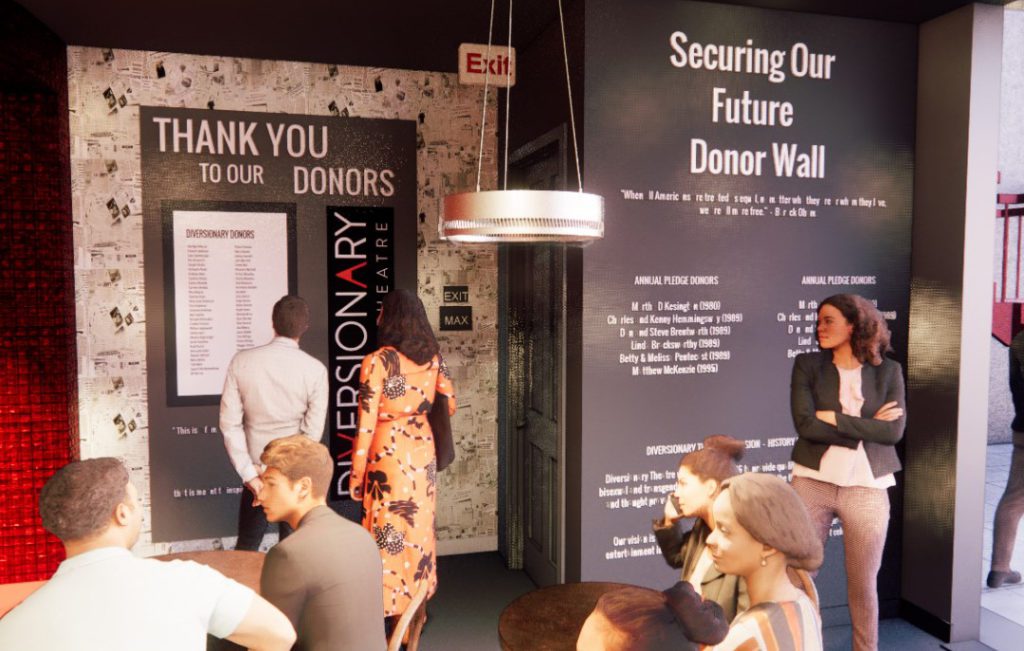 Diversionary Theatre's Vision for The Future
Diversionary Theatre is now the third-oldest continuously producing LGBTQ+ theatre in the United States, having hosted over 137 quality mainstage productions, dozens of arts events, and provided a home to some of San Diego's most talented established and up-and-coming artists. In addition to showing plays and musicals, we continue to encourage and facilitate the development of new works that explore the issues, characters, and stories of the lesbian, gay, bisexual, and transgender community in all its complexity and diversity. By regularly collaborating with local arts and other LGBTQ+ organizations, we are always seeking to involve the wider community in our mission.
As the current social climate continues to change, we are proud to continue fostering conversations about how LGBTQ+ people fit alongside the broader community through the exploration of stories that celebrate our humanity, not just our sexuality, so that together we can bridge the gaps of cultural understanding and achieve equality and acceptance.