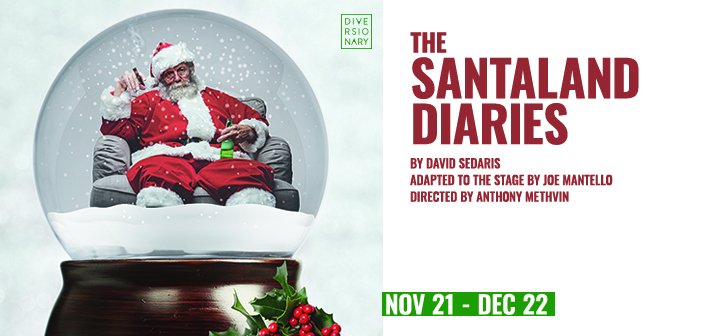 November 21 – December 22, 2019

From the brilliantly twisted mind of David Sedaris comes a classic tonic for the holidaze. Out of work and options, The Santaland Diaries finds David as he begins his career as an elf in Macy's Santaland during the holiday crunch. Battling throngs of rabid families clamoring towards a drunken Santa to get their Christmas fix, David makes do with some hilarious observations on human nature, and an unexpected connection to the holiday spirit.

Add On just for the Holidaze:  Linda Libby's HoliGay Storytime -Join the indomitable theatre icon Linda Libby after hours for some queer holiday cheer! Grab a drink in Fritz' lounge and saddle up with Linda fireside as she regales us with readings of holiday stories and songs that put the holly in your holigay!

Please note that Season's Greetings has been replaced with Linda Libby's HoliGay Storytime.

*Linda Libby's HoliGay Storytime will not be performed on Thursday, November 21st or Opening Night, November 30. There will be a presentation on after the 7pm Industry Night performance Monday, December 9. Run time is approximately 40 minutes. 

Production Sponsors: Alan C. Campbell

View CalendarGroup TicketsSeason SubscriptionsSubscriberLog-in

MATT'S MEMO

It's beyond time we welcome David Sedaris to Diversionary, right where he belongs. His uniquely queer take on the Holiday season has been produced all over the world. We are eager to celebrate this iconic writer by pairing this popular classic with the indomitable Linda Libby, who is herself a San Diego theatre icon! Her holiGay storytime will undoubtedly warm your heart and give you a chuckle right when you need it the most. And her show is free! This is Diversionary's holiday gift to our community!

View Calendar

Group Tickets

Season Subscriptions

Subscriber

Log-in

With sardonic wit and incisive social critiques, David Sedaris has become one of America's pre-eminent humor writers. The great skill with which he slices through cultural euphemisms and political correctness proves that Sedaris is a master of satire and one of the most observant writers addressing the human condition today.

David Sedaris is the author of Barrel Fever and Holidays on Ice, as well as collections of personal essays, Naked, Me Talk Pretty One Day, Dress Your Family in Corduroy and Denim, When You Are Engulfed in Flames, and his most recent book, Let's Explore Diabetes with Owls, each of which became an immediate bestseller. The audio version of Let's Explore Diabetes with Owls is a 56th Annual GRAMMY Awards Nominee for Best Spoken Word Album. He is the author of the NYT-bestselling collection of fables entitled Squirrel Seeks Chipmunk: A Modest Bestiary (with illustrations by Ian Falconer). He was also the editor of Children Playing Before a Statue of Hercules: An Anthology of Outstanding Stories. Sedaris' pieces appear regularly in The New Yorker and have twice been included in "The Best American Essays." There are over ten million copies of his books in print and they have been translated into 25 languages.

He and his sister, Amy Sedaris, have collaborated under the name "The Talent Family" and have written half-a-dozen plays which have been produced at La Mama, Lincoln Center, and The Drama Department in New York City. These plays include Stump the Host, Stitches, One Woman Shoe, which received an Obie Award, Incident at Cobbler's Knob, and The Book of Liz, which was published in book form by Dramatists Play Service. David Sedaris' original radio pieces can often be heard on the public radio show This American Life. David Sedaris has been nominated for three Grammy Awards for Best Spoken Word and Best Comedy Album. His latest audio recording of new stories (recorded live) is "David Sedaris: Live for Your Listening Pleasure" (November 2009). A feature film adaptation of his story C.O.G. was released after a premiere at the Sundance Film Festival (2013). Since 2011, he can be heard annually on a series of live recordings on BBC Radio 4 entitled "Meet David Sedaris." David Sedaris' new book is a collection of his diaries, entitled Theft By Finding, Diaries (1977-2002) (May 2017). An art book, about David Sedaris' diary covers was also just published and edited by Jeffrey Jenkins, entitled: David Sedaris Diaries: A Visual Compendium (October 2017, Little, Brown and Company). The nationally bestselling essay collection Calypso was published in June 2018, and a second volume of his diaries is expected for summer 2021.

You can Follow David On Facebook and Instagram.

View Calendar

Group Tickets

Season Subscriptions

Subscriber

Log-in

The Santaland Diaries

Wil Bethmann* (Crumpet in The Santaland Diaries) A New York based actor, Wil is thrilled to return to the Diversionary stage. Wil has appeared in theatrical and commercial roles across the country. Most recently at Cygnet as Parry in The Virgin Trial, King Arthur in Camelot, and Louis in Angels In America Parts I & II. Here at Diversionary in Significant Other. Up next as Max in Triskelion Arts' Bent in New York City. On screen as the personality and creative mind behind ad campaigns for Smirnoff, AT&T, BrosBeingBasic, Applebees, the NCAA, and providing coverage for the Governor's Ball and LoveLoud music festivals. Wil's on-site creative consulting and productions have been recognized with multiple nominations at the annual Shorty Awards, social media award show in New York City. Wil trained at the University of North Carolina School of the Arts graduating with a BFA.

Linda Libby's HoliGay Storytime

Linda Libby* (Herself) After playing electric bass for Hedwig's band, Linda is delighted to return to Diversionary! Recent San Diego credits include: Handbagged  (Moxie), Put Your House In Order (La Jolla Playhouse), A Doll's House Part 2 (San Diego Rep) and Guys & Dolls (Old Globe). Linda is a Resident Artist at Cygnet Theatre: Gypsy, The Importance of Being Earnest, Company, My Fair Lady, Man of La Mancha and Man From Nebraska.  She is an Associate Artist at Lambs Players: Persuasion, South Pacific, Pump Boys & Dinettes and original cast of Boomers.  As a founding member of Ion Theater: Gypsy, Grey Gardens, Request Program, Body Awareness, and composer for Sea Of Souls. Regional: Clarence Brown, Barter, Stage West (Ontario, Canada) Arizona Theater Company. Tours: Edinburgh Fringe, Far East Russia w/ Beth Henley. Linda is the proud founder of the Bayfront Charter High School theater program. lindalibby.wix.com/lindalibby.

*Actor appears courtesy of Actor's Equity Association

View Calendar

Group Tickets

Season Subscriptions

Subscriber

Log-in

Anthony Methvin (Director) is Producing Associate at Diversionary Theatre, where he directed Significant Other, the workshop of Who's That, Gurl? And readings of The Harvest and Wolves. At Backyard Renaissance Theatre Company, where he is Producing Director, he directed Bachelorette, co-directed Abundance and the World Premiere of Tarrytown with Fran Gercke, and, for their Unleashed series, directed a reading of Assistance, and directed and co-adapted readings of Showgirls, Mommie Dearest, Troll 2, Whatever Happened to Baby Jane?, and Queen of Outer Space. Assistant Director: Buyer & Cellar and Sense & Sensibility (Old Globe), Dogfight (Cygnet), Baby with the Bathwater (Diversionary), and Spring Awakening (Palomar College). Local performances: Bedevere/Ni Knight/Mrs. Galahad/Concorde in Spamalot (Cygnet), Doug in Gutenberg! The Musical! and Lord John in The Elephant Man (Backyard Renaissance), Roger in A New Brain, Reed in Boys and Girls, and Kent in Harmony, Kansas (Diversionary). Playwright: Bleed Like Me. Education: BFA in Acting from Florida State University. Upcoming: Director of Steel Magnolias for Backyard Renaissance. You can follow him on Instagram @anthonymethvin.

Curtis Mueller (Lighting Designer) returns to Diversionary having designed Girlfriend, Hedwig and The Angry Inch, Bull in a China Shop, The Happiest Place on Earth, Cardboard Piano, Homos, Well, 2.5 Minute Ride, Lizard Boy, Manhandled, Now or Later, A Civil War Christmas, Amazons and Their Men, Man Clan, and A New Brain. Select local credits include: Withering Heights, Margin of Error (Roustabouts Theatre Company); End of The Rainbow, Quality of Life, The 25th Annual Putnam County Spelling Bee, I Hate Hamlet, All My Sons, Macbeth (Intrepid Theatre Company); A Weekend With Pablo Picasso, The Secret Garden, Big River, The 1940s Radio Hour, Seascape (New Village Arts). Curtis has also worked extensively with Coronado School of The Arts. Curtis holds a BFA in Lighting Design from California Institute of The Arts.

Justin Humphres (Scenic Designer) is a scenic and video designer based in San Diego, CA. He is a founding member of People of Interest, a non-profit theatre company dedicated to creating theatrical experiences around individual stories, revealing the hidden truths through new original work. Recent credits include: The Great Leap (Steppenwolf Theatre Co.); Q&A (Manilla, Philippines); Man of God (East West Players); Hedwig and the Angry Inch (Diversionary Theatre); Actually, Vietgone (San Diego Rep). Broadway credits include: Ain't Too Proud: The Life and Times of the Temptations. (Associate Designer), SUMMER: The Donna Summer Musical (Associate Designer). Justin holds a BFA from Western Michigan University and an MFA from University of California, San Diego. www.justinhumphres.com

Elisa Benzoni (Costume Designer) is thrilled to be working again with Diversionary Theatre where she has had the pleasure of designing shows such as Loneliest Girl and Hedwig and the Angry Inch. Elisa has also worked on over a hundred productions across Southern California with theaters such as The Old Globe, La Jolla Playhouse, Geffen Playhouse, South Coast Repertory Theatre, Laguna Playhouse, San Diego Repertory Theatre, North Coast Repertory Theatre and New Village Arts. Being Italian born, Elisa has also had the opportunity to work and perfect her craft in Europe. Elisa holds a costume design M.F.A. from UCSD where she currently is an adjunct professor. www.elisabenzoni.com

TJ Fucella (Sound Designer) is excited to be returning to Diversionary Theatre as a sound designer this season. He has been working as an audio mixer and sound designer in San Diego for around 4 years. Some recent credits include Rock of Ages, Marie & Rosetta, A Little Night Music, Shockheaded Peter, Spamalot (Cygnet Theatre), Buddy – The Buddy Holly Story (New Village Arts), Tarrytown, An Experiment with an Air Pump (Backyard Renaissance), and Bull In A China Shop (Diversionary). He would like to thank all of his amazing friends in the San Diego theatre community for their love, support, and inspiration.

Justin Beets (Lobby Designer) wears many hats in the San Diego community. When they are not designing lobbies, they are an assistant extraordinaire helping various designers around the city, a painter, a tailor, and is currently getting a masters in lighting design. Their last work with Diversionary Theatre was designing the spray paint stencils and lobby for Hedwig and the Angry Inch. They are beyond honored to return to the home that is Diversionary. This building, these people, and the experiences, are a dream.

Beth Hall (Stage Manager) is a newly San Diego-based Production and Stage Manager. She graduated from Fresno State with a B.A. in Theatre Arts, where she focused on stage management and technical theatre. Before moving to San Diego, she worked in the San Francisco Bay Area for five years, and collaborated with such companies as the San Francisco Playhouse, A.C.T., the Curran, foolsFURY, StageWrite, and many others. Her recent production credits include Without Walls (La Jolla Playhouse), Dionysus Was Such a Nice Man (foolsFURY), The Jungle (Curran), Word (StageWrite), and The Mechanics of Love (A.C.T).

View Calendar

Group Tickets

Season Subscriptions

Subscriber

Log-in

Promotional Photos – Simpatika.com

Video by Cory Immele – www.coryscreative.com


View Calendar

Group Tickets

Season Subscriptions

Subscriber

Log-in

"Excellent." – San Diego Story

"Bethmann excels in his handling of both subtle and broad humor…my face hurt from laughing so hard." –San Diego Story

"Besides directing Bethmann's strong performance, Anthony Methvin and his crew create a festive atmosphere for the fun evening." –San Diego Story

"This is very funny stuff, and at Diversionary Theatre, in what is being called a Legacy Production, Wil Bethmann is making it sing." – Times of San Diego

"The set (Justin Humphres) is a wonderland of giant gift boxes, faux snow and gargantuan candy canes. The costume (Elisa Benzoni), sound (TJ Fucella) and lighting (Curtis Mueller) perfectly suit the sensibility. Even the theater lobby and halls are decked out (Justin Beets)."- Times of San Diego

"As directed by Anthony Methvin, both pieces are supremely entertaining. These aren't your teetotaling Aunt Tilly's sugar-coated Christmas treats … but they sure will send you out in high spirits."-Times of San Diego

"Under the playful direction of Anthony Methvin, Bethmann does an excellent job calibrating the show's rolling climaxes, particularly a stretch that moves into near-mania, when Crumpet imagines Santaland as Hell. And Bethmann's Billie Holiday-style delivery of "Away in a Manger" is hilarious. -San Diego Union Tribune

"The physical production is excellent, with a kooky elfen costume by Elisa Benzoni, a bright, playful Santaland set designed by Justin Humphres and festive, syncopated lighting by Curtis Mueller." -San Diego Union Tribune

"Priceless observations, both outrageous and subtle. Destined to hold a place in the annals of American humor writing."
-The New York Times

View CalendarGroup TicketsSeason SubscriptionsSubscriberLog-in

SPECIAL EVENTS
Performances run Thursdays at 7pm, Fridays and Saturdays at 8pm, and Sundays at 2pm. More information can be obtained by calling our box office at 619-220-0097.