2015 Hot Guys Dancing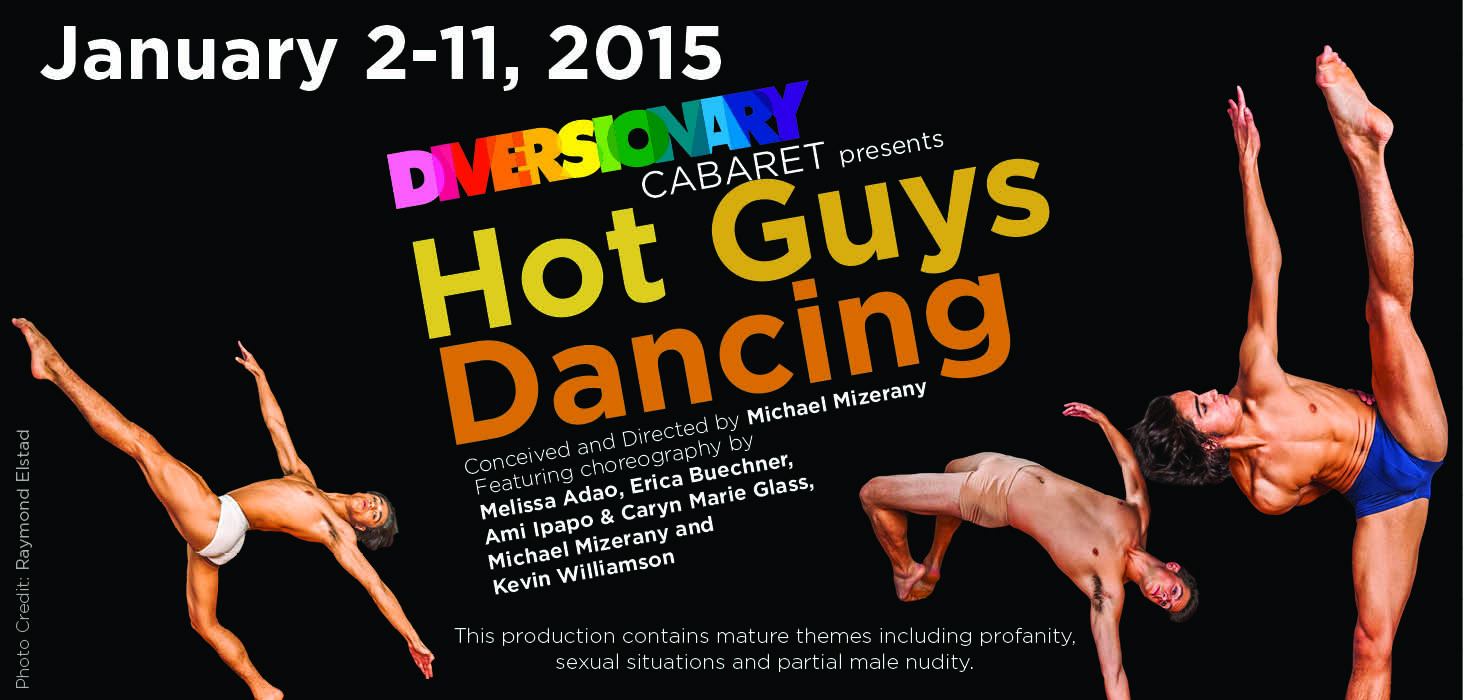 Jan 2-11, 2015
Hot Guys Dancing
Heat up your January! Conceived and directed by Michael Mizerany (bare, Thrill Me), HOT GUYS DANCING features some of the area's most dynamic and daring choreographers and dancers. Back by popular demand, this third installment in Diversionary's Cabaret debuts a brand new program of visually stunning and viscerally potent dance.
[maxbutton id="31″]
[/tab]
[tab title="Cast & Creative"]
---
 

Conceived and directed by Michael Mizerany (Miss Kitty's Wild West Revue), Hot Guys Dancing will feature work by Michael, Melissa Adao, Erica Buechner, Ami Ipapo and Caryn Marie Glass (The Movement Initiative), and Kevin Williamson (Los Angeles).

Hot Guys Dancing features performances by Angel Acuna, Martin Anthony Dorado, Brent Fuchigami, Nick Keomahavong, John Paul Lawson, Michael Manguino, Jayden Phong Nguyen, Jaime Nixon, Chad Ortiz, Nathaniel Perez, Julio Velasquez and Kevin Williamson.

Photos by Raymond Elstad
---
Michael Mizerany is the artistic director for Compulsion Dance & Theater which will debut at Southern Illinois University in February 2015.  He moved to San Diego to join Malashock Dance and served as its Associate Artistic Director until 2013.  In addition to Hot Guys Dancing, Michael conceived and directed Malashock/RAW from 2010-2013 and Sweat! for San Diego Dance Theatre (SDDT). He has choreographed extensively, including two critically acclaimed contemporary works for Diversionary Theater, Far From Eden and Let Me Into Your Skin, as well as the musical theater productions of Altar Boyz, (Noah Longton Productions), Dooley, Divine Sister, Miss Kitty's Wild West Revue, Scrooge In Rouge, Thrill Me and bare:  A Pop Opera. (Diversionary Theatre), Chicago: A Speakeasy Cabaret, Grey Gardens, and Ass, or A Midsummer Night's Fever (Ion Theatre), Carnival! and Suds (The Coronado Playhouse), Spring Awakening (Cygnet Theatre), The Full Monty (New Village Arts), Trolley Dances (SDDT) and Rent (Southwestern College) Michael has been the recipient of numerous awards and honors including two Lester Horton Dance Awards for his solos Tin Soldier and Bump in the Road, the LA Stage Scene "Scenie" Award for Outstanding Choreography for Altar Boyz and bare: A Pop Opera, the Bravo San Diego Award for Outstanding Choreographer of 2012 and The Blue Ribbon Award for Suds. He was nominated for a Craig Noel Theater Award for Outstanding Choreography for Dooley (2010) and Altar Boyz (2011).  Most recently, Michael was nominated again for a Bravo San Diego Award as Outstanding Choreographer of 2013 and 2014 for his contemporary/ musical theatre work.  Also, his 10-minute play, 20 Minutes and Counting, received a staged reading at The Old Globe Theatre in September. Upcoming projects include Three Penny Opera at UCSD directed by Ruff Year and A New Brain at Diversionary Theatre directed by Kim Strassburger.
---
Melissa Adao – (Choreographer)  B.A, M.A. in Dance – is known for her energetic performances and her continuous passion to become a better dancer and educator. She began training at the age of 17 and since then, has soared into an amazing journey of hip hop, jazz, and modern dance experiences. Melissa's professional dance background includes Unity Dance Ensemble, Urban FX, EKetc, and Super Galactic Beat Manipulators. Representation through Bloc Dance and Choreography has opened opportunities for her to work with artists like Lisa "Left Eye" Lopes, Andy Dick, Athena Cage, No Doubt, and Nickelodeon's "Taina".
She earned her B.A. in Dance from San Diego State University and her M.A. from California State University, Long Beach.  She is a dance instructor at California State University, San Marcos, Mesa College, and Grossmont Community College. She enjoys sharing her love and passion for dance with her students and is blessed to be a part of their journey.  She impresses the importance of educating the cultural and historical significances of our past in order to preserve our future dance community.
Aside from teaching and performing, she is also the Founder and CEO of Outreach Through Dance, a production company that produces dance showcases and events to benefit various charities and organizations in the San Diego community. OTD works closely with Make-A-Wish San Diego, The John Brockington Foundation, Pacific Arts Movement, and various non-profits globally. She wants to use her gift of dance to benefit the community, positively educate those who seek to know the art and culture and expose to others the amazing impact hip hop can bring to one's life.
---
Erica Buechner (Choreographer)
A local to San Diego, Erica Buechner's professional career began in 1999, as a professional dancer for many established companies in San Diego. She performed as a company dancer with Mojalet Dance Collective for eleven years and with The PGK Project for two years. Buechner has been a guest artist for Eveoke Dance Theatre, Patricia Sandback and Dancers, Malashock Dance, San Diego Dance Theater's Trolley Dances, Opus Mixtus, and the Joe Alter Dance Group, among other individual choreographers.
Buechner is the co-producer of the youTurn Contemporary Arts Exhibition, an annual arts event created to mobilize artists within the San Diego Community to produce new works more frequently. Her work has been presented by Mojalet Dance Collective, including in Konstanz, Germany in 2012. She was selected to be a part of the La Jolla Music Society's inaugural CHOREOLab and San Diego Dance Theater's second annual Young Choreographer's Prize in 2012. She has also presented her work at many other local events around San Diego, including the Celebrate Dance Festival and San Diego Dances. She continues to produce work, both as an independent artist and under her company name, Sound Dance Company, which was established in 2011.
Buechner received her Master of Fine Arts in Dance from Hollins University/American Dance Festival in 2013. She received her Bachelor of Fine Arts in Dance in 2006 from San Diego State University and was named the Outstanding Graduate of the Year in Dance. In 2011, she was awarded the Alumni To Watch Award from SDSU's School of Music and Dance. In January of 2014, Buechner was named by the San Diego Union-Tribune as an "Artist to Watch" in 2014. She is a current committee member of San Diego Dance Connect, a local organization that has the mission to strengthen the dance community by providing opportunities to network, communicate, advocate, and share resources.
---
Ami Ipapo (Choreographer)               Caryn Marie Glass (Choreographer)
The Movement Initiative was founded in 2010 in New York City by co-artistic directors Caryn Glass and Ami Ipapo.  Since relocating to San Diego, TMI has produced three full-length shows and several movement films, presenting work at White Box Live Arts, Visionary Dance Theatre, Raw Space Off-Broadway, SDDT's Young Choreographers' Showcase, and Michael Mizerany's SWEAT series.  Their critically acclaimed production, Victor Charlie, was awarded prizes for the Top Box Office Seller and Audience Favorite at the 2014 San Diego International Fringe Festival.
---
Kevin Williamson (Choreographer/Dancer)  is an L.A. based artist whose interdisciplinary work explores aspects of the human condition.  He received his BA and MFA in Dance from UCLA's Department of World Arts and Cultures/Dance.  His works have been presented at Danspace Project, REDCAT, CounterPulse, LA Country Museum of Art, Beijing Dance Festival, Edinburgh Fringe Festival, and for LA Contemporary Dance Company, Loyola Marymount University, and American and Musical Dramatic Academy.  Kevin recently choreographed the operas L'enfant et les Sortileges (UCLA) and Cendrillon (the Juilliard School) with director Peter Kazaras.  His performance credits include dancing for David Rousseve, David Gordon, Julie Taymor, Angelin Preljocaj, Robert Moses, Stephan Koplowitz, Heidi Duckler, Cheng-Chieh Yu, Maria Gillespie, Kate Hutter, Sebastian Prantl, David Bridel, and the LA Opera.  He is a Lestor Horton Award recipient for Outstanding Achievement in Performance and a Bates Dance Festival Educators Fellow.  Kevin teaches composition, dance technique, and improvisation at UCLA and LMU. This Spring he will choreograph I Due Figaro for UCLA Opera and Sheila Callagahan's Elevada for Yale Repertory Theater.
Dancers:
Angel Acuna
---
Martin Anthony Dorado
---
Brent Fuchigami
---
Nick Keomahavong
---
John Paul Lawson
---
Michael Manguino
---
Jayden Phong Nguyen
---
Jaime Nixon
---
Chad Ortiz
---
Ian Isles
---
Julio Velazquez
---
[/tab]
[tab title="Photos"]
[/tab]
.[/tab]
[tab title="Press and Reviews"]
And the stunning premiere of Mizerany's "Via Dolorosa," danced by Ortiz to Morten Lauridsen's lovely choral piece "O Magnum Mysterium" is breathtakingly, achingly beautiful.

– Jean Lowerison – SDGLN Theater Critic

CABARET REVIEW: "Hot Guys Dancing" at the Diversionary
.[/tab]
[tab title="Video"]
Behind the Scenes, KPBS
From the 2014 Production
---
.[/tab]
[tab title="Fun Stuff"]
Hot Guys Dancing director Michael Mizerany's Q+A with dancer Chad Ortiz
An Interview with John Paul Lawson