The Royal Uprising Ball
[button link="https://www.youtube.com/c/DiversionaryTheatreSanDiego/live"]CLICK HERE TO STREAM ON YOUTUBE![/button]
[tabs][tab title="Event Information"]
JOIN US FOR THIS FREE
COMMUNITY-INSPIRED EVENT!

Join us

ONLINE

as we celebrate the House of Diversionary, the

third oldest LGBT theatre in the country, with a




high-energy, virtual bash featuring dazzling

entertainment, decadent silent auction and raffle items, and a dash of debauchery!

Get your dancing shoes out because this virtual event will have you up on your feet and dancing the night away!

RSVP here and we will send you a link to tune in for FREE on Saturday April 25 @ 6:45pm.

Hosted and performances by Jaye Wilson
(Craig Noel Award Winner for Hedwig & The Angry Inch).

Honoring long-time volunteers Carol Ann Flanagan, Peter Herman, Glenn Sipes & Julie Ustin with the first-ever "Gratitude Awards."
<[maxbutton id="69″][maxbutton id="68″][maxbutton id="70″]
Gala Co-Chairs: Dame Beth Kind & Sir Jay Henslee
Royal Court Co-Chairs: Lillian Faderman & Phyllis Irwin

Scott Williford – President
Jay Henslee – Vice President
Tom Abbas – Treasurer
Allison Rossett – Secretary
Julia Cuppy
Roxanne Govari
Jodie Graber
Rob Granat
Kim Heil
Colleen Kendall
Beth Kind
Karla Martinez
Alicia McLain
Matt M. Morrow
Nic Reveles
Mark Somers
Russ Sperling
[/tab][tab title="Silent Auction & Raffle – Open Now!"]
Welcome to Diversionary Theatre's first Virtual Silent Auction and Raffle!
Visit our Live Auction page to browse and bid on our auction items or make a donation from now until Sunday, April 26th, 5:00 pm PST.
Some of the Available Items include:

Historic Broadway Memorbilia, Elton John's Autograph, Hotel Del Coronado One Night Stay, 5 Night Stay in Julian, Personal Training Package, 1 Week Stay Puerto Vallarta Condo, 2 Roundtrip Domestic flights United Airlines, a yoga membership, and more!
Raffle tickets will be on sale until 8:30 PST on April 25th! 
Winners will be announced during the Gala Live Stream 
shortly after the Raffle closes on April 25th. 
If you need help navigating this webpage, give us a call at 
619-220-6830 x205 or email us at gala@diversionary.org.
[/tab][tab title="Entertainment"]
Due to current affairs, Peppermint will no longer be performing at this year's "virtual" event. We look forward to hosting her in the future!
Hosted and Performances by: Jaye Wilson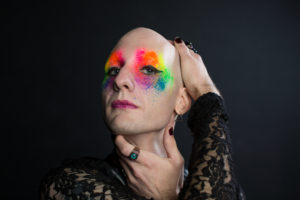 Jaye  Wilson (They/Them/Theirs) won the 2019 San Diego Critics Circle Award for Outstanding Lead Performance in a Musical for their performance as the title role in Diversionary's production of Hedwig and the Angry Inch. They have graced stages from coast to coast, ranging from nightclubs and cabarets to theatres and Carnegie Hall. A few of their favorite roles include Puck in A Midsummer Night's Dream, and Argemone (et al.) in Allegory (La Jolla Playhouse WOW Festival). Jaye was most recently seen in La Jolla Playhouse's POP Tour production of Emily Driver's Great Race through Time and Space.
[/tab]
[tab title="Sponsorships"]
Royal Sponsor:

Diversionary Theatre is a 501(c) 3 non-profit organization. Federal Tax ID # 33-0240436
[/tab][tab title="2020 Honorees"]
Our previously announced Fritz Klein Award Honorees Joann Clark and Christine Kehoe will be honored at next year's Gala event.
Honoring long-time volunteers Carol Ann Flanagan, Peter Herman, Glenn Sipes & Julie Ustin with the first-ever "Gratitude Awards."

[/tab]
[tab title="Past Honorees"][accordions ]
[accordion title="2019 – Dea & Osborn Hurston & Alexandra Billings" load="hide"]
FRITZ KLEIN AWARD HONOREE: 
Dea and Osborn Hurston are longtime advocates, leaders, and philanthropists for the arts in San Diego.  They are both committed to ensuring that diverse voices are not only represented on stage but offstage as well.  A few of their countless accomplishments and brainchildren include: founding the Bechdel Brigade at MOXIE, funding a fellowship for diverse artists at San Diego Opera, and underwriting a trans awareness event at Diversionary Theatre for the award-winning Ballast.
Osborn currently serves as a Trustee for the La Jolla Playhouse and has served on the boards of the Naval Training Center Foundation and the Balboa Art Conservation Center.  He is also a past President of the San Diego Performing Arts League Board.  His volunteerism extends well beyond the arts to service on the Investment Committee of the San Diego Zoo and on the Boards of Inewsource, the City of San Diego Retirement Board, and the County of San Diego Retirement Board. 
Dea has served on many boards and has been a long-time supporter of many local theatre organizations including Diversionary Theatre, MOXIE, Mo`olelo, La Jolla Playhouse, The Old Globe, Ion Theatre, San Diego Repertory Theatre, North Coast Rep, Common Ground Theatre, Ira Aldridge Players, Mainly Mozart, Fern Street Circus, Playwrights Project, San Diego Ballet and Malashock Dance.  Outside of her work in the local arts community, she has also served on the boards of the Park Task Force, San Diego State University Professional Studies and Fine Arts Advisory Board, and Vista Hill Foundation.
Between the two of them, they've contributed countless hours of time and talent in addition to treasure.  The Hurstons are truly a force that has helped shape the nationally recognized landscape of the arts scene in San Diego.
FRITZ KLEIN NATIONAL AWARD HONOREE:
Alexandra Billings is an actress, singer, author, teacher, and activist. Most recently Billings starred on Broadway in the Manhattan Theatre Club production of The Nap at the Samuel Friedman Theater, where The New York Times called her performance "…a sensational Broadway debut…" and "…a marvel of glamorous menace." Currently, Billings plays Davina on Amazon's Emmy and Golden Globe Award-winning hit TV show Transparent. She has also appeared on How To Get Away With Murder, Grey's Anatomy, and the Amazon series Goliath, starring Billy Bob Thornton. In 2005, Billings played Donna, opposite Katherine Heigl, in the ABC film Romy and Michelle: A New Beginning. It was the second time a transgender actress played a transgender character in the history of television. She's had guest-starring roles on Eli Stone, E.R., Karen Sisco, Nurses opposite Lynn Redgrave, and playing opposite Dot Jones in the Ryan Murphy pilot Pretty/Handsome, co-starring Blythe Danner and Robert Wagner. Her first feature film role as a non-trans character in Valley of Bones debuted in the fall of 2017.
Billings has been acting since 1968 and has performed across the United States in hundreds of plays and musicals. She's played everyone from Mama Rose in Gypsy to Mrs. Linde in A Doll's House. Almost every stage role is considered to be a first for a transgender actress. She originated the role of Alejandra in Time to Burn by Charles Mee at the Steppenwolf Theater in Chicago and toured to off-Broadway in Jeff Richmond and Michael Thomas' camp classic, Hamlet! The Musical! She is the recipient of five After Dark Awards and one Joseph Jefferson Award.
Billings' activism stretches across the continent. In 2017, she was honored to receive the Visibility Award from the Human Rights Campaign (HRC). In 2016 she moderated a panel during Transgender Awareness Month at the White House. She has won the TPA Award and the Rainbow Spirit Award, and she was inducted into the Gay and Lesbian Hall of Fame in Chicago in 2007. She has been living with AIDS since 1995. Her life story From Schoolboy to Showgirl, produced by Alex Silets for PBS television, was nominated for an Emmy for best documentary.
Alex is married to her high school sweetheart Chrisanne Blankenship-Billings, and she is an Associate Professor of Theater at USC. She earned her Masters at Cal State Long Beach, where she taught for several years. She is a Viewpoints Associate at The Steppenwolf Theater and has taught in schools across the country.
[/accordion][accordion title="2018 – Susan Atkins & Lillian Faderman" load="hide"]
FRITZ KLEIN AWARD HONOREE: SUSAN ATKINS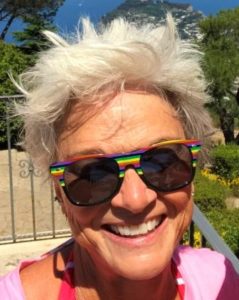 After nearly 30 years in communications, including teaching at the University of Tulsa, Susan founded Atkins + Associates – a media and investor relations consulting firm serving the biotechnology industry – and sold the company to Porter Novelli, a global public relations agency. She was a leader in the biotechnology industry for more than 20 years, as director of communications for Genentech and as a corporate officer and vice president of communications for Ligand Pharmaceuticals and Rorer Group. She was also a member of the executive committee of the San Diego BIOCOM board of directors and active in the international Biotechnology Industry Organization. She was group vice president of Ketchum Public Relations in San Francisco, was appointed Library Commissioner in San Diego, and served on the Board of Directors of Planned Parenthood. She also served as Board Chair for Diversionary Theatre for five years – just after the organization moved into its new and current home. Now retired, Susan is on the Board of Directors of the National Gay and Lesbian Victory Fund where she was Board Chair for two years. She is also on the Board of the Women's Coalition of St. Croix, US Virgin Islands. Additionally, she has received several awards for philanthropy including an award from the Association of Fundraising Professionals and an award from The LGBTQ Center of San Diego where she also received a women in health care award.
FRITZ KLEIN NATIONAL AWARD HONOREE: LILLIAN FADERMAN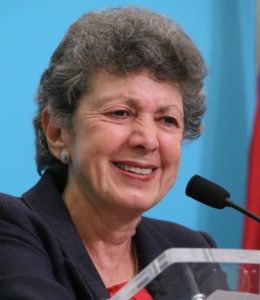 Lillian Faderman is an internationally known scholar of lesbian history and literature, as well as ethnic history and literature. Among her many honors are six Lambda Literary Awards, two American Library Association Awards, and several lifetime achievement awards for scholarship. She is the author of The Gay Revolution, Surpassing the Love of Men, Odd Girls, Twilight Lovers, all New York Times Notable Books. The Guardian named Odd Girls and Twilight Lovers one of the Top 10 Books of Radical History. Her biography of Harvey Milk will be published by Yale University Press in May.
[/accordion][accordion title="2017 – Rob Granat, Al Mazur & Shana Wride" load="hide"]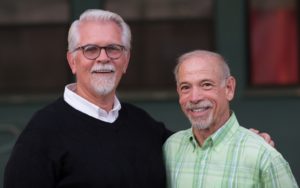 Al Mazur (Left), Rob Granat (Right) Photo: Simpatika.com[/capt
FRITZ KLEIN AWARD HONOREES: ROB GRANAT & AL MAZUR
Rob Granat was elected to the Board of Trustees of Diversionary Theatre in January 2015. Rob holds a B.A. from the University of Pennsylvania-Philadelphia and two MBA's from Columbia University-NYC. His work experience has been in the travel industry; first as a marketing analyst for TWA and then Eastern Airlines; then chiefly in the cruise industry – marketing and sales. He retired in 2003 as Vice President of INTRAV; a tour operator offering private jet tours, riverboat cruises in Europe; upscale tours all over the world, and four small expedition ships cruising from the Arctic to the Antarctic and all the oceans in between. Since 2003 he does some outside sales for Ft. Worth travel agency Cruises Etc and hosts the consortium to which he and partner Al belong on luxury ships with Regent, Crystal, & Seabourn.
Al Mazur was born in the early 1950s in a small city in upstate New York. He grew up there with close ties to a very loving family. After High School graduation, he pursued his dream of a career in architecture by attending Syracuse University. After graduating with a Bachelor of Architecture, Al remained in the Syracuse area for another five years, where he acquired the necessary professional experience and took the exams to achieve his first Architect's license in New York State. Licenses in Texas and California followed in the years ahead. Wanting to further his career, he headed for Houston, Texas, which was the hottest place for young aspiring architects in the late 1970's. Al spent 25 years in Houston, working on large corporate and institutional projects for Skidmore, Owings and Merrill, and the Leo A Daly Company. His variety of projects included large office buildings across the U.S., the new National Weather Center at the University of Oklahoma, the new office for the FBI in Houston, and several projects in California. In addition, Houston is where he met his husband Rob 25 years ago. He and Rob's work in California brought them to San Diego individually and together on several occasions and that's when they fell in love with this wonderful city. In 2004, they both decided to retire and live the good life in San Diego. Life has never been better for them. Being an architect, Al took on the work of restoring and improving their home in Marston Hills. Small projects continue and as Rob says "He just can't leave it alone". Being an avid gardener, Al became a certified Master Gardener and volunteers through many of the organization's volunteer opportunities. Working in their own garden is some of the most rewarding times for Al. He's a member of Mission Hills United Church of Christ and participates in many of the church's good works. Couple all of this with Rob's travel bug and you have a life that's full of the best.
FRITZ KLEIN NATIONAL AWARD HONOREE: SHANA WRIDE
Shana Wride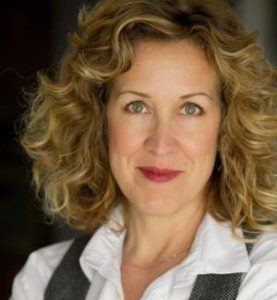 has performed at Diversionary in 2.5 Minute Ride, Baby with the Bathwater, The Further Adventures of Hedda Gabler, Next Fall, and A Late Snow. Other acting credits include- Faded Glory and Broken Glass (North Coast Repertory Theatre); Much Ado About Nothing (Intrepid Theatre); Private Lives (Cygnet Theatre); Women Who Steal, A Christmas Carol, Suds, Working, Six Women with Brain Death (San Diego Repertory Theatre); A Midsummer Night's Dream, Twelfth Night, Merry Wives of Windsor  (Shakespeare Festival Los Angeles); Indoor/Outdoor (The Colony Theatre); Macbeth, Fen, Wooden Breeks, Measure for Measure (Open Fist Theatre); Heidi Chronicles and Lips Together, Teeth Apart (Gaslamp Theatre); Henry IV Parts 1 & 2, Love's Labor's Lost (Idaho Shakespeare Festival); New, Shadowy Waters, No Time Like The Present (Sledgehammer Theatre). Directing credits include: The Whale, Mistakes Were Made (Cygnet Theatre), Walter Cronkite is Dead (San Diego Repertory Theatre), Boys & Girls, and Anita Bryant Died for Your Sins (Diversionary Theatre), Or (Moxie Theatre) and Who's Afraid of Virginia Woolf? (Compass Theatre). She co-hosted the nationally syndicated radio show, "Women Aloud" with actor/comedienne Mo Gaffney.
[/accordion]
[accordion title="2016 – Tom Reise & James Obergefell" load="hide"]
FRITZ KLEIN AWARD HONOREE: TOM REISE
CALIFORNIA INSTITUTE OF CONTEMPORARY ARTS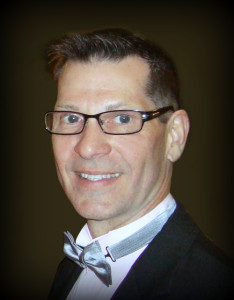 Originally from Chicago, Tom moved to Los Angeles in 1987 and then to San Diego in 1995. With an extensive background in Food and Beverage Management, early in 2004 he and partner Fritz Klein opened a sugar-free bakery and café called Indulgence which catered to people with diabetes and those interested in healthy cuisine.
On December 13, 2008, Lambda Archives' first Lifetime Family Membership Award was given to Tom and posthumously to Fritz in appreciation of their contributions to Lambda Archives as well as the community.
A co-trustee of Fritz's estate, Tom has served on the board of both Fritz's charitable foundations, American Institute of Bisexuality (AIB), and currently is the President of the Board of Directors for California Institute of Contemporary Arts (CICA). He was honored to be on the Board of Stepping Stone San Diego and to serve a term as Chairman.
Mr. Reise is also the Vice-Chairman of the Leadership Council for the Program in Human Sexuality at the University of Minnesota. The first Chair in Sexual Health in the world as a result of the Council's early efforts.  And last May, the Joycelyn Elder's Chair in Sexual Health Education was inaugurated after more than 7 years of planning and fundraising by the members of that Leadership Council.
Tom's involvement with Greyhound rescue has resulted in the adoption or fostering of 6 Greyhounds and 3 Italian Greyhounds over the past two decades.
A.C. Carter has been his life companion for the last 5+ years and they currently live in central San Diego.
FRITZ KLEIN NATIONAL AWARD HONOREE: JAMES OBERGEFELL
OBERGEFELL V. HODGES, SUPREME COURT CASE LEGALIZING SAME-SEX MARRIAGE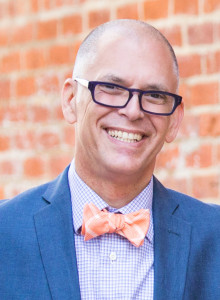 Jim Obergefell was the named plaintiff in the landmark marriage equality case Obergefell v. Hodges, which ruled same-sex couples nationwide have the Constitutional right to marry. In 2013, Jim married his partner of 20 years, John, who was dying of ALS. Their marriage – performed in Maryland – wasn't recognized in their home state of Ohio, setting off a legal fight to have their lawful marriage recognized on John's impending death certificate. Their case, consolidated with five other cases from four states, eventually made its way to the Supreme Court, which declared marriage equality the law of the land. Jim considers himself an accidental activist, one who became involved in an issue due to extenuating circumstances, and he is now committed to continuing the fight for civil rights and equality for all Americans. Jim speaks about his experience and the fight for equality as a speaker with APA Agency, and he is actively involved with the Human Rights Campaign, Equality Ohio, and other organizations. Jim has been honored with awards from organizations such as SAGE, Equality Florida, Equality North Carolina, the ACLU of Southern California, Cleveland Stonewall Democrats, The International Court Council, the National Gay and Lesbian Chamber of Commerce, and the Ohio Democratic Party. Foreign Policy magazine named Jim one of its 2015 Global Thinkers, and Out magazine named Jim to its 2015 Out 100 list. Jim was born and raised in Sandusky, Ohio, earned a degree in Secondary Education and German from the University of Cincinnati, and currently lives in Cincinnati, Ohio.
[/accordion]
[/accordions]
[/tab]
[tab title="Live Stream"]
https://www.facebook.com/diversionarytheatre/live
https://www.youtube.com/c/DiversionaryTheatreSanDiego/live
[/tab][/tabs]
Please call DeNae Steele at 619-220-6830 x202 or email DeNae@diversionary.org with any questions.
Royal Sponsor: