A Divine Evening With Charles Busch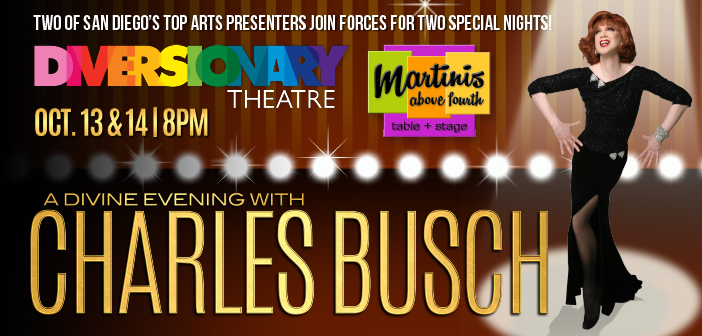 [tabs ]
[tab title="Show Info"]
 
Tuesday, October 14th
Wednesday, October 15th
8pm
Diversionary Theatre and MA4 present the inimitable Charles Busch in an all-new show. The two-time MAC Award winner, Tony nominee, and drag legend brings an eclectic program of songs both contemporary and from the past.
Accompanied by his dashing longtime musical director, Tom Judson, Charles combines hilarious personal reminiscence, character sketches and superb storytelling through song into one glittering and glamorous evening in cabaret.
• $25-$35 Reserved Seating
• $15 Per Person Food/Drink Minimum
• Doors Open At 6pm
• No Refunds/Exchanges
Located at Martini's Above 4th|Table + Stage.
[tab title="About Charles Busch"]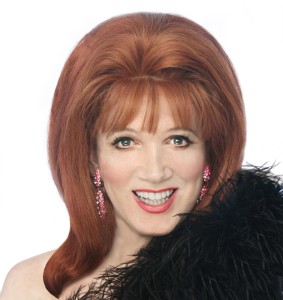 CHARLES BUSCH is the author and star of such plays as The Divine Sister, The Lady in Question, Red Scare on Sunset, and Vampire Lesbians of Sodom, one of the longest running plays in the history of Off-Broadway. His play, The Tale of the Allergist's Wife, ran for nearly two years on Broadway, won the Outer Circle Critics' John L. Gassner Award for playwriting and received a Tony nomination for Best Play.
He wrote and starred in the film versions of his plays, Psycho Beach Party and Die Mommie Die, the latter of which won him the Best Performance Award at the Sundance Film Festival. For two seasons, he appeared as Nat Ginzburg on the HBO series OZ and is the author of the autobiographical novel, Whores of Lost Atlantis.
Busch has directed two films; the Showtime short subject, Personal Assistant, and a feature, A Very Serious Person, which won an honorable mention at the Tribeca Film Festival. Due to his love and knowledge of film and theatre history, he has appeared in numerous documentaries for Turner Classic Movies and has lectured and conducted master classes at many colleges and universities including NYU, Harvard, UCLA and Amherst College.
In 2003, Mr. Busch received a special Drama Desk Award for career achievement as both performer and playwright and was given a star on the Playwrights Walk outside the Lucille Lortel Theatre. He is also the subject of the acclaimed documentary film, The Lady in Question is Charles Busch. The feature documentary, dubbed by The Village Voice as a "drag to riches story," casts the artist's fascinating life as a triumphant tale of drive and perseverance.
He is a two-time MAC award winner and has performed his cabaret act in many cities including San Francisco, Provincetown, New Orleans, Atlanta, Philadelphia, London, Paris and in New York at the Ballroom, Birdland and 54 Below. http://www.Charlesbusch.com
[/tab]
[tab title="Reviews"]
"He has the gift of comic gab like few other entertainers. Innately funny, endearing and acutely intelligent, he also has claws.  For an audience, the possibility of being scratched, although remote, lends his humor a bracing edge."
-The New York Times
[/tab]
[tab title="Venue Information"]
This Cabaret performance will be held at Martini's Above 4th|Table + Stage.
Martinis Above Fourth | Table + Stage is located in Hillcrest at 3940 Fourth Avenue between Washington Street and University Avenue.
Phone: 619.400.4500
Fax: 619.400.4505
Email: info@martinisabovefourth.com
[/tab]
[/tabs]