The Further Adventures of Hedda Gabler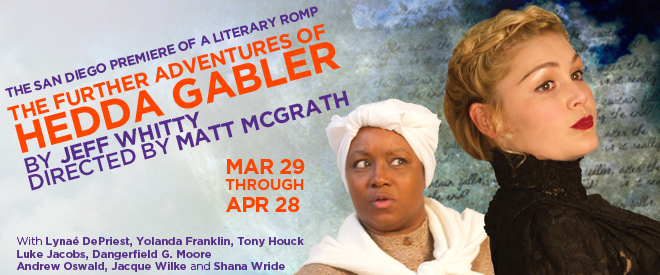 [tabs]
[tab title="Show Info"]
March 29th, 2013 – April 28th 2013
What happens to our favorite literary figures after the curtain falls and the last page turns on their story? Is it really The End? Moments after her nightly death, Hedda Gabler and Mammy (yes, that Mammy) head out in search of a more fulfilling ending, encountering a host of the greatest characters of stage, page and screen along the way. Jeff Whitty, one of the twisted minds that brought you Avenue Q, takes the heroines and audience on a comedic journey in search of life beyond the original authors' wildest dreams.
[/tab]
[tab title="About the Writer"]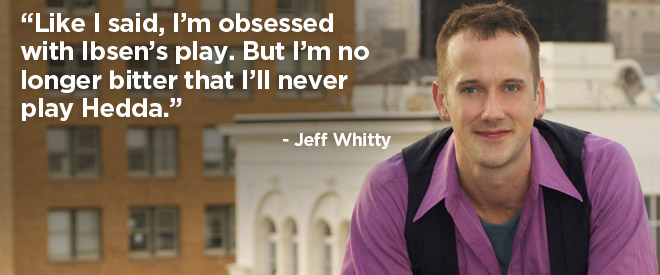 From Jeff Whitty
I've always longed to play the role of Henrik Ibsen's Hedda Gabler, ever since I played her husband, George Tesman, in graduate school a decade ago. In my more grandiose moments, I feel that no one in the world could understand her better than me: her mercurial shifts of mood, her willful destructiveness, the volatility she hides beneath a convincing sophistication. But due to the unreasonable limitations presented by casting directors and artistic directors at theatres across the country, I suspect I will never have the chance.
As Fate moved me from a career in acting to a writing career, I've discovered that, for me at least, the creative process is much the same. Both acting and writing require the artist to discover the emotional arithmetic that drives character. This requires a lot of pleasurable time spent inside someone else's head. I'm still not sure which craft I prefer.
As an actor, one faces the audience head-on.It's a preposterous leap, pretending to be somebody else in front of a group of people willing to suspend their belief. No matter how advanced stage technology becomes, it will always retain the brutal, primitive thrill of a game of pretend. In theatre more than any other art form, the audience gets to play, too. It's a jungle-gym exercise of imagination when it works.
Writing is several steps removed from the actor's chutzpah. When my writing goes well, I love the easy, comfortable bounce between points of view. Some days I get so absorbed, I'm often completely surprised when a moment of humor or pathos emerges. When I hit a block, as I have many times when writing this play, it's a challenge to replicate the easy and comfortable feeling of happier writing days. But what a gratifying feeling when, after much chipping away, a moment emerges that feels easy, that flows—that doesn't stick out!
The nail-biting question for the playwright is whether the fireworks in one's head can be replicated when recreated by a slew of brave actors and brilliant designers and, one hopes, a shrewd and generous director. On this project I've been blessed by all of the above.
Like I said, I'm obsessed with Ibsen's play. But I'm no longer bitter that I'll never play Hedda.
Because, though I never donned a bustle and picked up the pistols, I feel I've been able to play her—my version of her, at least. I don't want to give too much away, but writing this play has been a treat because I've been able to explore all manner of roles for which I'll never get an Actors' Equity contract.
If you don't know Ibsen's original Hedda Gabler, it's a magnificent read, and it's a captivating evening of theatre (even with someone else playing the role). And if you don't know the play, you may miss a few nuances in tonight's show, but I've written it carefully so all you really need to know is this: driven into a corner at play's end, unable to balance her own limited world-view and the confines of the world in which she finds herself, Hedda Gabler takes her father's gun and kills herself.
And now, here's the sequel.
Jeff Whitty (Playwright) won the 2004 Tony Award for Best Book of a Musical for Avenue Q, which ran six years on Broadway and then moved to its current home off Broadway at New World Stages. Additional mountings include five years in London's West End, U.S. and U.K. national tours, and dozens of international productions. This fall, his new musical Bring It On kicks off a New York bound national tour at the Ahmanson Theatre in Los Angeles, with a score by Tom Kitt, Amanda Green, and Lin-Manuel Miranda. Whitty's plays include The Further Adventures of Hedda Gabler,The Hiding Place, The Plank Project, Balls, and Suicide Weather. Theaters mounting his work include the Oregon Shakespeare Festival, the Alliance Theatre, Atlantic Theater Company, South Coast Repertory, Vineyard Theatre, and The New Group, as well as The Eugene O'Neill Theatre Center, which hosted developmental workshops for Avenue Q and Tales of the City.

[/tab]
[tab title="Cast"]
Lynaé DePriest (Flossie) excited to return to Diversionary Theatre after her debut with when last we flew. Elsewhere: For Colored Girls Who Have Considered Suicide When the Rainbow is Enuf (Common Ground); The Crucible (MOXIE); BFE (San Diego Asian American Repertory Theatre); The Last Days of Judas Iscariot (Triad Productions); No Child and The Vagina Monologues (InnerMission Productions); Free Gift (Community Actor's Theatre).
Yolanda Franklin (Mammy) is pleased to be on board with Diversionary for the first time with The Further Adventures of Hedda Gabler. Elsewhere: Trip to Bountiful (New Village Arts); Little Flower of East Orange, Chicago, A Speakeasy Cabaret (Ion Theatre); The Sugar Witch(OnStage Playhouse); A Raisin in the Sun, Dead Man's Cell Phone, Gibson Girl (MOXIE Theatre); Our Town (Cygnet); Steel Magnolias, Twelfth Night, Glass Menagerie (Point Loma Actors Theatre); For Colored Girls, Handel's Messiah-A Soulful Celebration, Four Queens No Trump(Common Ground Theatre); Prodigal Son, Nina Simone (Ira Aldridge Players); Here I am, Native Son (CAT Theatre); The Gospel Messiah (SD Church Conference/SD Symphony); Humphrey Nevada (SD Repertory/Fritz Blitz). TV/Film: The Tie that Binds, Proxy (InVitro Films); The Tiger Woods Movie(20th Century Fox); Levels of Anxiety (Opening Door Productions); Personals (Hansen Production Company); Commercials: Toyota Carlsbad, Channel 10 Christmas, Hush Puppies, Honda, Claritan & AOL.
Tony Houck (Steven). Previously at Diversionary- Pippin; Harmony, Kansas; Next Fall; [title of show]; Twist; Yank!; Anita Bryant Died for Your Sins; Dear Harvey; Scrooge in Rouge(2008/2012) Elsewhere: Cabaret(Cygnet). Tony also wrote and starred in the sexy and hilarious Diversionary Cabaret show Heather and Tony: We Might Be Cousins. Tonywould like to dedicate this performance to Monty, who is always an adventure!
Luke Jacobs (Patrick) is excited to be back at Diversionary. Previously: Pippin. Credits include: Lucky in Dames at Sea, Don Kerr in A Chorus Line, Richard (the nice nurse) in A New Brain, Caldwell B. Cladwell in Urinetown, Gideon in Seven Brides… and Beverly Carlton in The Man Who Came to Dinner.  Abroad: 2nd National Tour of All Shook Up, Lead Singer/Dancer aboard the M/S Maasdam with Holland America Line.  He holds his BFA in Musical theatre from CSU, Fullerton.
Dangerfield G. Moore (Eilert Lovborg) is thrilled to be involved with Diversionary. He was previously seen at Diversionary as Bill in Learn to be Latina and Gaveston in Edward II. He also played Enrico in A Roman Holiday (Coronado Playhouse). North Coasts Reps production of Henry 4 Part 1 and Vanguards production of Hamlet. He has extensive credits in stage and film. He received his Bachelor's in drama from the University of Pittsburgh.
Andrew Oswald* (George Tesman) This is not only Andrew's first show at the Diversionary but his first full production in San Diego. Off-Broadway: Bedtime Sketch Comedy (cast member and co-artistic director: Westbeth Theatre Center) For Love (Soho Rep). Off-off-Broadway:Northanger Abbey (O.O.B.R. award winner outstanding production; Distilled Spirits) King Lear, The Duellists (Theatre Ten Ten) Doctor Faustus (Tribeca Theatre Lab) Weird Romance (NADA)Dahling (Grove Street Playhouse) Bad Evidence, Taming of the Shrew, Duchess of Malfi (Kings County Shakespeare Company) A Christmas Carol, The Lion the Witch and the Wardrobe(Northeast Tours, Theatreworks USA). Elsewhere: Leading roles with Orlando Shakespeare Festival, New Hampshire Shakespeare Festival, and Wisconsin Shakespeare Festival, The Captain in The Sound of Music (Lincoln Amphitheatre). Directing Credits include shows with N.Y. Fringe Festival, Suspended Cirque, One Arm Red, and Westbeth Theatre Center. Thanks to John, Bret, and Matt for this opportunity. And special thanks to Tom Budd.
Jacque Wilke (Hedda) is thrilled to be back on the Diversionary stage! Previous credits include:Scrooge in Rouge, Next Fall, Fair Use, The New Century, Anita Bryant Died for your Sins (Diversionary) Mistakes Were Made (Cygnet) Lend me a Tenor, Mistletoe, Music, and Mayhem, and  Don't Dress for Dinner (North Coast Repertory), Or, (MOXIE), The Seven Year Itch, and The Heidi Chronicles (New Village Arts) Side Man (BANG) The Break-up Breakdown (Circle Circle Dot Dot), He Said, She Said (Laterthanever). She performs stand-up and sketch comedy locally with Casa Del Haha, and in LA at The Improvand The Comedy Store. She has studied with The Groundlings, and is a graduate of the American Academy of Dramatic Arts where she was the recipient of the Academy's Charles Jelinger Award for Best Actress.
Shana Wride* (Medea) was last seen at Diversionary Theatre as Arlene in Next Fall. As an actor and director she has worked both locally and regionally. She was most recently seen as Sandy Steir in 8 at the Birch Theatre. Other acting credits include- Cygnet Theatre's production of Private Lives (Craig Noel Critics Circle Award); San Diego Repertory Theatre: Women Who Steal, A Christmas Carol, Suds, Working, Six Women with Brain Death; Sledgehammer Theatre: New, Shadowy Waters, No Time Like The Present; Gaslamp Theatre: Heidi Chroniclesand Lips Together, Teeth Apart.  Shakespeare Festival Los Angeles: A Midsummer Night's Dream, Twelfth Night, Merry Wives of Windsor; The Colony Theatre: Indoor/Outdoor; Open Fist Theatre: Macbeth, Fen, Wooden Breeks, Measure for Measure; Idaho Shakespeare Festival: Henry IV Parts 1 & 2, Love's Labor's Lost. Directing credits include: Mistakes Were Made for Cygnet Theatre; Walter Cronkite is Dead for San Diego Repertory Theatre; Or for Moxie Theatre; Anita Bryant Died for Your Sins for Diversionary Theatre and Who's Afraid of Virginia Woolf? for Compass Theatre. While living in Los Angeles, she co-hosted the nationally syndicated radio show, "Women Aloud" with actor/comedienne Mo Gaffney.
*Members of Actors' Equity Association
[/tab][/tab]
[tab title="Creative Team"]
Matt McGrath (Director) is thrilled to be returning Diversionary after starring in Next Fall. Previous credits include playing Dr. Frank "N" Furter in The Old Globe production of The Rocky Horror Show. He directed Darrell Hammond in Tru at Bay Street Theatre as well as Tony Award-winning book writer Jeff Whitty's I Hereby Tender My Resignation as part of Atlantic Theater Company's 10 X 25 play festival. Mr. McGrath's work as a performer in The Black Rider: The Casting of the Magic Bullets in London, San Francisco and Sydney earned him a Helpmann Award nomination. His Broadway credits include Emcee in Cabaret directed by Sam Mendes and Rob Marshall and also A Streetcar Named Desire. Mr. McGrath has appeared Off Broadway in Hedwig and the Angry Inch, A Fair Country (Lincoln Center Theater), Minutes from the Blue Route, Fat Men in Skirts, The Old Boy, Life During Wartime, Amulets Against the Dragon Forces and Dalton's Back(Drama Desk Award nomination). His regional theatre credits include Japes (Bay Street Theatre), Beyond Therapy, Caroline in Jersey and Mother of Invention (Williamstown Theatre Festival), Loot (Williamstown Theatre Festival and La Jolla Playhouse), Raised in Captivity (South Coast Repertory), Distant Fires (LA Weekly Award) and Snakebit. Mr. McGrath's film credits include Full Grown Men (Tribeca Film Festival 2006), Boys Don't Cryand The Notorious Bettie Page (Killer Films), The Anniversary Party, The Broken Hearts Club: A Romantic Comedy, The Impostors, The Substance of Fire, Bob Roberts, The Dadshuttle (Boy's Life II) and Desperate Hours.
Matt Scott (Scenic Designer) Diversionary credits include when last we flew, The Pride, Next Fall, Poster Boys, Dooley, Fair Use and [title of show]. Other San Diego credits include The Lieutenant of Inishmore, Wonder Wounded Heroes, Back of the Throat, Jekyll & Hyde, Hurly Burly, Speed the Plow, Frozen, The Cripple of Inishmaan, The Pillowman, The Glass Menagerie (ion Theatre); The Man Who Came to Dinner (Coronado Playhouse); Zombie Prom, Metamorphosis (Coronado School of the Arts).
Michelle Caron (Lighting Designer) is proud to be an Associate Artist at Diversionary, where her designs include Birds of a Feather, Harmony, Kansas, Next Fall, The Pride, Learn to Be Latina, Edward II, Poster Boys, Dooley, Fair Use, … And Then I Wrote a Song About It, Santa Claus is Coming Out and Anita Bryant Died for Your Sins. She has designed over thirty local productions, with favorites being Thoroughly Modern Millie (Coronado School for the Arts), Malashock/RAW with Malashock Dance and Man of La Mancha, Dirty Blonde, The Glass Menagerie, Our Town, A Behanding in Spokane, The Norman Conquests and It's a Wonderful Life '09-'11 (Cygnet Theatre). Michelle holds an MFA in Theatrical Design from San Diego State University, and she resides in Pennsylvania. Find out more at carondesignworks.com.
Kevin Anthenill (Sound Design) Diversionary Theatre credits: Birds of a Feather, Pippin, Edward II, Learn to be Latina, Next Fall and Harmony, Kansas. Sound designed San Diego Repertory Theatre's Zoot Suit and MOXIE Theatre's A Raisin in the Sun. As well as composed the music for Boom and In the Next Room. Other Credits include San Diego Asian American Repertory Theater's BFE, and Flower Drum Song, at the La Jolla Playhouse, As well as the USD MFA program's A Winters Tale and 12th Night at The Old Globe Theatre, He has been the Sound Design Assistant for The Old Globe's Summer Shakespeare Festival twice and worked with The Old Globe's education department sound designing their Summer Shakespeare Intensive three times. He Holds a B.A. in Theater Design from San Diego State University.
Shirley Pierson (Costume Designer) For Diversionary Theatre: Pippin, Harmony Kansas, Next Fall. Selected San Diego Theatre: Parade, Glass Menagerie, Little Shop of Horrors, Our Town, Cabaret, Sweeney Todd, Private Lives, It's a Wonderful Life (09, 10, 11), History Boys, A Christmas Carol, Cygnet Theatre; Into the Woods, New Village Arts; Holiday Memories, Scripps Ranch Theatre; Richard III, Old Globe/University of San Diego. Elsewhere: The Amazing Food Detective, Drumming up Peace, Zip's Great Day, Someone Like Me, Jay and E on the Zig Zag Sea, Kaiser Foundation Educational Theatre Program. Awards include a KPBS Patte Award for Theater Excellence, Outstanding Costume Design; The Irving Parker Award for Excellence in Theatre Arts; and The Kennedy Center American College Theater Festival, Region VIII, Costume Design in Production Award. Shirley is a faculty member of the Performing Arts Department at Palomar College. She received her MFA in Theatrical Design from San Diego State University.
David Medina(Prop Designer) is proud to be an Associate Artist at Diversionary: Birds of a Feather, Scrooge in Rouge (2008 & 2012), Pippin, Harmony, Kansas, The Pride, Speech & Debate, The Marriage Bed, Twist, The Little Dog Laughed, Facing East, Corpus Christi, The Daddy Machine. Other Diversionary credits include: When Pigs Fly (Asst. Scenic), Busy World Is Hushed ( Asst. Scenic), BlueBonnet Court (set construction); ion Theatre: Cripple of Inishman ( prop Asst.) Bang productions: Sideman; USD: Cabaret, The Saints Plays. David has worked for the Old Globe Theatre on over 80 shows as a Properties Buyer, Craftsperson & Artisan.
Deborah Climo (Stage Manager) is a graduate of Southern Illinois University Carbondale with a BA in Theater. She is a Stage Manager and Properties Master who still likes to play backstage when the opportunity arise. Originally from New York by way of Tennessee she moved to San Diego in early 2011. Some past credits include- Locally: Woman in the Mirror, John Doe: The Musical (John Doe Productions), Raisin in the Sun (MOXIE), The Musical Paul Gauguin (Asian Story Theatre) and various projects with Playwrights Project,  NYC: Count to Ten (Group Theatre Too), Regional: The Mac-Haydn Theatre- Crazy For You, Sweet Charity, Beauty and the Beast, Hello Dolly, High Society; Cumberland County Playhouse- She Loves Me, Brigadoon, Crowns, Pirates of Penzance, Flight of the Lawnchairman, Captains Courageous; McLeod Summer Playhouse- Cats, I Love You, You're Perfect, Now Change, among others. She would like to thank her family and friends for their insanity and is very happy to be part of this production.
[/tab]
[/tab]
[/tab]
[tab title="Press Photos"]
[/tab]
[/tab]
[tab title="Resource Links"]
[/tab]
[tab title="Reviews"]
Steven Stanley, StageSceneLA says:
"Diversionary Theatre hits the bull's-eye"
"[Tony Houck and Luke Jacobs] couldn't be more fabulous as a pair of Bandesque Boys whose sassy exchanges are the evening's biggest laugh-getters."
"topnotch design team"
"funny play…and splendidly staged production"
Pam Kragen, U-T San Diego, says:
"funny…well acted…lively and fast-paced"
Patron Reviews:
"Superb play"
"one of the best we have seen"
"Congratulations on a terrific, beautifully acted and well directed show!"
[/tab]
[/tabs]