Amazons and Their Men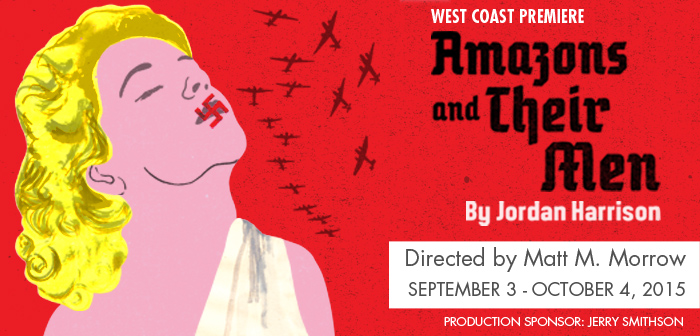 [tabs ]
[tab title="Show Info"]
September 3rd – October 4th
Go behind the scenes of The Frau's next masterpiece: A film adaptation of a mythic Amazon Queen's love-and-war affair with Achilles. But as a real war brews outside the doors of her sound stage, history's most notorious filmmaker must choose between her artistic ideals and the fascist regime bankrolling her career. Art and war collide in this darkly comic and subversive new play inspired by the life of Leni Riefenstahl, auteur of Triumph of the Will.
Production Sponsor:

Jerry Smithson
[tab title="Matt's Memo"]
Matt's Memo
I've always been fascinated with Leni Riefenstahl. As one of the very first female film directors, she pioneered film techniques we still use today (she invented the dolly and crane shot!). As an artist she was brilliant. Her propaganda film Triumph of the Will was mandatory viewing across Germany in the lead up to World War II, and it's widely credited for brainwashing the German people to Nazi ideals. Even though Hitler was a close friend of Leni, she herself was never a member of the Nazi party, and claimed even during the war she was only interested in art. Still, after the war, she was convicted of being a Nazi "Fellow Traveler" at Nuremberg and was never to work professionally again. Continuing to work in obscurity,making films of the African Nubian people, and then scuba diving films well into her 80's, Leni lived to be an astounding 101. In a sort of self-induced delusion, to her dying day Leni denied any knowledge of the genocide perpetrated against the Jews, gypsies and homosexuals.
In Amazon, Jordan features a romance between two beautiful men on the set of Leni's follow up film to Triumph of the Will, posing obstacles for the star director's politics and enormous ego. This dark comedy takes on the legendary filmmaker, politics, the artistic process, and the persecution of Jews and gays in the Holocaust with high theatricality, intelligence and surprising humor.
[/tab]
[/tab]
[/tab]
[tab title="Cast & Creative"]

Cast
Kerry McCue (The Frau) is very happy to be returning to Diversionary Theatre with Amazons and Their Men. Previously for Diversionary: Regrets Only. Elsewhere: Broken Glass and Perfect Wedding (North Coast Rep); Lost in Yonkers (Arizona Theatre Company); Seminar, The Lieutenant of Inishmore, and Time Stand Still (Actors Theatre); Trainspotting and 4.48 Psychosis (Stray Cat Theatre); Sexual Perversity in Chicago, Les Liaisons Dangereuses, and Metamorphoses (Nearly Naked Theatre); A Midsummer Night's Dream (Sedona Shakespeare).
---
John DeCarlo (The Man) is very excited to be returning to Diversionary Theater with Amazons and their Men.  John's last show at Diversionary was Beautiful Thing.  Elsewhere: Stage Kiss, Off The Ground, Golden Boy, Julius Cesar, Summer and Smoke, Heidi Chronicles, Seven Year Itch, Death of a Salesman, Ah Wilderness,  Of Mice and Men, Comedy of Errors, Brilliant Mistake and Buried Child (NVA);  Bug, Mauritius and Man from Nebraska (Cygnet).
---
TIFFANY TANG (The Extra) Diversionary debut! New York theatre includes Macbeth, Much Ado About Nothing (The Cry Havoc Company), Far Away (New York Theatre Workshop). Regional theatre includes Cabaret (Scarborough Drama Festival, England), The Life (Stella Adler Theatre). Local theatre includes Macbeth, Romeo and Juliet (Intrepid Theatre Company); Longview TX, The Vagina Monologues (InnerMission); Derbywise (Circle Circle dot dot); Almost Maine (Carlsbad Playreaders);S.R.O., Lifestages: Reflections (Playwrights Project). Recent film credits include Thane of East County and A Life Lived (Frazzled Man Productions). Tiffany is the author of Creepy Little Death Poems and pretty sure this is the only time she will ever be referred to as an "Amazon." Thanks to guardian angel Anthony, visionary Matt and this uber-talented cast and crew for the daily movie magic. MFA: Actors Studio Drama School. For Presley.
---
Jewels Weinberg (The Boy) is thrilled to make his debut at Diversionary Theater with Amazons and Their Men. Elsewhere: A Midsummer Night's Dream (Fruitless Moon Productions and The Garden Theater Festival); Lord of the Flies (New Village Arts); Bye Bye Birdie (North County School of the Arts); The Mousetrap, Rumors, Ash Girl, Legally Blonde, A Midsummers Night's Dream, Super Potato, Honk!, The Mouse That Roared, Of Mice and Men, Mary Poppins (San Dieguito Academy);Tartuffe (Oregon Conservatory of Performing Arts).
---
Creative Team
Matt M. Morrow [DIRECTOR] Prior to joining Diversionary Theatre, Matt was the Associate Artistic Director of City Theatre Company, a LORT theatre in Pittsburgh dedicated to producing work written in the past five years. With City he directed the Regional Premiere of Jessica Dickey's Charles Ives Take Me Home, the World Premiere of Tami Dixon's South Side Stories (Pittsburgh Post Gazette & Tribune Review's Top Ten of 2012; "…directed to crystalline point by Morrow." -City Paper), Kim Rosenstock'sTigers Be Still ("Morrow has struck a balance between the jokey and the serious sides of "Tigers Be Still" so that Ms. Rosenstock's simple message comes through clearly and without preaching." -The Pittsburgh Post Gazette); and workshops of the new musical The Shadow Sparrow by Anton Dudley, Keith Gordon and Charlie Sohne, and Don't You F*cking Say A Word by Andy Bragen for City's Momentum Festival of New Works.
He has developed new work with The Sundance Theatre Institute, The Banff Centre, American Conservatory Theater, Lincoln Center, PlayPenn, and Page 73 Productions in residence at the Yale School of Drama. His work as a director has been seen in NYC at Amas, Playwrights Horizons, Urban Stages, EST, HERE, Dixon Place, Cherry Lane, The York, The Tank, NYC Int'l Fringe, Midtown Int'l Festival, among others. Favorite credits include: SCarrie! The Musical (Bricolage Productions), Only Children (Lincoln Center), the first NYC revivals of The Falsetto Trilogy, The Most Fabulous Story Ever Told, john and jen, and Lisa Kron's 2.5 Minute Ride ("an affecting revival" -The New Yorker, "an exhilarating ride" -The New York Sun). His production of Jennifer Haley's Neighborhood 3: Requisition of Doom with Bricolage Production Company was cited as "breathtaking" by City Paper and in the Top Ten of 2010 by The Pittsburgh Tribune Review.
Matt is currently developing Jennifer Haley's THEY CALL HER FROGGY with A.C.T. in San Francisco and C.T.G. in Los Angeles. He served as The John Wells Professor of Directing at Carnegie Mellon University's School of Drama (Graduate & Undergraduate Directing programs), and is a member of the Lincoln Center Director's Lab. He holds a BFA in Directing from Carnegie Mellon University. www.mattmmorrow.com
Ron Logan [SCENIC DESIGNER] is honored to be making his second appearance at Diversionary Theatre withAmazons and Their Men. Previously: A New Brain (Diversionary), Sea of Souls, Ryes, Six, Grove, (ion theatre – workshopped original works); Geeks! The Musical! (BLKBOX). Co-scenic Designer for Bug (ion). He is grateful to the local theatre community for giving him the opportunity to contribute as a scenic designer. Ron is in his 26th year as an award-winning graphic designer.
Kate Bishop [COSTUME DESIGNER] is thrilled to be back at Diversionary for another great adventure. Her previous shows at this theatre were Baby With The Bathwater and Boys & Girls. Other recent San Diego productions include Moxie Theatre's Eternally Bad and New Village Arts'  Lord of the Flies, Wait Until Dark and Plaid Tidings. Prior to that, Kate lived in LA, where she was resident costume designer for Invertigo Dance Theatre (favorites include After It Happened, Give Me Wings) and Independent Shakespeare Company in Griffith Park (favorites include She Stoops To Conquer, Love's Labour's Lost, Much Ado About Nothing). She also designed some movies nobody saw, TV shows on channels you didn't know you had, and a terrible music video for a pop icon she wishes wasn't still available on YouTube. She loves Joe, Baz, & DD. A big thank you to Kat Stallons. You know why. For more of her work, find her on Facebook: Kate Bishop Costume Design.
Curtis Mueller [LIGHTING DESIGNER] returns to Diversionary having designed Man Clan and A New Brain. Select local credits include: Quality of Life, The 25th Annual Putnam County Spelling Bee, I Hate Hamlet, All My Sons, and Macbeth (Intrepid Shakespeare Company); Seascape (New Village Arts); Next to Normal, Spring Awakening, The John Mayer Project (Cabaret at the Merc Summer Series). Curtis has also worked extensively with Coronado School of The Arts, CYT San Diego, and CAST Productions. Curtis holds a BFA in Lighting Design from California Institute of The Arts.
Kevin Anthenill [SOUND DESIGNER/COMPOSER] Previously designed Diversionary Theatre's Tru, Regrets only, Bare, Thrill me, Sherantulas From Outer Space, The Further Adventures Of Hedda Gabbler, Birds of a Feather, Next Fall, Harmony Kansas, Pippin, and Marry Me a Little. He is the Resident Sound Designer at The San Diego Rep, previously designed sound for Violet, Everybody's Talkin', Honky, Steal Heaven, Red and Zoot Suit, and composed music for Detroit, Boom and In The Next Room.Other design and music credits include Cygnet Theatre's Shakespeare's R&J, The Importance of Being Earnest, Travesties, And Maple and Vine, USD/Old Globe's Much Ado About Nothing, A Measure for Measure, and Twelfth night,  Moxie Theatre's A Raisin in the Sun, and The Trestle at Pope Lick Creek. 
Tara Knight [PROJECTIONS DESIGNER] is delighted to join the Amazons team at Diversionary.  San Diego projection design credits include the premiere of Arthur Kopit's A Dram of Drummhicit directed by Christopher Ashley at La Jolla Playhouse and designing and co-conceiving the Emmy Award-winning The Floating World with Malashock Dance.  Knight began her career working on the animated films of Faith and Emily Hubley, including the animated sequences in Hedwig and the Angry Inch. Knight's animated documentary series about Hatsune Miku, the singing, dancing, collaboratively-constructed hologram, have been screened at the Mori Art Museum, SXSW Interactive Festival, and on the Discovery Channel among others.  She currently is an advisor for the Voyager Record 2.0 project with NASA, teaches at UCSD in the Theatre and Dance department, and is the Associate Dean for Equity, Diversity, and Inclusion for the Division of Arts and Humanities at UCSD.
Bonnie Durben [PROP DESIGNER] Diversionary productions; A New Brain, Baby With The Bathwater and She-Rantulas from Outer Space in 3D. Other venues: Winters Tale, Quality of Life, Music  Man, All Shook Up, The Graduate, The Normal Heart, Twelfth Night, The Drowsy Chaperone and Next to Normal. Member of The Society of Property Artisans and Managers
Crew
Charmaine Reed [STAGE MANAGER] is thrilled to be returning to Diversionary Theatre with Amazons and Their Men. Previously for Diversionary: Tru. Stage Manager Credits Elsewhere: Beau Jest (Scripps Ranch Theatre): How the Grinch Stole Christmas (The Old Globe Theatre); Twilight: Los Angeles 1992 and Suessical The Musical (CSUSM); Fiddler on the Roof (Pacco Arts and Patio Playhouse)
 Skyler Sullivan [MASTER CARPENTER]
Chad Mata [COSTUME DESIGN INTERN]
Kim Parker [WIG DESIGNER]

[/tab]

[tab title="About the Playwright"]
About The Playwright
Jordan Harrison, from mnartists.org/
Finalist for the 2016 Pulitzer Prize for Drama, Jordan Harrison is one of America's most prolific and celebrated young LGBT writers working today, having been produced at the most esteemed theatres across the country. He is the recipient of a Guggenheim Fellowship, a Hodder Fellowship, the Kesselring Prize, the Heideman Award, and the Jerome and McKnight Fellowships. A graduate of Stanford University and the Brown MFA program, Jordan is an alumnus of New Dramatists. Jordan currently writes for the Netflix original series Orange is the New Black. Amazons and Their Men marks Jordan's first production with Diversionary Theatre.
[/tab]
[/tab]
[tab title="Reviews"]
"Critic's Pick"
"Matt M. Morrow, the Diversionary artistic chief stages the 80-minute, intermissionless piece with plenty of satisfying detail…And he coaxes some breakout performances from the cast.  A fascinating and layered West Coast premiere." 
                                                                   – James Hebert, The U-T San Diego
"An uproarious and intelligent good time – it's a glorious spoof on reality, myth and oppression."
-Charlene Baldridge, Charlene and Brenda in the Blogosphere
"[Jordan Harrison] has a knack for clever dialogue and juxtaposing comedy with serious concerns. Kudos to Matt Morrow, Diversionary's new artistic director, for choosing this play and doing it so well." 
-Jean Lowerison, San Diego Gay and Lesbian News
"Amazons marks the directorial debut of Diversionary's Executive Artistic Director Matt M. Morrow. That he chose a theatrically demanding piece speaks well of his intentions…Amazons is definitely worth seeing."
-Jeff Smith, San Diego Reader
"Director Matt M. Morrow gets the depth of what Mr. Harrison is after, and his sharp production feels as layered as it needs be. He also encourages the cast to play the jokes, of which there are many."
-Bill Eadie, San Diego Story
"The life of Leni Riefenstahl, the filmmaker who made movies for Hitler, has been examined and critiqued aplenty, but rarely so entertainingly as in Jordan Harrison's Amazons and Their Men… he turns fragments from her life into a story that is funny and thought provoking and even a little touching."
– The New York Times
-TimeOut New York
[/tab]
[tab title="Special Events"]
Specialty low-priced preview performances (Thursdays-Sundays)

[/tab]
[tab title="Publicity Photos"]
Photos by www.simpatika.com
[/tab]
[tab title="Rehearsal Photos"]
Photos of the first rehearsal by Christopher Sheehan
[/tab][/tab]
[tab title="Video"]
[/tabs]