A New Brain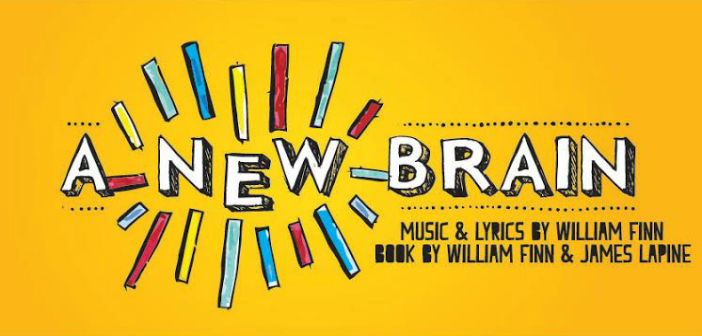 [tabs ]
[tab title="Show Info"]

May 21 – June 21, 2015
 
Diversionary Mainstage Production
San Diego Premiere
 
A New Brain                
 By William Finn (25th Annual Putnam County Spelling Bee) and
James Lapine (Into the Woods)
Directed by Kim Strassburger
 Run Time : 1:45 minutes, with no intermission. Late seating ends 15 minutes after performance begins. Flashing and flickering lights are used during this performance.
When Gordon, a talented young composer, finds his life suddenly interrupted by a life-threatening brain illness, he is forced to face the realization that he could die with his greatest song still inside him. An eccentric assortment of characters guide Gordon through a psychological fantasia where he finds the greatest music he can create lives within the relationships around him.
Production Sponsors: Rob Granat and Al Mazur
[/tab]
[tab title="Cast & Creative"]
A New Brain
By William Finn and James Lapine
Tom Zohar [GORDON SCHWINN] Previously seen at Diversionary in Harmony, Kansas (Julian), [title of show] (Jeff), Twist! (The Dodger), Yank! A New Musical (Stu; recipient of Patté Award for Outstanding Performance), Torch Song Trilogy (David) and Bunbury (Hartley). Other credits include The 25th Annual Putnam County Spelling Bee (Chip) at La Mirada Theatre; Sweeney Todd (Tobias), The History Boys (Posner) and The Little Foxes (Cal) at Cygnet; Zhivago (Swing) at the La Jolla Playhouse; Picasso at the Lapin Agile (Einstein), This is Our Youth (Warren) and Three Sisters (Andrey) at New Village Arts; The Light in the Piazza (Ensemble) at Lamb's Players; Old Wicked Songs (Stephen), Romeo and Juliet (Peter), Amy's View (Toby) and The Chosen (Reuven) at North Coast Rep; You Never Can Tell (Philip) and Room Service (Leo) at Moonlight Stage Productions.
Tanika Baptiste [HOMELESS LADY] is thrilled to be a part of A New Brain in her role as Lisa the Homeless Lady! She was most recently seen in Big Kitchen the Musical as Sojourner Ruth (Cygnet Theatre). Other credits include RENT (Southwestern College)  "Lady in Green", For Colored Girls Who Have Considered Suicide When The Rainbow Was Enuf (UC Davis ) "Della", Down Around Brown Town (El Portal Monroe Theatre) "Sylvia", Who's That Lady (Barbara Morrison Theatre), and "Jingle Bell", a sassy take on Tinkerbelle in the original comedy Peta Pun (Delta King Theatre).  She has trained under Dr. Arthur Lapierre in voice and jazz voice, and studied acting under June Richards and George Ye. When she is not performing, Tanika enjoys composing songs, dance, and folding her laundry. "Thank you Jesus-You're the best!" Tanika dedicates her performances to her family and friends!
 Katie Sapper [WAITRESS/NANCY D] is thrilled to return to the Diversionary with such an amazing cast! She was last seen here as Ivy in bare: a Pop Opera. Past credits include Alais in The Lion in Winter (Moonlight) and originating Crystal Mathis in the world premiere of Kingdom City (La Jolla Playhouse). B.A. in Musical Theatre from Saint Mary's University of Minnesota, favorite roles there include Logainne Schwartzy (25th Annual…Spelling Bee), Pegeen Mike (Playboy of the Western World), Percy Talbot (Spitfire Grill), and Hope Cladwell(Urinetown). Love to my family, friends, this stunning cast and crew, and my Ringo. katiesapper.com 
Jon Lorenz [MR.BUNGEE] Diversionary debut. Co-created the hit '80s musical Mixtape. Looking Glass Girl (book, music, lyrics) was part of the 2005 ASCAP/Disney Workshop with Stephen Schwartz and optioned by NBC/Universal Theatricals in 2013. His Untitled Oz musical will be produced Fall '15 by Lamb's Players. Jon spent 13+ years as a Resident Artist at Lamb's Players, seen in Mixtape, Amadeus, An Inspector Calls, Detective Story, Hamlet, Joseph, The Secret Garden, Smoke On the Mountain, A Light in the Piazza, and Festival of Christmas 2003-13, among others. Other San Diego Credits: I Love You, You're Perfect , Now Change (Old Town), Babes in Arms (SDSU), Baby (La Jolla Stage). Musical Direction/Sound Design: Wit, Mixtape, Pete n' Keeley, Guys & Dolls, Joe Versus the Volcano, The Fantasticks, and Festival of Christmas 2007-13 (LPT). Directing credits include Mix It Up, Athens High (LPT), Love's Fire, Scaffolding (CSU Fullerton) and Alice, 7 Brides for 7 Brothers, Annie Get Your Gun & Bye Bye Birdie (CCT Musical Theater). Other projects: A Room With a View, The Scottsboro Boys (Old Globe), Total Gym: the Musical.
Megan Carmitchel [RHODA] is honored to be returning to the Diversionary stage for this beautiful show. She was last seen here as Catherine in Pippin. Other recent credits include: The Last Goodbye and Dr. Seuss' How the Grinch Stole Christmas! (The Old Globe), Weatherman (reading; La Jolla Playhouse), You Can't Take it With You, Quilters, and Fiddler on the Roof (Lambs Players Theatre), The Who's Tommy (San Diego Repertory Theatre), South Pacific and Stepping Out (Welk Resort Theatre). Megan also music directs at LEGOLAND, CA. She attended San Francisco State University where she studied vocal performance and acting.
Michael Parrott [RICHARD] is very excited to be returning to Diversionary with such a spectacular cast and team. He was last seen on the Diversionary stage as Nathan Leopold in Thrill Me. Other credits include Weatherman (Terry), Seafoam Sleepwalk (Ensemble/Puppeteer) at the La Jolla Playhouse; Joseph and the Amazing Technicolor Dreamcoat (Swing) at Lambs Players Theatre; The Nutcracker (Scary Rat/Puppetry Designer), The Full Monty (Dave Bukatinsky) at New Village Arts; Cats (Bustopher Jones, Gus, Growltiger) at San Diego Musical Theatre; Next to Normal (Henry) at the Lyceum Theatre. Michael would like to thank his friends and family for all of their support, and everyone at Diversionary for such a wonderful experience working on this production.
Stewart W. Calhoun [MINISTER] recently starred in Diversionary's celebratory production for equality of Marry Me A Little, directed by James Vasquez. He made his Diversionary debut in 2012 as Luke in Next Fall and portrayed Charlie Shmaltz in Diversionary's slap stick Holiday comedy Scrooge in Rouge. Other San Diego credits include Cygnet Theatre's production of Assassins. Calhoun's Los Angeles credits include Theatre at Boston Court's dark play or stories for boys, Havok Theatre company's production of Thrill Me directed by Nick DeGruccio (Backstage Garland Award, ensemble performance), The world premiere of How Cissy Grew co-starring James Denton, South Coast Rep's A Wrinkle in Time and Ben and the Magic Paintbrush. In Chicago, Calhoun has worked with Chicago Shakes, The Goodman, and Nothing Without a Theatre Company. Film and Television credits include The Eves, Paradox Alice, and Criminal Minds. Calhoun received his BFA from The Theatre School at DePaul University, Chicago.
 Anthony Methvin [ROGER] Anthony's local performance credits include Kent in Harmony, Kansas and Reed in the West Coast premiere ofBoys and Girls here at Diversionary, where he is also Artistic Associate. Other favorite roles include Leo Frank (Parade), Prior (Angels in America: Millennium Approaches and Perestroika), Sparky (Forever Plaid), Peter (Company), Seymour (Little Shop of Horrors), Dionysus (The Bacchae), Matamore (The Illusion), and Man (Laughing Wild). Most recently he has served as Assistant Director on Baby With the Bathwater at Diversionary and Buyer & Cellar at The Old Globe. His play, Bleed Like Me was seen as part of Diversionary's Open Mondays series after being given a developmental reading at Florida State University, where he graduated with a BFA in Acting.
Sandy Campbell [MIMI SCHWINN]* is thrilled to return to Diversionary.  She last appeared here as Cordelia, the Kosher caterer in Falsettos. Other credits include: Passion (Ion Theatre ), Parade and Communicating Doors (Craig Noel Awards), The Norman Conquests, Assassins, and A Little Night Music (Cygnet Theatre Company), Clybourne Park (San Diego Rep), Macbeth and Midsummer- the Musical (Intrepid Shakespeare Company), Zhivago (La Jolla Playhouse), Light in the Piazza, The Music Man, Boomers, Fiddler on the Roof (Lamb's Players Theatre), Hairspray, Ragtime, Sweeney Todd, The Spitfire Grill and The Most Happy Fella (Moonlight Stage Productions). Recording: Crazy World available through iTunes and CDBABY.
Danny Campbell [THE DOCTOR] Diversionary Theatre: debut. Intrepid Shakespeare Company (company member): Hamlet (Polonius), All My Sons, Macbeth, Much Ado About Nothing, An Enemy Of The People, Richard II, King John, others. Cygnet Theatre: Tom in The Norman Conquests (trilogy). Lamb's (Associate Artist): You Can't Take It With You, Fiddler On The Roof, Room Service, Around The World In 80 Days. Moonlight Stage Productions: Fiddler on The Roof, You Never Can Tell, Ring Round The Moon, 1776, West Side Story, Sweeney Todd, Phantom, Chess, others. Other selected credits include The Last Night of Ballyhoo, My Fair Lady (Pickering), Lips Together Teeth Apart, Dancing at Lughnasa, La Bête, A Walk In The Woods, and I Never Sang For My Father.
---
Kim Strassburger [DIRECTOR] was recently named Associate Artistic Director and is a Founding Company Member of Ion Theatre. Most recently, Kim received a 2014 San Diego Craig Noel Award nomination for Outstanding Direction of a Musical for her production ofPassion at Ion Theatre. In 2011, she received "Best Director" from San Diego City Beat for Ion Theatre's Dr. Jekyll and Mr. Hyde. This was followed in 2012 by a Craig Noel Award Nomination with co-director Claudio Raygoza for Outstanding Direction of a Musical for Ion Theatre's Gypsy. Directing credits also include Grey Gardens at Ion Theatre and Edward Albee's Seascape at New Village Arts. Kim has also worked with New Village Arts Theatre, Sledgehammer Theatre (Associate Artist), North Coast Repertory Theatre, and Cygnet Theatre among other San Diego theatres. Strassburger was the recipient of a 2013 National Artist Teacher Fellowship that funded her study at the London Academy of Music and Dramatic Art (LAMDA) in 2013. In 2014, Kim also became a member of Lincoln Center Theater's Directors Lab. Kim is a graduate of UCSD and The Catholic University of America. In addition to her professional work, Kim teaches acting at the Coronado School of the Arts and most recently directed productions of A Midsummer Night's Fever, The Complete Works of William Shakespeare (abridged), The Grapes of Wrath, Metamorphoses and The Laramie Project, receiving Bravissimo Awards in 2010 and 2011 from the San Diego Educational Theatre Association. Upcoming directing projects include the musical Sunday in the Park with George at Ion Theatre and A Civil War Christmas with Diversionary Theatre.
Monica Perfetto [STAGE MANAGER] Recent technical credits include:  Rent (Southwestern College), Much Ado About Nothing, I Hate Hamlet, All My Sons, Macbeth, and A Midsummer Night's Dream the musical (Intrepid Shakespeare Company). Monica recently graduated from the University of San Diego with a BA in Theatre Arts and Performance Studies. She would like to thank her mother for introducing her to theatre at a young age, and Diversionary for welcoming her so warmly into this lovely production.
Alyssa Swann [ASSISTANT STAGE MANGER] is so excited to finally get a chance to work with Diversionary as Assistant Stage Manager for A New Brain! She recently Assistant Directed Lesson 443 at Moxie Theatre. Her Stage Management credits include Trelawny of The Wells! (ASM) at USD, Enron (ASM) at Moxie theatre, The Full Monty (ASM) at New Village Arts, 100% San Diego (Production Assistant) at The La Jolla Playhouse, Macbeth and Much Ado About Nothing (ASM) with The Old Globe's Summer Shakespeare Intensive program, and Scapin (SM) at Mesa College.
Beth Connelly [COSTUME DESIGNER] holds an MFA in Acting from the University of Connecticut and a BFA from Cornish College of the Arts.  She is delighting to be making her Diversionary debut with A New Brain.  She is the resident designer at Coronado School of the Arts where her recent work includes: Big Fish, A Midsummer Night's Fever, Chicago, Legally Blonde, Complete Works of Shakespeare (Abridged), Pirates of Penzance and  Grapes of Wrath.  Beth's work around town includes: Shrek, Bye, Bye Birdie, and Hairspray with ACT-San Diego;  Spelling Bee, Ragtime, Spring Awakening, Big River and Les Miserables with CYC Theatre; and Master Harold and the Boys with Leading Light Theatre.
Janie Prim [MUSIC DIRECTOR]  is delighted to be working at Diversionary Theatre on this exciting show!  Ms. Prim has been pianist for San Diego Opera, was pianist for the Metropolitan Opera Auditions, and has worked at the San Diego Rep (Burning Dreams), The Old Globe, Cygnet Theatre, and, most recently, ion Theatre, as Music Director for Chicago; a Speak-easy Cabaret, and Grey Gardens. Many thanks to Kim
Ron Logan [SCENIC DESIGNER] is honored to be making his debut at Diversionary Theatre with A New Brain. Previously, Sea of Souls, Ryes, Six, Grove, (ion theatre – workshopped original works); Geeks! The Musical (BLKBOX). Co-scenic for Bug (ion). A former ion company member and 25-year graphic designer. Ron wishes to thank Glenn Paris and Claudio Raygoza for their amazing mentoring in scenic design.
Curtis Mueller [LIGHTING DESIGNER] is making his Diversionary Theatre debut. Select local credits include: The 25th Annual Putnam County Spelling Bee, I Hate Hamlet, All My Sons, and Macbeth (Intrepid Shakespeare Company); Seascape(New Village Arts); Next to Normal, Spring Awakening, The John Mayer Project (Cabaret at the Merc Summer Series). Curtis has also worked extensively with Coronado School of The Arts, CYT San Diego, and CAST Productions. Curtis holds a BFA in Lighting Design from California Institute of The Arts.
Bonnie Durben [PROPERTY MASTER] Diversionary Theatre: She-Rantulas.  San Diego Musical Theatre: Next to Normal, White Christmas, Sound of Music; Moonlight Productions: Lion in Winter, Spamalot, Mary Poppins, My Fair Lady, Catch Me If You Can, Tommy, South Pacific, Life Could Be A Dream. New Village Arts: Same Time Next Year, Plaid Tidings, One Flew Over The Cookoo's Nest, Much Ado About Nothing. Mira Costa College: The Graduate, Twelfth Night, The Match Maker, Guys And Dolls, 39 Steps. Intrepid Theatre: Hamlet, Much Ado About Nothing, I Hate Hamlet, Macbeth. Member of The Society of Prop Managers and Artisans.
 Michael Mizerany [CHOREOGRAPHER] is the artistic director for Compulsion Dance & Theater.  He moved to San Diego to join Malashock Dance and served as its Associate Artistic Director until 2013.  Michael also conceived and directs the popular dance series Hot Guys Dancing, conceived and directed Malashock/RAW from 2010-2013 and Sweat! for San Diego Dance Theatre (SDDT). He has choreographed extensively, including Altar Boyz, (Noah Longton Productions), Dooley, Divine Sister, Miss Kitty's Wild West Revue, Scrooge In Rouge, Thrill Me and Bare:  A Pop Opera. (Diversionary Theatre), Chicago: A Speakeasy Cabaret, Grey Gardens and Ass, or A Midsummer Night's Fever (Ion Theatre), Carnvial! and Suds (The Coronado Playhouse), Spring Awakening (Cygnet Theatre), The Full Monty (New Village Arts), Trolley Dances (SDDT), Rent (Southwestern College), West Side Story (J*Company) and Threepenny Opera (UCSD). Michael has been the recipient of numerous awards and honors including the LA Stage Scene "Scenie" Award for Outstanding Choreography for Altar Boyz and Bare: A Pop Opera, The Blue Ribbon Choreography Award for Suds and the Bravo San Diego Award for Outstanding Choreographer of 2012. He was nominated for a Craig Noel Theater Award for Outstanding Choreography for Dooley (2010) and Altar Boyz (2011) and, this past year, was a double nominee for Spring Awakening and Bare: A Pop Opera. Also, his 10-minute play, 20 Minutes and Counting, received a staged reading at San Diego's Old Globe Theatre in September. In June 2015, Michael will premiere a new dance series, Dancer Briefs, at Ion Theatre and will have the West Coast debut of his dance company at Diversionary Theatre in August.  http://mizerdance.wix.com/michaelmizerany
[/tab]
[tab title="Events"]
Events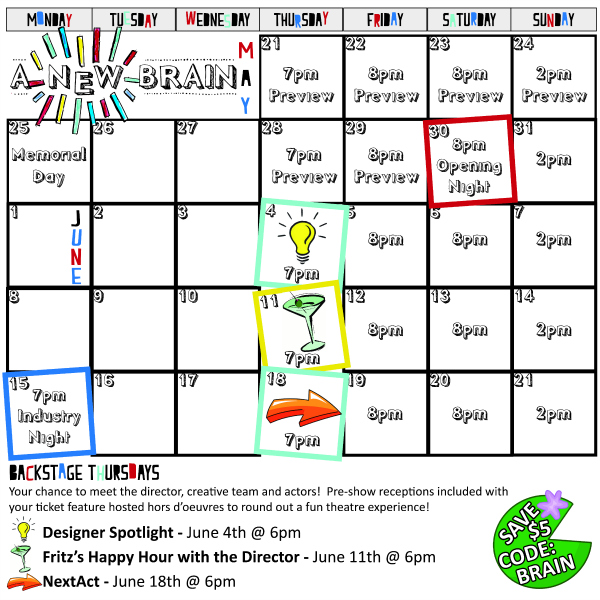 [/tab]
[/tab]
[tab title="Video"]
Interview with Kim Strassburger. Video by Jonathan Hammond.
[/tab]
[tab title="Photos"]
Production Photos 
---
The First Rehearsal
The Cast and Creative Team for Katie Sapper with Production Sponsors Rob Granat and Al Mazur at the First Rehearsal for  A NEW BRAIN! Tickets: https://www.diversionary.org/anb/
Rich Soublet II – Soublet Photography
[/tab]
[/tab]
[tab title="Reviews"]

"Don't even think about missing it!"

-Uptown News

"San Diego Reader's

Critic

's

Pick"

"Diversionary Theatre's A New Brain has just about everything going for it: A strong singing cast, whipsmart direction and excellent design."

– U-T San Diego

"Strassburger, Finn and Lapine have made A New Brain a laugh-filled accomplishment with no shortage of unvarnished truth."

– San Diego Story

"Brilliant direction + imaginative choreography + ten terrific performances = more than enough reason for a road trip to San Diego to catch Diversionary Theatre's pitch-perfect intimate staging of William Finn's rarely revived A New Brain."

– Stage Scene L.A

 "This is a sharp show: sharply written, produced, and performed. A New Brain is, above all, a show about gratitude and resurrection. What we see at Diversionary is all of that, amusingly and movingly so. And for this we should all be grateful."

– The San Diego Reader

"(S)ee this sweet (yes, really!) and enjoyable musical gem. It is a paean not only to hope, supportive love and medical technology but the power of theatrical collaboration."

– Elyse Sommer, Curtain Up!, NY. (Lincoln Center Production)

 
[/tab]
[/tabs]