Birds of a Feather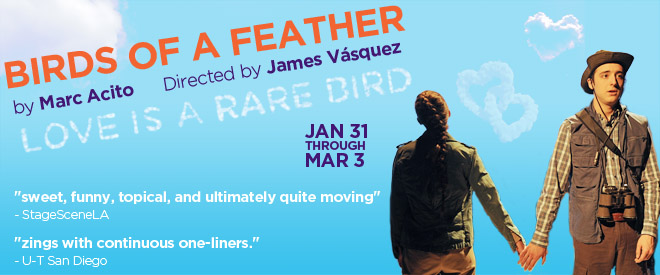 [tabs]
[tab title="Show Info"]
January 31 – March 31st, 2013
Written by Marc Acito
Directed by James Vásquez
Birds of a Feather is a smart and surprisingly human comedy about two bird families- male penguins at the Central Park Zoo that hatch and adopt a chick and two hawks living and raising their own brood on a Fifth Avenue roof. Based on the same true events that inspired the famously banned children's book And Tango Makes Three and kept all of New York City looking up at a luxury apartment building in rapt fascination, families of every breed- whether in captivity or in their natural habitat, conventional or not, gay or straight- are celebrated in this heart-warming play. You will be all atwitter with laughter for sure, but what's new at the zoo is the wildly uplifting exploration of psychology, zoology and what it is that truly defines a family.
[/tab]
[/tab]
[tab title="About the Writer"]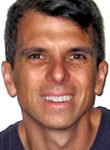 Marc Acito (Playwright) won the Helen Hayes Award for Best New Play with his comedy Birds of a Feather, which had its world premiere at the Hub Theatre in Fairfax, Virginia. Marc returned to the Hub to create a stage adaptation of his first book How I Paid for College: A Novel of Sex, Theft, Friendship and Musical Theater, which won the Ken Kesey Award for Fiction, was an Editors' Choice for The New York Times, and a Top Teen Pick by the American Library Association. Translated into five languages the author cannot read, it inspired a sequel, Attack of the Theater People.
Marc is the book writer of several musicals, including Allegiance and A Room with a View, both of which had their world premieres at the Old Globe. Allegiance, which stars George Takei and Lea Salonga, broke the Globe's all-time box-office record and is scheduled for Broadway in the 2013-2014 season. Marc also wrote book and lyrics for Bastard Jones, a finalist for the Richard Rodgers, Eugene O'Neill and Alec Baldwin fellowships, surely the only time those three names have appeared together.
Marc is a regular contributor to Playbill and has written about theater for The New York Times and American Theatre. A former professional opera singer, he irregularly performs "singing commentaries" on National Public Radio's All Things Considered. Marc graduated from Colorado College, which in 2009 awarded him an honorary doctorate. Though he answers to Dr. Marco, he cannot prescribe medication.
Marc lives in New York City, where he teaches story structure to writers of all genres in NYU's School of Continuing and Professional Studies.
[/tab]
[tab title="Cast"]
Steve Gunderson (Roy/Pale Male) previously appeared at Diversionary Theatre in the benefit performance of Standing On Ceremony: The Gay Marriage Plays directed by Christopher Ashley. Recently he appeared with Richard Dreyfuss in the benefit reading of 8at the Birch Theatre, and as Benjamin Franklin in 1776 at Cabrillo Music Theatre.   National Tour: The Grapes of Wrath.  Off Broadway: Suds(co-wrote and original cast), Back To Bacharach & David (co-created and original cast), Butley, Street Scene, Forever Plaid. Elsewhere: How The Grinch Stole Christmas, A Trip To Chinatown, Hadrian VII (Old Globe Theatre). Memphis, The Nightingale (La Jolla Playhouse). Parade, Dirty Blonde, Sweeney Todd (Cygnet Theatre).  Romance, Mad Dancers, A Christmas Carol, Hairspray (San Diego Rep), Into The Woods (New Village Arts). Major roles in productions at Pasadena Playhouse, Laguna Playhouse, Alliance Theatre, La Mirada Theatre. Film: 29th and Gay, Ready? Okay!, Ca$hino. Television: Multiple voices on King of the Hill and (The New) Beavis & Butthead. Thanks to my family: Kaore and Wilbur – and to James for the opportunity.
Kevin Koppman-Gue (Birdwatcher) Diversionary: Speech and Debateand Moscow. Elsewhere: A Midsummer Night's Dream (Intrepid Shakespeare) Zoot Suit (San Diego Rep); Henry IV Part I, King O' the Moon, The Drawer Boy, Mistletoe, Music and Mayhem, Becky's New Car(North Coast Rep); Spring Awakening (American Rose Theatre); Deathtrap (Scripps Ranch Theatre); Doubt, Into the Woods (SDSU Theatre); The History Boys (Cygnet Theatre); How I Learned to Drive, Everything Will Be Different (Lynx Performance) and The Winslow Boy(Lamb's Players Theatre). Kevin has also performed with ion theatre company, 6th @ Penn, Fritz Theatre, Starlight Musical Theatre, and Sledgehammer. Education: B.A. in Theatre Arts (SDSU) and British American Drama Academy at Oxford University.
Mike Sears* (Silo/Lola) La Jolla Playhouse: Hands on a Hard Body(u/s), Bonnie and Clyde. Off-Broadway: When Words Fail (Houseman Theatre),  Leap (Abingdon Theatre), To Have and To Hold (Phil Bosakowski Theatre). Off-Off Broadway: New Dramatist, New York Fringe Festival, The American Globe Theatre, The Present Company, Boomerang Theatre Summer Shakespeare, NY Musical Theatre Works, The Producer's Club and The Duplex. Regional: Tortilla Curtain (San Diego Rep) A Behanding In Spokane, Man From Nebraska (Cygnet Theatre), Simpatico (New Village Arts), Killer Joe (Compass Theatre), Good Boys (Mo'olelo), The Glory Man (Lamb's Players), Tuesday's With Morrie (North Coast Rep). Mike is a graduate of the William Esper Studio in New York City and a member of Actors Equity Association.
Rachael VanWormer (Zookeeper) Diversionary Theatre: Speech & Debate, Corpus Christi, Beautiful Thing.  Elsewhere: : The Wizard of Oz, Lifeboat, The Reluctant Dragon (PCPA TheaterFest); boom (San Diego Rep); The Mousetrap, You Never Can Tell (Moonlight Stage Productions); The Woolgatherer, bash: latterday plays, Dr. Jekyll and Mr. Hyde; In a Dark Dark House (ion Theatre); Waving Goodbye, Things We Want, Time Flies, Be Aggressive, This Is Our Youth, The Playboy of the Western World, The Two Gentlemen of Verona (New Village Arts); Eleemosynary, The Sugar Syndrome, The Listener (Moxie Theatre); A Christmas Carol (North Coast Rep); Arcadia, The Matchmaker, The Little Foxes, Curse of the Starving Class (North Coast Rep).
*Appears Courtesy of Actor's Equity Association
[/tab][/tab]
[tab title="Creative Team"]
James Vásquez (Director) received a San Diego Critics Circle Award nomination for Outstanding Direction of a Musical for the world premiere of Harmony, Kansas and the west coast premiere of [title of show](Diversionary Theatre), and won the award in 2010 for Sweeney Todd (Cygnet Theatre).  Other recent directing/choreography credits include The Rocky Horror Show, How the Grinch Stole Christmas, Emma (Assoc. Dir.), and Boeing-Boeing (The Old Globe Theatre), Harmony, Kansas(workshop, Goodspeed Opera House), Pippin, Next Fall, Fair Use, and Twist (Diversionary),Hedwig and the Angry Inch, Little Shop of Horrors (Cygnet), and Into the Woods (New Village Arts).  In 2004, James founded Daisy 3 Pictures with Mark Holmes and Carrie Preston.  Their first two feature films, 29th and Gay (TLA Releasing, Here TV) and Ready? OK! (Wolfe Video, LOGO) have played national and international film festivals, with Ready? OK! winning the Best Feature Film award in Seattle, North Carolina, and San Diego.  Their latest feature film, That's What She Said, starring Anne Heche, made it's world premiere at the 2012 Sundance Film Festival. As an actor, James has appeared on film, television, Off-Broadway, regional and local stages.  He is a graduate of the Juilliard School of Drama.
Sean Fanning (Scenic Design) At Diversionary: Pippin, Harmony, Kansas. The Old Globe: Plaid Tidings, KINGDOM. Cygnet Theatre: (Resident Artist) Man of La Mancha, Parade, Dirty Blonde, Little Shop of Horrors, Cabaret, Tragedy of the Commons, The Norman Conquests, Sweeney Todd, Noises Off, Mauritius, A Christmas Carol, The Receptionist, A Little Night Music, The Matchmaker. Elsewhere: Walter Cronkite is Dead(San Diego Rep), A Raisin in the Sun (Moxie Theatre),Twelfth Night, The Winter's Tale, Two Gentlemen of Verona, A Midsummer Night's Dream (Old Globe/USD); Zombie Prom(2008 Patte Award), The Grapes of Wrath (San Diego State University). He is in his fifth season as the Resident Design Assistant at the Old Globe, where he has assisted designers on over sixty productions. Sean holds an M.F.A. in Scene Design from San Diego State University.
Michelle Caron (Lighting Designer) is pleased to return to Diversionary Theatre, where her designs include Harmony, Kansas, Next Fall, The Pride, Learn to Be Latina, Edward II, Poster Boys, Dooley, Fair Use, Santa Claus is Coming Out and Anita Bryant Died for Your Sins. Some favorite local productions include Thoroughly Modern Millie (Coronado School for the Arts), Malashock/RAW and Surface Tension with Malashock Dance and Man of La Mancha, Dirty Blonde, A Behanding in Spokane and It's a Wonderful Life '09-'11 (Cygnet Theatre). Michelle holders an MFA in Theatrical Design from San Diego State University, and she resides in Pennsylvania. See her work at carondesignworks.com.
Kevin Anthenill (Sound Design) Diversionary Theatre credits: Pippin, Edward II, Learn to be Latina, Next Fall and Harmony, Kansas. Sound designed San Diego Repertory Theatre's Zoot Suit and MOXIE Theatre's A Raisin in the Sun. As well as composed the music for Boom and In the Next Room. Other Credits include San Diego Asian American Repertory Theater's BFE, and Flower Drum Song, at the La Jolla Playhouse, As well as the USD MFA program's A Winters Tale and 12th Night at The Old Globe Theatre, He has been the Sound Design Assistant for The Old Globe's Summer Shakespeare Festival twice and worked with The Old Globe's education department sound designing their Summer Shakespeare Intensive three times. He Holds a B.A. in Theater Design from San Diego State University.
Jeannie Galioto (Costume Design) is thrilled to be designing again at Diversionary! She has an MFA in costume design and credits include productions for the San Diego Repertory Theatre, The Guthrie Lab, Ion Theatre, Mixed Blood Theatre, Moxie Theatre, and Shakespeare in the Park to name a few. She was the costume design assistant for the multiple Tony award winning show "Memphis". In addition to freelance designing, she has taught at USD, SDSU, The Fashion Institute of Design and Merchandising, and Palomar College. Please visit her website at www.jeanniegalioto.com.
David J. Medina (Prop Master) is proud to be an Associate Artist at Diversionary: Scrooge in Rouge (2008 & 2012), Pippin, Harmony, Kansas, The Pride, Speech & Debate, The Marriage Bed, Twist, The Little Dog Laughed, Facing East, Corpus Christi, The Daddy Machine. Other Diversionary credits include: When Pigs Fly (Asst. Scenic), Busy World Is Hushed ( Asst. Scenic) BlueBonnet Court (set construction); ion Theatre: Cripple of Inishman ( prop Asst.) Bang productions: Sideman; USD: Cabaret, The Saints Plays.David has worked for the Old Globe Theatre on over 80 shows as a Properties Buyer, Craftsperson & Artisan.
Ryan Heath (Stage Manager) has graduated San Diego State University with a BA in Theatre Arts and with a focus in stage management.  Originally from Livermore, he moved to San Diego to attend school.  After recently being hired on as the Production Stage Manager for Diversionary his most recent credit with them includes Stage Managing the Cabaret, Scrooge in Rouge. Other Stage Management credits include I Hate Hamlet (The Western Stage), Merry Wives of Windsor (Livermore Shakespeare Festival),The Pride (Diversionary) and ASM for A Raisin in the Sun (Moxie Theatre).  He was also hired on as a Stage Management intern at the Old Globe during their 2011 Shakespeare Festival.  He looks forward to continuing his stage management work.
[/tab]
[/tab]
[/tab][/tab]
[/tab]
[tab title="Press Photos"]
[/tab]
[/tab]
[/tab][/tab]

[tab title="Resource Links"]
[/tab]
[tab title="Reviews"]
Steven Stanley, StageSceneLA says:
"sweet, funny, topical, and ultimately quite moving"
"inspired direction"
"Playwright Acito weaves penguins, hawks, and humans together
as seamlessly as the Diversionary cast switch from character to
character"
"Galioto's ingenious costumes, Birds Of A Feather benefits from
Diversionary Theatre's topnotch team of San Diego designers,"
Pam Kragen, U-T San Diego says:
" a bright, effervescent spirit….which zings with continuous
one-liners."
"Vasquez and his fine cast find the heart and honesty in the feathered
and featherless characters."
"the production never runs out of steam under Vásquez's feathery
touch"
Charlene Baldridge says:
"Acito's dialogue is profound, affecting and poetic, all the while rapid
fire and funny."
The production is strengthened by the skills of Kevin Koppman-
Gue and Rachael VanWormer, who portray citizens of New York,
including Zahn, birdwatchers, and a zookeeper
Carol Davis, The Examiner says:
"Birds' soars for ninety or so minutes as the audience is treated
a bird's eye view of relationships, straight and gay that will keep
the smiles coming, the heads nodding in agreement and touch the
heartstrings…"
"Visually, it's rather mesmerizing…"
"… all played to perfection…"
Jeff Smith, The Reader, says:
"a top flight cast and design team" 
"is there anything Steve Gunderson cannot do?"
"a kaleidoscopic view of personal relations….often very funny"
David Coddon, CityBeat says:
"The other penguin encounter in San Diego"
"Steve Gunderson and Mike Sears, each a gifted comedic actor strong on physicality, hilariously inhabit the penguin roles without seeming silly"
[/tab]
[/tabs]