Baby with the Bathwater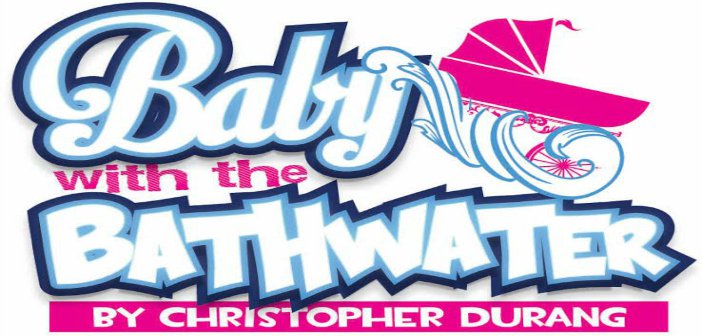 [tabs ]
[tab title="Show Info"]
February 26 – March 29, 2015
Diversionary Mainstage
Baby with the Bathwater
By Christopher Durang
(Vanya and Sonia and Masha and Spike)
 Directed by Andrew Oswald
Helen and John Dingleberry are woefully unprepared for parenthood. In a series of wildly hilarious scenes, their offspring struggles to define himself and find his place in the world. This classic Durang dives face first into the absurd waters of how, for better or worse, family makes us who we are.
[/tab]
[tab title="Cast & Creative"]

Amanda Sitton [HELEN] Selected theatre credits include: Fair Use, Torch Song Trilogy, Twilight of the Golds (Diversionary Theater), A Bright Room Called Day (Backyard Productions/Diversionary Theater), Maple and Vine, Glass Menagerie, Man From Nebraska, It's A Wonderful Life, Las Meninas (Cygnet Theater, Resident Artist), Road To Mecca, Doubt (SD Theatre Critics Circle Craig Noel Award Outstanding Featured Performance), A Christmas Carol (San Diego Rep), Voice of the Prairie, Don't Dress For Dinner, Collected Stories, Amy's View (North Coast Rep), Comedy of Errors, Four Dogs and a Bone, Be Aggressive, Golden Boy (SD Theatre Critics Circle Craig Noel Award Outstanding Lead Performance), Dancing at Lughnasa , Sailor's Song, Crimes of the Heart, Three Sisters (New Village Arts), Hysterical Blindness (Backyard Productions), The Gingerbread Lady (Renaissance Theater Co.), The Terrible Girls (Fringe Festival NYC). Ms. Sitton received her BA in Theatre from UCSD.
Brian Mackey [JOHN] Previously at Diversionary: The Pride, The Little Dog Laughed, As Much As You Can, Corpus Christi. Elsewhere: The Importance of Being Earnest, Travesties, A Christmas Carol, The Glass Menagerie, History Boys (Cygnet – Resident Artist); All My Sons, Hamlet, A Midsummer Night's Dream: The Musical, An Enemy of the People (Intrepid – Company Member); Twelfth Night (Lamb's Players); In the Next Room or The Vibrator Play (San Diego Rep); A Christmas Carol, Little Women (North Coast Rep); In the Heat of the Night, The Woolgatherer, Bash: Latter-Day Plays, Jack Goes Boating, All in the Timing, A Streetcar Named Desire, The Grapes of Wrath (ion theatre company); Born Yesterday (AVO Playhouse); Night Sky (Mo'olelo); The Heidi Chronicles, Julius Caesar (New Village Arts); Side Man (BANG!). Brian was awarded the 2011 Craig Noel Award for Actor of the Year.
Shana Wride [NANNY/WOMAN IN THE PARK/PRINCIPAL] last appeared at Diversionary in The Further Adventures of Hedda Gabler and Next Fall. She was recently seen as Beatrice in Intrepid Shakespeare's production of Much Ado About Nothing. Other acting credits include: Faded Glory and Broken Glass (North Coast Repertory Theatre); Private Lives (Cygnet Theatre–San Diego Critic's Circle Craig Noel Award); A Midsummer Night's Dream, Twelfth Night, Merry Wives of Windsor (Shakespeare Festival, Los Angeles); Indoor/Outdoor (The Colony Theatre); Macbeth, Fen, Wooden Breeks, Measure for Measure (Open Fist Theatre); Women Who Steal, A Christmas Carol, Suds, Working, Six Women with Brain Death (San Diego Repertory Theatre); Henry IV Parts 1 & 2, Love's Labor's Lost (Idaho Shakespeare Festival); Heidi Chronicles and Lips Together, Teeth Apart (Gaslamp Quarter Theatre); New, Shadowy Waters, No Time Like the Present (Sledgehammer Theatre).
Directing credits include: Walter Cronkite is Dead (San Diego Repertory Theatre); Boys & Girls and Anita Bryant Died for Your Sins (Diversionary Theatre); Or (Moxie Theatre); Who's Afraid of Virginia Woolf? (Compass Theatre); Mistakes Were Made and coming up in the spring of 2015, The Whale (Cygnet Theatre).
While living in Los Angeles, she co-hosted the nationally syndicated radio show, "Women Aloud" with actor/comedienne Mo Gaffney.
Kailey O'Donnell [CYNTHIA] is a San Diego native, and is so excited to make her Diversionary debut!  Past roles include Oklahoma (Laurey) at the Lawrence Welk Resort Theatre; 25th Annual Putnam County Spelling Bee (Logainne) at Candlelight Pavillion;  A Funny Thing Happened on the Way to the Forum (Philia) at Premire Productions at The Welk Resort;  The Great American Trailer Park Musical (Pickles) at The San Diego Repertory Theatre;  Mame (Pegeen Ryan/Dancer) at The San Diego Lyric Opera;  Sweeney Todd (Johanna) at Pacco Arts;  The Secret Garden (Lily) at California Youth Conservatory.  Kailey would like to thank her family (especially her parents for such unbelievable support!) and friends, and most importantly the production team for this freakin' awesome opportunity!
J.TylerJones [THE YOUNG MAN] is excited to be making his Diversionary debut. Tyler was most recently seen in New Fortune Theatre Company's Henry V. He has also performed locally with Moxie (Mud Blue Sky, Counterweight), Intrepid (Macbeth), La Jolla Playhouse (Accomplice: San Diego), ION (Punk Rock), National Comedy Theatre, and others. Tyler is a proud graduate of the Florida State University School of Theatre.
---
 Andrew Oswald [DIRECTOR] This is Andrew's fourth show with the Diversionary but his first one as a director in San Diego. Thank you to Matt and the staff and board of the Diversionary for this opportunity. At the Diversionary he has portrayed George Tessman in The Further Adventures of Hedda Gabler, Jason in Boys and Girls, and Hank Hadley in Regrets Only. San Diego audiences may also know him from his role as Harry in Company at Cygnet Theatre. Andrew is a graduate of The Pacific Conservatory of The Performing Arts and The North Carolina School of the Arts. In New York, Andrew was the Co-Artistic Director of Bedtime Sketch Comedy, he directed and helped to create the Circus/Theatre piece Subterranea with Suspended Cirque, and he directed the 8o'clocks' original production of As I Am Fully Known. He will be appearing next as Charlie in Cygnet Theatre's production of The Whale. Special thanks to Tom Budd and Anthony Methvin.
Arianna Bellizzi [STAGE MANAGER] is happy to be back at Diversionary for another season. She is pursuing her bachelor's in Theatre Arts and Performance Studies at the University of San Diego. Originally from Santa Cruz, CA, her previous productions include Boys & Girls (Diversionary), The Spitfire Grill (USD), Anatomy of Gray (USD), La Cage Aux Folles (Cabrillo Stage), and Oliver! (Cabrillo Stage).
Kate Bishop [COSTUME DESIGNER] is thrilled to be returning to Diversionary after a year of maternity hiatus, during which she focused on costume designing for her new baby. Her last production at Diversionary was Boys & Girls, which was a real honor for her to work on. Other recent San Diego works include Wait Until Dark and Plaid Tidings, both for New Village Arts. Prior to that, Kate lived in LA, where she was resident costume designer for Invertigo Dance Theatre (favorites include After It Happened, Give Me Wings) and Independent Shakespeare Company in Griffith Park (favorites include She Stoops to Conquer, Love's Labour's Lost, Much Ado About Nothing). She also designed some movies nobody saw, TV shows on channels you didn't know you had, and a fairly famous music video she wishes wasn't still available on YouTube. She loves Joe, Baz, & DD. For more of her work, find her on Facebook: Kate Bishop Costume Design.
Chad Shelton [LIGHTING DESIGNER] is very excited to be back at Diversionary, having recently worked as the associate lighting designer on Regrets Only. Originally from Chicago, IL., he is currently seeking his MFA in lighting design from the San Diego State University where he his most recent design credits are Les Miserables in Concert and Jungle Book. Recent works include a design for Traditions of Christmas for the Christian Youth Theatre.  As a member of the lighting design firm RealEyes Lighting, he is anxious to expand his design career in San Diego.  Chad would like to thank his professors for their support, and the staff of Diversionary for giving him this opportunity.
Melanie Chen [SOUND DESIGNER] is thrilled to be working with Diversionary again! She has designed over 50 productions in San Diego, Los Angeles, and San Francisco. Select West Coast credits: Plays by Young Writers Festival 2015 with Playwrights Project,Pericles: Prince of Tyre with the USD MFA Program, Summer Shakespeare Intensive 2014 (The Old Globe); A Streetcar Named Desire (University of San Diego); Uncle Vanya (Pomona College); Animals Out of Paper (East West Players),Dance of the Holy Ghosts (Ubuntu Theatre Company in Oakland); Freud's Last Session, Word by Ira Gershwin,Romance/Romance, Faded Glory, Mandate Memories, Becoming Cuba (North Coast Rep); Passion, Bug, reasons to be pretty, Bengal Tiger at the Baghdad Zoo, Grey Gardens, Blasted, Angels in America, Body Awareness, The Lieutenant of Inishmore, Dr. Jekyll & Mr. Hyde, Jack Goes Boating (ion theatre company); Boys & Girls (Diversionary Theatre); Crumbs from the Table of Joy (Moxie Theatre); As You Like It, The Tempest, One Flew Over the Cuckoo's Nest (New Village Arts). She also assisted designers such as award winning composer Michael Roth and Tony Nominee designer Cricket Myers at the La Jolla Playhouse, San Diego Rep, and South Coast Rep. Education: MFA in Sound Design for Theatre & Dance from UC San Diego. www.melaniesound.com
Bonnie Durben [PROPERTY MASTER] Diversionary Theatre: She-Rantulas;  San Diego Musical Theatre: Next to Normal, White Christmas, Sound of Music; Moonlight Productions: Lion in Winter, Spamalot, Mary Poppins, My Fair Lady, Catch Me If You Can, Tommy, South Pacific, Life Could Be A Dream. New Village Arts: Same Time Next Year, Plaid Tidings, One Flew Over The Cookoo's Nest, Much Ado About Nothing. Mira Costa College: The Graduate, Twelfth Night, The Match Maker, Guys And Dolls, 39 Steps. Intrepid Theatre: Hamlet, Much Ado About Nothing, I Hate Hamlet, Macbeth. Member of The Society of Prop Managers and Artisans.
 [/tab]
[tab title="Photos"]
 [/tab]
[tab title="Fun Stuff"]
Listen to Director Andrew Oswald's interview on the San Diego Jumble! 
Check out our video from our Sneak-A-Peek Event!
[/tab]
[tab title="Reviews"]
"Winningly wild and wonderful… gut-bustingly hilarious… Director Oswald and a quintet of San Diego actors do Durang just right."

"A remarkably good piece of theater."

Director Andrew Oswald creates a kind of adult play pen. This choice honors the script's many demands and showcases his talented cast. Amanda Sitton's Helen is a scream… She's funny as all get-out. Wride has never been better (which says a ton) …with an amazingly slippery, and nuanced, insanity. Brian Mackey gives (John) an eloquent physical tantrums — the kind usually seen in a crib. Kailey O'Donnell shows versatility as air-headed, rigid, and mildly enlightened women. And J. Tyler Jones is just right… Jones nicely combines sanity and suspicion.

"Mr. Durang is one of our theater's brightest hopes – he knows how to write funny plays, which makes him a rarity. In Baby with the Bathwater, he manages to combine all three modes farce, satire, good-humored wackiness … Durang keeps laughter bubbling… We laugh and gasp at the same time." Sylviane Gold, Wall Street Journal

"Christopher Durang is one of the funniest dramatists alive, and one of the most sharply satiric. This time, parenthood is the target. Keith Reddin, as the former Daisy, is the perfect Durang leading man, puzzled and gravely polite, until he finally asserts himself." Edith Oliver, The New Yorker

"Nanny – a warped Mary Poppins as played by Dana Ivey – believes that cuddling children only spoils them. She gives the baby a rattle made of asbestos, lead andRed Dye No. 2. … Daisy proves a fuller creation than the outrageous facts suggest. Watching the character undergo therapy, we feel the pain that leads him to have more than 1,700 sexual partners, that makes it impossible for him to find an identity or a name. A playwright who shares Swift's bleak view of humanity, [Durang] conquers bitterness and finds a way to turn rage into comedy that is redemptive as well as funny." Frank Rich, New York Times
[/tab]
[/tab]
[tab title="Special Events"]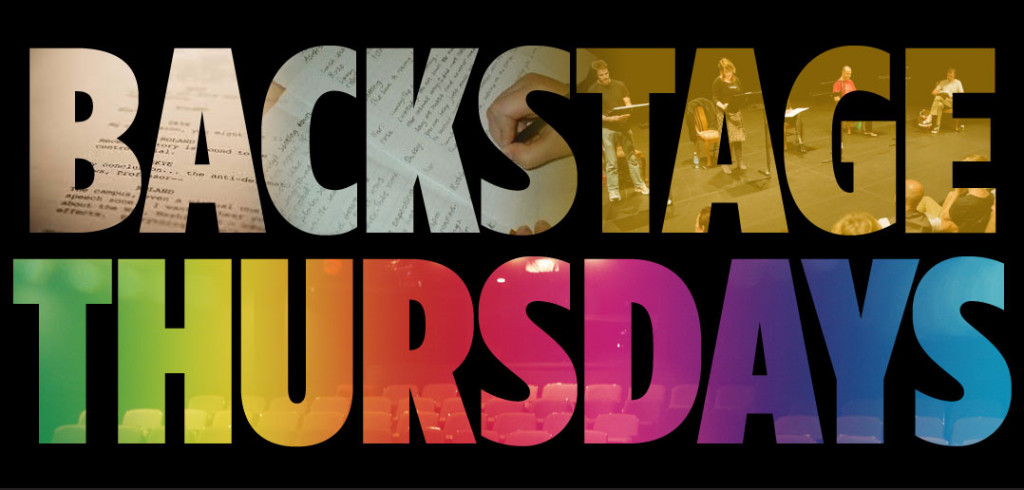 Backstage Thursdays will give you a glimpse behind the curtain for each of our Main Stage shows! Each Thursday night of the regular run (not Previews,) we'll have a special event designed to draw you into the production and have some fun – included in your ticket price! We partner with local restaurants to support these events. Backstage Thursdays are great for Groups!
First Thursday – March 12th, 2015

Designer Spotlight 
Join us in Fritz's Lounge before the show to meet the Creative Team, see a display of the concepts used in producing the show and hear the influences and process involved. Hosted hors d'oeuvres and drink specials round out a fun pre-show experience! The party starts at 6:00 PM!
Second Thursday – March 19th, 2015
Fritz's Happy Hour with the Director
Beginning at 6:00 PM, Join  Director Andrew Oswald in Fritz's Lounge for hosted hors d'oeuvres, drink specials, and a chance to chat before the show! Here's your chance to hear about the guiding vision of each Main Stage show, and ask questions.
Third Thursday – March 26th, 2015
Next Act!
Next Act is your opportunity to mix and mingle with the stars of the upcoming show, A New Brain!  They'll be available to answer questions about the production, and you'll benefit from complimentary appetizers and some awesome drink specials! Even better?  An exclusive discount off the next show's tickets, available only to Next Act patrons! The party starts at 6:00 PM, with a 7:00 PM performance.
[/tab]
[/tabs][maxbutton id="31″]