Teen-Versionary Presents
Dear ONE: Love & Longing in Mid-Century Queer America
Featuring the Teen-Versionary Ensemble and Special Guests

Director's Statement
If you've been lucky enough to have been taught the history of the LGBTQ+ community, then you know that our community existed long before the Stonewall riots. As we continue to fight for our safety and rights, these letters submitted to ONE Magazine represent a cross- section of queer humans looking for connection, kinship, and hope. In short, they discovered their community through ONE Magazine. The bravery of these early activists started to bring the LGBTQ+ community into the light. In a world that was cruel and violent towards folx who were "different," ONE Magazine was a life line to a new world that would one day dawn. 
I'm moved by the love, the desperation, and the urgency of these letters; some even seem like they could have been written today. This just proves as we continue to weather the political landscape, that many folx in our community still live in fear, and long for the safety and understanding to live their authentic lives. 
I've always wanted to create a multigenerational ensemble theatre piece. I can think of no better way to honor the hard-won progress of our LGBTQ+ community than to have our elders come together with our youth to explore and celebrate our resilience and collective experience. Much like the connection folx found in writing to ONE Magazine, the intergenerational connection we are fostering with this production will only fortify our LGBTQ+ family for the next generation and beyond. 
Because of the growing divide in our highly polarized environment, it becomes all the more important to hear and witness each other. Thanks to all of our donors who make this program possible. And thank you to playwright Josh Irving Gershick for embarking on this very special journey with us. And I'm so proud of this ensemble for their bravery and open, generous hearts in creating this work of living art. 
We hope you enjoy Josh Irving Gershick's Dear ONE: Love & longing in Mid-Century Queer America! Have a safe and Happy Pride!
Skyler Sullivan
Director of Arts Education and Outreach
Cast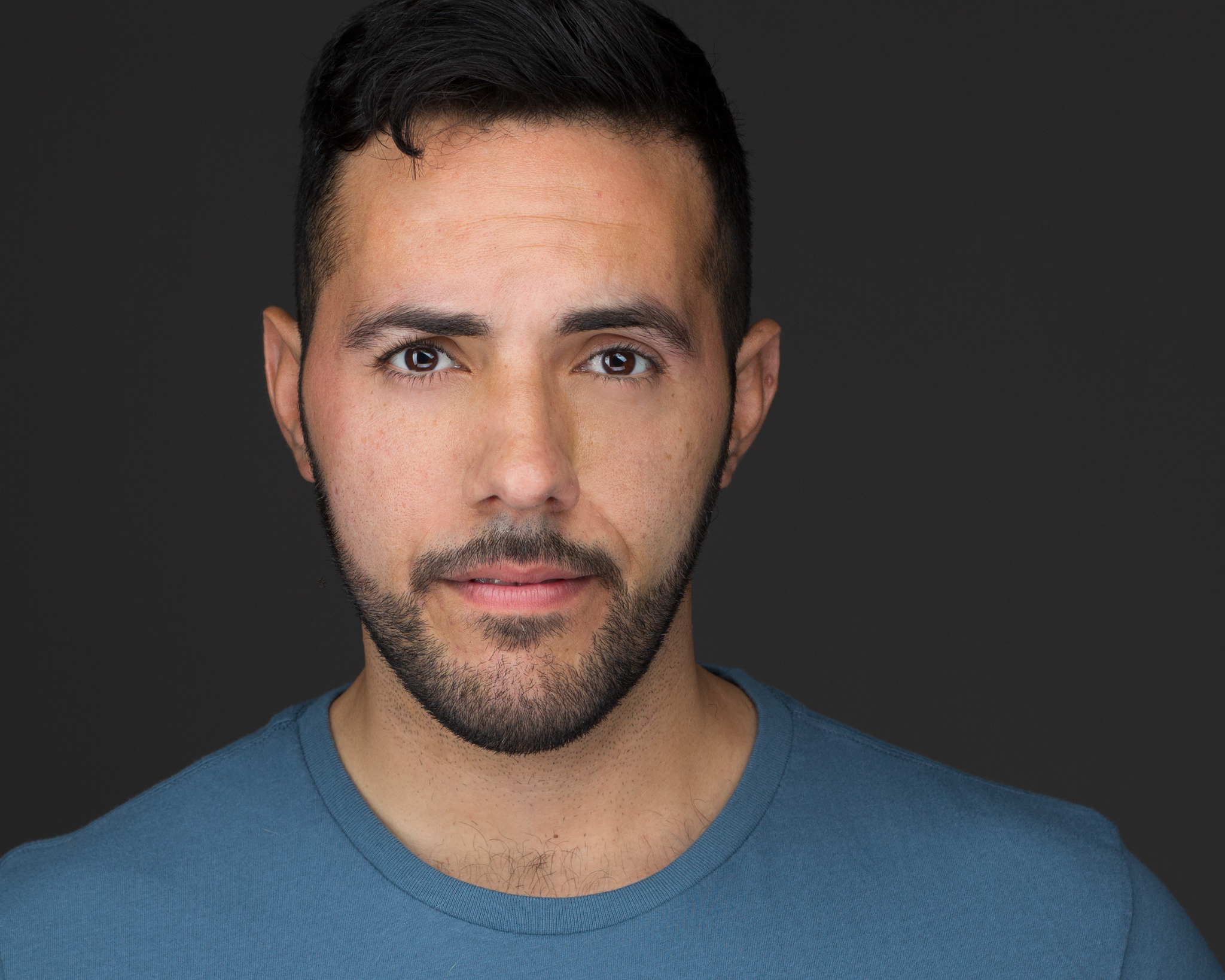 Frankie Alicea-Ford, (he/him/his), [The Editor] is a San Diego based, New York City trained theatre artist who has been working professionally since 2012. After receiving his BFA from the Tisch School of the Arts at New York University, Frankie has worked as a performer, deviser, educator and administrator throughout the US and abroad. He has created and spearheaded multiple theater education programs throughout Connecticut and New York and worked as the Residential Director of The Center for Creative Youth, based out of Wesleyan University. He currently works as a teaching artist with La Jolla Playhouse, New Village Arts and Diversionary Theatre and has extensive training in devised theater techniques, arts integration and trauma based theater practices. He was most recently an Artistic Associate and the Artist-In-Residence at New Village Arts in Carlsbad, CA and currently serves as the Associate Artistic Director of Diversionary Theatre.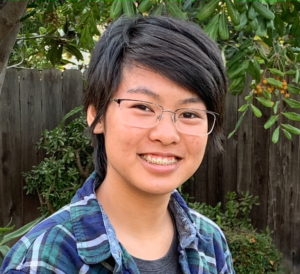 Em Chin, (they/them), [Ensemble] Em is looking forward to being a part of this production. Experiences: Cinderella at Rancho Santa Fe Summer Theater Camp, several live Hip Hop performances, occasional lector at church. Other: Likes to draw during free time and minimal ukulele, drums, and piano experience.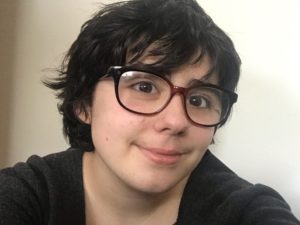 Max Cantrell-Goldstein, (he/it), [Ensemble] Max is more than excited to make his first ever debut with Diversionary Theatre is this inspiring play. It has also been in Beauty and the Beast Jr, performed at Moonlight, was in multiple school shows, and is trained in Ballet, Jazz, Tap, and Hip Hop.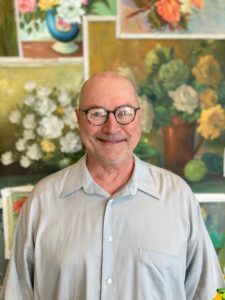 Jerry Evert, (He/Him/His),[Ensemble] is happy to be a part of another Diversionary event. Prior to this, he was a participant in Stonewall Salon 2019. Jerry is from the Midwest and has performed in over 45 plays there. He arrived in San Diego 3 years ago. Diversionary has been a means of support during his coming out journey. He has established the James Francis Fund in memory of his deceased brother. He is proud to support Diversionary through this fund.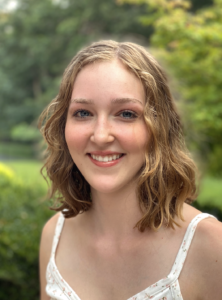 Simone Graziano, (she/her), [Ensemble] is excited to make her debut with Diversionary Theatre in this fantastic play. If she's being honest, she's much more used to writing plays than performing them. In fact, her "biggest" acting stint was probably when she played Cogsworth in her middle school production of Beauty and the Beast. However, she will always jump at the opportunity to bring more LGBTQ+ representation to the stage, and thus could not resist being a part of this production. In her free time she likes to read, write, play tennis, and worship Taylor Swift. Thank you to Mom, Dad, and Sofia for always supporting her (and flying all the way across the country with her to make this happen).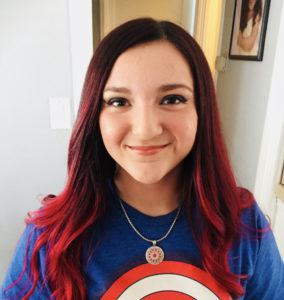 Ilenia Matto, (she/her), [Ensemble] Ilenia is a senior and drama major at Chula Vista High school. Ilenia has been working with Diversionary Theater 4 years in a row with the Teen-Versionary program! Ilenia has also been a part of many other productions as a tech outside of Diversionary, Ilenia loves cooking and wrestling and is happy to be able to finally do live theater again!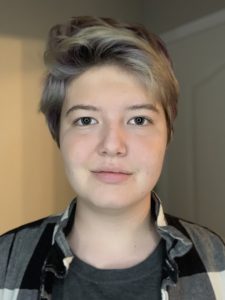 Frankie Morris, (he/him), [Ensemble] is an actor, singer, and writer. Previous shows include, queerSpawn (Diversionary), Legally Blonde, Madagascar – A Musical Adventure Jr. (Moonlight Youth Theatre), Little Shop of Horrors, Thoroughly Modern Millie (Star Theatre), and many more! Much thanks to Diversionary and to Frankie's family.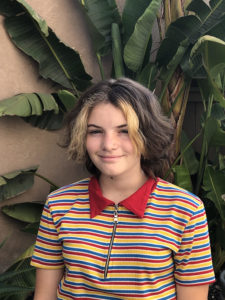 Sophie Myers (she/her), [Ensemble] Once I heard about this program, I was excited to see what it was and to be a part of it. I don't really have any experience with acting, this is my first year being in this program. I worked backstage for my school's performances by doing set pieces and costumes. But, I want to try something different. Some hobbies I have are drawing, painting, and crafty stuff.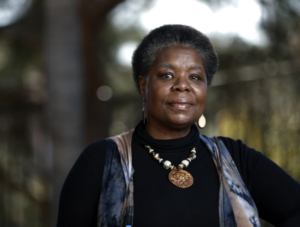 Ms. King (she, they), [Ensemble] San Diego native and 25 year teacher, is so happy to make her Diversionary debut with Dear ONE! Ms. King is proud to serve on the boards of Coronado Playhouse, San Diego Theatre Educator Alliance, San Diego Junior Theatre and Black Artist Collective. They are also a teaching artist with The Old Globe Theatre, DEI Consultant for San Diego Musical Theatre, a 4-time dramaturge for the San Diego Repertory Theatre and Co-Curator for the Rep's Black Voices Reading Series, 2021. 
Proud parent of 3 wonderful artists, Zack, Lily and Imahni, she runs Teenage Youth Performing Arts Theatre Company (TYPA) with Imahni.
UCSD BA-Music Humanities, Sociology, and Contemporary Black Arts; SDSU MA-Theatre Arts.
Power to the PEOPLE!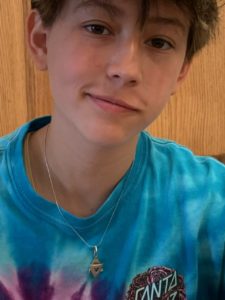 Shai Kodama, (him/him), [Ensemble]  Ever since coming out I've been looking for ways to help contribute to the community. The only acting experience I really have is playing Benedick from Shakespeare's Much Ado About Nothing. I really enjoyed that so I was happy to have this opportunity, and am happy to be able to help bring this amazing work to life.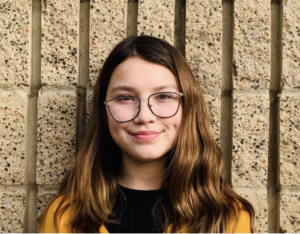 Sophie Roundtree, (they/them),[Ensemble] In my fourteen years of life, I have had the luck of being in High School Musical, Frozen, Treasure Island, and School of Rock.  I am non-binary and panxexual. I have also had many experiences with improvisational classes and dance. To be specific, I have learned the basics of gymnastics, ballet, jazz, cheer, pop, contemporary, and ballroom. I also am experienced in fight choreography and singing lessons.
Thaliya Slocomb,(she/they/it), [Ensemble] This is Tali's second time taking part in the Teen-Versionary program. She has performing experience in many other shows in high school, and has even done technical production as well. They can't wait to go to college at the University of Oregon this Autumn for a major in Product Design. Thaliya loves having deep conversations, hanging out with friends, drawing, playing bass guitar, and playing video games.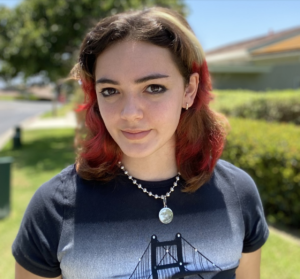 Isa Underdahl, [Ensemble] currently attends SDSCPA for Musical Theatre. She's excited to make her debut at the Diversionary Theatre! Former Productions include The Laramie Project, Songs For A New World, As You Like it, Anne Frank (CoSA), Hairspray, and Macbeth (CPMA).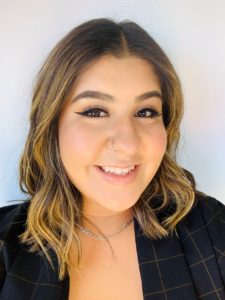 Sonya Valle, (She/They), (Ensemble) After performing with Teen-Versionary in Harvey Milk, Sonya is thrilled and grateful to return to Diversionary in this beautiful new play. During the pandemic, Moxie Theater chose Sonya's spoken word piece as part of their preshow for I And You.  She/They represented Bayfront Charter High School in the San Diego August Wilson
Monologue Competition, the National Poetry Out Loud competition and in the cast of Stand and Deliver. Skyler, Matt, and Sonya's amazing theatre teacher Linda Libby have inspired her to pursue this field and to one day become a theatrical teaching artist. 
Artistic Team
| | |
| --- | --- |
| Skyler Sullivan | Director |
| Kyle Montgomery | Assistant Director |
Crew  & Show Staff
| | |
| --- | --- |
| Kira Vine | Production Stage Manager |
| Carrie Haugh | Mental Health Counselor |
Diversionary Staff
| | |
| --- | --- |
| Matt M. Morrow | Executive Artistic Director |
| Jenny Case | Managing Director |
| Skyler Sullivan | Director of Arts Education and Outreach |
| Frankie Alicia-Ford | Associate Artistic Director |
| Allison Goetzman | Production Manager |
| Andréa Agosto | Artistic Fellow |
| LB Lujan | Community Services Manager |
| Trent Lozano-Osier | Business Associate |
| Wilfred Paloma | Teaching Artist |
| Lettie DeAnda | Teaching Artist |
| Miki Vale | Teaching Artist |
Events Partners & Special Thanks
Special Thanks:
Carrie Haugh
Bob Oslie
John Exworthy
Diversionary Theatre Staff
LB Lujan
The Parents of Teen-Versionary
Judy Jinx
---
Events Partner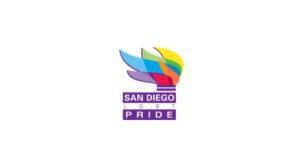 Sponsors:

Decade Sponsor: Joann Clark