Diversionary Theatre Announces 2016/2017 Season & New Branding!
Contact: Cara Vacek Hanhurst


Press

@Diversionary.org
(619) 220-6830 x 105

DIVERSIONARY ANNOUNCES 2016/2017 SEASON
AND NEW BRANDING!
Monday, June 13th
San Diego, CA.
 
For immediate release:
Since 1986, Diversionary has been creating thoughtful work that celebrates the diversity and strength of the LGBT Family. The third-oldest LGBT theatre in the country ended it's 30th Anniversary season with the critically lauded and challenging World Premiere Musical of THE BOY WHO DANCED ON AIR.
 
Season 31 continues Diversionary's legacy of creating groundbreaking and intimate work. Under the helm of Executive Artistic Director Matt M. Morrow, Diversionary's next season begins this September, and has been carefully curated to continue the theater's history of creating work that is a diverse reflection of the community.
 
With this season, Diversionary welcomes lesser-heard voices by slating four pieces by female playwrights. Morrow describes his second season: "I'm elated to give desperately needed opportunities to female playwrights. I've also focused on comedic work, with the goal of infusing some levity into what is sure to be a turbulent election year – there is nothing like the redemptive power of laughter. The five stories selected for production celebrate who we are, who we become, and how we create family. Our community will undoubtedly find itself reflected on the Diversionary stage."

The Season also brings with it a fresh look for thirty year-old theatre. San Diego graphic design firm SIMPATIKA was engaged to rejuvenate Diversionary's branding while paying respect to the resilient history of the organization. Morrow was thrilled to unveil the branding at the 30th Anniversary Gala on April 1st. He says of the new look:
"Simpatika worked closely with us to develop a new brand that pays homage to Diversionary's history by reaching back to our original triangle iconography, while bringing a bold, inclusive and forward-thinking sensibility to the theatre."
The season explodes out of the gate with the San Diego Premiere of the new musical LIZARD BOY, with book, music and lyrics by Justin Huertas. The show comes direct from it's World Premiere at Seattle Repertory Theatre, where it enjoyed a celebrated, sold out run. This fantastical story follows a young recluse named Trevor, who ventures outside his comfort zone in a quest for love and self-acceptance, but ends up finding an adventure of mythic proportions along the way. The original Seattle cast will join the Diversionary production, featuring the writer/composer in the title role. Original director Brandon Ivie will present a fresh re-staging of LIZARD BOY for Diversionary.
December will bring the San Diego Premiere of THE MYSTERY OF LOVE AND SEX by Bathsheba Doran, directed by Executive Artistic Director Matt M. Morrow. This Southern Gothic Comedy spans multiple years and looks at the fluid sexual dynamics of two couples in a makeshift family. MYSTERY is both heartbreaking and hilarious – a gorgeous piece of writing that has something for everyone.

Playwright Lisa Kron made Broadway history last year with her 2015 Tony Award winning musical FUN HOME. As the centerpiece of the season, Morrow has programmed two of Kron's plays, producing them in repertory for the first time ever. The Kron Repertory celebrates the playwright's genius and provides an intimate and intensive glimpse into her writing.  
Diversionary will produce the first San Diego revival of Kron's 2.5 MINUTE RIDE since its breakout World Premiere at La Jolla Playhouse in 1996. Two San Diego Powerhouses team up: Rosina Reynolds directs and Shana Wride takes the stage as Lisa in this solo piece that pays reverence to Kron's Holocaust survivor Father. 2.5 interweaves three stories of family lineage into one touching, funny and memorable narrative.
The San Diego Premiere of WELL completes the second part of The Kron Repertory. This pioneering comedy transferred to Broadway in 2006. Kron uses the play to examine her complicated relationship with her Mother, along with her sense of health and well-being. Kym Pappas directs while San Diego favorite Samantha Ginn takes on the role of Lisa.
The World Premiere of Georgette Kelly's BALLAST concludes Diversionary's 31st Season. BALLAST explores the waking and dream lives of two trans and cisgender couples as they come to terms with the new relationships they find themselves in. Executive Artistic Director Morrow helms this World Premiere which will feature a striking projection design by Tara Knight (AMAZONS AND THEIR MEN, HOLLYWOOD).

Georgette Kelly says of her upcoming production with Diversionary:
"I'm thrilled to be working with Diversionary to bring BALLAST to the stage as a World Premiere. It's an honor to rekindle my collaboration with Matt Morrow, who directed the very first reading of BALLAST in 2012 and whose vision has been instrumental to the development of the script. I'm so grateful to both Matt and the Diversionary team for their tireless support of this new play!"
The season ends with SPARK! Diversionary's first-ever new play festival. As the final Mainstage Production of the 2016-17 Season, BALLAST anchors the festival which will feature three to five new plays presented as staged readings, plus a Master Class by an esteemed playwright TBA.
---
Single Tickets for Season 31 are currently available only to subscribers, and packages start at just $65.00. More information can be found by visiting www.Diversionary.org/Subscribe or by calling the box office at 619-220-0097. Single ticket sales for each show go on sale approximately one month before performances, and range from $15 – $50. To be notified of ticket sales, please sign up for the Diversionary Theatre Email List: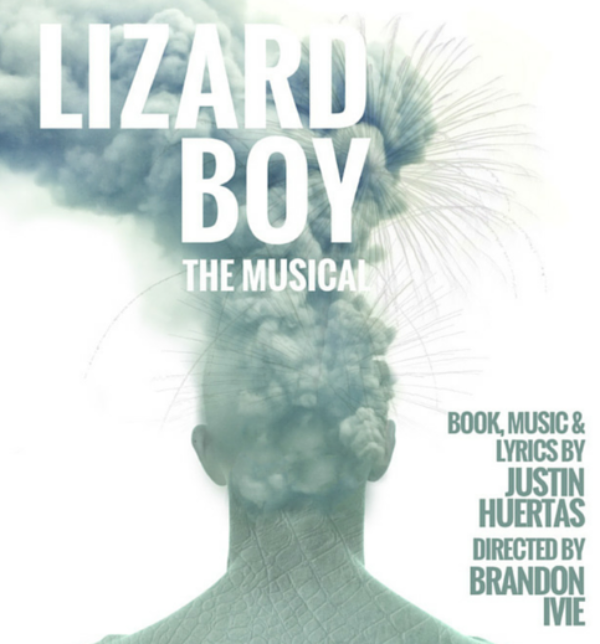 San Diego Premiere
A Comic Book Musical Fantasy
LIZARD BOY
Book, Music & Lyrics by Justin Huertas
Directed by Brandon IviePart comic book.  Part musical horror tale. Part Lizard. Part Boy. From its acclaimed production in Seattle comes a radically original musical that will set San Diego ablaze.  Legend has it that from the ashes of Mount St. Helens emerged a monster with mysterious powers that changed one boy's life forever. Freak or hero? Trevor better find out before it's too late. This indie-folk-rock-concert-coming-of-age-love-story about the power of individuality will shatter your notions of what a musical can be!September 29-October 30, 2016
Previews September 29-October 7 // Opening October 8

"This 90 minute journey of love, acceptance and scales embodies so much promise, potential and genuine love of storytelling that I can easily see this going far beyond Seattle. This is just one of those can't miss shows."

San Diego Premiere
What is it you secretly desire?
THE MYSTERY OF LOVE AND SEX
by Bathsheba Doran
Directed by

Matt

M. Morrow
As Charlotte and Jonny tumble into their twenties confronting the mysteries of their own bodies and desires, Charlotte's parents face their own perceptions about love and happiness. Traversing years, shifting relationships and unexpected outcomes, this provocative Southern Gothic romantic comedy peeks behind the curtain of sexuality and race to illuminate secrets of the heart and the fabric of a family.November 25-December 24, 2016
Previews November 17-26 // Opening November 26
The New York Times Top Ten Plays of 2015
"Perfectly wonderful! It is tender, funny, packed with humanity and brimming with surprising revelations. Bathsheba Doran has written a play with such compassion and wry wisdom that I emerged from the theater into yet another frigid day feeling warmed from within."
-The New York Times
Mom+Dad=Comedy²
2.5 MINUTE RIDE &
WELL in Repertory  
by Tony Award Winner Lisa Kron
Diversionary celebrates the storytelling genius of Lisa Kron by bringing two of her contemporary classics together in repertory for the first time ever! Both autobiographical plays deftly explore Kron's hilarious and poignant relationship with two of the most perplexing people in her life: Her Parents.
San Diego Revival
Lisa Kron's 2.5 MINUTE RIDE
Directed by Rosina Reynolds
Starring Shana Wride
Returning to San Diego for the first time since its celebrated World Premiere, this inventive solo show is a roller coaster adventure through the playwright's family album, focusing on her relationship with her Father, a Holocaust survivor. Swirling through three disparate yet strikingly resonant experiences of a trip to Auschwitz, a Brooklyn wedding and an annual outing to an Ohio Amusement Park, a disarming story emerges about the ties that bind a family and a compelling portrait of a honorable man.   
"Celebrates the power of laughter… a model example of the autobiographical show at its unaffected best."– Variety
San Diego Premiere
Lisa Kron's WELL
Directed by Kym Pappas
This pioneering Broadway comedy begins as a reverent study of the playwright's chronically ill Mom and her extraordinary ability to heal a racially divided community despite her inability to make herself well. But when the playwright's carefully crafted characters start having opinions of their own, theatrical hell breaks loose threatening to unravel the entire story. This uproariously funny and magical memoir reveals how we heal ourselves is not always the best medicine for those we love.   
"This glorious and funny new play opens doors of insight and emotion that no other play in New York is opening. I fell in love with WELL."
– The New York Times
 
February 9-March 19, 2017 In Rotating Rep
Previews February 9-17
2.5 MINUTE RIDE Opening February 10
WELL Opening February 11
World Premiere
The Future Takes Flight.
BALLAST
By Georgette Kelly
Directed by

Matt

M. Morrow
How do we become who we are? In an investigation of identification and intimacy, BALLAST intertwines the story of two relationships between trans and cisgender partners as they grapple with the stranger they find across the dinner table and in the mirror. This cutting-edge new play skydives into personal identity, navigating intricate dreamscapes to explore how gender shapes our spirituality, desires and destiny.  
May 4-June 4, 2017
Previews May 4-May 12 // Opening May 13
SPARK: Diversionary's New Play Festival
See

tomorrow's

freshest and fiercest new plays! Plus a Master Class with an esteemed Playwright TBA!
May 18-21