Diversionary Theatre presents [manhandled] as a part of its 2016-2017 Cabaret Series
Contact: Cara Hanhurst
Press@Diversionary.org
(619) 220-6830 x 105
Monday, July 11th, 2016
San Diego, CA
Diversionary Theatre presents
[manhandled]
as a part of its 2016-2017 Cabaret Series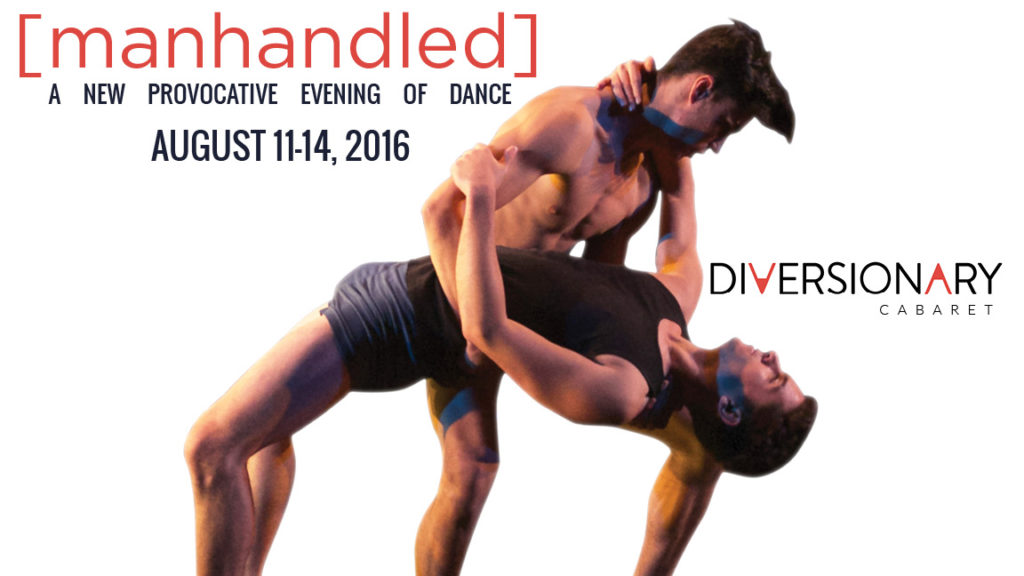 [manhandled]
Presented by Michael Mizerany
August 11th – August 14th
Renowned choreographer Michael Mizerany (bare: a pop opera, A New Brain), returns to the Diversionary stage with [manhandled], a provocative dance program from his company Compulsion Dance & Theatre. Mizerany, a long-time collaborator of Diversionary Theatre, says he was inspired to create the piece after people-watching in airports:
"It was fascinating to see the variety of relationships being mishandled and, on occasion, manhandled. The newer parts of the program will interpret those relationships with a quirky, modern feel, while the rest of the show embraces contemporary dance."
[manhandled] is a visually stunning and viscerally potent evening featuring the premiere of a new duet, two critically acclaimed works (one with a gender twist), and a piece by guest artist Bradley R. Lundberg. Dancers include David Wornovitzky, Nicholas Strasburg, Brittany Taylor, Bradley R. Lundberg, Andrew Holmes, Martin Anthony Dorado, and Nikki Dunnan. This not-to-be-missed special event is one weekend only and is expected to sell out.
Special events around the performance include:
Opening Night Performance: Thursday, August 11th at 7pm
Post-show talk-back with the company: Saturday, August 13th, approximately 9pm
Performance Dates and Times :
Thursday, August 11th at 7pm
Friday, August 12th at 8pm
Saturday, August 13th at 2pm & 8pm
Sunday, August 14th at 2pm & 7pm
This piece contains partial male nudity and is recommended for ages 18+. Tickets are now available online at www.diversionary.org/manhandled, by calling 619-220-0097 or in person by visiting 4545 Park Boulevard San Diego, CA 92116. Single ticket prices ranges from $15-$35. Discounts are available to Groups of 5 or more, Seniors, Students, and members of the Military Community (Prices are subject to change).
Interviews can be scheduled by contacting Cara Hanhurst, Connectivity Manager, at 619-220-6830 x 105 or emailing press@diversionary.org.