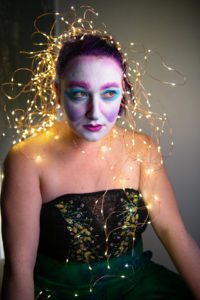 Danielle Levsky (she/her) is a Post-Soviet, Jewish, queer, and feminist clown, writer, educator, and producer. During quarantine, she explored the possibilities of live-streamed art by writing, performing, devising, teaching, and producing literary work and physical theatre. She was also certified as a clown teacher through the Los Angeles-based Clown School.
From May through September 2021, she produced and hosted two monthly events in Chicago: Corona dell'arte with Silent Theatre Company, a vaudeville-style variety show hosted by clowns, and Moon on Fire, a full moon ritual, salon, and open mic evening for artists and by artists. Currently, Danielle is working on growing community in Southern California, hosting a virtual monthly Clown Watch Party, teaching clown workshops, writing a full-length clown show, and wiggling in and out of headstands in yoga teacher training class.
She has trained with teachers of various clown traditions and backgrounds, including Misha Usov (Cirque de Soleil), Shannan Calcutt (Cirque de Soleil), David Bridel, Jeremy Aluma, Stefan Haves (Humble Clown Summit/Cirque de Soleil), Marc Frost (Theater Unspeakable), Eric Davis (Red Bastard), Leah Urzendowski (Neo-Futurists), Aretha Sills (Viola Spolin workshops), Antonio Fava (Commedia dell'arte master), and Dan Berkeley (Ringling Brothers). Learn more about her and her work: criticturnedclown.squarespace.com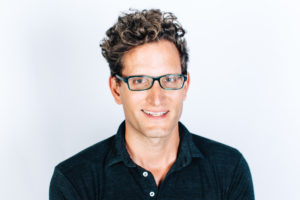 Skyler Sullivan
Director of Arts Education and Outreach
(He/Him/Theirs)
Skyler Sullivan is an actor/director/ and arts educator transplanted from New York. While in NYC, he worked with The New Victory Theatre for ten years as a veteran teaching artist, where he honed his skills as a curriculum developer and facilitator. Other NYC teaching credits include: The Lee Strasberg Theatre & Film Institute, the Professional Performing Arts School, and on-set coaching on two P.B.S. shows: Sesame Street and The Electric Company.
Skyler is thrilled to be working with Diversionary Theatre as it continues its tradition of arts education and outreach. Currently, in San Diego, he also teaches for The Old Globe and The La Jolla Playhouse. Skyler also works as a therapeutic clown with Healthy Humor, a nonprofit serving chronically and terminally ill kids and their families. Education: B.F.A. in acting Emerson College, M.F.A. in Acting Brooklyn College.