The Divine Sister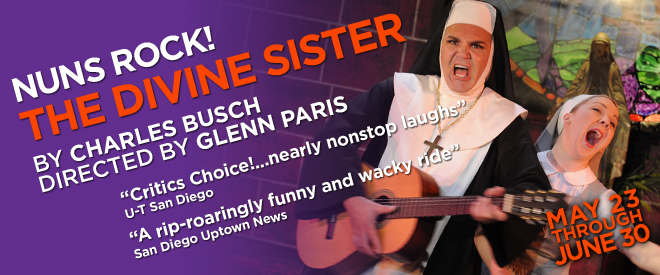 [tabs] May 23rd – June 30th, 2013
[tab title="Show Info"]Do nuns really have more fun? The Divine Sister is an inspired homage to every Hollywood film ever centered on the convent. Written by Charles Busch (the comic genius behind such classics as The Tale of the Allergists Wife; Die, Mommie, Die!; Psycho Beach Party; and Vampire Lesbians of Sodom) this is the gleefully twisted tale of an indomitable Mother Superior trying to cope with a young postulant experiencing "visions," a sensitive schoolboy in need of mentoring, a mysterious nun visiting from Berlin, and a former suitor intent on luring her away from her vows. No nun, whether singing or flying, is spared and no Mary left un-hailed in this loving parody that dares to take a look beneath the habit.
[/tab]
[tab title="About the Writer"]Charles Busch (Playwright) is the author and star of such plays as The Lady in Question, Red Scare on Sunset and Vampire Lesbians of Sodom, which ran five years and is one of the longest running plays in Off-Broadway history. His play The Tale of the Allergist's Wiferan for 777 performances on Broadway and won Mr. Busch the Outer Circle Critics John Gassner Award and received a Tony nomination for Best Play. He wrote and starred in the film versions of his plays, Psycho Beach Party and Die Mommie Die, the latter of which won him the Best Performance Award at the Sundance Film Festival. In 2003, Mr. Busch received a special Drama Desk Award for career achievement as both performer and playwright. Mr. Busch made his directorial debut with the film A Very Serious Person, which premiered at the 2006 Tribeca Film Festival, where it won an honorable mention. He is also the subject of the documentary film The Lady in Question is Charles Busch.
[/tab]
[tab title="Cast"]
Yolanda Franklin (Acacius) is pleased to be back at Diversionary. Previous Diversionary credit: The Further Adventures of Hedda Gabler. Elsewhere: Trip to Bountiful (New Village Arts); Little Flower of East Orange, Chicago, A Speakeasy Cabaret (Ion Theatre); The Sugar Witch(OnStage Playhouse); A Raisin in the Sun, Dead Man's Cell Phone, Gibson Girl (MOXIE Theatre); Our Town (Cygnet); Steel Magnolias, Twelfth Night, Glass Menagerie (Point Loma Actors Theatre); For Colored Girls, Handel's Messiah-A Soulful Celebration, Four Queens No Trump(Common Ground Theatre); Prodigal Son, Nina Simone (Ira Aldridge Players); Here I am, Native Son (CAT Theatre); The Gospel Messiah (SD Church Conference/SD Symphony); Humphrey Nevada (SD Repertory/Fritz Blitz). TV/Film: The Tie that Binds, Proxy (InVitro Films); The Tiger Woods Movie(20th Century Fox); Levels of Anxiety (Opening Door Productions); Personals (Hansen Production Company); Commercials: Toyota Carlsbad, Channel 10 Christmas, Hush Puppies, Honda, Claritan & AOL.
Lauren King (Agnes) is delighted to be making her Diversionary debut! Previous credits include: 2nd & 3rd National Tours of How the Grinch Stole Christmas, A Midsummer Night's Dream (Intrepid Shakespeare), Music Man, Guys and Dolls, Pete 'n' Keely (Lamb's Players Theatre), Stepping Out (Welk), Joseph…Dreamcoat (SDMT), Oklahoma(Moonlight), Annie, Hello Dolly (Starlight). Lauren received her BFA in Musical Theatre from Cal State University, Fullerton.
Dangerfield G. Moore (Jeremy/Venerius) is thrilled to be involved with Diversionary. He was previously seen at Diversionary as Bill in Learn to be Latina and Gaveston in Edward II. He also played Enrico in A Roman Holiday (Coronado Playhouse). North Coasts Reps production of Henry 4 Part 1 and Vanguards production of Hamlet. He has extensive credits in stage and film. He received his Bachelor's in drama from the University of Pittsburgh.
Jacque Wilke (Walburga/MacDuffie) is thrilled to be back on the Diversionary stage! Previous credits include: The Further Adventures of Hedda Gabler, Scrooge in Rouge, Next Fall, Fair Use, The New Century, Anita Bryant Died for your Sins (Diversionary) Mistakes Were Made (Cygnet) Lend me a Tenor, Mistletoe, Music, and Mayhem, and  Don't Dress for Dinner (North Coast Repertory), Or, (MOXIE), The Seven Year Itch, and The Heidi Chronicles (New Village Arts) Side Man (BANG) The Break-up Breakdown (Circle Circle Dot Dot), He Said, She Said (Laterthanever). She performs stand-up and sketch comedy locally with Casa Del Haha, and in LA at The Improvand The Comedy Store. She has studied with The Groundlings, and is a graduate of the American Academy of Dramatic Arts where she was the recipient of the Academy's Charles Jelinger Award for Best Actress.
[/tab][/tab]
[tab title="Creative Team"]Glenn Paris (Director) is thrilled to be back at Diversionary after directing The Pride. He is the producing artistic director of ion theatre company here in San Diego and co-directed with Claudio Raygoza the Diversionary/ion co-production of Bent. Directing credits for ion include, Angels In America Parts 1 And 2 (with Claudio Raygoza),Request Programme (2008, 2012), Grace, The Woolgather, Bash: Latterday Plays (2012, 2008), Wonder Wounded Heroes, Hurlyburly (San Diego Critics Circle/Craig Noel Award~Outstanding Ensemble), All In The Timing, Speed-The-Plow, In A Dark, Dark House, The Cripple of Inishmaan, La Gaviota, Punks (Patte Award, Outstanding Ensemble),The Glass Menagerie, Krapp's Last Tape.  As an actor for ion, he performed in Mud and The Chairs. For 6th @ Penn: Adam Baum; for Playwrights Project, Step Into The Night.  In NYC, Revering The Dark at The Kitchen; The Flip Side, After All, The Roadblock at HB Playwrights (former Artistic Director).  MFA, Directing Carnegie Mellon University.  With Claudio Raygoza, Mr. Paris was named Producer of the Year 2010 by the San Diego Critics Circle and ion received the first Don Braunagel Award this year from the Circle for Angels In America.
Matt Scott (Scenic Designer) Diversionary credits include The Further Adventures of Hedda Gabler, when last we flew, The Pride, Next Fall, Poster Boys, Dooley, Fair Use and[title of show]. Other San Diego credits include The Lieutenant of Inishmore, Wonder Wounded Heroes, Back of the Throat, Jekyll & Hyde, Hurly Burly, Speed the Plow, Frozen, The Cripple of Inishmaan, The Pillowman, The Glass Menagerie (ion Theatre);The Man Who Came to Dinner (Coronado Playhouse); Zombie Prom, Metamorphosis(Coronado School of the Arts).
Luke Olson (Lighting Design) is very excited to be back at Diversionary for Pippin! Previous work at Diversionary Theatre includesthe lighting for when last we flew, Pippin,You Gotta Get a GimmickandDance/Theatre, and the projection designs for Learn To Be Latina and Poster Boys. Other local lighting credits include A Raisin In The Sun(MOXIE Theatre), Malashock RAW/2 (Malashock Dance), Peace Of Courage (TranscenDANCE);YuleTubeandOle! Ole! Ole! (San Diego Gay Men's Chorus); HallowedandAmerican Idyll(Playwrights Project); Faces of Love (Opera Neo); Hunters Trilogy and When Strangers Meet (San Diego Dance Theatre). He has an MFA from San Diego State University.
David Medina (Prop Designer) is proud to be an Associate Artist at Diversionary: The Further Adventures of Hedda Gabler, Birds of a Feather, Scrooge in Rouge (2008 & 2012),Pippin, Harmony, Kansas, The Pride, Speech & Debate, The Marriage Bed, Twist, The Little Dog Laughed, Facing East, Corpus Christi, The Daddy Machine. Other Diversionary credits include: When Pigs Fly (Asst. Scenic), Busy World Is Hushed ( Asst. Scenic),BlueBonnet Court (set construction); ion Theatre: Cripple of Inishman ( prop Asst.) Bang productions: Sideman; USD: Cabaret, The Saints Plays. David has worked for the Old Globe Theatre on over 80 shows as a Properties Buyer, Craftsperson & Artisan.
Ryan Heath (Stage Manager) has graduated San Diego State University with a BA in Theatre Arts and with a focus in stage management.  Originally from Livermore, he moved to San Diego to attend school.  After recently being hired on as the Production Stage Manager for Diversionary his most recent credit with them includes Stage Managing the Cabaret, Scrooge in Rouge. Other Stage Management credits include I Hate Hamlet (The Western Stage), Merry Wives of Windsor (Livermore Shakespeare Festival), The Pride(Diversionary) and ASM for A Raisin in the Sun (Moxie Theatre).  He was also hired on as a Stage Management intern at the Old Globe during their 2011 Shakespeare Festival.  He looks forward to continuing his stage management work.
[/tab]
[/tab]
[/tab]
[tab title="Press Photos"]
[/tab]
[/tab]
[tab title="Reviews"]
Anne Marie Welsh, U-T San Diego
"CRITICS CHOICE….nearly nonstop laughs, along with a few deeper pleasures"
"an evening of antic entertainment from actors eager to satisfy anyone's curiosity about what might be going on beneath those wimpled habits"
"Daren Scott in something of a career breakthrough"
"CRITICS PICK….it's a scream."
"Ably directed by Glenn Paris, the Diversionary cast performs as if to the style born."
"Daren Scott's a wall-to-wall hoot as the Good Mother. Maggie Carney's as funny as she is adept. Lauren King does such a Jekyll/Hyde flip…it's hard to believe she's playing both Dangerfield G. Moore has the crisp banter of noir leading men down pat.  (Yolanda Franklin and Jacque Wilke) both add fresh new examples of their amazing versatility."
Charlene Baldridge, San Diego Uptown News
"a rip-roaringly funny & wacky ride."
"it's packed with that much mayhem and mirth. Scott's performance is one for the memory book."
"Underlying sincerity plays a huge part in this type of comedy, tugging at the onlooker's heartstrings even as the preposterous situation sinks in."
"Full of hilariously irreverent gags…'The Divine Sister' is a hoot….welcome to paradise"
"…the kind of absurd glee featured in a Mel Brooks classic or an episode of "The Simpsons."
"Busch treats (religion) with respect and dignity throughout this farce.  Scott is surprisingly subtle with his depiction of the naïve, but optimistically devout Catholic."
"… an outstanding comedy ensemble with scene stealing roles from performers such as Yolanda Franklin and an unrecognizable Jacque Wilke…"
[/tab]
[/tabs]