"Working on a Durang play will teach you about humanity…"
Diversionary Theatre is thrilled to have Andrew Oswald on board as the director of Baby with the Bathwater, our first main stage production of the Spring 2015 season. We sat down with Andrew to discuss his love of Christopher Durang plays, transitioning from actor to director, and why he can't wait to bring "Baby" to San Diego audiences.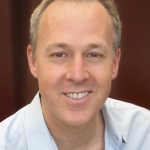 Q: This is your Directorial debut at Diversionary Theatre! Why now and why Baby
with the Bathwater?
A: I have been waiting for the moment to direct my first show in San Diego and I wanted
to be sure I established myself as an actor in this town first. Last summer I presented
several ideas to the Diversionary and they decided Baby with the Bathwater was the right
fit for them at this time. The Diversionary has been very kind to me. The first full
production I did as an actor in San Diego was with them in The Further Adventures of
Hedda Gabler. So I am excited to have my first directing opportunity happen with them
as well.
Christopher Durang is one of the foremost gay playwrights of our time and I was
shocked that the Diversionary had never done any of his plays! I love Durang and so I
wanted to change that. I had recently seen Vanya, and Sonia, and Masha, and Spike and I
saw a gentler, more forgiving, optimistic side to Durang then I had seen in any of his
recent plays and I also saw a richness and truth to his work in this that I had not seen in
his other works. I realized that there were elements of this that were represented in Baby
that I had not really seen the first time I had directed it. However, I worried that Baby
with the Bathwater might be dated… and it turns out it is, deliciously so! It's steeped in
topical references and specific incidents from the Eighties and so we have embraced that
aspect of it. But it's still relevant because of the universality of its themes. Christopher
Durang himself has said that this play exists outside of time a little bit. It really does.
Even within all the dated references there is a core to this play that rings just as true now
as when the play was written 30 years ago.
Q: Christopher Durang, the playwright of Baby with the Bathwater, is very well
known in the theatre community. What makes his plays unique from the works of
other modern playwrights?
A: His sense of humor! Durang can take the darkest of moments and turn them into the
funniest moments of the play. He allows us to examine the most common of American
themes, the dysfunctional family, in a new light by flipping it over and turning it on its
head. Plays that might have become Long Day's Journey into Night or August Osage
County suddenly become one of the funniest things you've ever seen. He has learned to
cope with the darkness that can come with pain by making it hysterical. Sometimes his
work can be so dark and so funny at the same time that you're not even sure you should
be laughing. He also has the ability to take things to the edge of farce and then steer you
back to a fragile tenderness at the last moment. He is a meaty treat for actor's to work on
because of this. Working on a Durang play will teach you about humanity, even if you're
laughing so hard you can't breathe while you're learning the lesson.
Q: Baby with the Bathwater has some pretty nutty characters. Is there a character
that you relate to or find particularly comical and interesting?
A: Well, Nanny is my favorite. She is a cracked "Mary Poppins" character who not only
has some of the gentlest lessons to be taught in the play, but she handles some of the
harshest lessons as well. She provides the "spoonful of sugar" rush that helps the bitter,
bitter medicine of this play go down. At some of the darkest moments in the play, she's
there to provide comic relief, and you never know what to expect from her. She almost
throws the play into Theatre of the Absurd surrealism at times and she keeps us from ever
taking anything to seriously.
However, the character I relate to the most, even though I'm embarrassed to admit it, is
Helen, the mother. She is a heavily flawed protagonist. She's so deeply involved in
herself, that she can't begin to see the damage she's doing to others. We all have those
moments where we can't see past our own misery to take in what's right past our own
nose, and in the end she learns her lessons too late, if she learns them at all. I have always
had to learn my mistakes the hard way, often making the same mistake over and over
again, but I like to believe that I can learn my lessons eventually. And this play wants us
to believe that we can as well.
Q: Tell us a little bit about how rehearsals for the show are going and what it's like
working with the creative team.
A: It's a fun piece to work on, and even though all of the elements have yet to come
together there are moments that move me deeply already: flashes of perfect pieces, now
we just need to try to sew them all together.
My design team has been integral in figuring out my ideas on this show. I love working
with designers! I'm still learning as a director; compared to my acting career, I am very
"young". So I hope I haven't driven them crazy. It's so fun to throw out your ideas, have
them throw them into their own creative "blender" and then come back with something
exciting and new! My costumer, Kate Bishop, helped me figure out time period and
details of who these people are. My Set Designer, Kristen Flores, and my Props Designer,
Bonnie Durben, are helping me figure out much of the style of this piece and the look of
this demented world. My Sound Designer, Melanie Chen has helped me figure out the
beating heart of this piece and we begin adding lights into the mix this weekend with my
Lighting Designer, Chad Shelton, so we can start to figure out the focus on this piece and
some of the dream like qualities of it. Also, my Assistant Director, Anthony Methvin, and
my Stage Manager, Ari Bellizi, have been extraordinarily helpful to me in being able to
understand my own voice in this piece. They are my guides and my batteries at the same
time, and I am deeply grateful to them for it.
Q: What makes this show relevant to an LGBT audience?
A: This has been an interesting question to me, because although the playwright is gay,
there are none of the gay characters that have become staples at the Diversionary. One of
the things about the play that was so forward looking for it's time is the sexual fluidity of
some of the characters; and there are really fascinating parallels to the struggles of the
trans community in the character of Daisy. But again, none of these are obvious.
However, this show looks at the idea of family from an outsider's point of view, and I
think, although this is beginning to change, it's still the point of view that many of us in
the gay community have had to face in regards to family. I hope this change continues,
but for so many of us we had horrible struggles in coming out to our family. Huge
chasms and rifts were created for many of us. To this day, many families reject their
LGBT children altogether. The child of John and Helen Dingleberry (Yes, their last name
is Dingleberry. Thank you Mr. Durang.) struggles for years with the scars left behind by
family. But eventually we all learn to heal from these scars and create our own "families"
of one sort or another. This is one of the most important lessons that an LGBT person can
learn: How we create families when we may have lost our own. It's how we cope with
these scars.
Q: What has been the highlight of working on this show so far? Is there anything
particularly rewarding about directing a piece of theatre?
A: The highlight of working on this show so far is, again, working with this talented cast.
Some of them are actors I've wanted to work with for ages but haven't yet had a chance
to. But the real rewarding moments are when all of a sudden someone understands a
direction you want to move in and they take off! Suddenly a scene is alive, and exciting,
it pops like fireworks and you just want to look up at it and say, "Aaaawwww!" To me
the most rewarding thing about directing theatre are those moments that turn out even
better than you imagined. That's when that delicious feeling of collaborating pays off. It's
those moments that become stronger because you have taken the best elements that
everyone has to give, to create a whole that's greater than the sum of it's parts. You get
chills.
It's also particularly rewarding on this show when we find the style just right. When the
emotions are real, but the world is heightened, and funny, and sad, and better than any
"realistic" moment could ever be.
Q: Are there any fun scenic or design-related elements of the show that the audience
would not expect to see?
A: Well, I think from the moment you enter the theatre you will see that you are not on
your average set. The world flies up into someone's imagination, and you're immediately
transported into a child like world of wonder. We have tried with the style of the design
to do the same thing we're trying to do with the acting style. You are literally grounded in
reality, in a New York studio apartment, but then the walls fade up into Daisy
Dingleberry's imagination and you are hovering in a world where the unexpected is
possible. Things are heightened and pastel and brimming with color.
As for other unexpected surprises, well, they wouldn't be surprises if I told you, now
would they? I'd have to kill you.
Q: Why should people come see Baby with the Bathwater?
A: Because they'll laugh their pants off and they just may learn something about
themselves in the process. We look forward to sharing this story with you!
Be sure to catch Baby with the Bathwater, playing at the Diversionary main stage
from February 26th to March 29th 2015. Visit www.diversionary.org/bwtb for details.
[maxbutton id="31″]