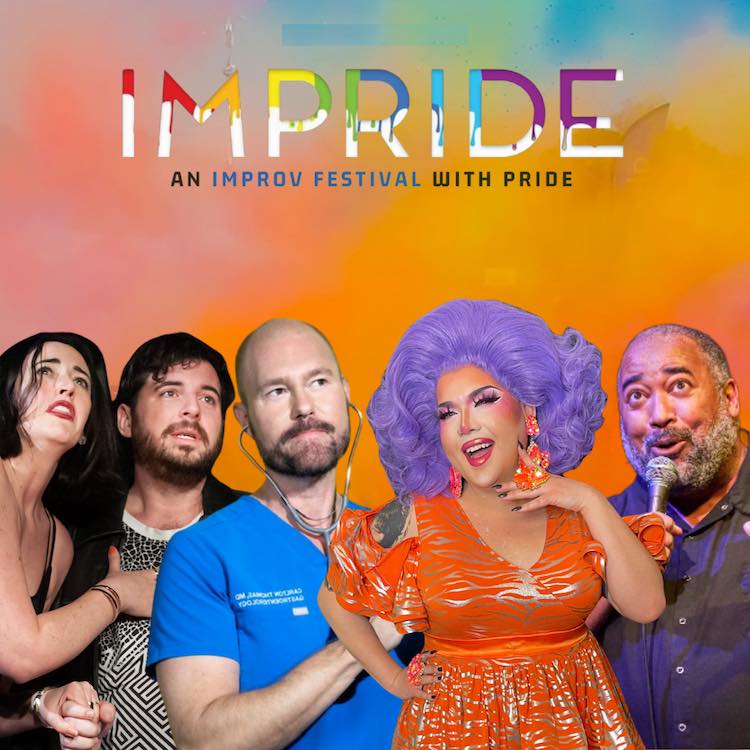 TICKETED EVENT — Impride: An Improv Festival with PRIDE
Impride is a queer comedy festival dedicated to the amplification of queer voices in comedy. Impride includes improv, stand-up, sketch, plays, drag, and more! Impride has been going strong since 2015 at Finest City Improv and last year with Diversionary Theater, the third-oldest LGBTQ+ theatre in the United States. In 2023 we are hosting three nights of shows, workshops, a panel discussion, and of course some parties! Join us as a performer, workshop teacher, or attendee, and as a guest of the queer magic and joy that is IMPRIDE!
To learn more or get tickets, visit https://impride.org/tickets/.
7:00 PM: Belle Reve
Belle Reve An Improvised Tennesee Williams play. Come for the drama stay for the laughs.
8:00 PM: The Big Gay Improv Show with Dr. Carlton Thomas*
*Please note, this performance takes place in the Diversionary mainstage.
The cast of The Big Gay Improv Show creates a never before seen show based on the life and stories of a special guest doing great things for the LGBTQ+ community. This year our special guest is Dr. Carlton Thomas!
Doctor Carlton Thomas (@doctorcarlton on Instagram and TikTok) is a board certified and Mayo Clinic trained gay gastroenterologist from San Diego California who used pandemic downtime to create a queer health and queer sex education platform. It rapidly grew to over 270K followers on Tik Tok and then the Instagram platform was used last year during the MPOX outbreak to educate, help find vaccines, and help find treatment for tens of thousands of men across the world. He has been named to the Out 100 by Out Magazine, won the President's Award from the National Association of Leather International , and was recently in The Advocate and New York Times. He has been named one of QUEERTY's PRIDE 50 for 2023 and is San Diego Pride's 2023 Hero Of Pride. He is married and has 2 kids who are off to college this year.
9:00 PM: Mariam T Presents Cherub Tales of Love and Loss from America's Sweetheart
Hailing from a small farming town in Arkansas, Mariam T is celebrating her 10th year of being a San Diegan. Mariam T is lovingly referred to as San Diego's crankiest drag queen. An insult comic at heart, with loads of southern charm, rhinestones and delicately coiffed hair, NO ONE is safe from her razor sharp wit and cunning observations. Mariam lives by a strict philosophy, "Everyone wants to be made fun of, they just haven't been made fun of by the right drag queen" and she believes that she is the drag queen to do it.
Mariam has become a staple in the drag scene in Southern California. She is the house queen of Urban MO's, the bingo queen of Gossip Grill, she produces comedy and burlesque shows and even dabbles in show tunes. There's a little bit for everyone with Mariam, and plenty to go around.
While always pointing out her own flaws and inviting the audience to laugh both with and at her; she will delight you in a night of belly laughs and charming stories and songs. Seating is first come first serve.