Free Open Mondays


[tabs ][tab title="Upcoming Open  Mondays"]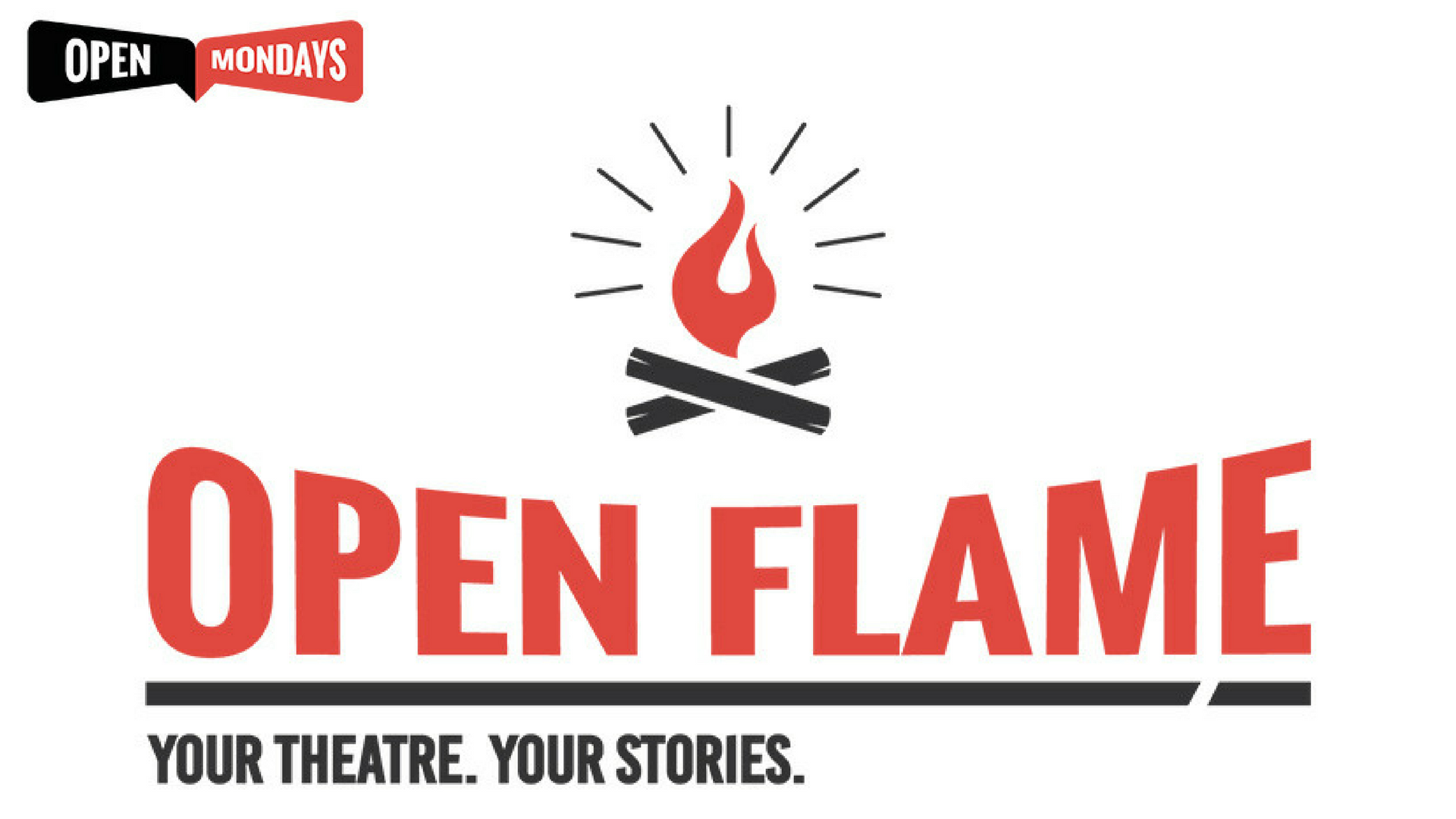 Diversionary Theatre
presents
Open Flame 
(The Zoom Edition)
Open Flame is a free storytelling event presented by Diversionary Theatre. It's a chance for our community to gather around the proverbial campfire and spin stories inspired by a unique theme or community at each event. Tune in to listen, or sign up to share a story of your own. 
Storytellers must sign up in advance, and prepare a five minute story based on that event's theme. 
Cozy up to our fire for a fascinating evening of stories as diverse as the members of our community who share them.
Coming up in September, we will be offering two different storytelling events:
[accordions ][accordion title="September 14th" load="hide"]
September 14th, 7pm-8pm
BIQTPOC Stories (Black, Indigenous, Queer, Trans, People of Color) Storytellers identifying as persons of color only please.
Event details:
At Diversionary we believe that voices of color matter. At this event, we are making space for BIQTPOC voices specifically to share their stories. Only BIQTPOC storytellers will be programmed, however, we encourage our entire community to tune in to hear their stories! BIQTPOC storytellers will be asked to prepare a five minute story or spoken word piece to share with the community live on zoom. Any theme welcome. 
[/accordion]
[accordion title="September 21st" load="hide"]
September 21st, 7pm-8pm
Covid Slam!  All storytellers welcome
Event details:
Join us for an evening of COVID-19 inspired stories. Do you need to speak about it? Rant and rave about it? Or laugh about it? We invite anyone in our community to sign up and prepare a five minute story or spoken word piece based on the unprecedented times we are living in. 
[/accordion]
[/accordions]
Rules of the House:
Each event will feature approximately 10 storytellers, first come first served.

Prior to the event, storytellers will be contacted with a special link to join the event. 

On the night of the event, storytellers will check in 15 minutes before. To get lineup, and do a tech check. 

Storytelling time limit:

Storytellers will hear a chime at 4:30 signaling that you have thirty seconds remaining.

Storytellers will hear the last chime at 5:00

You then have 15 seconds to wrap up.

At 5:15 your mic will be muted

Please understand that this is not personal, we have a tight schedule to keep.

If we have only a few storytellers, this time restraint may be lifted. 

The host has final say on all matters.
[tab title="About Open Mondays"]
Open Mondays
Open Mondays brings FREE  one-night only events that showcase San Diego's most talented artists with a Diversionary style twist! From staged readings of brand new works with LGBT voices to classic pieces of LGBT theatre to concerts, you can always expect the unexpected at Open Mondays.
This series is a playground for artists and an open house for audiences to come and see some of their favorite actors and singers perform without a net. All Open Mondays events are free and open to the public with general admission on a first-come, first served basis.
Open Mondays are free, and reservations are required. To learn about upcoming Open Mondays, please join our mailing list. 
[maxbutton id="32″]
[/tab] [tab title="Past Open Mondays"]
Monday, April 16th at 7pm
THE BOYS IN THE BAND
By Mart Crowley
The Boys in the Band centers on a group of gay men who gather in an NYC apartment for a friend's birthday party. After the drinks are poured and the music is turned up, the evening slowly exposes the fault lines beneath their friendships and the self-inflicted heartache that threatens their solidarity.
A true theatrical game-changer, The Boys in the Band helped spark a revolution by putting gay men's lives onstage, unapologetically and without judgement, in a world that was not yet willing to fully accept them.
---

Open Mondays presents: Open Flame: Stories from the Transgender Community The next Open Flame event will be held at Diversionary Theatre on Monday, May 22nd at 7pm. Inspired by our mainstage production of Ballast, this Open Flame event will focus on giving those who identify as members of the transgender community an opportunity to share their stories. Whether what you want to share involves your identity, transition, or your perspective on the world, we want to hear your story! Open Flame is a free storytelling event presented as a part of Diversionary Theatre's Open Monday series. It's a chance for our community to gather around the proverbial campfire and spin stories inspired by a unique theme at each event. Come to listen or come ready to share a story of your own.
---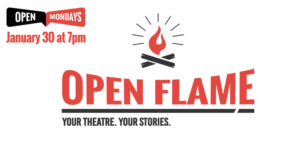 The first Open Flame event will be held at Diversionary Theatre on Monday, January 30th at 7pm. The theme will be "Rise Up." Is there a time when you achieved something you weren't expected to? When you came out of the darkness into the light? When you went high when they went low? When you were able to stand tall in our divided political climate? We want to hear your story.
---
Monday, December 19th at 7pm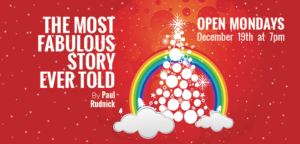 First seen at our theatre as a mainstage production in 2000, we are bringing this classic comedy back for a one night only reading as a special holiday treat. In an alternate version of Biblical history, God, or the Stage Manager, created Adam and Steve instead of Adam and Eve. Their idyll ends when Adam's earnest questions about the existence of a supreme deity and life beyond the garden condemn them to a barren wilderness settled by two lesbians, Jane and Mabel. After various Act I misadventures inspired by the good book, the play leaps forward to present-day New York for Act II. Here God is noticeably silent as the characters struggle with the miseries and anxieties of pregnancy, AIDS, and other modern issues during the holiday season.
---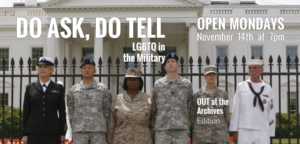 November 14 at 7 pm
Our neighbors at Lambda Archives will present "Do Ask, Do Tell: LGBTQ in the Military." This next installment of their Out At the Archives series will take a look at how the armed services have treated their LGBTQ members before, during and after Don't Ask, Don't Tell. The panel will have members who were discharged before DADT was opened up to openly-gay, active-duty people. As with previous OATA events, this one promises to be lively and informative.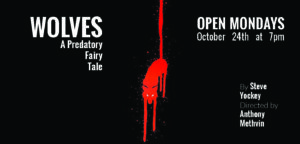 ---
Monday, October 24th at 7pm
 When ex-boyfriend Jack brings a strange man home to woodland-obsessed Ben's apartment, the Narrator can barely keep a lid on the looming violence. This "deconstruction" of the Little Red Riding Hood story is a darkly comic, predatory fairy tale for adults that explores the conflation of sex and fear in modern culture, the comfort of lava lamps, and the dangers of a handy axe.
---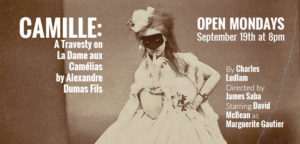 Monday, September 19th at 8pm
Tubercular courtesan Marguerite Gautier abjures her rich lover, Baron De Varville, and sells all her jewels and furnishings to live in the counry with her true love, poor young Armand Duval. Her heart is broken when he agrees to his father's request to abandon him, and returning to her unhealthful life in Paris, she declines rapidly, but is reunited with Armand in a deathbed scene that provokes both laughter and tears.
---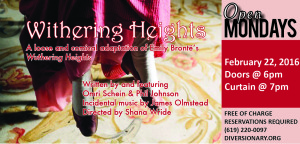 Monday, February 22nd at 7pm
Heathcliff and Catherine from the tumultuous Wuthering Heights as you've never seen them before! A new comic retelling of the most famous romance novel of all time- a tale of forbidden love and hidden passions in a constant battle withimpending death. Written and performed by San Diego funny men Phil Johnson & Omri Schein, it's an exciting race through the entire novel, performed live in under 90 minutes. True love and the grim reaper fight for supremacy in an evening of intense Gothic romance characters, thrilling music, and the promise of multiple graphic death scenes.
---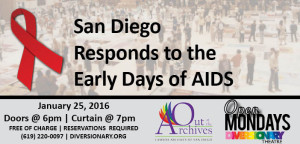 Monday, January 26th at 7pm
This popular series next focuses on "San Diego Responds to the Early Days of AIDS." As with the other OATA events, there will be a brief history of the topic followed by a panel discussion with members of the community who helped create that history. This time we will have Terry Cunningham, Bridget Wilson and Cheryl Clark. The panel will be moderated by Lambda Archives board member and retired HIV/AIDS nurse, Steve Wroblewski.
---
Mo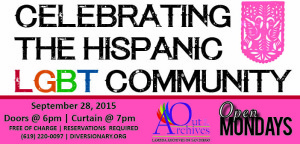 nday, September 28th at 7pm
Out at the Archives: Celebrating the Hispanic LGBT Community.
In celebration of National Hispanic Heritage Month, Diversionary's Open Monday's Series and the Lambda Archives present Out at the Archives: Celebrating the Hispanic LGBT Community. As our nation celebrates Hispanic and Latino American heritage and culture, this event honors the contributions and impact of the Hispanic LGBT community. The evening will include a visual presentation and panel discussion featuring members of the Hispanic and Latino LGBT communities.
---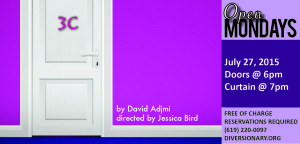 Monday, July 27th at 7pm
3c
Diversionary Theatre is proud to present David Adjimi's controversial new play, fresh from it's victorious courtroom battle with some litigious television producers! Inspired by 1970's sitcoms, 3C follows Vietnam Vet Brad as he spirals home from war and lands trashed in Connie and Linda's kitchen after a wild night of partying. When the three strike a deal for a unorthodox living situation, their arrangement has hilarious and devastating consequences for everyone. 3C is a terrifying yet amusing look at a culture that likes to amuse itself, even as it teeters on the brink of ruin.
---
June 8th,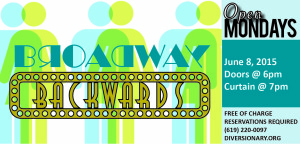 2015 at 7pm
Broadway Backwards
Join us for our next Open Mondays FREE event: Broadway Backwards, a one-night only concert featuring San Diego's favorite performers singing songs written for the opposite gender. That's right: women singing songs written for men and men singing songs written for women. Broadway Backwards is not just another concert of popular songs; it's an event celebrating the gay and lesbian community, their friends, and families.
---

April 27th, 2015 at 7pm
Out at the Archives
Next up for Open Mondays, we're teaming up with our neighbors at Lambda Archives for a moderated conversation with City Councilman Todd Gloria.
Enjoy a brief overview of the LGBT candidates that paved the way for Gloria to be elected as an openly gay man, followed by a conversation with Stephen Whitburn, who will interview Gloria about his life and politics. The audience will have the chance to ask questions, and the evening will conclude with a  wine and cheese reception on the Lambda Archives' patio.
---
March 30th, 2015
Two – Headed
By Julie Jensen
In 1857 Utah, a local Mormon militia butchered over one hundred West-bound pioneer families in what came to be known as the Mountain Meadow Massacre. The mass murder haunts Mormon daughters Lavinia and Hettie as they grow from friends, to mothers, to sister-wives, over a span of 40 years. Tethered to their polygamous doctrine and to the men who killed in its name, TWO-HEADED reveals a unique bond between two woman as they attempt to reconcile their faith and the truth of their relationship.
---
December 22nd, 2014
Musical Madlibs
We're rewriting the rules of holiday music…and we need your help!
Remember those fabulous little tablet-style Mad Lib booklets where you used to add your own words into a pre-written story? Usually in the car on road trips or late night at a slumber party when everyone was feeling cheeky and all the underwear had been frozen? We are adding some of San Diego's best musical theatre performers to the magic of Mad Libs, shaking, and serving. Now we need you to come (armed with some of your bluest vocabulary) and fill in the blanks on some of your favorite holiday songs. Let's make some lyricists blush!
---
November 24th , 2014
Backyard Fruit
By Andy Corren
Backyard Fruit is an homage to the many dignified folks who were forced by the accident of their birth to live lives of social, sexual and geographic compromise. That is: stay quiet or in the closet. In most of the rural, Southern communities, where folks make it their business to know everybody else's, the lives of gay people remain very much oppressed, ridiculed, hidden, or, worse, the target of outright hostility. Unlike their neighbors, their bosses, their churches, and their families, the characters in this comedy are, at their core, yearning, loving, and a tiny bit misunderstood. They really are just looking for love (yes, sometimes in the wrongest of places). They would never return the heaps of unkindnesses that have been shown them. After all, that would simply not be polite.
---
September 29th,2014
Stop Kiss
By Diana Son
One unexpected kiss divided their lives into before and after.
Two young women in New York meet. Callie is holding down a job as a radio traffic reporter when she meets Sara, a Midwesterner who, against her parents' wishes, has moved to the city to teach third-grade students in the Bronx. Both have boyfriends, but as they get to know each other, their shared experiences and sense of humor create a strong bond. They feel a growing, unspoken attraction for each other and finally kiss. And that one innocent kiss sets off a savage gay-bashing. The tragic consequences of the kiss at the center of this powerful drama serve as both an indictment of hatred and a moving study of the perils inherent in living life fully.
---

August 25th,2014
Plumbing
By Rebecca Kirschbaum
In the South, trees are filled with blinking bugs, people leave their porch lights on, and the stars are always bright. And yet here, in a place so illuminated, we hide so much.
Tyler has a home in the humid heart of the South, where people pretend to have brighter lives than they actually do. He has a father who preaches the gospel. He has a boyfriend who loves him unconditionally. He has a best friend who protects him fiercely. He has a mother with secrets she holds close to her heart. And he has a secret of his own. He wants to change his plumbing. Become the woman that he always felt he was inside. This brand new play examines how Tyler's revelation affects those he loves in unexpected and unexpectedly moving ways.
---
[/tab]
[/tab]
[/tabs]
[tabs ]