Press Release: GIRLFRIEND
DIVERSIONARY THEATRE ANNOUNCES THE CAST AND CREATIVE TEAM
OF THE SAN DIEGO
PREMIERE MUSICAL
GIRLFRIEND
Contact: Jenny Case, Managing Director
619-220-6830 x 103
Press@Diversionary.org
August 9th, 2019: FOR IMMEDIATE RELEASE
San Diego, CA
WHAT: Diversionary announces the cast of the San Diego Premiere of GIRLFRIEND
WHO: Stephen Brotebeck will direct this San Diego Premiere by Matthew Sweet and Todd Almond.
WHEN: Performances run September 12 – October 13. Performances run Thursdays at 7pm, Fridays and Saturdays at 8pm, and Sundays at 2pm. Opening Night is Saturday, September 21st. 
TICKETS: Are on sale ($15 – $55). Discounts are available to Groups, Students, Educators, Seniors and Military.  To be notified of ticket sales, please sign up for the Diversionary Theatre Email List: http://diversionary.org/mailinglist/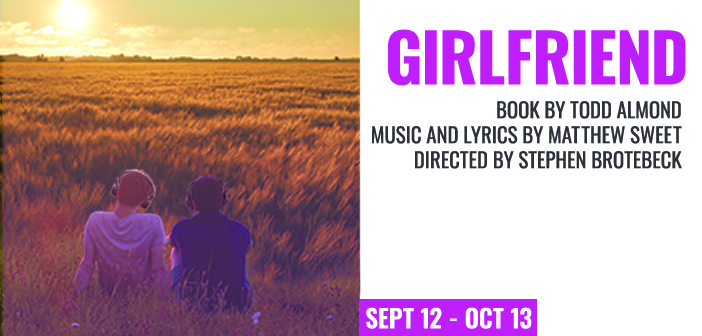 Michael Louis Cusimano (Mike) is happy to return to the Diversionary family; he has been seen here at Diversionary in last season's This Beautiful City and the previous year's Homos or Everyone in America. Michael relocated from New York 3 years ago and most recently he served as an understudy for The Tale of Despereaux at the Old Globe. SoCal credits include: Once (Guy) and Big Fish (Will Bloom) among other roles at Lamb's Players Theatre; Spamalot (Lancelot) at Moonlight Amphitheatre; The Rocky Horror Show (Riff Raff) and On the 20th Century (Bruce Granit) at Cygnet; Metamorphoses (Orpheus) at Santa Barbara Ensemble Theatre; The 39 Steps (clown) at Glendale Centre Theatre; and Grease (Danny Zuko) at Cabrillo Music Theatre. New York City credits include Titus Andronicus (Marcus), world premiere of The Haunted Train (Dr Barnes) and Chien de Moi at La MaMa ETC. TV: Devil in the Details on Investigation Discovery. Michael is a BFA grad of Carnegie Mellon School of Drama.
Shaun Tuazon (Will) is excited to join this talented cast and production team in this historic theatre. Girlfriend marks the third production for Shaun on the Diversionary stage. Past Diversionary Credits include: The Loneliest Girl in the World, Dooley, and Diversionary Cabaret's Altar Boyz. Favorite credits: #SuperShinySara, Light Years Away (La Jolla Playhouse); Mamma Mia (East West Players); The Emperor's Nightingale (Lewis Family Playhouse); Vietgone (Craig Noel Award Nomination, San Diego Repertory Theatre); In the Heights (Cabrillo Music Theatre); Rent, Joseph and the Amazing Technicolor Dreamcoat (San Diego Musical Theatre); Zanna, Don't! (San Diego Premiere); Deconstruction of a Drag Queen  (Craig Noel Award Nomination, Circle Circle dot dot); Buddy: The Buddy Holly Story (Intrepid Theatre Company/New Village Arts); West Side Story (Lamb's Players Theatre); The 25TH Annual Putnam County Spelling Bee (Intrepid Theatre Company); as well as productions with The Old Globe, Breakthrough Workshop Theatre, ion theatre, and more. BA in Theatre Arts from SDSU. Proud member of AEA.
ABOUT THE CREATIVE TEAM
Todd Almond (Book) is a composer, lyricist, and playwright. For The Public Theater/Shakespeare in the Park, he wrote the music and lyrics for the Public Works production of The Tempest at the Delacorte Theater (a production in which he also starred as Ariel). His musicals include Girlfriend (Berkeley Rep., and Actors Theatre of Louisville, with songwriter Matthew Sweet, dir: Les Waters); Melancholy Play (13P, with playwright Sarah Ruhl, dir: Davis McCallum); We Have Always Lived in the Castle (Yale Repertory Theater, with playwright Adam Bock, dir: Anne Kauffman); On The Levee (LCT3, dir: Lear deBessonet); The Odyssey (The Old Globe, dir: Lear deBessonet) and Iowa (Playwrights Horizons, 2015, with playwright Jenny Schwartz, dir: Ken Rus Schmoll). Almond music-directed and arranged Sherie Rene Scott's hit show Piece of Meat (54 Below and Hippodrome in London) and can be heard on Laura Benanti's live album "In Constant Search of the Right Kind of Attention." He has released two solo albums: "Mexico City," and "Memorial Day."
Matthew Sweet (Lyrics and Music)  is a singer/songwriter/producer/multi-instrumentalist currently in the midst of a personal musical renaissance that's seen him produce some of the most compelling and ambitious music of his three-decade career.  That description applies to Tomorrow's Daughter, on which such instantly memorable new tunes as "I Belong To You," "Run Away," "Lady Frankenstein" and "Out of My Misery" demonstrate his uncanny ability to tap into a bottomless well of pop history to craft music that's effortlessly catchy yet deeply personal.
A demo recorded with producer Don Dixon led to solo deals with Columbia (which released Sweet's debut album Inside in 1986), A&M (1989's Earth) and finally Zoo, which issued his commercial and creative breakthrough Girlfriend in 1991. Girlfriend won raves from critics and established him with a wide international fan base that continues to support him today.
Sweet continued to reveal new layers of songwriting depth and sonic creativity on his subsequent efforts Altered Beast, the spin-off EP Son of Altered Beast, 100% Fun, Blue Sky on Mars and In Reverse. His musical gifts continued to shine into the new century with Kimi Ga Suki, Living Things, Sunshine Lies, Modern Art and the Under the Covers series, a three-volume collaboration with Susanna Hoffs of the Bangles (Sweet also served as producer of the Bangles' 2011 album Sweetheart of the Sun). www.matthewsweet.com
Stephen Brotebeck (Director) is thrilled to returning to Diversionary where he last choreographed the world premiere of The Loneliest Girl In The World working alongside Matt Morrow! Mr. Brotebeck is currently the Artistic Director of the Okoboji Summer Theatre in Okoboji, IA where he directed and choreographed Mary Poppins and Murder On The Orient Express this past season. Broadway: Ghost, Peter and the Starcatcher (Movement Associate). As a director Mr. Brotebeck has helmed the Off and Off-Off Broadway productions of The Shark Play, Breaking The Shakespeare Code, St. Francis (NY Fringe – Excellence in Directing Award), The Maltese Walter, Greasemonkey and Scenes from a Balcony. Kennedy Center: Spring Gala (Director), My Fair Lady, Camelot and Children Of Eden (Associate Director/Choreographer). Additional credits as a director and/or choreographer include Ghost at the Finger Lakes Musical Theatre Festival; Peter and the Starcatcher, Monty Python's Spamalot, And The World Goes 'Round (Oscar Wilde Nomination), and I Love A Piano (Oscar Wilde Nomination) at Farmers Alley Theatre; Looking For Roberto Clemente at Imagination Stage; The Great American Songbook Hall of Fame Induction Ceremony presented by Michael Feinstein. Internationally, Stephen has directed productions for Creativiva Caribbean, and choreographed multiple projects in Indonesia, China, and Guatemala for StudentsLive/Passport to Broadway. BFA, Western Michigan University. MFA, Penn State. Mr. Brotebeck is an Associate Professor in the MFA Musical Theatre program at San Diego State University where he has directed and choreographed multiple productions including James and the Giant Peach, The Full Monty and The Drowsy Chaperone (Craig Noel Award Nomination). SDC member.  www.stephenbrotebeck.com
Kyrsten Hafso-Koppman (Musical Director) hails from Alberta, Canada. She earned her B.A. in Vocal Performance from Whitworth University and her M.F.A. in Musical Theatre from San Diego State University. She has performed in San Diego at The Old Globe, North Coast Repertory Theatre, San Diego Musical Theatre, Moonlight Stage Productions, Cygnet Theatre, Lamb's Players Theatre, Intrepid Theatre Company, and the Welk Resort Theatre. Kyrsten has music directed for The Old Globe, Grossmont College, University of San Diego Shiley Graduate Theatre Program, San Diego State University, ACT San Diego, American Rose Theatre and for workshops at Moonlight Stage Productions. She is a proud member of the Actors' Equity Association and the National Association of Teachers of Singing. She is forever grateful for the love and support from Kevin and Ivy.
Yi-Chien Lee (Scenic Designer) is a set designer and this is her debut at Diversionary Theatre. Her set design credits include Mission Incomplete (Young Stars, New Vision Festival), Code: Cytus (Divertimento. Media), In Search of Beckett (Double Theatre), You tube (The Dead-end Flower Troupe), Representation of the Cherry Orchard (Minister of Culture, Taiwan), Everybody Black (UCSD), Truth or Dare (MOD Short Film), How to Defend Yourself, and Mothers (New Play Festival). Her work for Moon drunk has been selected for Emerging Artist/Imagination Exhibit in 2019 Prague Quadrennial.
Stephen Jensen (Sound Designer) Everybody Black (UCSD), Evita (ACT of Connecticut) Associate designer of Into the Woods (The Hollywood Bowl), Broadway Bounty Hunter (Off-Broadway) Assistant designer of Rock of Ages (Off-Broadway), Valley of the Heart (Mark Taper Forum), Annie (The Hollywood Bowl), Queens (La Jolla Playhouse).
Curtis Mueller (Lighting Designer) returns to Diversionary having designed Hedwig and The Angry Inch, The Hour of Great Mercy, Bull in a China Shop, The Happiest Place on Earth, Cardboard Piano, Homos, Well, 2.5 Minute Ride, Lizard Boy, Manhandled, Now or Later, A Civil War Christmas, Amazons and Their Men, Man Clan, and A New Brain. Select local credits include: Withering Heights, Margin of Error (Roustabouts Theatre Company); End of The Rainbow, Quality of Life, The 25th Annual Putnam County Spelling Bee, I Hate Hamlet, All My Sons, Macbeth (Intrepid Theatre Company); Big River, The 1940s Radio Hour, Seascape (New Village Arts); Chess in concert, Next to Normal, Spring Awakening (Cabaret at the Merc Summer Series). Curtis has also worked extensively with Coronado School of The Arts. Curtis holds a BFA in Lighting Design from California Institute of The Arts.
Brooke Kesler (Costume Designer) is so thrilled to be working with the Diversionary Theatre team on this wonderful piece: Girlfriend. Recent designs include: Roald Dahl's James and the Giant Peach (SDSU); Pocketmon (Hollywood Fringe); The Glaspell Project: Trifles and Woman's Honor (SDSU); and A Midsummer Night's Dream (Kingsmen Shakespeare Co.). She has also worked as an Assistant Designer on Cosi Fan Tutte (Santa Fe Opera) and Il Trovatore (Central City Opera). She also looks forward to graduating with her MFA in Costume Design and Technology this upcoming spring from San Diego State University.
Andrew Gutierrez (Stage Manager) is excited for his Diversionary debut with Girlfriend. Andrew is currently an MFA Stage Management student at University of California, San Diego after receiving his BFA from Texas State University in 2018. Select works include The Producers (Moonlight Theatre, ASM), The Gradient (UCSD, PSM), Everybody Black (ASM), A Beautiful Day… (ASM), All Shook Up (Zilker Theatre Productions, PSM), Wizard of Oz (PA), Hamlet (TXST, PSM),Evita (ASM), Tartuffe (PSM), GAHSMTA (Long Center of Performing Arts, ASM), Las Cuatro Estaciones (Mexican American Cultural Association of Austin, PSM), and Merge: Irretrievable (Merge Dance Company, SM). Andrew-Gutierrez.com.
SPECIAL EVENTS
Performances run Thursdays at 7pm, Fridays and Saturdays at 8pm, and Sundays at 2pm. More information can be obtained by calling our box office at 619-220-0097.

Low Cost Previews………….Thursday, September 12th – Friday, September 20th

First Fridays…………………………………..Friday, September 13th at 8pm
To say thank you to those that serve, Diversionary offers complimentary tickets. Email jenny@diversionary.org for more information.

GSA/Youth Nights………………….Friday, September 13th & September 20th at 8pm
Calling all High Schoolers! Join us on either Friday night during Previews for our GSA/Youth nights and get tickets for only $5.00! Call the Box Office for more details!

Opening Night……………………………Saturday, September 21st, at 8pm
Pre and post show festivities – celebrate with the cast and company!

Designer Spotlight………………………..Thursday, September 27th at 6pm
Join us in Fritz's Lounge before the show to meet the Design Team, see a display of the concepts used in producing the show and hear the influences and process involved. Hosted hors d'oeuvres round out a fun pre-show experience! The party starts at 6pm before the 7pm performance.

Industry Night………………………………..Monday, September 30th, at 7pm
Theatre Professionals enjoy a special discount to our only Monday evening performance!
Pay-What-You-Can at the door, or $10 in advance.

Director Happy Hour ………………………………………………October 3rd at 6pm
Join Director Executive Artistic Director, Matt M. Morrow and Director Stephen Brotebeck in Fritz's Lounge for hosted hors d'oeuvres and a chance to chat before the show! Pre Show reception at 6pm, performance at 7pm.

Next Act!……………………………………Thursday, October 10th at 6pm
Join Director Executive Artistic Director, Matt M. Morrow and Director Anthony Methvin for a discussion about the next show, Santaland Diaries in Fritz's Lounge for hosted hors d'oeuvres and a chance to chat before the show! Pre-Show reception at 6pm, performance at 7pm.
##