Hedwig Press Release
DIVERSIONARY THEATRE ANNOUNCES THE CAST AND CREATIVE TEAM OF
THE 20th ANNIVERSARY PRODUCTION OF
HEDWIG AND THE ANGRY INCH
Contact: Jenny Case, Managing Director
619-220-6830 x 103
Press@Diversionary.org
January 16th, 2019: FOR IMMEDIATE RELEASE
San Diego, CA
WHAT: Diversionary announces the cast of the 20th Anniversary production of Hedwig and the Angry Inch
WHO: Jeremy Wilson and Cashae Monya to star in Hedwig and the Angry Inch, directed by Matt M. Morrow.
WHEN: March 21st-April 21st. Opening Night is Saturday, March 30th. Performances run Thursdays at 7pm, Fridays and Saturdays at 8pm, and Sundays at 2pm.
TICKETS: Diversionary will be holding special Box Office hours on Monday, from 12pm – 6pm, January 21st when single tickets go on sale. Tickets range from $15 – $60. Discounts are available to Groups, Students, Educators, Seniors, and Military.  To be notified of ticket sales, please sign up for the Diversionary Theatre Email List: http://diversionary.org/mailinglist/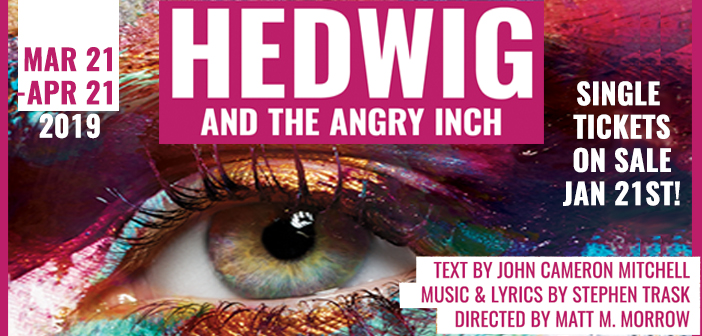 20th Anniversary Production
HEDWIG AND THE ANGRY INCH
Text by John Cameron Mitchell
Music & Lyrics by Stephen Trask
Directed by Matt M. Morrow
March 21st through April 21st, 2019
At long last, Hedwig comes to Diversionary! This iconic musical is an integral part of the LGBT theater canon and truly rocked the musical form when it debuted Off Broadway 20 years ago. It has since been made into a movie, enjoyed productions all over the world, and had its Broadway debut starring Neil Patrick Harris, winning the Tony Award for Best Revival of a Musical. Get ready to rock!
About producing the 20th Anniversary production at Diversionary, Executive Artistic Director, Matt M. Morrow says, "Hedwig was formative for me as a theatre artist, being one of the first shows I saw after moving to NYC in 1997. I was quickly a groupie and saw it multiple times with various casts. 20 years later, Hedwig remains eternal, although their journey means something new now. I'm especially excited to define a new aesthetic for Hedwig with our incredible design team. And after a national search for a gender non-binary Hedwig, we found the ferociously talented Jeremy Wilson in our own backyard of San Diego! I can't wait to stage this stunning talent in a fresh new take for a new generation!"
About making a San Diego debut with this iconic role, Jeremy Wilson says, "I've always been drawn to the role of Hedwig as a fellow "freak" who has been through a lot but is just too fabulous to even consider giving up. I've taken great strength from her and I look forward to giving some of that back. As a recent transplant from NYC, I am beyond thrilled to be making my SD debut as Hedwig with Diversionary Theatre!"
About her return to the Diversionary stage Cashae Monya says, "Words can't express how excited I am about this show. I'm most looking forward to collaborating with Jeremy and Matt to craft a production that is electrifying and unforgettable!"
Single tickets sales will begin at 12pm, January 21st, when Diversionary will be open for special office hours just for the occasion.
More information can be found at: https://www.diversionary.org/hedwig/
For interviews and photos, please contact Jenny Case, Managing Director, at 619-220-6830×103 or by emailing Press@diversionary.org
ABOUT THE CAST
Jeremy Wilson (Hedwig) is thrilled to be making their San Diego debut with Diversionary as Hedwig! They moved here recently from NYC, where they performed across stages from theatres and nightclubs to Carnegie Hall. A graduate of AMDA, through their journeys they have had the honor of working with Joanna Gleason, Victoria Clark, and Shoshona Bean among others. Jeremy can also be found performing as a singer/songwriter and their drag persona, Ophelia Nightbird, where they were named the inaugural Miss Rockbar NYC.
Cashae Monya (Yitzhak) was last seen on the Diversionary stage in Well and is utterly thrilled to be back! Other Diversionary credits include: A Civil War Christmas. Favorite credits include: Voyeurs de Venus, The Revolutionists, Our Lady of Kiebho*, Crumbs From the Table of Joy* & The Bluest Eye* (Moxie); Cabaret* & Lady Day at Emerson's Bar and Grill* (ion), Avenue Q* (New Village Arts), Spelling Bee (North Coast Rep), The Last Wife* & Little Shop of Horrors (Cygnet), Miss You Like Hell & Memphis (The La Jolla Playhouse), Jewel in the Crown City, Festival of Christmas 2018 & Glory Man (Lamb's Players Theatre). Upcoming: An American Tall Tale: Bella (New Village Arts) *Craig Noel Award Nominations
ABOUT THE CREATIVE TEAM

Matt M. Morrow (Director) Since joining Diversionary, Matt has directed the World Premiere of Gordon Leary and Julia Meinwald's musical The Loneliest Girl in the World, Georgette Kelly's Ballast (Winner, 2017 Best New Play, San Diego Critic's Circle Awards), the San Diego Premiere of Bash Doran's The Mystery of Love and Sex, the West Coast Premieres of Jordan Harrison's Amazons and Their Men, and Christopher Shinn's Now Or Later. Matt recently directed Caryl Churchill's Cloud Nine with The Old Globe/USD MFA program. Prior to joining Diversionary Theatre, Matt was the Associate Artistic Director of City Theatre Company, a LORT theatre in Pittsburgh dedicated to producing work written in the past five years. With City he directed the Regional Premiere of Jessica Dickey's Charles Ives Take Me Home, the World Premiere of Tami Dixon's South Side Stories (Pittsburgh Post Gazette & Tribune Review's Top Ten of 2012), and Kim Rosenstock's Tigers Be Still.
Matt is currently a Creative Catalyst Fellow with The San Diego Foundation and La Jolla Playhouse. He has developed new work with The Sundance Theatre Institute, The Old Globe, The Banff Centre, Center Theatre Group, American Conservatory Theater, Lincoln Center, PlayPenn, and Page 73 Productions in residence at the Yale School of Drama. He served as The John Wells Professor of Directing at Carnegie Mellon University's School of Drama (Graduate & Undergraduate Directing programs), and is a member of the Lincoln Center Director's Lab. He holds a BFA in Directing from Carnegie Mellon University.  www.mattmmorrow.com
John Cameron Mitchell (Book) Broadway: Big River, Six Degrees of Separation and The Secret Garden (Drama Desk nomination). Off-Broadway: Hello Again (Drama Desk nom.) and Larry Kramer's The Destiny of Me (Drama Desk nom., Obie Award). He starred in and wrote the book for the original 1998 Off-Broadway Obie winning production of Hedwig directed by Peter Askin. In 2001, the film adaptation won him Best Director at Sundance and a Golden Globe nomination for Best Actor. He also directed Shortbus (2006) and Rabbit Hole (2010) starring Nicole Kidman (Oscar nom.). He is presently preparing a film adaptation of Neil Gaiman's punk-era story How to Talk to Girls at Parties.
Stephen Trask (Music & Lyrics, Orchestrations) As co-creator of Hedwig and the Angry Inch, Stephen won an Obie Award; an Outer Critics Circle Award for Outstanding Off-Broadway Musical; a 1998 New York Magazine Award; Drama Desk nominations for Outstanding Music, Lyrics and New Musical; two Grammy nominations for Best Cast Album; two GLAMA Awards; and an Entertainment Weekly Best Soundtrack Award. Hedwig won the Tony Award for Best Revival of a Musical. He was also the orchestrator for the Broadway production of Rocky. Since 2003, Stephen has been scoring films on both the independent and studio level for directors as diverse as Tom McCarthy, Paul Weitz, Todd Graff, Tamara Jenkins, Jon Kasdan, Robert Benton, Sean Anders, Bill Condon, Alan Poul, Tom Vaughn, Rob Epstein, Jeffrey Friedman. Stephen has recorded and performed with Stone Temple Pilots, Bob Mould, Sleater-Kinney, Yoko Ono, Debbie Harry and Lene Lovitch. Currently, Stephen is working on two new shows: This Ain't No Disco! and The King of Comedy.
Justin Humphres (Scenic Designer) is a scenic and video designer based in San Diego, CA. His design work has been seen internationally in both the United States and Asia. As a video designer, he has created content for numerous concert tours, corporate events and Las Vegas shows. As an assistant/associate he has worked on various commercial, regional and Broadway projects. Recent San Diego scenic design credits include: This Beautiful City (Diversionary), Actually (San Diego Rep), Vietgone (San Diego Rep), and Voyeurs de Venus (Moxie). Broadway credits include: SUMMER: The Donna Summer Musical (Associate Designer), Ain't Too Proud: The Life and Times of the Temptations (Associate Designer). Justin holds a BFA from Western Michigan University and an MFA from University of California, San Diego. www.justinhumphres.com
Elisa Benzoni (Costume Designer) is thrilled to be working again with Diversionary Theatre. Select credits include: The Hour of Great Mercy, This Beautiful City, The Loneliest Girl in the World, The Happiest Place on Earth, Homos or Everyone in America, Ballast, Mystery of Love and Sex (Diversionary Theatre), Sex with Strangers (Geffen Playhouse), The Who and The What, Our Town; Tall Girls; Brahaman/I; Sam Bendrix at the Bon Soir (La Jolla Playhouse); Constellations (Old Globe); Cloud 9, Romeo and Juliet, Two Gentlemen of Verona, Pericles, Prince of Tyre, Reckless, Much Ado About Nothing and Measure for Measure (USD/Old Globe); The Father, How the Other Half Loves, Of Mice and Men, Travels with my Aunt, The Illusion, Laughter on the 23rd Floor, The Cocktail Hour, Fox on the Fairway (Nominated for a Craig Noel Award), Chapatti, Sherlock Holmes and the Adventure of the Great Nome Gold Rush (North Coast Repertory Theatre); Men on Boats, Secret Garden, Awake and Sing, Sylvia (New Village Arts); Elisa holds a costume design MFA from UCSD. www.elisabenzoni.com
Curtis Mueller (Lighting Designer) returns to Diversionary having designed The Hour of Great Mercy, This Beautiful City, Bull in a China Shop, The Happiest Place on Earth, Cardboard Piano, Homos, Well, 2.5 Minute Ride, Lizard Boy, Manhandled, Now or Later, A Civil War Christmas, Amazons and Their Men, Man Clan, and A New Brain. Select local credits include: Withering Heights, Margin of Error (Roustabouts Theatre Company); End of The Rainbow, Quality of Life, The 25th Annual Putnam County Spelling Bee, I Hate Hamlet, All My Sons, Macbeth (Intrepid Theatre Company); Big River, The 1940s Radio Hour, Seascape (New Village Arts); Chess in concert, Next to Normal, Spring Awakening (Cabaret at the Merc Summer Series). Curtis has also worked extensively with Coronado School of The Arts. Curtis holds a BFA in Lighting Design from California Institute of The Arts.
Matt Lescault-Wood (Sound Designer) is excited to be back at Diversionary.  Previous credits include; Lizard Boy; The Moors, The Loneliest Girl In The World, This Beautiful City (Diversionary); Eurydice [2010 San Diego Critics Circle Nominee], Dead Man's Cell Phone, Hickorydickory, ENRON, Eternally Bad, The Kid Thing, Bliss, Voyeurs de Venus (Moxie); Sweeney Todd, Cabaret, Little Shop of Horrors, A Behanding In Spokane, Man of La Mancha, Assassins, Company, Spring Awakening, Pageant, Sons of the Prophet, My Fair Lady, Shockheaded Peter, Spamalot (Cygnet); Evita, Roz and Ray [2017 San Diego Critics Circle Nominee], Hand To God; Black Pearl Sings, Beachtown, Fun Home, A Doll's House Part 2 (San Diego REP); Seascape, Stage Kiss, Lord of The Flies, Big River (New Village Arts); Henry V[2014 San Diego Critics Circle Nominee] (New Fortune).  Matt has a Degree in Theatrical Design and Technology from SDSU.
Kira Vine (Stage Manager) is a freelance stage manager and singer, proud to be a working artist in San Diego. Credits include queerSpawn by TeenVersionary, The Loneliest Girl in the World (workshop), and Homos: or, Everyone in America (Diversionary Theatre); The Heart of Rock & Roll, Native Gardens, and The Wanderers (The Old Globe); Actually, Aubergine, and A Doll's House Part 2 (San Diego REP); La Cage Aux Folles (Cygnet Theatre); Bliss (or Emily Post is Dead!) (MOXIE Theatre); Seven Spots on the Sun (InnerMission Productions); Heathers: The Musical (OnStage Playhouse); and Dead Man's Cell Phone (Lamplighter's Community Theatre). It is always a joy to come home to Diversionary.
Jenny Lee (Props Designer) Props Master: La Jolla Playhouse: Latin History For Dummies, Glenngary Glen Ross, Milk Like Sugar, Jesus Christ Superstar; Associate Prop Master: Hunchback Of Notre Dame, Come From Away, Indecent, Hand On A Hardbody, Memphis, Bonnie and Clyde; Stage Management: Mystere Cirque Du Soleil; Education: American Academy of Dramatic Arts www.jennyfaj.com
Peter Herman (Wig Designer) has designed wigs and costumes for over thirty shows at Diversionary, some highlights include:  Cardboard Piano,The Rocky Horror Show, Scrooge With Rouge, The Mystery of Irma Vep, The Further Adventures of Hedda Gabler.  Peter has designed wigs all over the Southern California area.  Some of his work has been seen at Cygnet Theater, The La Jolla Playhouse, The San Diego REP, Moonlight Stage Productions, North Coast REP, as well as some design work for film, television, and various theme parks.  Peter currently teaches wig and makeup design at San Diego State University.
SPECIAL EVENTS
Performances run Thursdays at 7pm, Fridays and Saturdays at 8pm, and Sundays at 2pm. More information can be obtained by calling our box office at 619-220-0097.
Low Cost Previews………….Thursday, March 21st – Friday, March 29th
First Fridays…………………..………………………………Friday, March 22nd at 8pm
To say thank you to those that serve, Diversionary offers complimentary tickets. Email jenny@diversionary.org for more information.
Opening Night…………………….…………………….Saturday, March 30th, at 8pm
Pre and post show festivities – celebrate with the cast and company!
Designer Spotlight ……………………………………Thursday, April 4th at 6pm
Join us in Fritz's Lounge before the show to meet the Design Team, see a display of the concepts used in producing the show and hear the influences and process involved. Hosted hors d'oeuvres round out a fun pre-show experience! The party starts at 6pm before the 7pm performance.
Industry Night…………………….………………………….Monday, April 8th, at 7pm
Theatre Professionals enjoy a special discount to our only Monday evening performance!
Pay-What-You-Can at the door, or $10 in advance.
Director Happy Hour ……………………………………Thursday, April 11th, at 6pm
Join Director Executive Artistic Director, Matt M. Morrow in Fritz's Lounge for hosted hors d'oeuvres and a chance to chat before the show! Pre Show reception at 6pm, performance at 7pm.
Next Act!……………………..…………….Thursday, April 18th at 6pm
Join Director Executive Artistic Director, Matt M. Morrow and Director Anthony Methvin for a discussion about the next show, SIGNIFICANT OTHER in Fritz's Lounge for hosted hors d'oeuvres and a chance to chat before the show! Pre-Show reception at 6pm, performance at 7pm.
##