Homos, or Everyone in America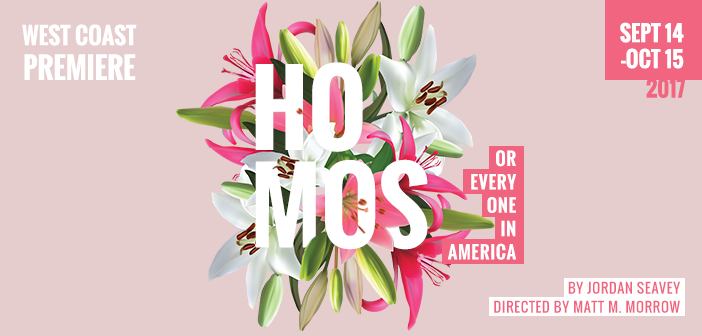 [tabs]
[tab title="Show Info"]
West Coast Premiere
Homos, or Everyone in America
By Jordan Seavey
Directed by Matt M. Morrow
Production Sponsors:
Allison Rossett & Sue Reynolds
Bill McClain & Bob Leyh
September 14-October 15, 2017 // Opening September 23
As the pendulum of progress continues to swing, a Brooklyn couple attempts to navigate the complexities of contemporary gay life together. Hopscotching back and forth over the timeline of their relationship, a sensual, hilarious and compelling story of their bond emerges. This brave, cutting-edge new play confronts the lingering dangers and interconnected values of our nation, and the way to our future may be found through our past.
[/tab]
[tab title="Matt's Memo"]
This astonishing new play knocked me over when I first read it. It is incredibly intimate, provocative and intelligent. It doesn't wear its rebellious political soul on its sleeve, but delivers a subtle dose of where the gay community is socially and politically right at this moment. There is an undercurrent of palpable danger in this personal story of yearning, growing up, breaking apart and reconciliation. Jordan Seavey is one of the Nation's most exciting and original emerging playwrights, and I couldn't be more thrilled Diversionary is not only presenting the West Coast Premiere but also the second production of this incredibly timely new play.
If you already have a subscription and would like to select your performance, please log-in
[/tab]
[/tab]
[tab title="About the Writer"]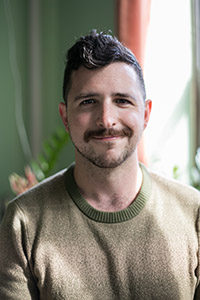 Jordan Seavey's plays include Homos, or Everyone in America (New York Times Critic's Pick; named one of New York Magazine's 10 Best Theater Events of 2016; The Advocate's Top 10 New York Theater of 2016; OBIE Award for performance, Michael Urie), November 4th 2008, Wight, The Funny Pain, The Truth Will Out, Children at Play, 6969 and This is a Newspaper. Since 2003 he's co-created more than fifteen new plays with theater company CollaborationTown. These include Candy (a commission from LCT3 / Lincoln Center), the all-ages puppet musical Riddle of the Trilobites (as residents of New Victory Theater's LabWorks), Family Play (1979 to Present) (named one of The Advocate's 10 Best LGBT Plays of 2014), and The Momentum (2012 GLAAD National Media Award nomination). He is a Usual Suspect at New York Theatre Workshop, and an alum of The Public Theater's Emerging Writer's Group and the Soho Rep Writer/Director Lab in New York City, where he resides and awaits a new President of the United States of America.
If you already have a subscription and would like to select your performance, please log-in
[/tab]
[tab title="Cast"]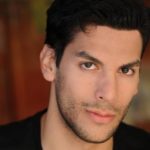 Alex Guzman (The Academic) couldn't be more excited to be making his debut for Diversionary Theatre. He was recently seen in Awake and Sing at New Village Arts. Favorite acting credits include: The Normal Heart, Lydia,  (ion Theatre), Seminar, The Taming of the Shrew (InnerMission Productions), The Lion in Winter (Moonlight Stage Productions), ENRON (Moxie Theatre), and Angels in America: Part 1 & 2 (Palomar College). He would like to thank Matt for his passionate direction of this remarkable story, the talented cast & crew for being a dream to work with, his beautiful wife for her support, and to the LGBTQ community. Enjoy my friends.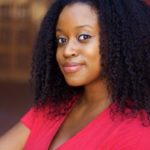 Andréa Agosto (Laila) is thrilled to performing at Diversionary for the first time. Hailing from Kansas City, Andréa works as an English and Drama Teacher. Her favorite credits include: The Best Goodbye (Sabina), Cell (Gwen) at Mo'olelo, You Can't Take it With You (Rheba) at Lamb's Players, Vanya and Sonia and Masha and Spike (Nina), Harriet Jacobs (Mary, U.S.), Bare (Tanya), Broke-ology (Sonia, U.S.), Flyin' West (Minnie), Mufaro's Beautiful Daughters (Manyara), Working (Maggie Holmes), Big River (Alice), High School Musical (Taylor), and Grease (Rizzo). For more information, photos and video clips, please visit: www.andreaagosto.com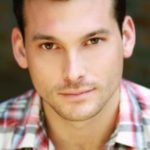 Michael C. Louis (Dan)* is thrilled to make his Diversionary debut! Recent San Diego credits: Big Fish, American Rhythm (Lamb's Players Theatre); On the Twentieth Century, The Rocky Horror Show, concert readings of Hair and Spamalot (Cygnet Theatre); Last Night in Town (SDMT); Spamalot (Moonlight). Other regional credits: Metamorphoses (Santa Barbara Ensemble Theatre), The 39 Steps (Glendale Centre Theatre), Don't Dress for Dinner (International City Theatre), Grease (Cabrillo Music Theatre), Cabaret (Malibu Stage). NYC: Chien de Moi (La MaMa ETC), The Haunted Train (Theatre for the New City), Somnambulists' Tango (Greenwood Cemetery/BEAT Festival), Titus Andronicus (Hamlet Isn't Dead). Michael is a BFA graduate of Carnegie Mellon University. A big thank you to the Diversionary family and much love to Donny.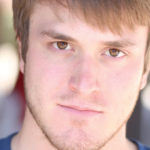 Jacob Caltrider* (The Writer) is thrilled to be back at Diversionary in Homos, or Everyone in America! Previous credits include: Marry Me A Little (Man), Harmony, Kansas (Heath), Twist (Oliver Twist), Yank! (Speedy) and The Daddy Machine (Stonewall), Diversionary Theatre; Rocky Horror Show (Brad), Spring Awakening (Hanschen), Assassins (Oswald, Balladeer), Parade (Young Soldier, Frankie Epps), Little Shop of Horrors (Puppeteer), Cabaret (Bobby), Sweeney Todd (Anthony), A Christmas Carol (Young Scrooge) and The History Boys (Timms), Cygnet Theatre; Violet (Monty), San Diego Rep; West Side Story (Tony), San Diego Musical Theatre; The 25th Annual Putnam County Spelling Bee (Leaf Coneybear), and A Christmas Carol (Young Scrooge), North Coast Repertory Theatre; An American Christmas (Bert Bailey), Les Misérables (Feuilly, Bamatabois), Twelfth Night (Curio), and The Festival of Christmas (Frankie), Lamb's Players; How The Grinch Stole Christmas! 2011-2016 (Who Ensemble), and The Rocky Horror Show (Riff Raff U/S, Rocky U/S), The Old Globe.
If you already have a subscription and would like to select your performance, please log-in
*Denotes member of Actor's Equity Association
[/tab]
[tab title="Creative Team"]
Kira Vine (Stage Manager) is grateful to be part of this production, her first with Diversionary. She is an actress, singer, director, and stage manager. Favorite projects include: James and the Giant Peach (Coronado Playhouse), Heathers: The Musical (OnStage Playhouse), Seven Spots on the Sun (InnerMission Productions), the U.S. premiere of The Hunchback of Notre Dame (La Jolla Playhouse), The Wizard of Oz (Dorothy, CTG), and Next Fall (OnStage Playhouse, Aubrey Award Nominee). Thank you to Sebastian and Matt for the opportunity. Love to Mom and Dad.
Kristen E. Flores (Scenic Designer) Past design credits:Playwrights Project Festival 2016, A Civil War Christmas, Bright Half Life and Baby With the Bathwater(Diversionary Theatre), Eternally Bad (Moxie), Almost, Maine (Onstage Players),The Last Days of Judas Iscariot (Triad Productions), Ragnarok and Red Planet Respite (Circle Circle Dot Dot) Kristen was Prop Master and Stage Master for The White Theatre at The Old Globe from 2014 to 2016. She is currently the Scenic Charge and Prop Master for San Diego State University. "I work hard so my pets can have a better life." For more on Kristen please look on.. www.kristenflores.org
Curtis Mueller (Lighting Designer) returns to Diversionary having designed Well, 2.5 Minute Ride, Lizard Boy, Manhandled, Now or Later, A Civil War Christmas, Amazons and Their Men, Man Clan, and A New Brain. Select local credits include: Withering Heights, Margin of Error (Roustabouts Theatre Company); End of The Rainbow, Quality of Life, The 25th Annual Putnam County Spelling Bee, I Hate Hamlet, All My Sons, Macbeth (Intrepid Theatre Company); Big River, The 1940s Radio Hour, Seascape (New Village Arts); Chess in concert, Next to Normal, Spring Awakening (Cabaret at the Merc Summer Series). Curtis has also worked extensively with Coronado School of The Arts. Curtis holds a BFA in Lighting Design from California Institute of The Arts.
Elisa Benzoni(Costume Designer) is thrilled to be working again with Diversionary Theatre. Select credits include: Ballast, Mystery of Love and Sex (Diversionary Theatre), Sex with Strangers (Geffen Playhouse), The Who and The What, Our Town; Tall Girls; Brahaman/I; Sam Bendrix at the Bon Soir (La Jolla Playhouse); Constellations (Old Globe); Two Gentlemen of Verona, Pericles, Prince of Tyre, Reckless, Much Ado About Nothing and Measure for Measure (USD/Old Globe); Travels with my Aunt, The Illusion, Laughter on the 23rd Floor, The Cocktail Hour, Fox on the Fairway (Nominated for a Craig Noel Award), Chapatti, Sherlock Holmes and the Adventure of the Great Nome Gold Rush (North Coast Repertory Theatre); Awake and Sing, Sylvia (New Village Arts);  Assistant costume credits: Dialogues des Carmelites (Teatro Petruzzelli, Bari), Paradise Found (Menier Chocolate Factory, London), Milk Like Sugar (La Jolla Playhouse), As You Like It, Midsummer Night's Dream (The Old Globe). Elisa holds a costume design MFA from UCSD. www.elisabenzoni.com
Kevin Anthenhill (Sound Design/Original Music) previously designed Diversionary Theatre's Amazons and Their Men, Tru, Regrets only, Bare, Thrill me, Sherantulas From Outer Space, The Further Adventures Of Hedda Gabbler, Birds of a Feather, Next Fall, Harmony Kansas, Pippin, and Marry Me a Little. Other design and music credits include The Old Globes's All's Well That Ends Well, San Diego Rep's Sex With Strangers, Disgraced, Rapture Blister Burn, My Manana Comes, The Oldest Boy, Violet, Everybody's Talkin', Honky, Steal Heaven, Red, Zoot Suit, Uncanny Valley, and In The Next Room. Cygnet Theatre's The Effect of Gamma Rays on Man In the Moon Marigolds, Bad Jews, When the Rain Stops Falling, San Diego Musical Theatre's Pump Up The Volume, Damn Yankees, The Producers, 42nd Street, Intrepid Theatre's Art, and Who's Afraid Of Virginia Woolf
If you already have a subscription and would like to select your performance, please log-in
[/tab]
[tab title="Promotional Photos"]
Photo credit SIMPATIKA
If you already have a subscription and would like to select your performance, please log-in
[/tab]
[tab title="Press Photos"]
Photo Credit Jim Carmody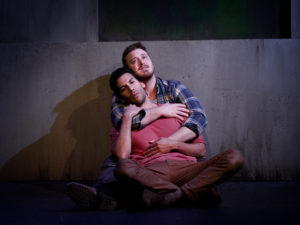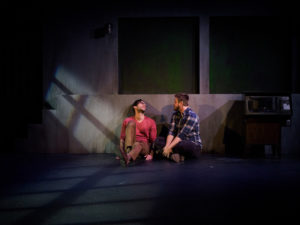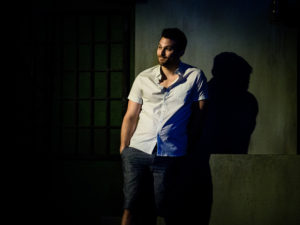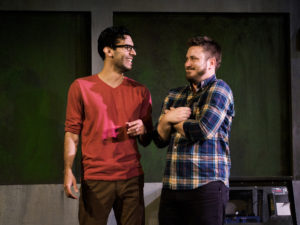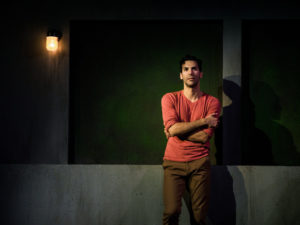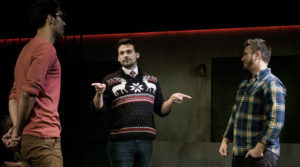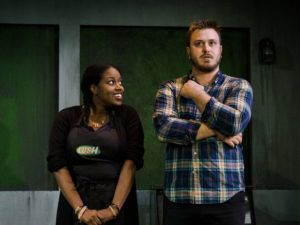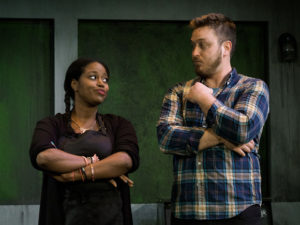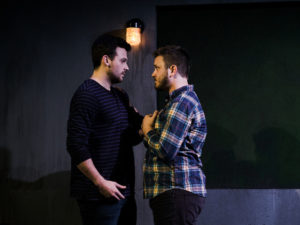 If you already have a subscription and would like to select your performance, please log-in
[/tab]
[tab title="Video"]
If you already have a subscription and would like to select your performance, please log-in
[/tab]
[tab title="Resource Links"]
Coming soon!
If you already have a subscription and would like to select your performance, please log-in
[/tab]
[tab title="Reviews"]
"Another coup for Diversionary Theatre artistic director Matt M. Morrow. Morrow's precise, crackerjack direction underlines the superlative, intertwined performances of Jacob Caltrider and Alex Guzman. The pace at which they have to think, speak, move and shift moods is exhilarating. Color this vibrant piece of theater dramatic and extraordinary."
-Jazz 88 Click for full review
"Jacob Caltrider and Alexander Guzman deliver skilled, vulnerable performances… From start to finish, it's a rewarding trip in time."
 – San Diego City Beat  Click for full review
"Some play titles can be opaque or puzzling or even willfully obscure. Not so with "Homos, or Everyone in America"; its cheeky use of a dubious slang term for gay men reflects just the kind of defiant, politeness-be-damned candor the play projects.
What the title doesn't do is also convey the sense of humanity and sympathy that informs the time-warping… Jordan Seavey play, now getting a crisply acted West Coast premiere at Diversionary Theatre.
Both lead actors commit to their roles with a rich sense of authenticity and a sense of real connection, under the polished direction of Diversionary artistic chief Matt M. Morrow.
As the more adventurous but self-sabotaging Writer, Caltrider brings an open-hearted, spontaneous likability to his character… Guzman lends an appealing feel of urbane reserve to the Academic."
 – San Diego Union-Tribune Click for full review
"Seavey has created approachable, sympathetic individuals out of these loquacious verbal gymnasts, and both Caltrider and Guzman bring ringing emotional depth as well as empathetic vulnerability to their roles. 
Matt M. Morrow's swiftly-paced, incisive direction makes a virtue of the almost bare stage, immaculately designed by Kristen Flores: props and scenery would only impede the velocity of the play's emotional cyclone. And Morrow has the actors pop up in nearly every corner and aisle of the small Diversionary venue, keeping the audience closely bonded to this Romeo and Romeo duo. Kevin Anthenhill's sharp sound design gave us a perfect moment New York subway clangor for a crucial scene, and his original music avoided queasy soap opera cliché, although a quoted snippet of Vivaldi revealed the modest scope of Anthenhill's score.
Kudos to Morrow for bringing this electric new play to San Diego. I have not been as impressed with a Diversionary production since Chay Yew's astounding Porcelain."
 – San Diego Story  Click for full review
"A daringly frank, funny and affecting new play.  Mr. Seavey's portrait of young gay New Yorkers negotiating the sometimes thorny nature of love and intimacy has an arresting, even bruising honesty."
–The New York Times' Critic's Pick
If you already have a subscription and would like to select your performance, please log-in
[/tab]
www.diversionary.org
[/tabs]