IN THE VA VA VOOM ROOM with Michael Mizerany
We sat down with director/choreographer Michael Mizerany to speak about his newest production for Diversionary Theatre's Cabaret Series, IN THE VA VA VOOM ROOM
How is this production different from HOT GUYS DANCING?
HOT GUYS DANCING is basically a contemporary dance concert where IN THE VA VA VOOM is inspired by burlesque (neo-burlesque) and cabaret.  The dance is sensual; the humor is raucous; and content can range anywhere from politically incorrect to down right bawdy.
Another big difference will be the addition of an Emcee who will introduce the specialty acts, regale the audience with boisterous song, and will serve as the purveyor of everything that is delightfully decadent.
There are a wide variety of acts crossing multiple genres including contemporary, musical theatre, arco/adagio, line-dancing and even a hula hoop artist.
For example, Travis Ti, Michael Smeltzer and Jessica Avila will tempt you with their piece Two Ladies, a mischievous and erotic acro/adagio number that includes titillating ménage à tois acrobatics, sensual dancing and eye-popping striptease.
What kind of songs will the Emcee sing?
I don't want to give too much away but he will sing to tracks as well as accompanying himself on the banjolele (part banjo, part ukulele). The play list ranges from torch songs to cabaret standards to outlandish parody.
The Emcee is played by the always terrific Justin Tuazon-Martin.  I worked with Justin when I choreographed SCROOGE IN ROUGE at Diversionary and knew he would be amazing IN THE VA VA VOOM ROOM.
If IN THE VA VA VOOM ROOM was a recipe, what would be the ingredients?
The ingredients for IN THE VA VA VOOM ROOM are a unique mix of song, dance and burlesque plus a healthy dash of off-color and risqué humor.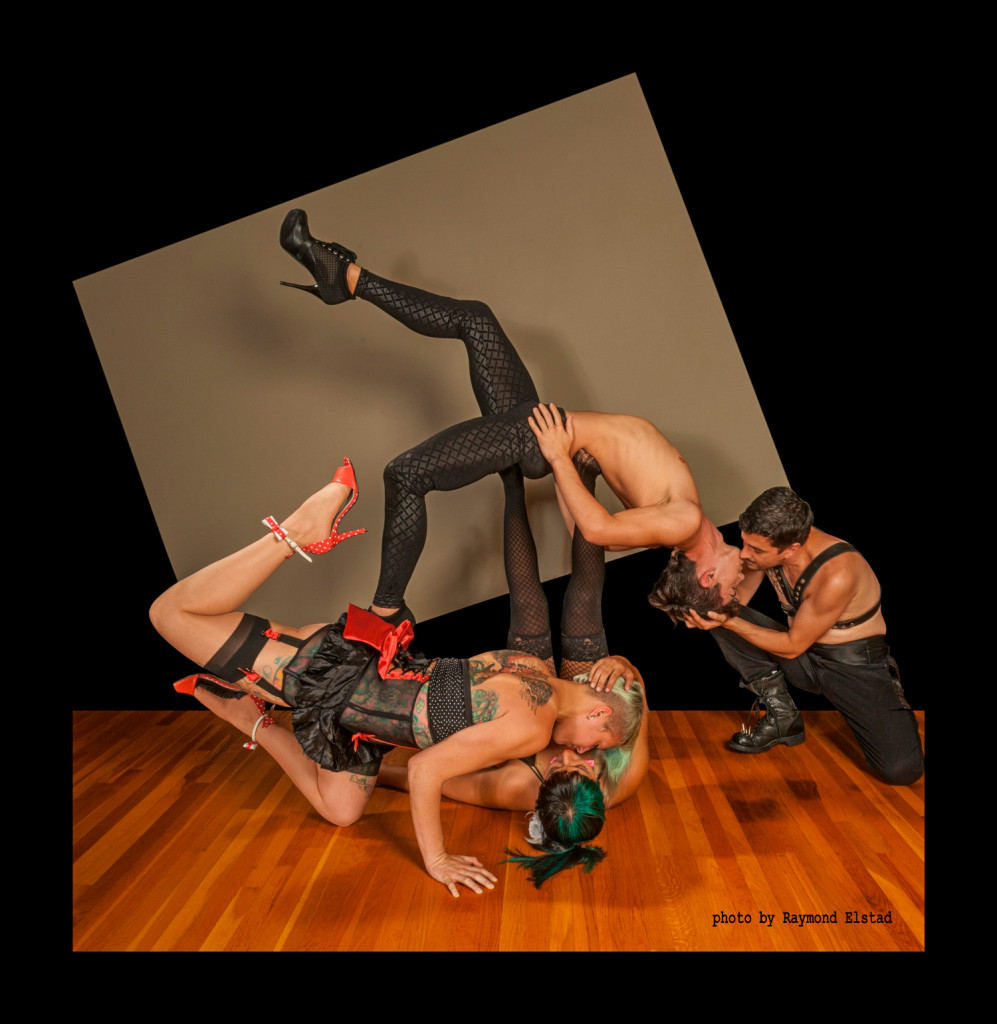 Is this show appropriate for children?
No.  The show, though good-natured and fun, is adult-themed.  Due to pervasive sexual humor, coarse language and nudity – I would recommended 17 and up.  So get a sitter, buy your tickets in advance (seating is limited) and join us IN THE VA VA VOOM ROOM.