Lizard Boy : EXTENDED!
PRESS RELEASE: LIZARD BOY
Contact: Cara Vacek Hanhurst
Press@Diversionary.org
(619) 220-6830 x 105
Due to Popular Demand, LIZARD BOY has extended an additional FOUR Performances!
October 19th, 2016
San Diego, CA.
For immediate release:
Due to Popular Demand, LIZARD BOY has extended an additional FOUR Performances! Audiences can now catch this critical favorite through November 6th at Diversionary Theatre.
Three best friends from Washington got together and decided to make a musical. The rest is history – or at least it will be when the cast of LIZARD BOY makes their San Diego debut at Diversionary Theatre this September. Kirsten deLohr Helland, Justin Huertas and William A. Williams make up the entire cast and band of LIZARD BOY, a fantastical comic-book rock concert-slash-theatrical explosion. Director Brandon Ivie originally staged the show at Seattle Repertory, and will return to stage it fresh for Diversionary.
LIZARD BOY follows an unlikely hero in Trevor (Huertas), who hasn't left his house in a year. After being disfigured in a freak accident as a child (A playground, kids, dragon blood… it was messy) he's too uncomfortable with the way he looks to go out in public. But the night we meet Trevor he is motivated to take a chance: using Grindr as a lifeline he ends up meeting a cute stranger named Cary (William A. Williams) who does his best to get the shy guy to open up.  Weird doesn't begin to describe the kind of night Trevor embarks upon, where he must confront a stranger from his dreams (Siren, played by Kirsten deLohr Helland) and is challenged to transform from Freak to Hero. The show illuminates a fantastical comic book world where individuality is celebrated to the tune of a wild assortment of instruments from kazoos to cellos and guitars to ukuleles.
Although Huertas is solely credited with the book and lyrics for LIZARD BOY the entire team insists this is a collaborative piece.  "We're best friends," says Huertas. Kirsten deLohr Helland agrees:
"All we ever want to talk about is Lizard Boy and what's next or what we could try the next time around. We all spend way too much time together. Justin and I have a band together and we perform often in Seattle. When Bill is in town he absolutely joins us. The three of us call ourselves The Lizards. Our happiest place is playing music together."
Originally the show was commissioned by late Artistic Director Jerry Manning of Seattle Repertory Theatre as a one man piece about Huertas' travels while touring with SPRING AWAKENING. While working together, Manning and Huertas learned that they were both huge comic book nerds – and the Lizard started to take shape. Add some more nerds into the collaborative mix, a few years of creative genesis, and LIZARD BOY was born as a World Premiere Musical in  Seattle Repertory's 2014-15 Season.  Diversionary's Executive Artistic Director Matt M. Morrow has been tracking the show since it's World Premiere was announced and is eager to introduce it to San Diego audiences:
"There is nothing quite like LIZARD BOY. It boldly defies definition in glorious, adventurous and fun ways. Huertas' singular theatrical voice heralds an exciting new beginning for the American musical. I'm thrilled Diversionary will be home to LIZARD BOY's second production! It is sure to give our audience a wild and raucous ride into our 31st Season."
When asked why audiences should choose LIZARD BOY over another San Diego show, the team all insist on the show's funky uniqueness.  "You've literally never seen anything like it," says Director Brandon Ivie – "…it's very hard to classify." Playwright Huertas describes the show as  "A  coming of age quirky romantic comedy comic book superhero adventure folk rock concert with sick vocal harmonies," and deLohr Helland is confident that audiences will fall for this unique show – "You will laugh, cry, hum along, and gasp. I guarantee you will have a fantastic time."
LIZARD BOY plays September 29th – November 6th on the Diversionary Theatre Mainstage. Performances run Thursdays at 7pm, Fridays and Saturdays at 8pm, and Sundays at 2pm. More information is available at www.diversionary.org/lizardboy
Performances run approximately 90 minutes with no intermission. Please note: This production includes the use of strobe lights
Single Tickets for LIZARD BOY range from $20-$50. More information can be found by visiting www.Diversionary.org/Subscribe or by calling the box office at 619-220-0097.  Discounts are available to Students, Educators, Military, and Groups.
To be notified of ticket sales, please sign up for the Diversionary Theatre Email List: https://www.diversionary.org/mailinglist/
---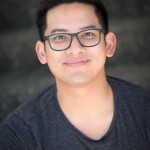 Justin Huertas (Playwright, Trevor)* won Seattle Gregory Awards for New Play and Lead Actor in a Musical for the World Premiere of Lizard Boy (Seattle Repertory Theatre, 2015). Seattle Repertory Theatre: Lizard Boy, Speech & Debate. Seattle Shakespeare Company: Romeo & Juliet (original music), Much Ado About Nothing, Twelfth Night. The 5th Avenue Theatre: Grease, Secondhand Lions World Premiere. Village Theatre: In the Heights (Gregory Nomination, Supporting Actor in a Musical). Justin played cello for the Broadway National Tour of Spring Awakening. He also performs around Seattle in the folk-rock duo Hanschen & Ilse with frequent collaborator and best friend Kirsten deLohr Helland. Justin is very grateful to Diversionary Theatre for granting him this incredible opportunity and to his Lizards Kiki, Brandon, & Bill for their absolute love and boundless creativity.
Kirsten deLohr Helland (Siren)* won a Gregory Award for Best Supporting Actress for her work in Lizard Boy at Seattle Repertory Theatre. She was recently named to the "Future List" by City Arts Magazine as an actor shaping the landscape of Seattle's arts scene. Recently: Maria in The Sound of Music, Rizzo in Grease, Jennifer in Paint Your Wagon (The 5th Avenue Theatre) and Whatsername in American Idiot (ArtsWest). Other credits include The 5th Avenue Theatre (Ado Annie in Oklahoma!, Jovie in Elf, Penny Pingleton in Hairspray in Concert, Pirates of Penzance and Rent), Village Theatre (Eponine in Les Miserables, Amy in Trails, Hildegarde in The Tutor), Balagan Theatre (Kate Monster in Avenue Q – Gregory Award nomination, Ilse in Spring Awakening), ArtsWest (Dogfight). Film: Danielle in Laggies. Helland is half of folk-rock duo Hanschen & Ilse with best friend Justin Huertas. B.F.A. from Pacific Lutheran University. Endless love and gratitude to Justin/her other half, Brandon, Bill, Mama and to all the Lizard Family.
William A. Williams (Cary) A California native, William is a musician/actor now based out of New York. Originating the role of Cary at Seattle Repertory Theatre, he also performed there as Whit in Of Mice and Men, directed by Jerry Manning. He has acted with Balagan Theater (Dr. Horrible's Sing-Along Blog), Village Theatre (Beauty and the Beast, Showboat, The Gypsy King), Seattle Shakespeare Company (Romeo and Juliet, Comedy of Errors), Contemporary Classics (…Spelling Bee, Zanna Don't!), and has played guitar in productions of Spring Awakening (Balagan), Bloody Bloody Andrew Jackson(ArtsWest) and most recently took on the bass guitar for The Iceman Lab at Target Margin in NYC. He is immensely proud of this show, to all who have been involved, and is excited to introduce San Diego to the Lizards! William received a B.F.A. in Acting from Cornish College of the Arts. Love, always, to his unconditionally supportive and adoring family.

BRANDON IVIE (Director) recent credits: A Christmas Story at Paper Mill Playhouse, Jasper in Deadland by Ryan Scott Oliver and Hunter Foster Off-Broadway and The 5th Avenue Theatre, The Noteworthy Life of Howard Barnes by Michael Kooman and Christopher Dimond at Village Theatre, Imagine Harry by Jeff Talbott and Will Van Dyke at NAMT, as well as the World Premiere of Lizard Boy at Seattle Rep (Gregory Award nom). Broadway assisting: A Christmas Story, Catch Me if You Can, Next to Normal, First Date, Gigi. NYC directing: Signature Theatre, The Public Theater/Joe's Pub, New York University, HERE Arts Center, Prospect Theater Company, NYMF, 54 Below. Drama League Directing Fellow. LCT Directors Lab.
---
Scenic Designer…………………………………………………………..Ron Logan
Projection Designer…………………………………Joe Hupppert &  Ron Logan
Projection Illustrator………………………………………………….Justin Huertas
Projection Colorist……………………………………………………Laura Marshall
Costume Designer…………………………………………………………Erik Andor
Sound Designer……………………………………………Matthew Lescault-Wood
Lighting Design………………………………………………………..Curtis Mueller
Mix Engineer…………………………………………………………………TJ Fucella
Master Carpenter……………………………………………………….Scott Amiotte
Stage Manager……………………………………………………………Jon Huckaby
*Actor appears courtesy of Actor's Equity Association, the union of professional actors and stage managers