Isaac Oliver's Lonely Christmas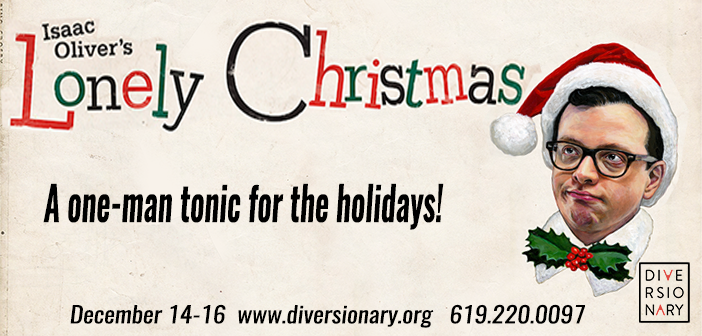 [tabs]
[tab title="Show Info"]
3 Nights only!
The West Coast Premiere of
Isaac Oliver's Lonely Christmas
December 14th-16th, 2017
Trim the tree, hang the stockings, light the menorah and slug the eggnog. Ring out this troubling year with NYC comedy connoisseur Isaac Oliver as he regales San Diego for the first time with stories from his hit debut novel, Intimacy Idiot (Best of 2015 – NPR), and tales of woe of holidays past. This unabashedly authentic storyteller's take on the world and the season is as hilarious as it is moving, and intelligent as it is restorative. Oliver's unique blend of poignancy, candor and levity is the perfect antidote to a year filled with crazy, and the craziness of the holidaze!
"A rare talent who manages to deftly combine raunchiness, intelligence, hilarity, and heart. Brilliantly observant, funny, and wry." – The New Yorker
[maxbutton id="38″]
[/tab]
[tab title= Artist Info]
 Isaac Oliver is an award-winning playwright, author, and performer.
His debut collection of essays, Intimacy Idiot, was named one of NPR's Best Books of 2015. His plays include Electra in a One-Piece, and the ten-minute plays "3, 2, 1," "Film Forum," and "Come Here" (New York Innovative Theatre Award, Outstanding Original Short Script). Additionally, he's written for The New York Times, W Magazine, Time Out New York, Out, and HBO's "High Maintenance."
He is a graduate of Carver Center for Arts and Technology and Fordham College at Lincoln Center and a MacDowell Colony Fellow. He lives in New York City. http://isaacoliver.com/
[maxbutton id="38″]
[/tab]
[tab title="Press & Reviews"]
"A rare talent who manages to deftly combine raunchiness, intelligence, hilarity, and heart. Brilliantly, observant, funny, and wry." -The New Yorker
"Brilliant and hilarious and surprisingly, shockingly at times, intimate. You'll want to have dinner with him and maybe want to slightly protect him from the world and himself." – Nathan Lane, The New York Times
"If you're still mourning the demise of 'Sex and the City,' and wish that David Sedaris would get a little raunchier, look no further." -NPR
"If David Sedaris and Fran Lebowitz had a baby who wrote about subways, theater patrons and blow jobs, he might be a lot like Isaac Oliver." –Time Out New York
"Hilarious…tragic and transcendent." –Entertainment Weekly
"Bracingly sharp, unbelievably funny." –Fodor's
"Unfailingly hilarious." –Gayletter
"Wickedly humorous and surprisingly moving." –Kirkus
[maxbutton id="38″]
[/tab]
[tab title="More Videos"]
[/tab]
[/tabs]