Melanie Chen Makes Babies Cry
To make a baby cry, you need:

1. Wireless Transmitter

2. Wireless Receiver

3. Small (but powerful) Speaker

4. Life-like Baby Doll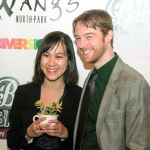 Diversionary is thrilled to have Melanie Chen on board as sound designer for Baby with the Bathwater!She has designed over 50 productions in San Diego, Los Angeles, and San Francisco.
As the sound designer for Baby with the Bathwater, Melanie is in charge of all music and sound effects in the production. For this show, she has compiled a distinctly 80's playlist to reflect the setting and time period and has created a variety of sound effects.
One of the most frequent and recognizable sound effects was the crying of the Helen and John's beautiful newborn baby. Chen used wireless technology to make a prop baby sound as convincing as a human baby. Cues from the script helped Chen determine where to include a variety of baby sounds,  including crying, laughter, and gurgling. A small speaker allowed these sounds to emit from the baby itself, making its frequent crying outbursts all the more realistic.
See Melanie's sound cue sheet here
Melanie's select West Coast credits include Plays by Young Writers Festival 2015 with Playwrights Project,Pericles: Prince of Tyre with the USD MFA Program, Summer Shakespeare Intensive 2014 (The Old Globe); A Streetcar Named Desire (University of San Diego); Uncle Vanya (Pomona College); Animals Out of Paper (East West Players), Dance of the Holy Ghosts (Ubuntu Theatre Company in Oakland); Freud's Last Session, Word by Ira Gershwin,Romance/Romance, Faded Glory, Mandate Memories, Becoming Cuba (North Coast Rep); Passion, Bug, reasons to be pretty, Bengal Tiger at the Baghdad Zoo, Grey Gardens, Blasted, Angels in America, Body Awareness, The Lieutenant of Inishmore, Dr. Jekyll & Mr. Hyde, Jack Goes Boating (ion theatre company); Boys & Girls (Diversionary Theatre); Crumbs from the Table of Joy (Moxie Theatre); As You Like It, The Tempest, One Flew Over the Cuckoo's Nest (New Village Arts). She also assisted designers such as award winning composer Michael Roth and Tony Nominee designer Cricket Myers at the La Jolla Playhouse, San Diego Rep, and South Coast Rep. Education: MFA in Sound Design for Theatre & Dance from UC San Diego.
Check out her website, www.melaniesound.com.