Man Clan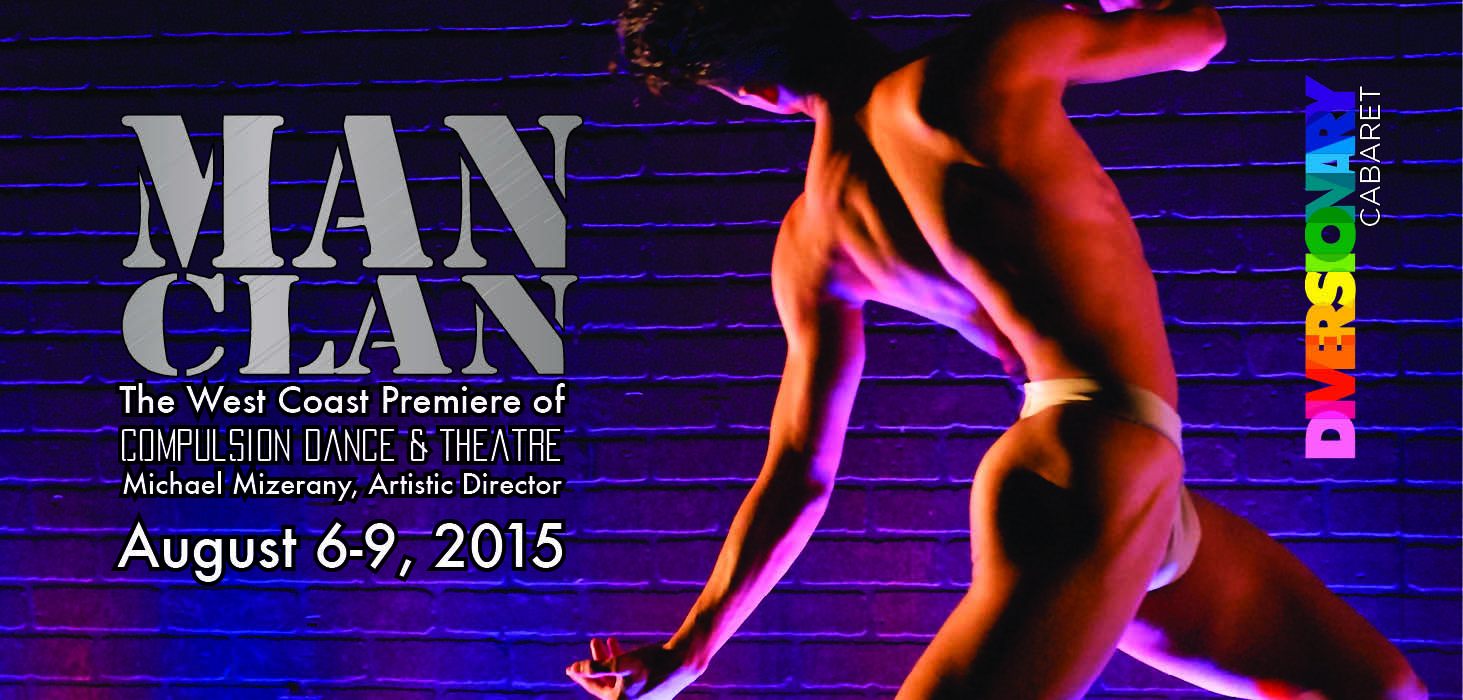 [tabs ]
[tab title="Show Info"]
MAN CLAN
Thursday, August 6th –August 9th
One of San Diego's most accomplished choreographers, Michael Mizerany (known to Diversionary audiences for his work on bare: a pop opera, Thrill Me, and A New Brain) presents an electrifying night of dance with the West Coast Premiere of his company, Compulsion Dance & Theatre! Man Clan features the premiere of two pieces choreographed by Mizerany. The title work, Man Clan, is a satirical and sometimes overtly provocative look at issues that are decidedly male and features four of San Diego's most prominent dancers. The second premiere, Uncoupling, is a take no prisoners duet that showcases Mizerany's dynamic choreography, powerful partnering and high-flying lift work. Rounding out the program are critical and audience favorites Via Dolorosa and the Lester Horton Award-winning solo Bump in the Road.
Man Clan contains mature content including adult themes and partial male nudity.
[/tab]
[/tab]
[tab title="About Man Clan"]
Dancers include Marty Anthony Dorado, Bradley R. Lundberg, Chad Ortiz, Erica Ruse and Nicholas Strasburg.
Michael Mizerany is the artistic director for Compulsion Dance & Theater.  He moved to San Diego to join Malashock Dance and served as its Associate Artistic Director until 2013.  Michael also conceived and directs the popular dance series Hot Guys Dancing and Dancer Briefs, conceived and directed Malashock/RAW from 2010-2013 and Sweat! for San Diego Dance Theatre (SDDT). He has choreographed extensively, including Altar Boyz, (Noah Longton Productions), Dooley, Divine Sister, Miss Kitty's Wild West Revue, Scrooge In Rouge, Thrill Me, bare: a pop opera and A New Brain (Diversionary Theatre), Chicago: A Speakeasy Cabaret, Grey Gardens and Ass, or A Midsummer Night's Fever (Ion Theatre), Carnival! and Suds (The Coronado Playhouse), Spring Awakening (Cygnet Theatre), The Full Monty (New Village Arts), Trolley Dances (SDDT), Rent (Southwestern College), West Side Story (J*Company) and Threepenny Opera (UCSD). Michael has been the recipient of numerous awards and honors including the LA Stage Scene "Scenie" Award for Outstanding Choreography for Altar Boyz and bare: a pop opera, The Blue Ribbon Choreography Award for Suds and the Bravo San Diego Award for Outstanding Choreographer of 2012. He was nominated for a Craig Noel Theater Award for Outstanding Choreography for Dooley (2010) and Altar Boyz (2011) and, this past year, was a double nominee for Spring Awakening andbare: a pop opera. His 10-minute play, 20 Minutes and Counting, received a staged reading at San Diego's Old Globe Theatre in September. http://mizerdance.wix.com/michaelmizerany
[/tab]
[/tab]
[tab title="Reviews"]
"…if you see Michael Mizerany's Compulsion Dance & Theatre name associated with any show…go see it!"
                                                                                                                 -Rob Appel, San Diego Theatre Reviews
"And the stunning premiere of Mizerany's "Via Dolorosa," danced by Ortiz to Morten Lauridsen's lovely choral piece "O Magnum Mysterium" is breathtakingly, achingly beautiful."
                                                                                                                                                                        – SDGLN
"One of the evening's highlights is Mizerany's stunning "Via Dolorosa" (commissioned by Diversionary Theatre) that features the spectacular moves of the riveting Chad Ortiz. This dance of suffering and supplication, bearing a heavy burden and ending in crucifixion, is magnificent and heart-rending."
-Pat Launer, Times of San Diego
[/tab]
[tab title="Photos"]
[/tab]
[/tabs]