Press Release: Queer Heartache
Diversionary Announces Queer Heartache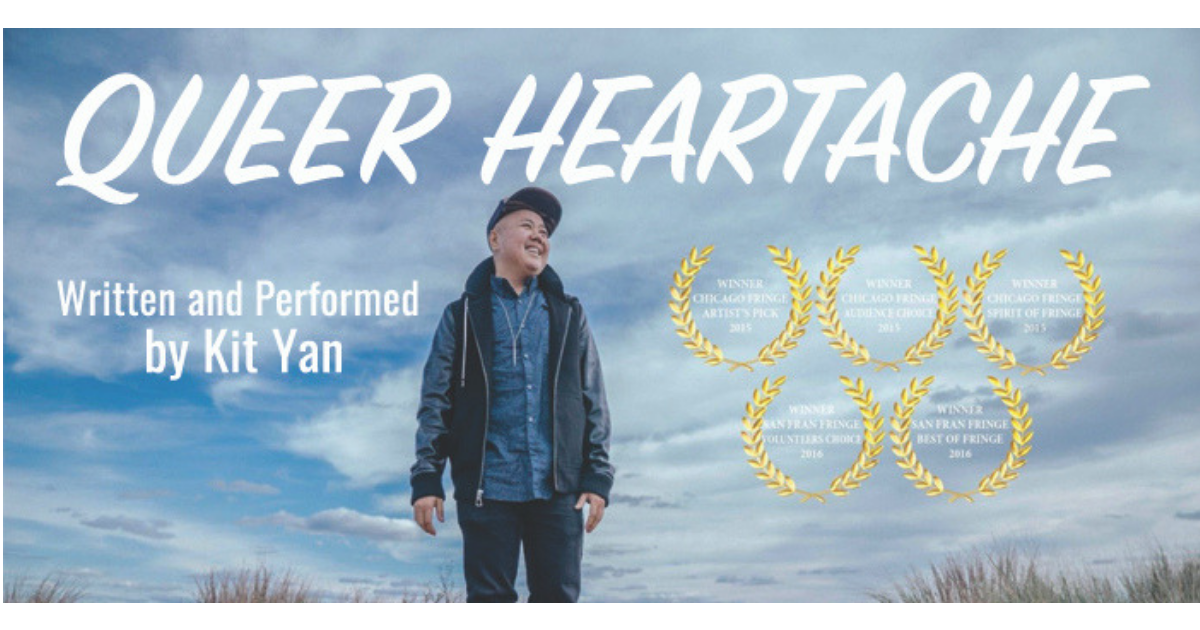 Contact: Jenny Case, Managing Director
619-220-6830 x 103
Press@Diversionary.org
September 26th, 2018: FOR IMMEDIATE RELEASE
San Diego, CA
WHAT: Diversionary announces Queer Heartache by spoken word artist Kit Yan
WHEN: October 18th – 20th Performances run Thursday at 7pm and Friday and Saturday at 8pm
TICKETS: Are on sale ($25). Discounts are available to Groups, Students, Educators, Seniors and Military. www.diversionary.org/queerheartache
Diversionary welcomes the New York City Trans Spoken Word Artist Kit Yan! 
Three Nights Only!
Queer Heartache
Thursday, October 18th @ 7pm
Friday, October 19th @ 8pm
Saturday, October 20th @ 8pm
Queer Heartache is an explosion of slam poetry that is at once compelling, hilarious, and as its title promises, heart breaking. Award-winning poet/performer Kit Yan takes the audience on an adventure ride through his life, investigating what it means to be Trans, Queer, and Asian American. Navigating the intimate and formidable landscape of family, the dating pool, and the medical establishment, Kit will steal your heart and change how you look at the world around you. Hold tight to your rainbow and enjoy the ride!
About the Artist:

Kit Yan (Playwright/Poet/Performer/Lyricist) is a Yellow American New York based artist, born in Enping, China, and raised in the Kingdom of Hawaii.
His work is a dreamspace where queer and transgender folx can time travel in order to witness, remember, and heal our herstories. He holds writing as a spaceship into the borderless ancestral past, the puzzle pieces of an imagined queertureverse, and a lifeline back onto
 this earth. Here, we can ground, explore, and discover stories on our own terms—messy, ugly, and wholly beautiful. His dreams lead him to write about the fractures in his life and in this world, times he was held accountable by his family and communities, and times of collective struggle on a path towards collective liberation. Above all else, he write about queer love smashing racism, patriarchy, and systemic oppressions.
AWARDS
Chicago Fringe Spirit of Fringe
Chicago Fringe Audience Choice
Chicago Fringe Artists Choice Award
San Fran Fringe Best of Fringe
San Fran Fringe Volunteer's Choice
SELECTED WORKS:
INTERSTATE a new musical with Melissa Li: New York Musical Festical 2018, Space on Ryder Farm selection, Musical Theater Factory residency 2018, terraNOVA Collective's Groundworks Residency at the IRT, 29 Hour reading at Studio 353, Project Reach workshop, Dixon Place staged reading; Forthcoming: Dramatists Guild Fellowship 2018-19
MISS STEP: 2018 Village Theater At the Table residency; 2018 Mitten Lab residency; Forthcoming: 2018 First Draft Story Summit
QUEER HEARTACHE: American Repertory Theater ID Festival, American Repertory Theater's Oberon Season 2018, IRT Theater, Brick Theater Transgender Theater Festival, San Francisco Fringe, Chicago Fringe. AWARDS: Playwright's Center Fellowship finalist, Spirit of Fringe, Artists' Pick, and Audience Choice Awards at the 2015 Chicago Fringe Festival, and  Best of Fringe, and Volunteer's Choice awards at the 2016 San Fran Fringe Festival. Published by TransGenre Press 2016. 8 National College tours. Forthcoming: Diversionary Theater Oct 2018
T(ESTOSTERONE): 2016/2017 Civilians R&D residency, The Syndicate First Read Series selection, Playwright's Realm fellowship Semi-finalists, Playspace table reading at the Lark
More information can be found at www.diversionary.org/queerheartache
For interviews and photos, please contact Jenny Case, Managing Director, at 619-220-6830×103 or by emailing Press@diversionary.org