Regrets Only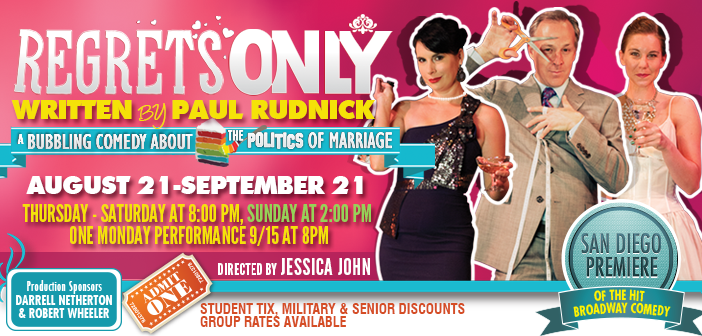 [tabs ]
[tab title="Show Info"]
Written by Paul Rudnick
(Author of Jeffrey, In & Out)
A bubbling comedy about the politics of marriage.
August 21 – September 21, 2014
In Manhattan, where modern life and marriage are never less than complicated, a high-powered lawyer, his socialite wife, and their fabulously successful friend, a noted fashion designer, clash over the issue of gay marriage. This inevitably leads to a drastic protest with hilarious consequences for all.
Our Tuxedo Sponsor for 'Regrets Only'!
[maxbutton id="5″]
[/tab]
[tab title="Cast & Creative"]
JESSICA JOHN (Director) has had a long-time love affair with Diversionary Theatre. As founder and Executive Artistic Director of Backyard Productions, she co-produced the award-winning A Bright Room Called Day with Diversionary Theatre in 2005 (*2005 KPBS Patte Award for 'Best Ensemble'), directed the recent all-male 'Open Mondays' reading of Steel Magnolias and acted in Diversionary's The Pride, as well as the Diversionary/Moxie co-production of Pulp. Other select San Diego productions include her direction of Deathtrap and A Perfect Wedding at Scripps Ranch Theatre and acting in multiple theatres around town including Ion Theatre: Shining City and Angels In America; North Coast Repertory Theatre: School For Lies, Lend Me a Tenor and A Shayna Maidel; Cygnet Theatre: (Resident Artist): Private Lives, Noises Off (SD Critic's Circle – Best Ensemble), Mauritius, Love Song, Desire Under the Elms, Communicating Doors (Patte – Best Production),Cat on a Hot Tin Roof (SD Playbill – Best Actress) and Burn This (SD Critic's Circle – Best Actress); Moonlight Theatre at the Avo: Born Yesterday, The Mousetrap, Barefoot in the Park and Ring Round the Moon; Oceanside Theatre Company: Lost in Yonkers; New Village Arts:The Playboy of the Western World (Patte – Best Actress); and Renaissance Theatre: A View from the Bridge (SD Critic's Circle – Best Actress). She was named one of the top 50 People to Watch by San Diego Magazine.
---
KERRY MCCUE (Tibby McCullough) is new to San Diego, having relocated from Phoenix, AZ, and this is her first show with Diversionary Theatre.  She recently appeared in Broken Glass and Perfect Wedding at North Coast Repertory Theatre.  Favorite credits include Lost in Yonkers at Arizona Theatre Company, The Lieutenant of Inishmore and Time Stands Still at Actors Theater, 4.48 Psychosis and Trainspotting at Stray Cat Theatre, Sexual Perversity in Chicago and Les Liaisons Dangereuses at Nearly Naked Theatre,  and A Midsummer Night's Dream at Sedona Shakespeare.  She was an apprentice at the Tony Award winning Williamston Theatre Festival in Massachusetts.   Ms. McCue is originally from Nebraska, and holds BFAs in Theater and English Literature from Wayne State College.  Kerry is a member of Actors Equity Association.
---
CHARLES MAZE – (Jack McCullough) previously performed at Diversionary in Poster Boys.  His recent shows include The Car Plays and Detained In the Desert at La Jolla Playhouse.  Charles also performed with ion, SDMT, 10th Ave, Moxie & New Village Arts.  He is SAG-AFTRA and trained at RADA.  Charles can be seen in episodes of Mad Men and Ray Donovan, pilots forDamaged Goods and Scorpion, and national commercials.  Juicy details can be found at CharlesMaze.com.  Thank you to Steve Stevens, Sr. at The Stevens Group, Nanci Washburn at Artist Management Agency, and the wonderful management team at ActorInsight.com.
---
 ANDREW OSWALD (Hank Hadley) – is grateful to be performing in his third production at the Diversionary.  Also at Diversionary: George Tessman (The Further Adventures of Hedda Gabler) and Jason (Boys and Girls). San Diego audiences may also remember him as Harry in Cygnet Theatre's Company. New York; (Actor) John Thorpe: Distilled Spirits' OOBR Award winning production of Northanger Abbey, also Edgar (King Lear), Lucifer/The Pope (Doctor Faustus), All of Tallulah Bankhead's Male Lovers (Dahling!), Mihai: (Mad Forest). (Directing) Subterranea: Suspended Cirque, As I Am Fully Known: The Eight O'clocks, Co-Artistic Director Bedtime Sketch Comedy. Regionally; Von Trapp: The Sound of Music, El Gallo: The Fantasticks, Orsino: Twelfth Night, Bottom: A Midsummer Night's Dream.
---
TERI BROWN (Myra) – Teri is super-happy to be making her Diversionary debut.  Her most recent stage appearance was as Missy Hart is "9 to 5: The Musical" at OnStage Playhouse.  Notable performances include: "California Suite", "Perfect Wedding" (Scripps Ranch Theatre), "Viburnum", "Four Dogs and a Bone" (6th @ Penn), and numerous Fritz Blitz productions.  Teri has served as the Artistic Director of OnStage Playhouse since 2004 and has performed in their productions of "The Diary of Anne Frank", "The Laramie Project", "Sealed for Freshness" and "Book of Days".  She will soon be seen in Scripps Ranch Theatre's upcoming "Absurd Person Singular".  Many thanks to this cast and crew, and especially her dear friend, Jessica.
---
DAGMAR KRAUSE FIELDS (Marietta Claypoole) is absolutely delighted to work with Diversionary Theater for the first time. Most recently she appeared in Intrepid Shakespeare's production of I Hate Hamlet (Lilian) and in Oceanside Theatre Company's production of Lost in Yonkers (Grandma Kurnitz), and in Moonlight Stage Productions' Blithe Spirit (Madam Arcati). Other appearances at Moonlight include Leading Ladies, Anything Goes, The Mousetrap, Crazy for You, Barefoot in the Park The Foreigner, Magic Fire, Hay Fever, and Radio Gals. Favorites elsewhere: Night of the Iguana at Southwestern College, Dining Room at Scripps Ranch; Morning's at Seven, Amy's View, Man of La Mancha, Last Night of Ballyhoo, & Auntie Mame at the Northcoast Rep; Into the Woods at the Lambs Players, American Dream with Renaissance Productions, and Night Must Fall, Hamlet, and Home with Octad One; and before that, The Fritz, Starlight Opera, The Old Globe–and theaters in New Orleans, Norway, & Saudi Arabia! She teaches at Southwestern College. (Love to my angels: Marv, Eric, Khara, Matt, Taylor, Ava, and Ayden.)
---
RACHAEL VANWORMER (Spencer Mccullough) Diversionary Theatre: Birds of a Feather, Speech & Debate, Corpus Christi, Beautiful Thing; North Coast Rep: Faded Glory, A Christmas Carol; Cygnet Theatre: TheImportance of Being Earnest, Travesties, Arcadia, The Matchmaker, The Little Foxes,Curse of the Starving Class; ion Theatre: Reasons to be Pretty, In the Heat of the Night,The Woolgatherer, bash: latterday plays (Critics Circle Award), Dr. Jekyll and Mr.Hyde, In a Dark Dark House; Intrepid Shakespeare: Oleanna; PCPA TheaterFest: The Wizard of Oz, Lifeboat, The Reluctant Dragon; San Diego Rep: boom; Moonlight Stage Productions: The Mousetrap, You Never Can Tell; New Village Arts: Waving Goodbye,Things We Want, Time Flies, Be Aggressive, This Is Our Youth, The Playboy of the Western World, The Two Gentlemen of Verona; Moxie Theatre: Eleemosynary, TheSugar Syndrome, The Listener
---
JON HUCKABY (Stage Manager) is thrilled to be working on this production with such a brilliant cast and design team. He received his Bachelors in Theatre Arts at San Diego State where he studied to become a Stage Manager. Since graduation, he has had the privilege to manage productions with New Village Arts, Asian American Rep, Playwrights Project and multiple community-based works under his current professional loyalty with the notoriously impactful company Circle Circle dot dot. He would like to thank Colleen for all her love and support.
KEVIN ANTHENILL (Sound Designer) Previously worked with Diversionary Theatre Designing Sound and composing music for Sherantulas From Outer Space, The Further Adventures Of Hedda Gabbler, Birds of a Feather, Edward II, Next Fall, Harmony Kansas, Pippin, and Marry Me a Little. He is the Resident Sound Designer at the San Diego Repertory Theatre, designing sound for Zoot Suit and Red, and Composing music for Boom, In The Next Room, and Detroit. Other sound design credits include Cygnet Theatre's Gem of the Ocean, Shakespeare's R&J, The Importance of being Earnest, Travesties, and Maple And Vine; USD/Old Globe's Much Ado About Nothing, A Measure for Measure, Winters Tale, Twelfth night, and Fathers and Sons, Moxie Theatre's A Raisin in the Sun, and The Trestle at Pope Lick Creek. He was the Sound Design Assistant at The Old Globe's Summer Shakespeare Festival three times. He Holds a B.A. In Theater Design from San Diego State University.
LUKE OLSON (Lighting Design).  Previously at Diversionary:  Marry Me A Little, Sherantulas From Outer Space; The Divine Sister; Scrooge In Rouge; when last we flew; Pippin; Hot Guys Dancing; Dance/Theatre. Other credits: The Fox On The Fairway; Stones in His Pockets (Summer Repertory Theatre). References to Salvador Dali Make Me Hot, The Bluest Eye, The Trestle at Pope Lick Creek, A Raisin In The Sun (MOXIE Theatre); Crimes Of The Heart; Little Shop of Horrors (PLNU). Blood Wedding; The Laramie Project:  Ten Years Later (Mira Costa College). He has a MFA from San Diego State University.
ALINA BOKOVIKOVA (Costume Design) is thrilled to make her debut at Diversionary Theatre with such an intelligent, funny and dashing show. She has designed about 50 different productions. Her recent design credits  include Romance Romance, School for Lies, Broken Glass, Words By, The Underpants, This, Henry IV (North Coast Theatre), Bird Lady (Link Theatre, Chicago) A Doll's House (The Old Globe Theatre), References to Salvador Dali Makes Me Hot, A Man, His Wife, and His Hat and A Raisin in a Sun (MOXIE Theatre), The Playwrights Project, Excavating Escondido, Hedda Gabler, Joe Turner's Come and Gone,   Camino Real (Patté Award) (La Jolla Playhouse and UCSD). She loves to experiment with everything: musicals The Great American Trailer Park Musical, Beehive,  film Stereoblind, the ballet Les Noces or the opera La Traviata. Ms. Bokovikova has an M.F.A. in Costume Design from UC San Diego and a Masters Degree in Education from Russia. She is an instructor of costume design at UC San Diego and history of costume at Fashion Institute of Design & Merchandising.
KACIA CASTELLI (Assistant Costume Designer) is thrilled to join Diversionary for the first time. Her previous work includes prop design for Wait Until Dark (New Village Arts) and To Kill a Mockingbird (New Village Arts), costume design for The Miss Firecracker Contest (New Village Arts) and cosplay and custom costume design which can be seen at www.facebook.com/OracleApplesniffer. She would like to thank the cast, crew, and Diversionary staff for a wonderful experience and is excited to return for future shows.
SAMANTHA VESCO (Prop Design) is thrilled to be the prop master for her first professional gig at Diversionary theatre. (Recent prop work) Little Shop of Horrors, The Secret Garden, Shrek the Musical (dragon designer and puppeteer), Big River, Les Miserables, and Spring Awakening. Please visit my website samanthavesco.webs.com for more credits.
MATT SCOTT  (Scenic Design and Construction) Diversionary credits includes Boys and Girls, The Divine Sister, The Further Adventures of Hedda Gabler, When Last we Flew, Next Fall, Poster Boys, Dooley,Fair Use and [title of show]. Other San Diego credits include The Lieutenant of Inishmore, WonderWounded Heroes, Back of the Throat, Jekyll & Hyde, Hurly Burly and Pillowman (ion Theatre); The Man Who Came to Dinner (Coronado Playhouse); Metamorphosis, Laramie Project, The Grapes of Wrath and Complete Works of Shakespeare (Coronado School of the Arts).
[/tab]
[tab title="Calendar"]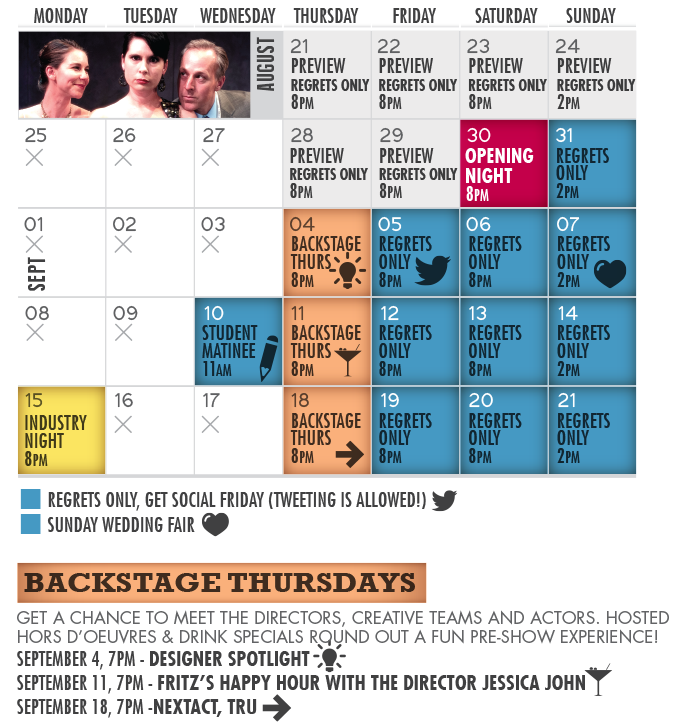 [/tab]
[/tab]
[tab title="Photos – by Darren Scott"]
[/tab]
[tab title="Press & Reviews"]
The first act shapes up as an amusing and yet insightful debate that the characters treat jokingly as a court proceeding. In the second act, though, both the conflict and the level of farce ramp up, as Hank orchestrates widespread chaos that's reminiscent of a gambit from the movie "A Day Without a Mexican."
"Director Jessica John has a gift for this type material, and if anyone can find the heart of the piece, it is she. Oswald embodies the deeply human designer without undue bitchiness. Hank's friendship with Tibby goes far beyond the eye-candy he creates for her to wear. He is the lover of her cleverness, and a certain bitchiness must exist to set up her numerous, outrageously apt one-liners. Recently arrived in San Diego from Arizona, McCue is a true find. The others are all solid. The direction, splendid."
"Jessica John, whose radiant personality spreads sunshine 'all over the place', is the perfect choice to direct this funny yet sentimental take on a serious topic that barely dances around the tip of the iceberg. She has a good sense of the satire in this piece. Her timing and zip keep the pace at such a high level of hysteria that it's tough keeping up, but fun nonetheless."
"Diversionary Theatre has snagged the San Diego premiere of this contemporary drawing room comedy. Under Jessica John's direction, the pace is lively and the cast is meringue-light and endlessly amusing, chicly attired in Alina Bokovikova's stunning frocks, while they frolic in Matt Scott's upscale set. "
Ben Brantly's 2006 New York Times Article
[tab title="Cool Stuff"]
In Depth Notes for Regrets Only
Diversionary loves to make our productions into a learning experience!  Contact us for special prices to bring your class to any performance or special Student Matinees.  Student tickets available with a valid, school issued student or educator ID.  Find out more here!
[/tab]
[/tabs]