Dear Friends,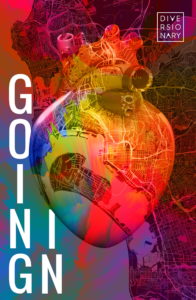 I'm humbled and honored to welcome you to our 35th Season. As the third oldest LGBT theatre in the country, Diversionary has been providing a safe space for our community to gather and witness stories that reflect and define our collective experience. We want nothing more than to gather with you, our family, to share these stories in person once again. However, it is this central value of offering a safe space that leads our work.
Our 35th Season is themed Going In, as we will continue to ask for the privilege of entering your home via online theatrical experiences. We will also, when it is safe to do so, venture into open-air and site-specific venues to produce short run events throughout San Diego. We will be programming week by week, month by month, and quarter by quarter, to remain nimble and responsive to the needs of our current moment, allowing us to put your safety and the safety of our artists first.
Going In is also a point of view. We are living through a monumental moment for our country, pulled between the polarities of the pandemic, a long-overdue racial reckoning, and a critical political election. This has incited a profound state of introspection as a nation, but also for us individually. We are all looking within to summon the strength, courage, and compassion necessary to evolve as a people and discover a new day filled with light and love on the horizon. I believe you will feel a thread of this running through everything we offer you this season, and it is my hope this helps us move towards a brighter future together.  

This new mode of programming gives us the opportunity to engage our incredibly loyal and loving Subscriber base in a new way: We will be moving to a Membership Season model, which allows you the same connection you've had with Diversionary for years while providing our theatre with the flexibility to produce the most effective and inspiring work possible as gathering restrictions ebb and flow in response to the pandemic.
On behalf of our staff, board, and family of artists and storytellers, thank you for being in our Diversionary Family! We look forward to staying connected with you all season long. 


Matt M. Morrow
Executive Artistic Director