Dear Friends,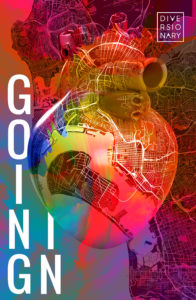 I'm humbled and honored to welcome you to our 35th Season. As the third oldest LGBT theatre in the country, Diversionary has been providing a safe space for our community to gather and witness stories that reflect and define our collective experience. We want nothing more than to gather with you, our family, to share these stories in person once again. However, it is this central value of offering a safe space that leads our work.
Our 35th Season is themed Going In, as we will continue to ask for the privilege of entering your home via online theatrical experiences. We will also, when it is safe to do so, venture into open air and site specific venues to produce short run events throughout San Diego. We will be programming week by week, month by month, and quarter by quarter, to remain nimble and responsive to the needs of our current moment, allowing us to put your safety and the safety of our artists first.
Going In is also a point of view. We are living through a monumental moment for our country, pulled between the polarities of the pandemic, a long overdue racial reckoning, and a critical political election. This has incited a profound state of introspection as a nation, but also for us individually. We are all looking within to summon the strength, courage, and compassion necessary to evolve as a people and discover a new day filled with light and love on the horizon. I believe you will feel a thread of this running through everything we offer you this season, and it is my hope this helps us move towards a brighter future together.

This new mode of programming gives us the opportunity to engage our incredibly loyal and loving Subscriber base in a new way: We will be moving to a Membership Season model, which allows you the same connection you've had with Diversionary for years, while providing our theatre with the flexibility to produce the most effective and inspiring work possible as gathering restrictions ebb and flow in response to the pandemic.
On behalf of our staff, board, and family of artists and storytellers, thank you for being in our Diversionary Family! We look forward to staying connected with you all season long.
Warmest regards,



Matt M. Morrow
Executive Artistic Director


Diversionary will be moving from a Subscription Season to a Membership Season. Become a Diversionary Member at just $45, and join our core family sustaining our work all season long.

Your membership will also help us provide valuable online programs and classes free of charge to the greater community during this pandemic.

As a Diversionary Member, you receive:

Access to steeply discounted tickets to every show we produce throughout the season before they go on sale to the public.
Exclusive access to online events before they are available to the general public.
Invitations to exclusive, private events not available to the general public.

Plus all of the perks of you are used to as a Subscriber, including:

First pick of seats before they go on sale to the general public.
No Hassle Refunds and Exchanges.
Discounted Tickets for friends and family.
Premium Seating.
Devoted patron services via a dedicated phone line.
And the peace of mind that you are supporting the third oldest LGBTQ theatre in the country as it navigates the current pandemic.

San Diego Critics Circle Award
Outstanding New Play
World Premiere
The Hour of Great Mercy
by Miranda Rose Hall

2019 San Diego Critics Circle Award
Outstanding Lead Performance in a Musical
Jaye Wilson
Hedwig and the Angry Inch

2019 San Diego Critics Circle Award
Outstanding Lead Performance in a Play
Andrew Oswald
The Hour of Great Mercy

2019 San Diego Critics Circle Award
Performer of the Year
Cashae Monya
Hedwig and the Angry Inch

2019 San Diego Critics Circle Award
Performer of the Year
Michael Cusimano
Girlfriend

"Heart is something this show has in abundance."
-The San Diego Union Tribune

"One of the most powerfully rendered finales of this piece that I've seen."
–The San Diego Union Tribune

"Jeremy Wilson is superb, exhibiting a well of comic agility and a deep sense of loss and inner fragility – along with the requisite flamboyance and outrageousness – that combine to make the piece so real and rewarding."
–Jazz 88

"A tender, richly resonant production with a pair of compelling actor-singers and a rocking four-member band."
– The Los Angeles Times

"Cusimano is joyful and charismatic on lead vocals and guitar."
– San Diego Magazine

"Diversionary may have captured lightning (or, more aptly, the northern lights) in a bottle."
-The San Diego Union Tribune

"Andrew Oswald's performance is masterful."
–San Diego Magazine

"It's rare to see a play where everyone is firing on all cylinders like this. Sometimes a world premiere by an emerging playwright drops right here in San Diego, and it's so good that reviewing it is less like an assignment and more like standing on the street corner and flagging down anyone I can to say, 'You've got to see this.' The Hour of Great Mercy is one of those cases."
-San Diego Magazine

[wpanchor id="FAQ"]

What is a membership? What happened to my subscription?
A. To create flexibility in varying types of programming in the coming months, we are now offering memberships instead of subscriptions. By buying a membership for the year, you will receive many benefits including steep discounts on each production we do, be it online, outside, or in person indoors when we are allowed. As the ranges of experiences and number of productions we are creating this season will vary and are dependent on California State guidelines, becoming a member will ensure that we are able to provide a wide range of dynamic entertainment for you all season long.

Is there a deadline to become a Diversionary Member?
A. Yes, the deadline to become a full member is December 31st, 2020.  After that deadline, there will be opportunities to participate and support the theatre but the full member benefits will not be as great as if you join as a full member by December 31st, 2020.

What will my discount be on individual shows?
A. The member price for each individual production will vary based on the type of experience. By being a member you will receive a steeply reduced-priced ticket not available to the general public, first choice of tickets/seating (when applicable), as well as many member benefits that will not be offered to the general public.

What shows are being programmed?
A. Diversionary's 35th season will be a mix of online, outdoor, and when we are allowed, in person events that will include entertaining plays, musicals, cabarets, as well as readings, community events, and a plethora of Arts Education Programming.