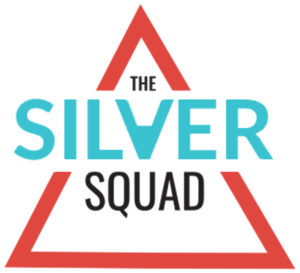 Everyone has a story to tell. Diversionary welcomes LGBTQ+Allied Older Adults to attend our FREE drop-in theatre performance classes in The Silver Squad. Gain confidence, make new friends, and learn about the art of theatre as we create a supportive environment to explore your creative voice, and connect with others.  Our Drop-in classes are a good way to get a sample of what it is like to come study with us before committing to a longer class. We focus on two performance skills each session, that may include:  Acting, Improv, Movement, Writing, Storytelling, Music, Voice and Speech, Circus, and much more! No commitment, and they are Free! Silver Squad is a FREE drop-in acting workshop that will meet at Diversionary Theatre to explore: voice for the stage, acting, improvisation, and movement. Come nurture your inner artist and try something new in a supportive fun environment. If you have never attended we encourage you to try it, and it is more fun when you bring a friend!

Silver Squad is going Virtual! Please join us for one of our FREE upcoming classes which will be held via the Zoom app. Please click the "register" button to receive the link to join the Zoom Meeting. You will want to register in advance to be sure you receive the link on time.

You can test Zoom out here: https://zoom.us/test. Skyler will be online 15 minutes before each session to help, and to be available for a lesson in how to use it for the class. For more information call  Skyler at 619-220-6830 x 109 or email Ssullivan@diversionary.org

---

April 9th, 2021 from 2pm-3pm: Creative Workout

Feeling tired, feeling like you have lost some strength and mobility through Covid? Then sign up for this physical class and dust of those covid cobwebs and give your body a dose of life! Through a series of mental and physical exercises, this class will challenge you, and will then apply these skills to physical theatre, and explore some new physical expression. Choose your own engagement level: In a chair, or on your feet, and dress to move.

April 30th, 2021 from 2pm-3pm: Short Form Creative Writing
In this creative writing workshop we will do some quick writes and some fun exercises to get your writing juices flowing. Drawn on personal experience, or try writing some fiction. All writers are welcome, and no experience is required. Join us and unleash your inner storyteller.

---

May 21st, 2021 from 2pm-3pm: Improv!
A fun filled workshop of theatre exercises and improv games. We will expand our sense of play, and try what it feels like to be an actor with no script. If you need to laugh, this fun filled afternoon, don't miss it.

---

June 4th, 2021 from 2pm-3:30pm Artist Share
In this edition of Silver Squad, we open up the workshop to our artists of our community. Bring a snippet of anything you are working on, in any condition, and share it with the group. If you would like feedback, we are happy to oblige. At the start of the session we will determine how many people would like to share and explain how many minutes you will have. Calling all writers, musicians, visual artists, poets, actors, and beyond…

Instructors:

Skyler Sullivan

is an actor and arts educator transplanted from New York.While in NYC, he worked with The New Victory Theatre for ten years as a veteran teaching artist, where he honed his skills as a curriculum developer, and facilitator. He has also been a teacher and site director for Circus Minimus for the past 15 years and enjoyed three seasons on the faculty of the Sitka Fine Arts Camp in Sitka, AK. Other NYC teaching credits include: The Lee Strasberg Theatre & Film Institute, the Professional Performing Arts School, and on-set coaching on two P.B.S. shows: Sesame Street and The Electric Company. Skyler is thrilled to be working with Diversionary Theatre as it continues its tradition of arts education and outreach. Currently in San Diego he also teaches for The Old Globe, Fern Street Circus, and The La Jolla Playhouse. Keep an eye open to learn about upcoming classes and opportunities. Education: B.F.A. in acting Emerson College, M.F.A. in Acting Brooklyn College.
Generously supported by