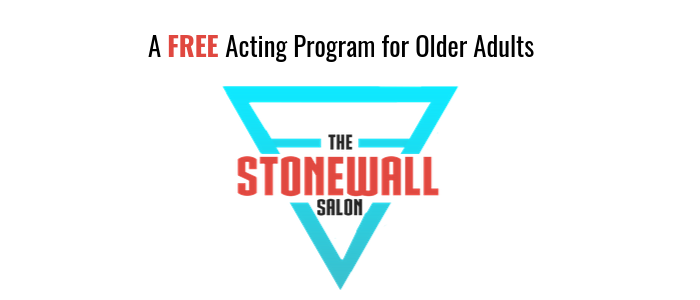 The Stonewall Salon is a unique ensemble of older LGBT and allied folks, who have taken on the challenge of writing, acting, and devising theatre around this year's themes: Pride, and resisting oppression. We are excited to announce our upcoming performances that are Free and open to the public. This group offers older folks a chance to work on something creative in a safe space while meeting new LGBT and allied friends. I hope that you will consider attending our final sharing, and support some brave and honest stories from your own community members.

Stonewall Presentation Performances:
Friday, February 28 & Saturday, February 29, 2020
 at 2 pm

Free to the public!

Reserve your tickets here

Stonewall Salon has returned with a brand new program for 2020. This program is a unique opportunity to be a part of something larger than yourself. Under the direction of our Director of Arts Education and Outreach, Skyler Sullivan, and So Say We All's Justin Hudnall, you'll experience the best of community storytelling based on the themes Pride, and rising up against oppression.

Please contact our Director of Arts Education and Outreach, Skyler Sullivan, with any questions regarding The Stonewall Salon and future programs:
ssullivan@diversionary.org

Please contact our Director of Arts Education and Outreach with any questions using the form below or by calling 619-220-6830 x 109. 

Instructors:

Skyler Sullivan has spent 20 years teaching and performing all over the US. After receiving a B.F.A. in acting from Emerson College, he spent 10 years as a lead Teaching Artist and curriculum developer for the New Victory Theatre in New York City focusing on physical theatre. Skyler collaborated with Sesame Workshop where he was the acting coach for both Sesame Street, and The Electric Company. Now on the West coast, he teaches for Diversionary Theatre, New Village Arts, La Jolla Playhouse, Arts 4 Learning San Diego and Fern St. Circus. Additionally, Skyler is also a Clown Doctor with Healthy Humor. As an actor, favorite credits include the role of "Voltaire" in Emilie at New Village Arts, and Ensemble of the World Premiere of "Ballast" by Georgette Kelly. M.F.A. Acting, Brooklyn College.

Justin Hudnall received his BFA in dramatic writing from New York University's Tisch School of the Arts. He has served as the founder and Executive Director of So Say We All, a San Diego-based literary arts and education non-profit organization, since 2009. He hosts and produces the public radio series Incoming on KPBS / NPR featuring the true stories of America's veterans told in their own words, straight from their own mouths. Justin was a PEN in the Community Resident in 2013, a resident of the Vermont Studio Center in 2012, and was chosen as one of San Diego Citybeat's Best People in 2015. In a prior career, he served with the United Nations in their New York HQ and deployed to Juba, South Sudan as an emergency response officer.
Generously supported by