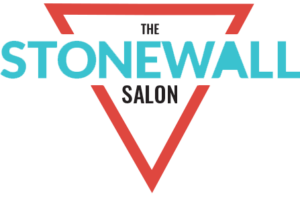 Check back for more information on upcoming sessions of The Stonewall Salon. You can also join our mailing list using the form below to be emailed when new programs launch.





The Stonewall Salon 2021 (FREE Streaming Edition)
Friday, March 5th at 7pm PST

Join us for a night of original stories and illustrations from San Diego's LGBTQ and allied communities. The Stonewall Salon teams up with Write Out Loud to give a voice to older adults touching on the theme of Civil Liberties. Tune in for a unique look into a diverse set of stories shared online told in the tradition of Kamishibai (or visual)  storytelling. Please R.S.V.P and we will email you with a Zoom link closer to the event. Learn more about Kamishibai Storytelling here.

This year, under the guidance of professional artistic staff, you will have an opportunity to explore workshops in writing, Kamishibai story-telling (or visual storytelling), and visual art. One step at a time, we will give you the tools to write and illustrate your own original story based on the theme Civil Liberties. Unleash your creative potential while making new friends. No experience required. 

Learn more about Kamishibai story-telling here.

Throughout history LGBTQ people have had their civil liberties violated in many ways. In the 1940's, Japanese Americans were gathered and detained in Internment Camps across America. Because of this particular discrimination, The California State Library Civil Liberties Fund is helping to provide resources to encourage others to tell stories of Civil Liberties violations directed at our community, and our allies.

Diversionary Theatre teams up with Write Out Loud to offer this creative opportunity giving voice to our older LGBTQ+A generation. 

What is The

Stonewall

Salon?

The Stonewall Salon is a safe place for older LGBTQ and allied adults (55+) to explore creative growth and connect with the community at large. This program began in 2018 growing from our FREE drop in acting class series The Silver Squad. In Winter 2021, we will launch into our fourth year of bringing elders together and unleashing artistic potential. Whether it be in person or online, our professional teaching artists will guide you every step of the way, as no experience is necessary. Each year our program is slightly different based on the themes we explore, and the teaching team that we engage for each ensemble. Over the years we have been able to strengthen our connection to the community by partnering with some great San Diego organizations like: Write Out Loud, and So Say We All.

What does a typical session in The

Stonewall

Salon look like?

In our two hour sessions we begin with a warm up that brings us together and gets our creative juices flowing. Each session is structured with exercises that will introduce a new artistic concept. As a group we explore the concept, and then you will have a chance to put it directly into practice on a piece of writing or storytelling. There is also time to share your work, and receive feedback from our professional artistic staff. You can expect to be challenged, surprised, and to laugh a lot.

What is the time commitment like?

Unlike our FREE drop in program, when you join The Stonewall Salon, we ask that you make a commitment to showing up for our sessions twice a week, each for two hours over a seven week period. This way we are able to work towards becoming an ensemble, and honing our artistic skills step by step to give you what you need to feel comfortable, and successful. The program typically runs in January and February.

Why should I join The

Stonewall

Salon?

This group is available to all folks who are open to learning in a supportive environment that values kindness, and celebrates differences. Perhaps you have always wanted to learn more about writing or performing? Perhaps you would like to make a new friend? Perhaps you are looking for a fun creative outlet, and fostering joy? Whatever your reason, you will find fun engaging sessions that will encourage you to grow in new directions, and give you a sense of belonging in the community.

Please contact our Director of Arts Education and Outreach, Skyler Sullivan, with any questions regarding The Stonewall Salon and future programs at ssullivan@diversionary.org or by calling 619-220-6830 x 109

Please contact our Director of Arts Education and Outreach with any questions using the form below or by calling 619-220-6830 x 109. 

Instructors:

Wilfred Paloma, Teaching Artist [He/Him/His] is an Actor's Equity member with an M.A. in Theatre Arts from San Diego State University and a B.A. in Theatre Performance: Acting and Musical Theatre. Wilfred is also a graduate of the Meisner and Chekhov Integrated Acting Studio (MCIT). In addition to Diversionary, Wilfred is a teaching artist for La Jolla Playhouse, Arts for Learning, Young Actors Theater, San Diego Junior Theatre, and Blindspot Collective. Wilfred owns a private Performing Arts studio in North Park (San Diego), CA.
In 2019, Wilfred directed and choreographed School of Rock as well as choreographed Hunchback of Notre Dame at San Diego Junior Theatre. Wilfred performed in La Jolla Playhouse's POP Tour Light Years Away. Additionally, Wilfred is a facilitator and actor with the kNOw More Program based out of the Justice and Reconciliation department at Point Loma Nazarene University. It is a touring drama-based Forum Theatre piece designed as a Human Trafficking awareness and prevention program. Check Wilfred out on Spotify and iTunes—The Things We Never Say featured on the track "Coronado Lights". More info at wilfredpaloma.com

Miki Vale is an international Hip Hop artist, Teaching Artist and commissioned playwright with San Diego's Old Globe Theatre. She has co-created physical and virtual spaces for women's presence and engagement, exploring the impact of Hip Hop culture on race, class, and gender. In 2016 and 2018 she was the DJ and sound designer for The Old Globe's Globe for All Tour. 

Debbie and Larry Kline are collaborative artists, featured in solo exhibitions at Mission Cultural Center for Latino Arts (SF,) California Center for the Arts Museum, La Casa del Tunel Art Center (TJ,) Southwestern College, UCSD Cross Cultural Center, Mesa College and La Jolla Athenaeum.  Group exhibitions include Indiana State Museum, Torrance Art Museum and Museum on the Seam (Israel.)  We have been featured in periodicals such as Utne and Orion, and books including "The Artists Guide," and "Design and Ethics: Reflections on Practice."  Awards include three grants from The Gunk Foundation (NY) and grants from Potrero Nuevo Fund (SF,) Center for Cultural Innovation (LA,) UCIRA (SD,) Los Angeles Department of Cultural Affairs and San Diego Art Prize.  We were featured in an Emmy Award winning episode of ArtPulse TV and were artists-in-residence at San Diego Natural History Museum, Torrance Art Museum, Center for Land Use Interpretation, Building Bridges Art Exchange and currently UCSD School of Medicine.  We have created illustrations for three stories for Write Out Loud San Diego, "The Magic Finger" by Roald Dahl, "The Little Bunny Who Wanted Red Wings," an African folktale, and "Bruce's Story," the story of a child's experiences in internment camps during WWII.
Generously supported by