The Boy Who Danced On Air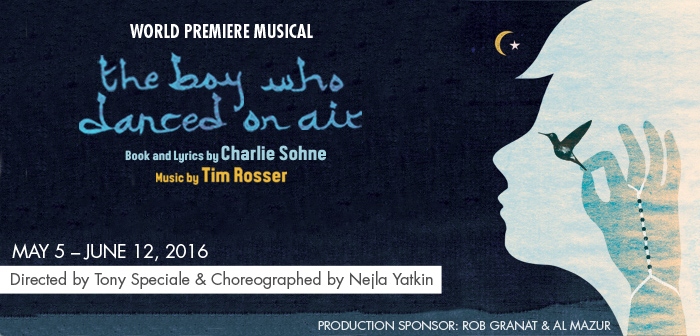 [tabs ]
[tab title="Show Info"]
May 5th – June 12th, 2016
This brave and compelling new musical reveals the clandestine yet persistent tradition in Afghanistan of Bacha Bazi, where wealthy men purchase boys from poor families, train them as dancers, and parade them at parties as their property. Paiman and Feda have spent their young lives confined within this tradition. But when they meet by chance and develop feelings for one another, they embark on a journey towards a new life in uncharted territory. This astonishing contemporary fable reveals a country teetering on collapse, torn between yesterday and tomorrow, and the indomitable strength of the human spirit.
Thursdays at 7pm, Fridays and Saturdays at 8pm, Sundays at 2pm
Approximately 2 hours with one intermission
Production Sponsors: Rob Granat and Al Mazur
---
 THE BOY WHO DANCED ON AIR is generously supported by:
The Witt/Matheny Fund @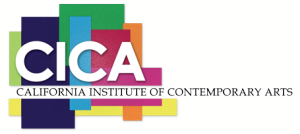 The National Fund for New Musicals, a program of National Alliance for Musical Theatre, with funding from Kathryn & Raymond Harbert
The Dramatists Guild Fund
[/tab][tab title="Matt's Memo"]
Matt's Memo
I've been following the development of this exciting piece of musical theatre for three years. This complex new work may sound dark and treacherous, but the story about a budding romance between two teen Afghan boys will absolutely win your heart. Their story, juxtaposed to a centuries-old tradition that continues to be epidemic provides an arresting glimpse into this secluded part of the world. The music and dance at the core of this uncompromising new piece promises to captivate San Diego audiences.
[/tab]
[tab title="About the Writers"]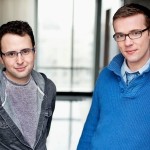 Tim Rosser and Charlie Sohne received the 2015 Jonathan Larson Award, ASCAP's 2015 Mary Rodgers/Lorenz Hart Award and the 2014-2015 Dramatists Guild Fellowship. They were writers in the Civilian's R&D Group and ASCAP's Johnny Mercer Project. Full-length shows include: "Run Away Home" (2015 Rhinebeck Retreat, 2016 Yale Alumni Residency), "The Boy Who Danced On Air" (NAMT 2013, world premiere at the Diversionary Theatre, San Diego 2016), "The Profit of Creation" (Yale Institute for Music Theatre), "Talk To Me" (N.Y. City Children's Theater Commission). Other: "Truth Slash Fiction" (Austin Film Festival Script Competition Finalist, in production with Royal Prospects), "A Better Me" (written for 24 Hour Musicals, featuring Edie Falco). Their songs have been performed in NY, L.A., Seattle, London, Paris and at the Kennedy Center (DC). Separately, Charlie's had shows at The O'Neill and NYS&F, while Tim's conducted performances of "A Gentleman's Guide to Love and Murder" on Broadway, music directed Broadway Backwards, and associate music directed Andrew Lippa's "I Am Harvey Milk.".
[/tab]
[tab title="Cast"]
| | | |
| --- | --- | --- |
| Cast | | |
| Paiman | Troy Iwata* | Troy Iwata (Paiman) is thrilled to be back in California for his Diversionary Theater debut. Previous credits: Joker (Off-Off-Broadway); The Lightning Thief (National Tour); The Taming of the Shrew (American Coast Theatre Company); The 25th Annual Putnam County Spelling Bee (Newport Theatre Arts Center); Legally Blonde (Vanguard University). Film/TV: Time After Time (ABC), Orange is the New Black (Netflix). Special thanks to Tim & Charlie for this beautiful story and for filling my first years in New York with more performing and less catering. |
| Feda | Sittichai Chaiyahat | Sittichai Chaiyahat (Feda) is thrilled to make his debut with Diversionary Theatre. Recent credits include Spring Awakening (Palomar College); Les Miserables, Into The Woods, and Shrek The Musical (Star Repertory Theatre); Tarzan (Moonlight Youth Theatre). He would like to thank all of his friends and family for their support as well as the cast and creative team. Enjoy the show! |
| Jahandar | Jonathan Raviv* | Jonathan Raviv (Jahandar). This is Jonathan's Diversionary debut. Selected New York credits include: Martyrs Street (Theater For The New City); The Ragged Claws (Cherry Lane Theatre) and My Name Is Asher Lev (The Westside Theatre). Selected regional credits include: Love's Labour's Lost (Shakespeare Theatre of New Jersey); Oklahoma! (Portland Center Stage); Homebody/Kabul (Curious Theater Company); Arabian Nights (Berkeley Repertory Theatre) and The Light In The Piazza (Arena Stage, Weston Playhouse and The Goodman Theater). He has also performed regionally at Pennsylvania Shakespeare Festival and in Chicago at Steppenwolf Theater, Writers' Theatre, Marriott Theatre Lincolnshire and Drury Lane Oakbrook. Jonathan's television credits include: The Blacklist, Zero Hour and Pan Am. He would like to thank everyone at Diversionary, Tony, Tim and Charlie as well as the cast and crew for this experience. |
| Zemar |  M. Keala Milles, Jr | M. Keala Milles, Jr (Zemar) is honored and excited to work with Diversionary Theatre for the very first time, and as part of this remarkable rolling world premiere.  Local credits include Rope: the musical (independent); Geeks: The Musical and The Elaborate Entrance of Chad Deity (ion Theatre), Water By the Spoonful (The Old Globe Theatre), John Doe: The Musical (independent). Also in the films: Slap Worthy and Alien Story (2AMB Productions) Thank you Emma, I couldn't do it without you. |
| The Unknown Man | Koray Tarhan | Koray Tarhan (The Unknown Man) is honored and humbled to make his Diversionary debut in this stunning and poignant show. As a recent Columbia College Chicago graduate, Koray has been seen in Cabaret (Lewis Family Playhouse) as the Emcee, 25th Annual Putnam County Spelling Bee (Candlelight Pavilion) as Chip, and has just become a recipient of the Bruce E Coyle Acting Internship at the Cincinnati Playhouse in the Park. Koray would like to thank his family for always providing the love and support that helps fuel his passion for performing. Enjoy the show. |
*Actor Appears Courtesy of Actor's Equity Association

[/tab]
[tab title="Creative Team"]
Director
Tony Speciale

TONY SPECIALE (Director) is an award-winning creator of new work, and the Artistic Director of Abingdon Theatre Company in New York City. As the founder of Plastic Theatre, he conceived, co-authored and directed the world premiere of Unnatural Acts (Classic Stage Company—Drama Desk Award nominee, GLAAD Media Award nominee). NYC directing credits: The Absolute Brightness of Leonard Pelkey (Westside Theatre/Dixon Place), A Midsummer Night's Dream featuring Bebe Neuwirth, Christina Ricci and Taylor Mac (Classic Stage Company); Handbook for an American Revolutionary (The Gym at Judson); and Remembering Mr. Maugham (Clurman Theatre). Regional directing credits: The Absolute Brightness of Leonard Pelkey (Kirk Douglas Theatre), Barry Manilow's Harmony (Alliance Theatre/Ahmanson Theatre) and Romeo and Juliet (Actors Theatre of Louisville). Speciale served four seasons as Associate Artistic Director of Classic Stage Company. He studied musical theatre at The Boston Conservatory and holds an M.F.A. in Directing from Columbia University. He is also the proud recipient of a Princess Grace Theatre Honorarium, British Writers' Guild Award and a Suzi Bass Award. tonyspeciale.com

Musical Director
Cris O'Bryon
Select projects : End of the Rainbow (Intrepid); The Grift, Chasing The Song, Hoover Comes Alive (LJP); The Constant Wife, Grinch, Odyssey (Old Globe); Big Fish, Phantom, Legally Blonde, Beau Jest (Moonlight);   Forbidden Broadway (Tour); Storyville, Respect (SDRep); Twelfth Night, The Foreigner, Festival of Christmas (Lamb's Players); Ragtime, Footloose (SDMT); Odd Couple, Tomfoolery (North Coast Rep); Full Monty, Altar Boys, Oklahoma (Welk); Brooklyn Boy, Moonlight & Magnolias (SRT).   Recently, he was Music Director of the 2nd annual Campus Superstar at the Jacobs Recital Hall (Qualcomm), and adjudicated shows for the 2016 Ben Vereen Awards and the Spring NATS competition.  He is creating a new cabaret show at Martini's Above 4th on

June 14

.  He maintains a private training studio, and specializes in an intuitive approach to finding your authentic voice. www.vocalcoachstudio.com
Set Designer
Sean Fanning
Sean Fanning (Scenic Design) is a Southern California-based scenic designer with a career spanning over 40 productions on local stages. Previously for Diversionary: Birds of a Feather, Pippin, and Harmony, Kansas.  Elsewhere: Full Gallop, the Globe for All tour ofAll's Well That Ends Well, A Doll's House, Kingdom, and Plaid Tidings (The Old Globe); My Manana Comes (Marin Theatre Company); The Oldest Boy, Everybody's Talkin': The Music of Harry Nilsson, Honky (Craig Noel Award nomination) In the Heights, and Walter Cronkite is Dead (San Diego Repertory Theatre); Hay Fever, The Vortex, Dogfight, The Whale, Sons of the Prophet, Pageant, Maple and Vine, The Importance of Being Earnest, Travesties, and Shakespeare's R&J (Cygnet Theatre Company); South Pacific, Jane Austen's Emma, and Little Shop of Horrors (Summer Repertory Theatre); and The Imrov at Harrah's and Menopause the Musical(Harrah's Las Vegas). Mr. Fanning holds an M.F.A. in Scenic Design from San Diego State University. See more of his work at www.seanfanningdesigns.com.
Costume Designer
Shirley  Pierson
Shirley Pierson, (Costume Design) is delighted to return to Diversionary Theatre with The Boy Who Danced on Air.  Previous work with Diversionary includes: Now or Later, Harmony Kansas, Pippin, Next Fall, When Last We Flew, The Further Adventures of Hedda Gabbler and Marry Me A Little.  Shirley is a San Diego based award winning costume designer.  Amongst her show credits in San Diego County are – The Old Globe: Ken Ludwig's Baskerville, Rich Girl, Cygnet Theatre: Parade (Craig Noel Outstanding Costume Design Winner), Spring Awakening, The Importance of Being Earnest (Craig Noel Outstanding Costume Design Nominee), Assassins, Glass Menagerie, Little Shop of Horrors, Cabaret, Sweeney Todd, Private Lives, History Boys.  She is a faculty member of the Performing Arts Department at Palomar College and received her MFA in Theatrical Design from San Diego State University.   You may view her work at: shirleypiersondesigns.com.

Lighting Designer
Wen-Ling Liao
Wen-Ling Liao (lighting designer) makes her Diversionary debut with The Boy Who Danced on Air. Her selected credits: Milk Like Sugar (Huntington Theatre Company); Sense and Sensibility (Dallas Theater Center ); Appropriate (SpeakEasy Stage Company); Luna Gale (Stoneham Theater);Grounded (Nora Theater Company); La Traviata(Long Island Opera); A Nice Indian Boy (East West Players); I and You(Marin Theatre Company); The Exit Interview (San Diego Repertory Theatre); Scarlet Stone (Tirgan Festival/Toronto); Dis or Der (HERE Art Center); BodyParts/In Spite of It (TANZINOLTEN/Switzerland); Riz Flambe and Riz Souffle (Avignon Off-Festival/France) and Toi (Taipei Fringe Festival/Taiwan). Wen-Ling was the company lighting designer for Patricia Rincon Dance Collective. Education: She earned her MFA from University of California, San Diego and BA from National Taiwan University. wenlingliao.com
Sound Designer/Composer
Kevin Anthenill
Kevin Anthenill previously designed Diversionary Theatre's Tru, Regrets only, Bare, Thrill me, Sherantulas From Outer Space, The Further Adventures Of Hedda Gabbler, Birds of a Feather, Next Fall, Harmony Kansas, Pippin, and Marry Me a Little. He is the Resident Sound Designer at The San Diego Rep, previously designed sound for Violet, Everybody's Talkin', Honky, Steal Heaven, Red and Zoot Suit, and composed music for Detroit, Boom and In The Next Room.Other design and music credits include Cygnet Theatre's Shakespeare's R&J, The Importance of Being Earnest, Travesties, And Maple and Vine, USD/Old Globe's Much Ado About Nothing, A Measure for Measure, and Twelfth night,  Moxie Theatre's A Raisin in the Sun, and The Trestle at Pope Lick Creek. 
Bonnie Durben
Diversionary productions; Now or Later, A New Brain, Baby With The Bathwater and She-Rantulas from Outer Space in 3D.
Other venues: Winter's Tale, Quality of Life, Music  Man, All Shook Up, The Graduate, The Normal Heart, Twelfth Night, The Drowsy Chaperone and Next to Normal.
Member of The Society of Property Artisans and Managers
                Choreographer
Nejla Yatkin

Choreographer and Dancer Nejla Yatkin is originally from Berlin, Germany with Turkish roots and residing in Chicago. She brings a luminous and transcultural perspective to her work. While her choreography is never literal it nevertheless remains evocative of searing themes that resonate in universal human experience. Her focus is regularly drawn to the role of memory and history in constructing identity, causing conflict, and the possibility of transforming cultural tension into deep, authentic moments of human connection.
Her recent dances have been inspired by stories of events of significant places in the world. Such was the case with: "The Berlin Wall Project or "Oasis: Everything You Ever Wanted To Know About The Middle East but Were Afraid To Dance", and "Dancing with Cities", a moving site-specific work that investigates urban sites. The success and power of "Cities" inspired "Dancing Around The World," which beginning in April 2015 will be traveling to 20 cities throughout the world and returning to the US in May 2016.

Since 2000, Ms. Yatkin has been choreographing solo works inspired by great female choreographers. To date, she has choreographed five evening-length solo works that have toured nationally and internationally to critical claim. In addition she choreographs for her own project-based company NY2Dance and on other companies such as Dallas Black Dance Theater, Cleo Parker Robinson Dance Ensemble, the Washington Ballet, River North Dance Chicago and the Modern American Dance Company among many others.

Since 2001, She has been the recipient of four Artist Fellowship Awards for her Excellence Choreography from the D.C. Commission on the Arts and Humanities and a three-time recipient of the Creative Performing Arts grant from the University of Maryland. Other awards include the "Local Dance Commissioning Project" by the John F. Kennedy Center for the Performing Arts, two Creation Funds and two performing Arts Residency tours from the National Performance Network.

For her past creations Ms. Yatkin has received five Metro D.C. Dance Awards, including two times the "Outstanding Individual Performance", "Best Scenic Design", "Best Multi-Media Performance" and "Best Overall Production." In 2005, she was named as one of "Top 25 To Watch" by Dance Magazine and was given the award for "Outstanding Emerging Artist" by the D.C. Mayor's Arts Award Committee. Since her Choreography Fellowship Award from the Princess Grace Foundation, she was also awarded a 2009 Special Project grant as well a Princess Grace Works in Process Award to be in residence at the Baryshnikov Art Center in 2015. Since moving to Chicago she has been awarded the 2012 3Arts Award and the 2013 Illinois Individual Project grant.

In addition to her commitment to choreography, she is also passionate about sharing her knowledge and experience with the next generation. She was an Artist-in-Residence at the University of Notre Dame from 2008 to 2012 and from 2001 to 2008 she was a tenured Professor in the Department of Dance at the University of Maryland. Ms. Yatkin is also the subject of the upcoming Documentary "Where Women Don't Dance" to be released in 2016. For more information please visit www.ny2dance.com.

Associate Choreographer
Daniel Marshall
Daniel Marshall began his dance career in California at the San Diego Creative School of Performing Arts. Soon after Graduation, he went to New York to accept a scholarship at the Alvin Ailey American Dance Theater. By 1997, Daniel became Artistic Director of the San Diego Contemporary Dance Ensemble. During this time he set several pieces including "Blessed Assurance" which received the 1997 Tommy Award for Best Male Performer/Choreographer. In 1999, became a member of the Dayton Contemporary Dance Company, and become one of the premiere dancers. In 2001 Dance Magazine named Daniel one of its "25 to Watch". Daniel has set ballets for Dayton Contemporary Dance Company, Vineland Regional Dance Company, Ballet Yuma and South Dayton Ballet. Daniel Received National Choreography Award NE in 2002 along with being a finalist in Dancing Under the Stars in Palm Desert and San Diego's Young Choreographer's Competition. In 2006, Daniel set work on San Diego Dance Theater and directed "Cats" the musical for San Diego Junior Theater. Mr. Marshall has recently been awarded Best Choreography Awards from Hollywood Vibe (2011) in Los Angeles and Dance America (2011) in San Diego. Dance America also awarded Mr. Marshall Teacher's Choice, Best Technical and Overall Performance. Mr. Marshall has recently restaged Donald McKayle's "Sombra y Sol" and is in the process of restaging the iconic "Games" also by Mr. McKayle. He remains the Artistic Director of LaDiego Dance Theater and LaDiego 2
Fight Choreographer
George Y é
George Yé (Fight Director) At Diversionary: Now or Later. Other:  Two Gentleman of Verona, Twelfth Night, Time and the Conways, Double Indemnity; Rosencrantz and Guildenstern are Dead, Midsummer night's Dream, 2013 Shakespeare Festival, Allegiance the musical, August: Osage County, God of Carnage, The Whipping Man, Dancing in the Dark, (The Old Globe); La Jolla Playhouse: Up Here, The Ether Dome, Kingdom City, Peter and the Star Catchers, Blood and Gifts, Hands on a Hard Body, A Dram of Drummhicit, Other favorites include: Oedipus El Rey, Claybourne Park; (San Diego Rep); True West, Fool for Love, Mutha !#@$ with the Hat, Shakespeare's R&J, Communicating Doors, Bug, (Cygnet Theatre) Feature: The King's Guard with Ron Pearlman and Eric Roberts.  George is head of performance training at San Diego Mesa College, MFA, SAFD, AEA.
Lighting Assistant
Michael Ekema-Nardella
Michael Ekema-Nardella (Assistant Lighting Designer) is thrilled to be assisting Wen-Ling Liao for his first Diversionary production with The Boy Who Danced on Air. Elsewhere he has designed Sylvia (SDSU Experimental Theater); Ragtime, The Strange Case of Dr. Jekyll and Mr. Hyde, An Evening with Edgar Allan Poe (RHS Clock Auditorium); Redland's Shakespeare Festival (Redlands Bowl).

Mix Engineer
TJ Fucella
TJ Fucella has been an active member of the San Diego music community for over 10 years, and he is proud to make his theatre debut at Diversionary! He just recently graduated from Full Sail University with a BS in Music Production, and he's looking forward to making art and music full time.
| | | |
| --- | --- | --- |
| Stage Manager | Monica Perfetto | Monica is proud to have joined Diversionary for their 2015-2016 season. Recently at Diversionary: Now or Later, In the Va Va Voom Room, A Civil War Christmas, Bright Half Life, and A New Brain. Elsewhere: RENT (Southwestern College), Annie (California Youth Conservatory), Much Ado About Nothing, I Hate Hamlet, All My Sons, Macbeth, and A Midsummer Night's Dream the Musical (lntrepid Shakespeare Company). As Production Assistant:  The Fox on the Fairway, Side by Side, Chapter Two (North Coast Repertory Theatre). Monica is a graduate from the University of San Diego and holds a BA in Theatre Arts and Performance Studies. |
[/tab]
[tab title="Promotional Photos"]
[Best_Wordpress_Gallery id="11″ gal_title="The Boy Who Danced On Air"]
[/tab][/tab]
[tab title="Press Photos"]
[Best_Wordpress_Gallery id="14″ gal_title="The Boy Who Danced On Air – Press Selections"]
[/tab]
[tab title="Special Events"]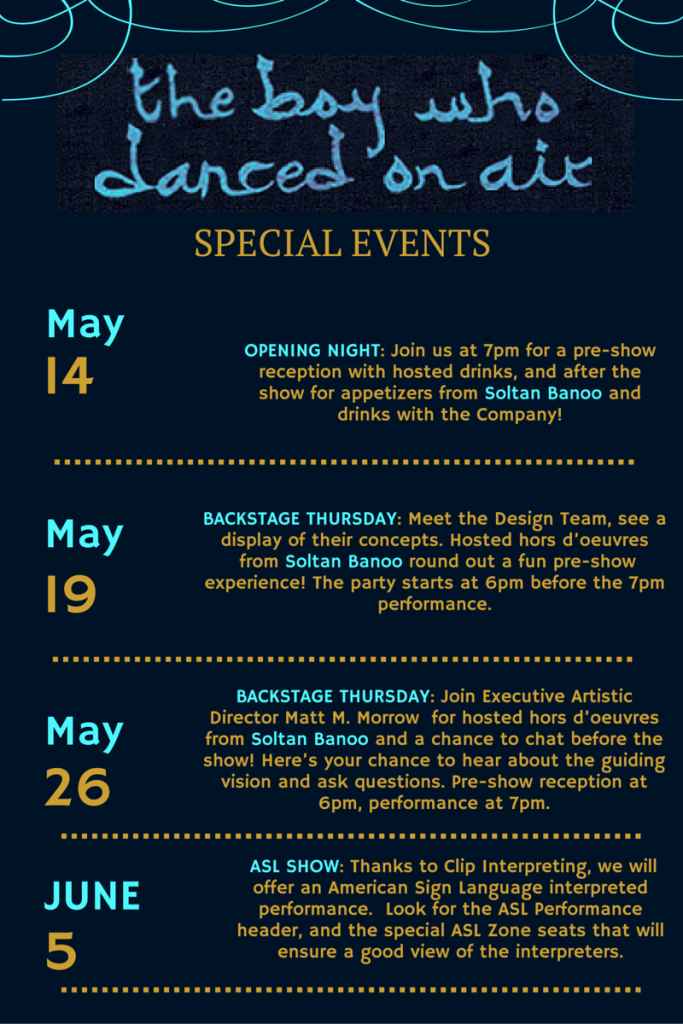 [/tab]
[tab title="Video"]
https://www.youtube.com/playlist?list=PLS5n7pCiT77KmjwmmNMyiBmmL2IfswfEz
[/tab]
[/tab]
[tab title="Resource Links"]
For more information on the tradition of Bacha Bazi, please see the links below to informative articles and Frontline's documentary "The Dancing Boys of Afghanistan," which inspired the writers to create the musical The Boy Who Danced On Air.
[/tab][/tab]
[tab title="Reviews"]
"Solid, subtle, sad and often inspiring work that's smartly staged by director Tony Speciale with a first-rate cast…It clearly has a future ahead and so does [Troy] Iwata, who seems like a Broadway-star-in-waiting."
-Pam Kragen, U-T San Diego
"This production is one of the best that Diversionary has presented in quite some time…Audiences who like to be challenged and enjoy seeing a work in development that could have a significant future life will be saying "bravo" by the end."
-Bill Eadie, San Diego Story
"A first-rate premiere at Diversionary Theatre… There is tenderness and violence, anger, envy, ambition and resignation among the five talented men who comprise the excellent ensemble. The songs are beautifully sung, and evocatively played… The story takes some unexpected turns, as will your emotional response to it. You won't see a musical like this again anytime soon. Catch it if you can."
-Pat Launer, Jazz 88.3
"Sohne's eye-opening book and his equally enlightening lyrics combine with Rosser's exquisite melodies to tell a contemporary gay love story that proves a perfect fit for the country's 3rd-oldest LGBT theater, one that entertains, captivates, and moves in equal measure… pitch-perfect direction, an East Coast-West Coast cast of five deliver one unforgettable performance after another… I've seen many a memorable musical at Diversionary Theatre over the past eight years including the World Premiere of Harmony, Kansas, and the West Coast Premiere of Yank! The Boy Who Danced On Air's World Premiere is not only Diversionary at its best, it makes a road trip to San Diego an absolute must for lovers of new musical theater at its most innovative and exhilarating."
-Steven Stanley, Stage Scene LA
"Diversionary Theatre is winding up its 30th season with the most impressive production the University Heights company has offered in recent memory."
-David L. Coddon, San Diego City Beat
"The Boy Who Danced on Air written by Tim Rosser (Music) and Charlie Sohne (Book and Lyrics) is an extraordinary piece…We are lucky that San Diego is evolving into a refined theatre community. Diversionary Theatre has always been on the forefront of challenging work. It just got more interesting. Support progressive theatre."
-Mukul Khurana, San Diego Free Press
"If you were looking to choose one theatre to attend this week, this would be the one…Diversionary Theatre has hit the jackpot on this one…an award winning production."
-Carol Davis, The Examiner
"This is the end of Diversionary's 30th season, and it's the best production they've done in a long time."
-Jean Lowerison, San Diego Gay and Lesbian News
[/tab][/tabs]