TRU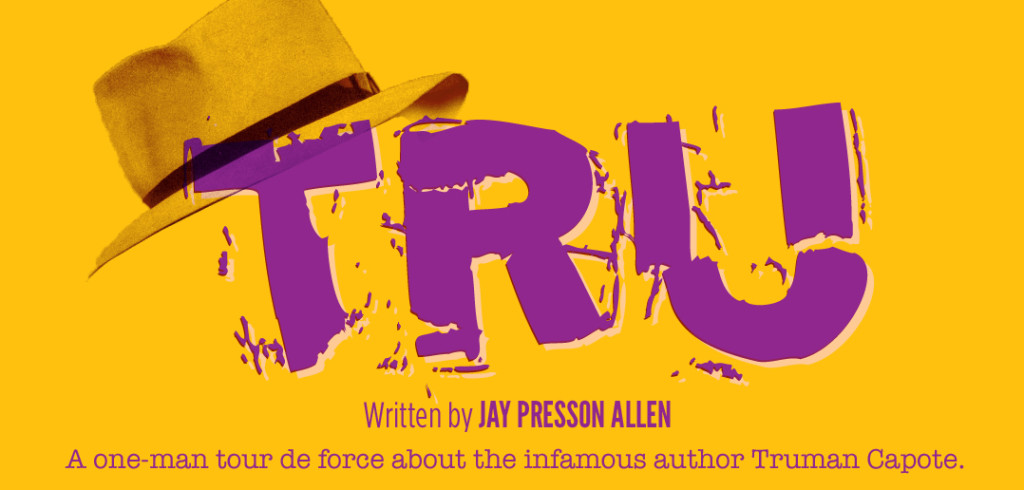 [tabs ]
[tab title="Show Info"]
TRU
November 20 – December 21, 2014
Written by Jay Presson Allen
TRU offers a look into the mind of Truman Capote (Breakfast at Tiffany's, In Cold Blood), one of America's most controversial and colorful authors, as he swims in social shunning by his elite Manhattan friends following Esquire Magazine's publication of a gossip-filled chapter from his never-to-be finished work: Answered Prayers. Set in the writer's New York City apartment the week before Christmas 1975, the lonely Capote broods about his life and career in this one-man tour de force adapted from the author's own words and works.
TRU opened on Broadway in 1989, where it ran at the Booth Theatre for nearly 300 performances and received multiple awards including a Tony for best solo performance, and a Drama Desk Award for best one-man show.
An herbal cigarette is smoked in this performance.
[maxbutton id="5″]
[/tab]
[tab title="Calendar of Events"]

Discounted Preview performances: 

November 20th- 28th

.
Opening Night Black & White Ball Reception:

 

November 29th

.
Book Club night: 

December 5th

.
[/tab]
[tab title="Cast & Creative"]
TODD BLAKESLEY  (Truman Capote)-
A native San Diegan, Todd has worked in every strata of theater from administrative to creative: Festival Coordinator for the San Diego International Fringe Festival now entering its third year.  Co-Creator with Write Out Loud of Twainfest, a free literary festival, just finished its 5th year.  He's also served as Managing Director of Bowery/Blackfriars Theatre and Women's Repertory Theatre (which he co-founded).  Artistic Director for three Actors Alliance Festivals.  Dramaturge for Playwrights Project and ATHE.
His work as an actor, producer, director or playwright has been seen in California, Washington, Florida, Minnesota, New York and throughout the Canadian Fringe.  He has performed locally at the San Diego REP, Moxie Theatre, Intrepid Shakespeare, North Coast Repertory, La Jolla Playhouse WOW Festival.  TRU marks his Diversionary debut.
San Diego Theatre Crtitcs Circle nominations have included Best New Play (Cigars & Stripes – 1984) and Outstanding Featured Actor (Eurydice – Moxie Theatre 2010).  Articles involving his plays The Laughing Buddha Wholistik Radio Theater (co-written with Burnham Joiner) and FritzCon 96 have appeared in American Theatre Magazine.
Co-founder of Theatre Research & Development, Inc. and Artistic Director of its Crystal Palace Theatre (1971-76), Todd developed his unique style of total immersion theater blending "actor" and "audience" into the same dramatic and ethereal situation.  Most recent example: "A Patriot Act: The Trial of George W. Bush" at Sledgehammer Theatre (2006) and California Stage Company (Sacramento 2007).  He is currently working on a new immersive science fiction play Dark Matter, which he hopes to workshop in the fall of 2015.
---
DEREK CHARLES LIVINGSTON  (Director)is very excited to be directing Tru and working with Todd Blakesley.  He is an actor, director, dramaturg, and producer in San Diego.  For two years he has served as the Festival Artistic Director for Cygnet Theatre's Playwrights in Process and for three years as producer for Playwrights Project's Plays by Young Writers.  He lived in Los Angeles for twelve years; there, he served as the Managing Artistic Director of Celebration Theatre and directed several plays including Sweeney Todd (Stage Scene Award, Best Director), Insurrection:   Holding History (LA Weekly Nomination, Best Director), Love!Valour! Compassion! (Entertainment Today Honorable Mention, Best Director),Hedwig and the Angry Inch (Ovation Award, Best Musical), Shakespeare's R&J (Ovation Nomination, Best Director), M. Butterfly (LA Weekly Nomination, Best Director), Naked Will (GLAAD LA Nomination, Best New Play). He can regularly be seen in Old Town performing Shakespeare (and, in December,  Dickens).  He has a BA in Theatre from Brown University and an MFA in Film Production from UCLA's School of Film and Television.  Thanks to Diversionary and this amazing production staff and design team .
---
CHARMAINE REED, ( Stage Manager) is thrilled to make her debut at Diversionary Theatre.  She started her love affair with the Theatre over thirty years ago as an actor but has recently found her penchant for Stage Managing. She is a CSUSM alumnus with a B.A. in History and is a graduate of CSUSM's College of Education 2011, and most recently earned her Theartre Arts degree at Palomar College.   In 2013 Charmaine completed a Stage Manager Internship at The Old Globe for How the Grinch Stole Christmas. Previous Stage Manager credits include Seussical the Musical at CSUSM, Fiddler on the Roof with Pacco Arts, Inherit the Wind and Paragon Springs at Palomar College.
---
CARA VACEK HANHURST  (Assistant Director) has worked with Capital Repertory Theatre in Albany, N.Y., and the Hudson Valley Shakespeare Festival. Cara graduated from the University at Albany with her B.A. in Theatre Arts. Additional education includes the British American Drama Academy, The NY Stage and Film Powerhouse, and the Upright Citizen's Brigade. She most recently performed in The Sisters Rosensweig at Capital Repertory.
---
LUKE OLSON (Lighting Design).  Previously at Diversionary:  Marry Me A Little, Sherantulas From Outer Space; The Divine Sister; Scrooge In Rouge; when last we flew; Pippin; Hot Guys Dancing; Dance/Theatre. Other credits: The Fox On The Fairway; Stones in His Pockets (Summer Repertory Theatre). References to Salvador Dali Make Me Hot, The Bluest Eye, The Trestle at Pope Lick Creek, A Raisin In The Sun (MOXIE Theatre); Crimes Of The Heart; Little Shop of Horrors (PLNU). Blood Wedding; The Laramie Project:  Ten Years Later (Mira Costa College). He has a MFA from San Diego State University.
---
KEVIN ANTHENILL (Sound Designer) Previously worked with Diversionary Theatre Designing Sound and composing music for Sherantulas From Outer Space, The Further Adventures Of Hedda Gabbler, Birds of a Feather, Edward II, Next Fall, Harmony Kansas, Pippin, and Marry Me a Little. He is the Resident Sound Designer at the San Diego Repertory Theatre, designing sound for Honky, Zoot Suit and Red, and composing music for Boom, In The Next Room, and Detroit. Other sound design credits include composition for The Old Globe's, Globe For All: Alls Well that Ends Well,Cygnet Theatre's Gem of the Ocean, Shakespeare's R&J, The Importance of being Earnest, Travesties, and Maple And Vine; USD/Old Globe's Much Ado About Nothing, A Measure for Measure, Winters Tale, Twelfth night, and Fathers and Sons, Moxie Theatre's A Raisin in the Sun, and The Trestle at Pope Lick Creek. He was the Sound Design Assistant at The Old Globe's Summer Shakespeare Festival three times. He holds a B.A. In Theater Design from San Diego State University.
---
PETER HERMAN ( Costumes & Make-up Design) is glad to return to Diversionary
.  He has previously done wigs for many Diversionary shows including 
Twist
, 
Irma Vep
, 
When Pigs Fly
, and costumes for 
Cyber-Queer.
Peter has also designed wigs and costumes for many local theaters, including Cygnet, The Old Globe, La Jolla Playhouse, Moonlight, Starlight, and North Coast Rep. He currently teaches wigs and makeup at San Diego State University.
---
MATT SCOTT (Scenic Design and Construction) Diversionary credits include Regrets Only,  
Boys and Girls
, 
The Divine Sister
, 
The Further Adventures of Hedda Gabler
, 
When Last we Flew, Next Fall, Poster Boys, Dooley,Fair Use 
and 
[title of show]
. Other San Diego credits include 
The Lieutenant of Inishmore, WonderWounded Heroes, Back of the Throat, Jekyll & Hyde
, 
Hurly Burly and Pillowman
 (ion Theatre);
 The Man Who Came to Dinner
(Coronado Playhouse); 
Metamorphosis
, 
Laramie Project
, 
The Grapes of Wrath
 and
 Complete Works of Shakespeare
 (Coronado School of the Arts).
[/tab]
[tab title="Photos – by Daren Scott"]
[/tab]
[tab title="Press & Reviews"]
Cursed with the whip Diversionary stages the toughest act of Capote's life, Tru
"Anyone who knows Todd Blakesley wouldn't recognize him as Tru. He's shaved his beard and cut his hair (and whoever did it matched Capote's color and encroaching baldness). He has Capote's mannerisms — the flapping tongue, the various slouches and studied poses, the flamboyant fingers — but none to the point of caricature.

Jeff Smith, – San Diego Reader

---

"An absorbing production… Blakesley's remarkable turn goes far deeper than the familiar Capote-isms; he fully inhabits this fascinating and contradictory figure, with all his chutzpah and bravado and aching, barely concealed vulnerabilities."  

 

– James Hebert, U-T San Diego
"Review: 'Tru' offers wit, insight Blakesley has impressive turn as Capote in Diversionary solo show"
---

 "Tru is a theater audience's living-room encounter with a singular pop-culture enigma that no mere Christmas tree can illuminate. With all the holiday fare on stage this month, Tru is a welcome alternative."

– SD Citybeat
Diversionary's 'Tru' is a real alternative to usual holiday fare
---
 "Blakesley handles the challenging role with ease. He captures the razor sharp wit and intelligence of the famed writer."

– San Diego Story
"Blakesley handles the challenging role with ease. He captures the razor sharp wit and intelligence of the famed writer."
---
  "Blakesley hit a home run with his challenging task; look like, act like, feel like and be like Truman Capote for two hours."

-The Examiner
Blakesley's spirit rings "Tru" at Diversionary.
---
"…the production is a coup de theatre not to be missed, totally apropos the season and the community, and a real feather in Diversionary's cap."

-San Diego Uptown News
"The man, the play and especially the production glitter with allure"
---
" The bottom line from Livingston: " 'TRU' had a multi- award-winning run in Los Angeles, and The Rage Monthly readers shouldn't miss the chance to be immersed in an intimate evening with a quirky author and better known gay man of the 20th Century."

-Rage Monthly
The Rage Monthly Preview
---
 The esteemed San Diego actor Todd Blakesley steps in as Capote in this solo piece by the late Jay Presson Allen. The production is directed by Derek Charles Livingston, who helps run San Diego's Playwrights Project.

– 

James Hebert, U-T San Diego
U-T San Diego : Quick Tip
---
 "The play is set in Capote's New York City apartment, located in the United Nations Plaza, on the days leading up to Christmas. It is just months after a chapter from his unfinished novel, "Answered Prayers" ran in Esquire magazine and caused a firestorm in the press and among social circles. The excerpt was rife with fiction based directly on gossip he overheard at "La Cote Basque," a NYC lunch and dining spot that attracted the elite. The backlash was immediate."

-Gay San Diego
Past Productions:
STAGE REVIEW : 'Tru' to Life : Robert Morse's uncanny portrayal of Truman Capote at the Henry Fonda Theatre re-creates the external Capote–but also captures the man within.
His Boyishness a Casualty of Age and Experience, Robert Morse Is Reborn as Truman Capote
[/tab]
[tab title="Cool Stuff"]

[/tab]
Student/ Educator
Diversionary loves to make our productions into a learning experience!  Contact us for special prices to bring your class to any performance or special Student Matinees.  Student tickets available with a valid, school issued student or educator ID.  Find out more here!
[/tab]
[/tabs]