In the Va Va Voom Room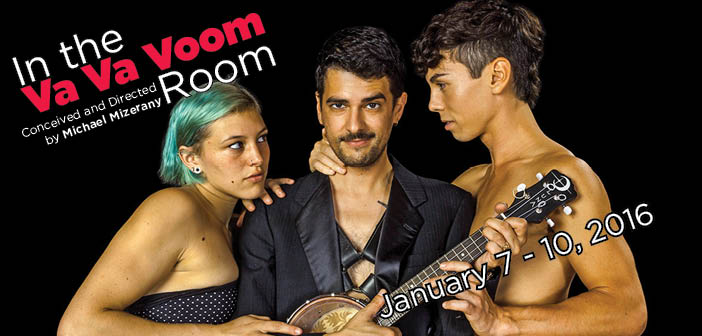 [tabs ]
[tab title="Show Info"]
January 7th – January 10th, 2016
From the daring provocateur who brought us HOT GUYS DANCING, Michael Mizerany's evening of contemporary Burlesque will dazzle, titillate and set January ablaze on the Diversionary Mainstage!
January 7th @ 7pm
January 8th @ 8pm
January 9th @ 6pm & 10pm
January 10th @ 2pm
 [/tab]
[tab title="Cast & Creative"]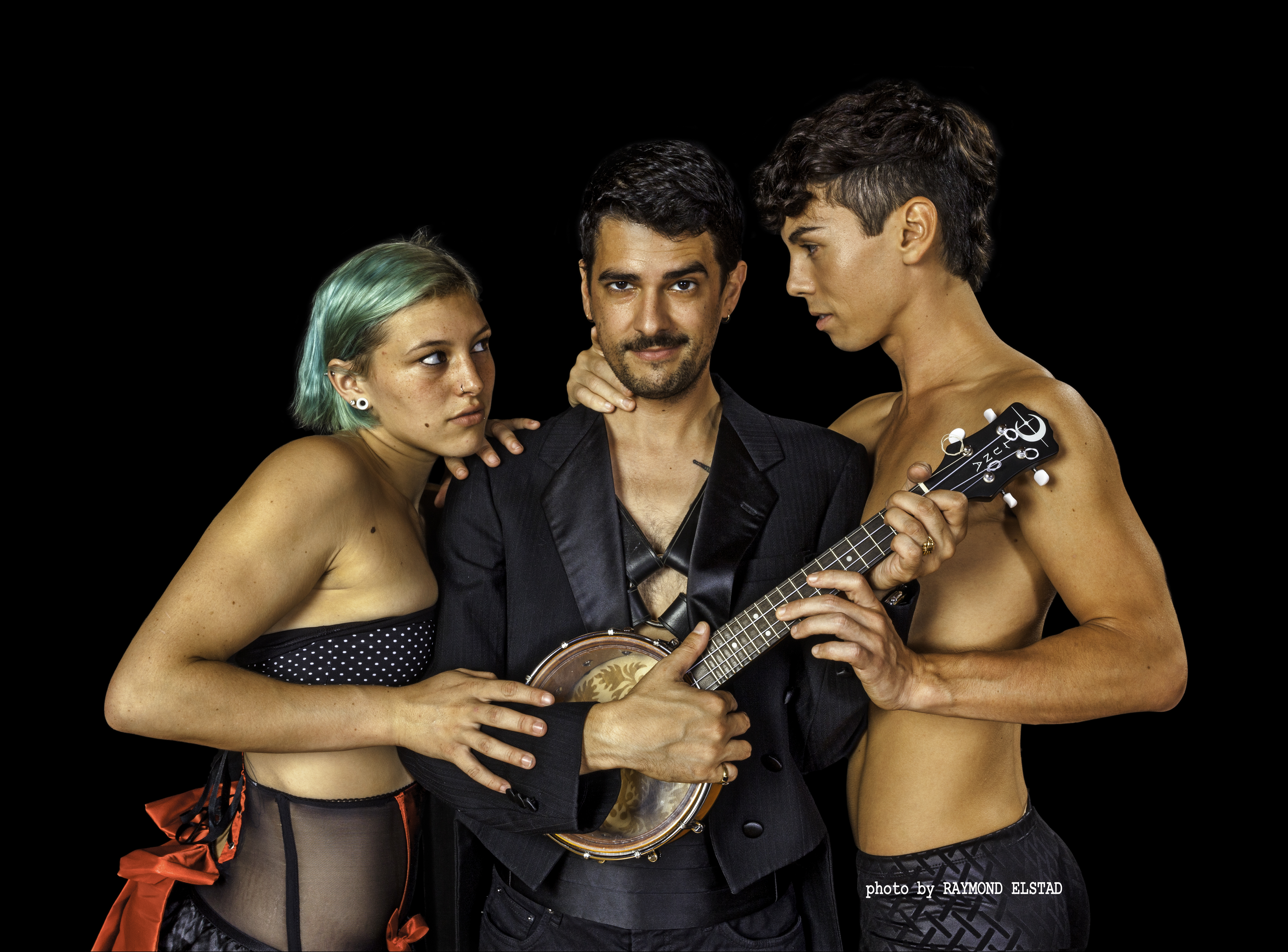 Choreographers:
Michael Mizerany
Michael Mizerany is the artistic director for Compulsion Dance & Theater.  He moved to San Diego to join Malashock Dance and served as its Associate Artistic Director until 2013.  Michael conceived and directed the popular dance series Hot Guys Dancing and conceived and directed Malashock/RAW from 2010-2013. He has choreographed extensively, including Altar Boyz, (Noah Longton Productions), Dooley, Divine Sister, Miss Kitty's Wild West Revue, Scrooge In Rouge, Thrill Me, bare:  A Pop Opera and A New Brain (Diversionary Theatre), Chicago: A Speakeasy Cabaret, Grey Gardens and Ass, or A Midsummer Night's Fever (Ion Theatre), Carnvial! and Suds (The Coronado Playhouse), Spring Awakening (Cygnet Theatre), The Full Monty (New Village Arts), Trolley Dances (SDDT), Rent (Southwestern College), West Side Story (J*Company) and Threepenny Opera (UCSD). Michael has been the recipient of numerous awards and honors including the LA Stage Scene Award for Outstanding Choreography for Altar Boyz, bare: A Pop Opera and A New Brain, The Blue Ribbon Choreography Award for Suds and the Bravo San Diego Award for Outstanding Choreographer of 2012 and recently received a 2015 nomination for his contemporary work Man Clan. He was nominated for a Craig Noel Theater Award for Outstanding Choreography for Dooley (2011), Altar Boyz (2012) and Spring Awakening and bare: A Pop Opera (2014). Most recently, he was nominated for a National Youth Arts Award for Outstanding Achievement in Choreography for West Side Story.  Also, his 10-minute play, 20 Minutes and Counting, received a staged reading at San Diego's Old Globe Theatre in September 2014. http://mizerdance.wix.com/michaelmizerany
Ami Ipapo-Glass
Ami Ipapo-Glass has created dance work for Diversionary's Hot Guys Dancing, and is thrilled to be returning with In The VaVaVoom Room. She co-directs The Movement Initiative, a dance and wellness company, along with
her wife, Caryn Ipapo-Glass. Together they have produced three full-length shows: Breaking Ground (White Box Live Arts);Victor Charlie (Raw Space Off Broadway at Spreckels Theater); and MOVE (Visionary Dance Theatre), and have additionally presented work at The Ailey School, Triskelion Arts, SDDT's Young Choreographer's Showcase and La Jolla Music Society's CHOREOLab. Ami also starred in and co-directed the award winning dance film, Little Ease
[outside the box]. Keep up with The Movement Initiative at wedaretomove.com.
Travis Ti
Travis (Ti) Spackman is honored to be performing again for Michael Mizerany and for the first time at the Diversionary. Previous credits: Divas! (Rodman Productions); Dancer Briefs (Ion); Cirquetacular! Cirquetacular! and Frontiera (Circus Collective of San Diego);  The Best Little Whorehouse in Texas and Carnival! (Coronado Playhouse); Turandot (San Diego Opera); The Big Test (Legoland, California); The Laramie Project (Trinity Theatre); The Pajama Game and Hello Dolly! (Starlight Theatre). Website: TravisTi.net
Jessica Avila
Jessica (who is know by her burlesque alter ego Holly Quinn) has been a circus performer and teacher for 13 years.  Performances include:  Ringling Bros, the San Diego Zoo, Legoland, Barona Casino, Haute Magazine, Imagination Entertainment, The Rose Bowl, San Diego Convention Center, Time Warner Cable, La Jolla Hyatt Regency as well as many nightclubs and venues in San Diego.
Emcee: Justin Tuazon – Martin
Justin Tuazon-Martin (Emcee) is delighted to return to Diversionary Theatre after being seen in Scrooge In Rouge. Elsewhere: Mary Poppins (Sierra Repertory Theatre); Man of La Mancha, On the 20th Century, Passion (Cygnet Theatre); The Nutcracker (New Village Arts); Dog Sees God, Twilight of the Golds, Dear Harvey (Breakthrough Workshop Theatre); Wrenegades, Deconstruction of a Drag Queen, San Diego I Love You (Circle Circle dot dot); Pinkalicious (North Coast Repertory Theatre); Gypsy (Ion Theatre); Parade, I Love You Because, Metamorphoses, Blood Brothers (Stagehouse Theatre); The Rocky Horror Show (Camino Real Playhouse); Aladdin's Oasis, Playhouse Disney Live On Stage! (Disneyland Resort). Justin would like to thank Michael Mizerany and his wonderful husband, Shaun.
Michael Smeltzer
Michael is an aerialist/burlesque dancer for Pink BoomBox (Brass Rail, Gossip Grill, The Merrow); The Black Orchid Burlesque Show (The Horton Grand Theatre); San Diego Divas Show (Rich's) and 2014 Leather Fetish Ball.
Amanda Morales
Amanda is very excited to be performing at Diversionary.  She started hooping at a very young age and is thrilled to perform her newest work In The Va Va Voom Room.
Dancers: 
Andrew Holmes
Eric Fager
Nicholas Strasburg
Minaqua McPherson
Desiree Cuizon-Fejeran
Travis Ti
Jessica Avila
Amanda Morales
Michael Smeltzer
Stage Manager: Monica Perfetto
Monica is proud to be joining Diversionary for the remainder of their 2015-2016 season. Recently at Diversionary: A Civil War Christmas, Bright Half Life, and A New Brain. Elsewhere: RENT (Southwestern College), Annie (California Youth Conservatory), Much Ado About Nothing, I Hate Hamlet, All My Sons, Macbeth, and A Midsummer Night's Dream the Musical (lntrepid Shakespeare Company). As Production Assistant:  The Fox on the Fairway, Side by Side, Chapter Two (North Coast Repertory Theatre). Monica is a graduate from the University of San Diego and holds a BA in Theatre Arts and Performance Studies.
Lighting Design : Curtis Mueller
Curtis returns to Diversionary having designed Amazons and Their Men, Man Clan and A New Brain. Select local credits include: Quality of Life, The 25th Annual Putnam County Spelling Bee, I Hate Hamlet, All My Sons, and Macbeth (Intrepid Shakespeare Company); Seascape (New Village Arts); Next to Normal, Spring Awakening, The John Mayer Project(Cabaret at the Merc Summer Series). Curtis has also worked extensively with Coronado School of The Arts, CYT San Diego, and CAST Productions. Curtis holds a BFA in Lighting Design from California Institute of The Arts.
[/tab]
[tab title="Photos"]
Photos by Raymond Elstad
[/tab]
[tab title="Press & Reviews"]
"The subtitle says it all, A Night of Contemporary Burlesque.Mizerany's new work for Diversionary is fun, in your face and ever so titillating without going into lower Broadway strip. It's "family" fare, and the family was there, appreciating every double entendre physical and verbal, and enjoying the frolic."
-Charlene Baldridge
[/tab]
[/tabs]