Vegh's Vision for the Future
(Diversionary Then and Now)


By Taberah Joy Holloway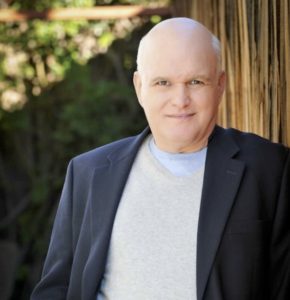 I sat down with Thom Vegh, the founder of Diversionary,to discuss the history of Diversionary Theater in his San Diego's East Village apartment.
Along with the past, we discussed his future and the future of Diversionary. Diversionary recently inaugurated its 31st season with Lizard Boy, a musical by Justin Huertas. Thom was effusive about the current show and team at Diversionary.
Have you seen Lizard Boy?
Lizard Boy is another revelation for Diversionary. Dancing (full title) was a passionate and romantic show. Lizard Boy charms with its music and engaging cast. It opens with the quintessentially gay-male pick-up situation and spirals out into a fun-house sci-fi. The direction seamlessly mixes kitchen-sink realism, story theatre and musical theatre. It's a hybrid. My gut told me that the show was going to work, that's why I went to a preview.
What was the beginning of Diversionary like?
In 1984 I was a graduate student in Speech-Language Pathology, a refugee from San Francisco. The ignorance and, literally, the writing on the walls at SDSU infuriated me. I requested funding from the San Diego State Student Council to bring in the AIDS Show from San Francisco as a public health event. At that time, the student council was predominantly Young Republican. I brought a fellow student in to demonstrate the disfiguring face of AIDS. He had Kaposi's Sarcoma lesions over all his skin yet impeccable taste in clothing. That's an image worth remembering. It was that project that made Diversionary happen. It provided trajectory.
What motivated you to start the theater company?
I needed to respond the the health crisis with theatre as a weapon. We were fighting for our lives. It was an inconceivable time. William F. Buckley Jr. had said that all people with AIDS should be branded with an "A" on their forehead. There was a proposition (Proposition 64) to sequester people living with AIDS in the desert. To raise money to fight the proposition I invited some of our community opinion leaders to play in two one-acts by Philip Real and staged it in the disco, West Coast  Production Company. We raised $6,000.
Did the theater have a home base during those days?
We were an itinerant crew. We would have rehearsals wherever we could find space. The first Diversionary show opened at that same gay bar. The bar got drinks (profit), and I got the door (proceeds).  I started the company with about $200.
What are you most proud of about those early days of Diversionary?
I fulfilled an unspoken need. A previous gay theatre company become defunct. I came along and started my thing and it exploded. The community was starving for theatre and Diversionary met that need. I made sure I paid staff from the start. I was trained as an actor at Boston University. I worked as an actor in a professional deaf theatre company. I knew actors must be paid. Nobody paid non-union actors in those days. We were the first to do it, and other small theaters followed suit.
How do you account for Diversionary's early success? 
Audacity is what made a lot of it work – what makes any new theatrical endeavor work? The AIDS Project wanted a celebrity at the opening night of The AIDS Show. They wanted Armistead Maupin. I didn't know him. I called Mr. Maupin and extended the invitation and he came. Chris Kehoe, then the editor of the Gay News was on the same post-performance panel opening night. It helps to be a force of nature, to push things out of the way, like young republicans. These events gave me momentum to start the company.
What keeps you motivated these days?
I wrote and played in a show this summer at the San Diego International Fringe Festival, Dr. Svetlana. Though a produced playwright, I'd never played anything I'd written. Conjuring my Easter European heritage with it's Communist stain, abuse and the 1950s "We don't do that," attitude made for pungent fodder. I enjoyed the acting challenge of playing a woman. Playing a woman believably is a challenge most game actors want to take on. It was not a drag-for-drag's-sake thing.  Doing the show blew out my carburetors. Do you know what that means? It's a term from motorcycle riding. When you are out on the open road, you hit a speed so fast and furious you can blow out the excess build up in the carburetors. That's what the show did for me. It gave me a reset. I now look at the world with a sharper and wider lens.
Are you developing any new stuff?
My newest show is in early development. It's called After Life. It's about what happens to caretakers after their cared-for-person dies from family initiated euthanasia. And a white man follow's a black man to a new freedom. I am building a sub-community.