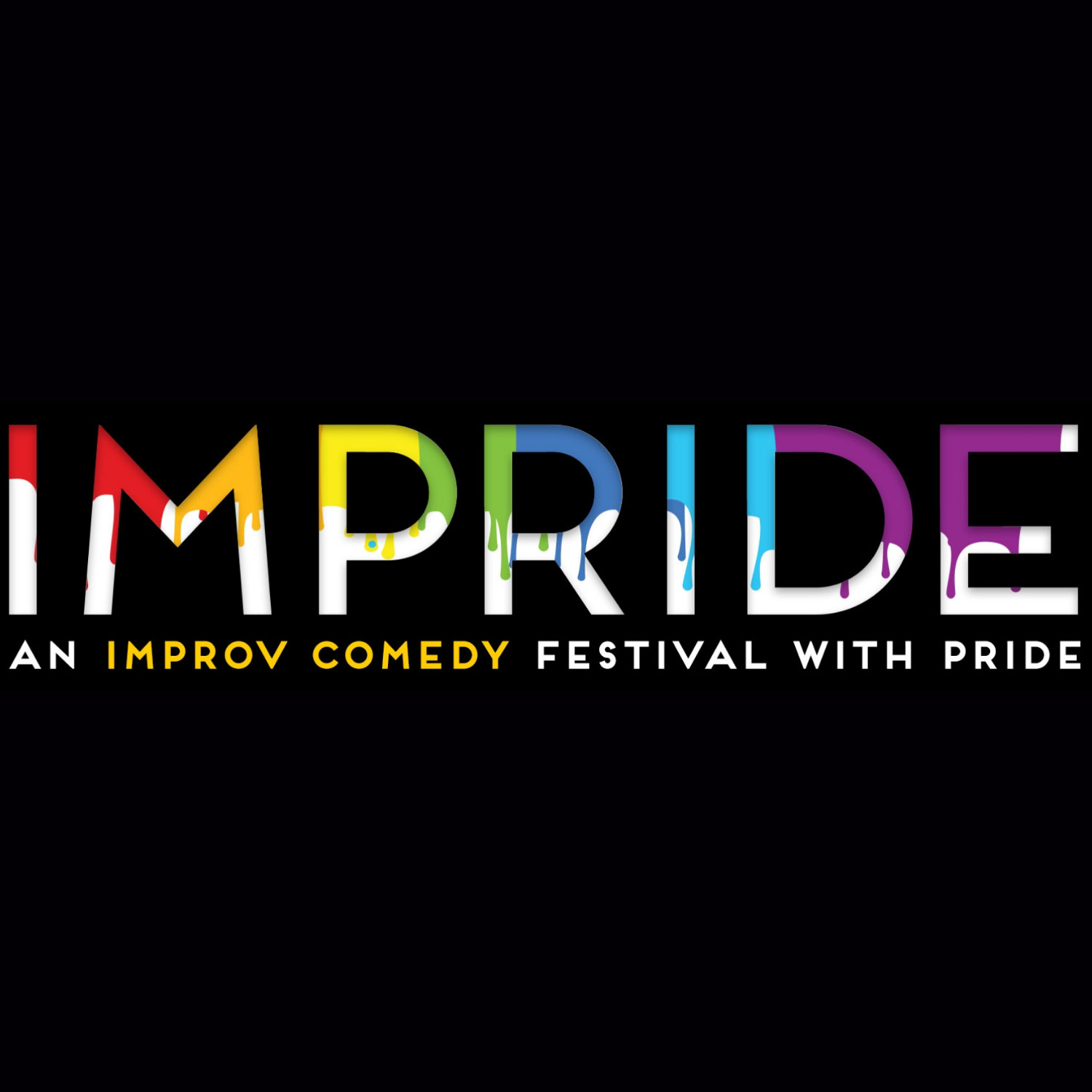 Impride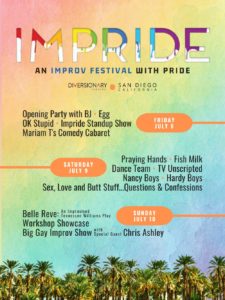 Impride is a weekend long festival celebrating LGBTQiA+ voices in comedy. 
This year Impride is  being hosted at the Diversionary Theater, the nation's third oldest LGBTQiA+ Theater. We have a weekend full of comedy, workshops, connecting, and joy! Tickets to shows can be purchased by the day or for the weekend.
Weekend Line Up
Friday Night Opening Party! 
Doors open at 5pm for cocktails and connecting! Starting at 6 there  will be a DJ set with DJ Lantia  with rainbow carpet pictures hosted by comedy duo BJ. 
7pm – We have improv comedy by  EGG (San Diego) a half dozen carton consisting of Alex Navarro, Caity Munson, Lisa Williams, Melinh Nguyen, Nick Steffl and Victoria Koenitzer, uses an audience suggestion to improvise a montage of scenes that range from heavy protein-rich to fluffy meringue-light. Don't worry – we're only allowed one egg pun per set.
OKCupid – Turn off your filters and upload your torso pictures. Our improvisers will be browsing online dating apps Grindr and HER. We will use real profiles to inspire our fully improvised show.  We are looking for hookups, long term relationships (no more than the duration of our show) and a few laughs along the way.
8pm – Standup comedy at the Clark Cabaret hosted by Brandon Potter 
9pm – Mariam T and friends have big hair and big laughs in the Mariam T's Comedy Cabaret. 
10-11pm – Mix and mingle with all your new comedy friends! 
__________________________________________________
Saturday Night! 
5pm – Doors open for a mix and mingle and musical delights 
6pm – Praying Hands and FishMilk! 
7pm – Dance Team and TV Unscripted 
8pm – The Nancy Boys and The Hardy Boys Mystery Machine Hour! 
9pm – SEX, LOVE & BUTT STUFF: Qualified and Unqualified Advice for People with Butt QUESTIONS & CONFESSIONS. Internet sensation and real doctor Dr. Carton and Dangilo Bonilla are here to answer your sex questions along with a team of certified comedians that you should not take any advice from. 
10-11pm Mix Mingle with all your new comedy friends! 
ABOUT SEX LOVE & BUTT STUFF – Dr. Carlton (yes, a real qualified Doctor) and Dangilo (unqualified but entertaining) take on your questions about Sex, Love and Butt Stuff…and stuffing butts. In this audience participation encouraged romp the duo give LIVE life advice from a queer perspective, with a few improv comics waiting in the wings to create reenactments to help in gaining a different perspective to the situations.  Sex, Love and Butt Stuff can be messy (hopefully not literally- unless that's your thing and everyone consents…no judgements, ok, maybe a little); these two will GO THERE with their advice. The audience can choose to anonymously ask a question or reveal a confession in writing to be answered during the show, or they may spontaneously ask a question or reveal a secret to the room.
 Doctor Carlton is a Mayo Clinic trained gastroenterologist in San Diego, California who you have probably seen on Tik Tok or Instagram talking about Butt Stuff tips and LGBTQ health. A content creator for Scruff, he has been featured in Mashable and in Instinct Magazine and even recently headlined Austin Kink Weekend in Texas. Who better to learn butt stuff from than a doctor who knows all the science and a gay man who has had PLENTY of real life experience with it! Welcome Doctor Carlton!
DANGILO BONILLA is a San Diego based entertainment producer, philanthropist, nightclub personality and host of the BALD AND BINGELABE with Dangilo Podcast. Dangilo has a sizable local social media following and can often be seen supporting local businesses, nightclubs and charity events. Dangilo can be seen behind the scenes producing events for Bollotta Entertainment, such as the pop up drag extravaganza luxury hotel series, DRAG ME to…with host Lady Bunny, appearing this summer all over the United States and Straight Talk with Ross Matthews LIVE the San Diego  and Santa Monica LIVE SHOWS. Dangilo also takes great pride in his philanthropy work. He brings his incredible creativity, passion and dedication to the Home-Start Blue Ribbon Gala for Child Abuse Prevention as committee chair (2018 and 2019), as well as participating on the planning committee for the Walden Family Services annual gala for homeless and foster youth.
_____________________________________________
Sunday Shows! 
2pm – Belle Reve – An Improvised Tennesee Williams play 
4pm – Workshop Showcase – Workshop participants get to show OFF what they have been learning during this weekend of Comedy JOY! 
7pm – The Big Gay Improv Show with special guest and Tony Award winner Chris Ashley! The cast of the BGIS will dig deep into the past, present and future and give you all the hilarious bits you need! 
Tony Award-winner Christopher Ashley has served as La Jolla Playhouse's Artistic Director since 2007. During his tenure, he directed the world premieres of Come From Away, Diana: The Musical, Memphis, Escape to Margaritaville, The Squirrels, A Dram of Drummhicit, Restoration and Chasing the Song, as well as His Girl Friday, Glengarry Glen Ross, A Midsummer Night's Dream, Freaky Friday and Xanadu. He also spearheaded the Playhouse's Without Walls (WOW) initiative, the DNA New Work Series and the Resident Theatre program. Mr. Ashley recently directed Come From Away for AppleTV+ and Diana: The Musical for Netflix. Other screen credits include the feature films Jeffrey and Lucky Stiff, and the American Playhouse production of Blown Sideways Through Life for PBS.
8pm – Closing cocktails and Curtain call!  
_____________________________________________________
Workshop Descriptions- 
Kat Dudley – Bigger, Bolder, More Fun! Saturday 11-1
Want to step into any moment with more confidence, joy, and ease? From improv scenes to auditions, to first dates or presentations, this x hour workshop will boost your energy to take on everything with more charisma, uniqueness…you know the rest. Shake off the nerves and join Kat Dudley in a high energy workshop that will get you creating and playing from the very top. "Training with Kat is like leaving the improv salon, you feel invigorated and shiny"–Jill Eickmann, leela theatre. Encouraged to wear comfortable clothes that make you feel HOT!
Kat Dudley is the former Training Director of Finest City Improv. With over 10 years of experience in teaching and performing, she strives to make every student feel seen and every idea supported with love. Select professional credits include improv trainings for Harrah's Casino,  Sony, evGo, and Mo's Universe. She completed her BA and graduate studies in theater from UC Santa Cruz.
Nick Condon 
Musical Improv Games " Saturday 11-130 (Needs piano or keyboard) 
Explore the fundamentals of improvised music and take your scenes to the next level! Learn to put your thoughts and emotions into improvised songs that sound like they've already been written. Students will learn musical improv games while exploring rhythm and rhyme, common song structures with memorable hooks, and create Mini-Musicals on the spot.
Nick Condon has been performing,teaching,directing and coaching for over two decades and has performed in nearly every state. A Minneapolis native, he studied and performed at The Brave New Workshop,Stages Theatre Co,Outward Spiral, and The National Theatre for Children. In 2006 he moved to Alaska where he served as Creative Director of Denali Drama and Iditaprov. In 2016 he moved to Portland to work with Curious Comedy and Oregon Children's Theatre. 
He is also the founder and creative director of Conscious Comedy: Socially relevant comedy for a cause.  When not in Portland , he can be seen  performing, teaching, and creating customized shows, workshops, and events for festivals, corporations, and nonprofits all over the world. 
Workshop: Be Your Best Villain with Ryder Tam and Gabe Valdez of TV Unscripted Saturday 2-4
Can we just be honest for a second? We love to hate a good villain. But what makes a good villain and how can we play one that's not two-dimensional? Let's bring what we love about villains to the stage! 
In this workshop we will give you the tools to make a film-worthy villain in seconds. By the end you'll be rubbing your hands together maniacally and truly being your best villain. 
TVunscripted is a Los Angeles-based comedy duo comprised of aerospace engineer Ryder Tam and geologist Gabe Valdez.
Their work has been featured at Improfest Sweden, Trill Comedy Festival (Headlining Act), Westside Comedy Festival, Denver Improv Festival, North Carolina Comedy Festival, Happy Valley XL Improv Festival, Impro Theater, Colorado Springs Independent, 3E's Comedy Club, ENT Center for the Arts, KCME Radio, Building Bridges Podcast, Cornerstone Improv and more! They draw on experience from Groundlings, iO, Upright Citizens Brigade, Second City, Rise Comedy, and have been described as fast-paced, highly-physical, and hilarious!
The duo spent the pandemic locked in a small room, producing over 60 original sketches with tens of thousands of views, and are excited to return to live performance. A few of their original shows include Dungeons & Dragons Unscripted, Sketch Duet, Lethal Weapon Live, Star Wars Unscripted,and Science Night Live.
TVunscripted brings a diverse spin to their comedic outlook with representation of Asian American, Hispanic, and LGBTQ groups.
Please be sure to refer to our up-to-date COVID-19 policy here.