We regret to announce that all our in Student Matinee Series programming is currently suspended due to the Covid-19 Pandemic. Please check back for updates as school restrictions are lifted.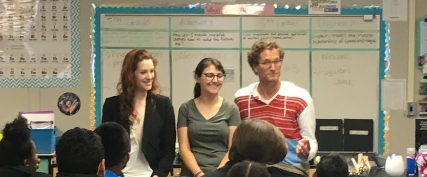 Welcome to our FREE student matinee series. We are happy to announce our new season and I hope you will take advantage of these diverse shows. We are the only theatre in San Diego to offer both pre and post-school workshops, all which are FREE. We also offer $5 youth nights for our public evening shows.              -Skyler Sullivan, Director of Arts Education & Outreach

Please send me an email to arrange for  tickets:  ssullivan@diversionary.org
Diversionary Theatre's Student Matinee Program partners with San Diego middle and high schools and youth groups to provide access to theatre 100% free of charge. Our programming focuses on reaching young people with little or no access to the arts, promoting cross-cultural tolerance around LGBTQ themes and issues while cultivating a theatre-going audience for the future. At least one Student Matinee is scheduled for every show produced on our Mainstage.

Diversionary's Director of Arts Education and Outreach works closely with each participating school and organization to ensure an enriching experience for students and educators alike. Our Director of Arts Education and Outreach collaborates with the classroom teacher on scheduling a pre-show workshop where a Diversionary Teaching Artist visits the classroom to introduce the play's subject matter and themes to the students using theatre games and an interactive lesson plan. We also offer assistance connecting our programming to Common Core Standards.

Each Student Matinee is scheduled on Wednesdays, and immediately following the performance the students are treated to a talk back with members of the cast and creative team. The talk back is moderated and students are encouraged to ask questions and give feedback on their experience with the performance.

Within a week after the Student Matinee, the same Diversionary Teaching artist returns to the classroom with a workshop to help the students contextualize the performance they attended and tie it back to their own lives.

Diversionary also offers access to blocks of seats for student groups in our regular schedule of shows. Please be in touch with Skyler Sullivan, Director of Arts Education and Outreach about arranging your group: ssullivan@diversionary.org

2019-2020 Matinee Dates

All performances take place at 11 am, with the exception of HEAD OVER HEELS which is scheduled for 10:30 am. immediately following the performance the students are treated to a talkback with members of the cast and creative team. The talkback is moderated and students are encouraged to ask questions and give feedback on their experience with the performance.

October 9th


*SOLD OUT*

  GIRLFRIEND


Book by Todd Almond




Music & Lyrics by Matthew Sweet

It's 1993 and mixtapes are the language of love. Set in the American heartland during the summer between high school and whatever comes next, College-bound jock Mike and self-assured but aimless Will find themselves drawn to each other. Their rush of first love full of excitement, confusion, and passion, forges an unlikely bond neither were expecting. Told to the power-pop precision of Matthew Sweet's seminal rock album, Girlfriend is a vibrant new musical about the terror and thrill of discovering yourself, and the life you want to lead.

"A rock 'n' roll valentine that delivers subtle wisdom with an exhilarating kick."
– Rolling Stone Magazine

December 18th 
THE SANTALAND DIARIES
by David Sedaris


From the brilliantly twisted mind of David Sedaris comes a classic tonic for the holidaze. Out of work and options, The Santaland Diaries finds David as he begins his career as an elf in Macy's Santaland during the holiday crunch. Battling throngs of rabid families clamoring towards a drunken Santa to satiate their Christmas fix, David makes do with some hilarious observations on human nature, and an unexpected connection to the holiday spirit.

March 4th
A KIND OF WEATHER
by Sylvan Oswald

When Kid's grieving father pops up at his Brooklyn doorstep and asks to move in, it kinda puts a cramp in his sex life. Not to mention the completion of his memoir about his gender transition. As he struggles to keep his professional and romantic deadlines, revelations about his family history begin to subvert his own narrative. A hilarious, time-jumping, tragi-comedy exploring gender identity and its effect on family, A Kind of Weather is about learning to be who you already are.

Sylvan Oswald's work has been seen at Center Theatre Group, About Face Theatre, Joe's Pub and Clubbed Thumb. Honors include the Rosati Fellowship from Duke University Libraries, the Thom Thomas award from The Dramatists Guild, a Jerome Fellowship, and residencies at Sundance/Ucross, Macdowell Colony, and Yaddo.

April 22nd 
PLOT POINTS IN OUR SEXUAL DEVELOPMENT*
by Miranda Rose Hall

Theo and Cecily are at a dire crossroads in their relationship and need to come clean with the details of their sexual histories. As they excavate their past encounters, the truth of their experiences begins to undermine the very foundation of their relationship. A contemporary queer love story, Plot Points In Our Sexual Development explores the intersection of gender and intimacy, and the dangers of revealing yourself to the person you love.

"Important and intensely provocative. Transgender people deserve to see joy onstage and others can share the feeling."
–The New York Times

"Enlarges our sense of shared humanity."
-New York Magazine

* Contains adult material, ages 17 and up

June 17th 
HEAD OVER HEELS
Adapted by James MacGruder

From the visionary behind Avenue Q comes a bold new Broadway musical fairytale where "Once Upon a Time" crashes into right now. In the mythical land of Arcadia, the royal family is challenged to set out on a journey to save their beloved kingdom from extinction. Through their adventure gender roles are upended, relationships liberated, and love is discovered in the most surprising of ways. Told to the hypnotic beat of the iconic 80's all-girl rock band The Go-Go's, Head Over Heels joyously unveils a path to a new world where diversity is celebrated and ladies lead!

Top Ten of 2018, Entertainment Weekly

"A clever, delightful, bubbly, exuberant party!"
-New York Magazine

Production Sponsor: Rob Granat & Al Mazur

"The authenticity of the performances as well as the pre and post show Q and A provided learning experiences for my students that they will never forget. This was the first time many of my students have met and interacted with people who identify as part of the LGBT community. I could see the relief and delight on many of my already identifying students as they watched and talked with people who were 'just like them'."

Kelsey Zeran, Classroom Teacher at Fulton Middle School

"Our Diversionary field trips provide opportunities to promote the arts and arts awareness to our students, some of whom can't afford theatre tickets, or wouldn't have gone outside their comfort zone to see Diversionary's provocative pieces."

Jeannine Marquis, Classroom Teacher at Canyon Crest Academy

"Working with the Skyler and the Diversionary theater has helped transform my students into thinking about theater as a vehicle for change.  I am honored to have such an incredible working experience with their educational program.  It has enriched my classroom and made a deep impression on my students and the way I teach my class.  Thank you! "

Jennifer Howard,  appreciative teacher at HTHNC

"I never miss an opportunity to drive on a field trip to the theater, and the Diversionary Theater did not disappoint me with their show Amazons and their Men."

<

Denise Bos, HTHNC parent

"What struck me walking into your classroom was the collaboration between community leaders (Diversionary Theater) and students sitting in a circle discussing the play after they had seen the performance."

Isaac Jones, Director, High Tech High North County

Please contact our Director of Arts Education and Outreach with any questions using the form below or by calling 619-220-6830 x 109. 
Generously supported by

Hey, want to get updates on cool programs and FREE offers from Diversionary Theatre?