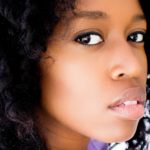 Andréa Agosto [She/Her/Hers]
A performing arts educator, and performer, Andréa is ecstatic to be working with Diversionary in a new position. The majority of her San Diego stage credits are at Diversionary (A Kind of Weather, Significant Other, Bull in a China Shop and Homos or Everyone in America). Agosto attended UMKC where she studied film and theatre. For her graduate studies, she looked towards language, literacy, and sociocultural studies. She believes the marriage of her arts and sociocultural studies has informed how she views the arts, as well as how she discusses the two which is evident in the Intersectionality and Justice panels she facilitated for Diversionary. She aims to continue exploring these issues, and advocating for BIQTPOC artists.
Alyssa Kane (she/her/hers)

Alyssa is a queer woman working full time in scenic design, props design, and scenic painting. Recent projects include Extreme Home Makeover (Scripps Ranch Theatre), Eighty-Sixed (Diversionary), The Great Khan (SD Rep), Sapience (Moxie), and Yellow Wallpaper (Write Out Loud). Alyssa is an operational board member at Scripps Ranch Theatre. She is also a performer and founding member of a burlesque and variety troupe in Southeast Alaska.